Best CRM Shopify Integrations in 2021
Building lasting relationships in Marketing and Business is a tough task. Maintaining Marketing Relationships or relationships with new prospects and potential customers can also be super difficult. If your customers are happy, they stay longer. But if your customers are unhappy, they won't just leave you, they'll go ahead and also tell the world about it. So, you need to make sure that you're investing in creating a great experience for your customers, so that they don't just stay longer but ideally, spread a positive word about you.
Relationships and Processes are at the heart of every successful business. Manually handling Customer Data is not just tough but also error-prone, and hence businesses use a suitable Customer Relationship Management (CRM) tool to automate a lot of processes.
Shopify is a Cloud-Based Software as a Service (SaaS) Shopping Cart solution that allows businesses to set up an Online Store with little to no hassle. Shopify also allows plenty of CRM Shopify Third-Party Integrations to help your business grow, making it suitable for businesses of all sizes.
With plenty of options available, finding the best CRM for Shopify can be baffling if you don't know what to look for. In this article, you will be taken through some of the best CRM Shopify Integrations. Here is everything that you need to know before choosing a CRM Shopify Platform to integrate with your Store. So read along to gain insights and explore the best CRM Shopify Integrations.
Table of Contents
Introduction to Shopify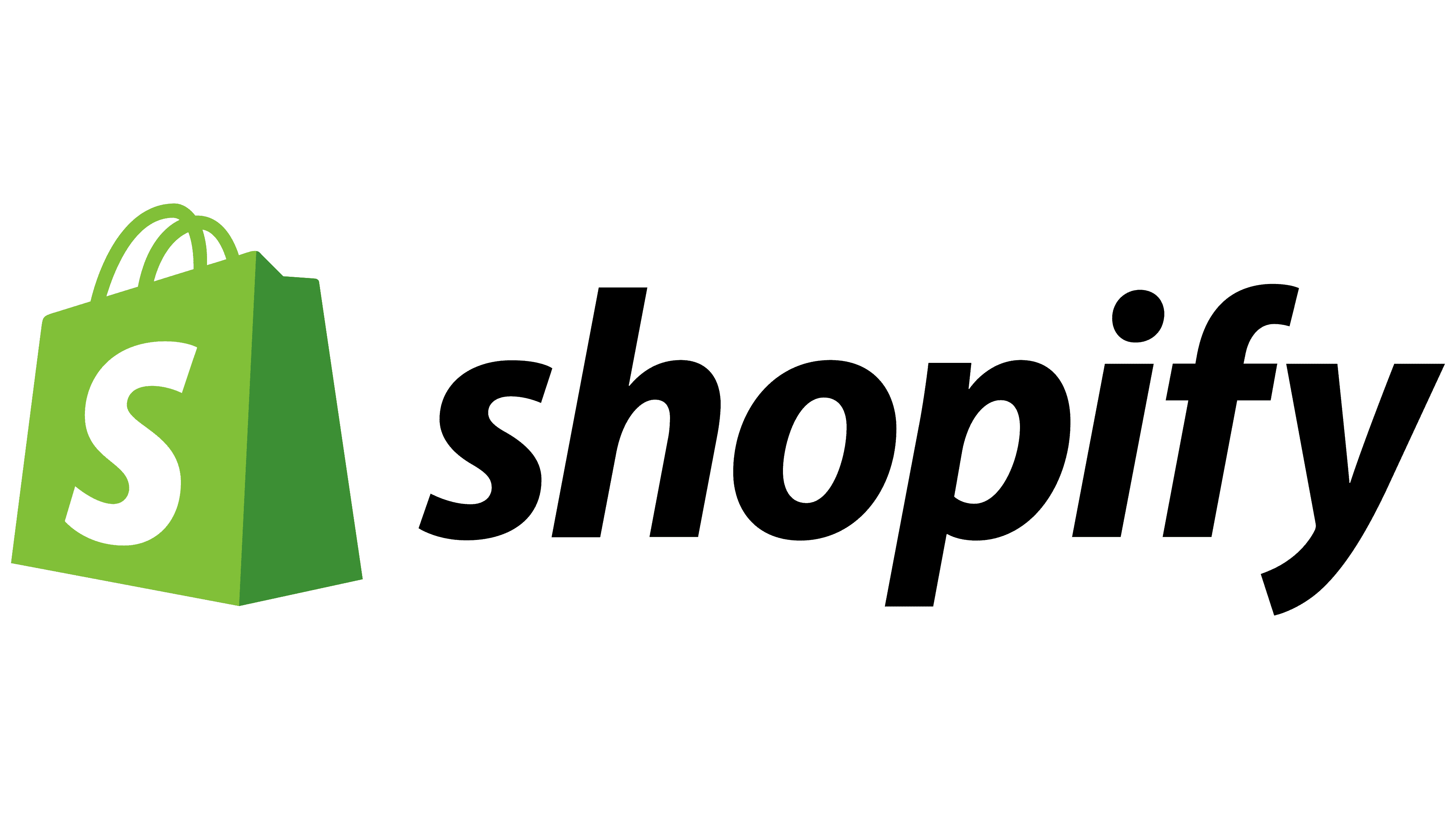 Shopify is an E-Commerce Platform that allows you to set up your own Online Store with just the click of a button. If you don't want to go through all the hassle of building your own website, setting up a Shopify Store is the best thing you can do for your business.
Shopify is a Cloud-based SaaS platform that makes it easy for you to sell goods online. Shopify hosts your business and helps it to grow by allowing you to conduct transactions, customize your website and market your products. Shopify provides users with multiple plans and pricing to choose from, making it a suitable option for Start-Ups and even Enterprises. You can customize your website as per your liking with Shopify's easy-to-use Design Templates.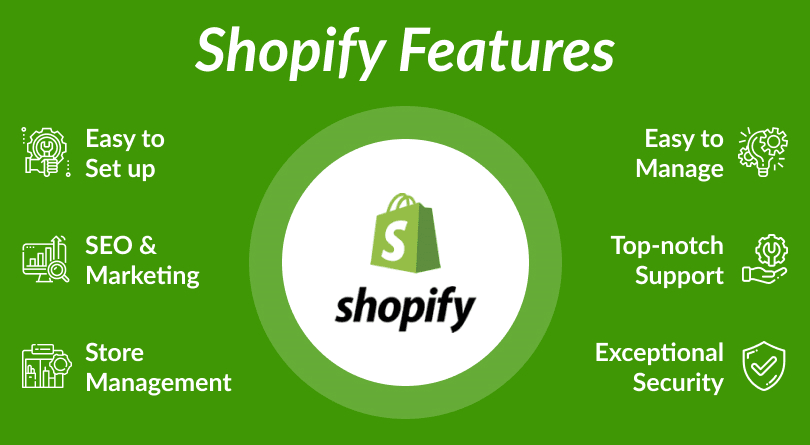 Worried about your website crashing during peak hours or hackers breaking into your network? Shopify has got you covered. Shopify offers reliable and secure hosting of your website including Secure Payment Gateways. You can literally sell anything on Shopify, from Handcrafted Artifacts to Online Classes, Shopify offers great versatility. It also gives you the ability to study and analyze Customer Behaviour to get valuable insights about your business.
Understanding the Need for CRM Shopify Integrations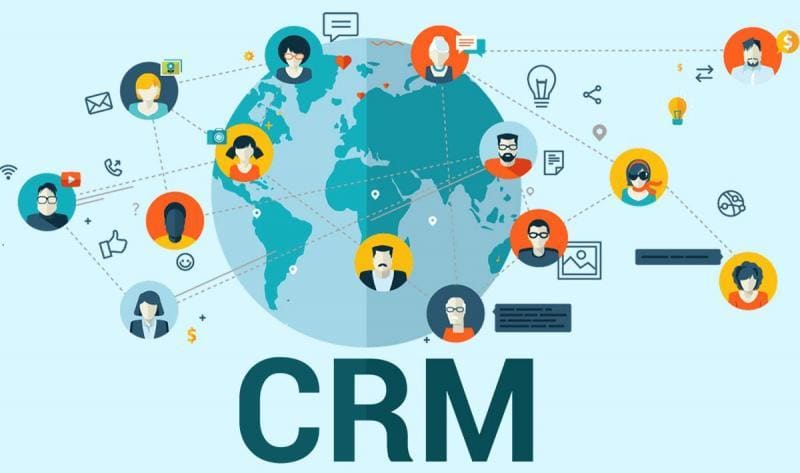 You already know it's hard to keep a track of Customer Data. As discussed, handling the Customer Data manually is a tough and erroneous task. In earlier days (the 1980s), Spreadsheets were used to maintain Customer Records. But the introduction of some modern tools in the mix, otherwise known as CRMs, makes it a lot easier to manage and handle all the information, which in turn helps you to maintain the Marketing Relationships with customers.
CRM stands for Customer Relationship Management and it's Software that allows you to manage your company's interactions and communications with customers. The overall goal here is to make this process stronger, smarter, and simpler. CRM helps you automate a lot of the processes so that you don't have to do them manually, saving you time and money.
A CRM Software ensures you have a better understanding of your customers to anticipate their needs and expectations. This is helpful for coming up with an optimized Marketing Strategy not just to retain the existing customers but also to get the new customers on board. You'll be able to create Comprehensive Customer Profiles and run Personalized Marketing Campaigns based on their past purchasing trends.
Shopify also allows you to integrate with various CRM Platforms, and the best part is you don't need any technical knowledge to implement these integrations. Most of the CRMs allow you to connect your Shopify Store with just the click of a button. The best CRM Shopify Platforms automate most of the processes and will help you in handling your Customers Data, providing Technical Support to your customers, improving your Marketing Strategies, managing your own Support Team, and bringing in more Sales.
Simplify Shopify ETL and Data Integration using Hevo's No-code Data Pipeline
Hevo Data is a No-code Data Pipeline that offers a fully managed solution to set up data integration from Shopify and 100+ Data Sources including 30+ Free Data Sources such as Shopify, Salesforce, HubSpot, Zendesk, etc. and will let you directly load data to a Data Warehouse or the destination of your choice. It will automate your data flow in minutes without writing any line of code. It helps transfer data from Shopify to a destination of your choice for free. Its fault-tolerant architecture makes sure that your data is secure and consistent. Hevo provides you with a truly efficient and fully automated solution to manage data in real-time and always have analysis-ready data.
Let's look at some of the salient features of Hevo:
Fully Managed: It requires no management and maintenance as Hevo is a fully automated platform.
Data Transformation: It provides a simple interface to perfect, modify, and enrich the data you want to transfer.
Real-Time: Hevo offers real-time data migration. So, your data is always ready for analysis.
Schema Management: Hevo can automatically detect the schema of the incoming data and map it to the destination schema.
Scalable Infrastructure: Hevo has in-built integrations for 100's of sources that can help you scale your data infrastructure as required.
Live Monitoring: Advanced monitoring gives you a one-stop view to watch all the activities that occur within Data Pipelines.
Live Support: Hevo team is available round the clock to extend exceptional support to its customers through chat, email, and support calls.
SIGN UP HERE FOR A 14-DAY FREE TRIAL!
5 Best CRM Shopify Integrations
Now that you have a basic idea about CRMs and their purpose, let's discuss some of the most widely used CRM Shopify solutions in businesses. Given below are 5 tried and tested CRM Shopify solutions:
1) Salesforce
For plenty of Entrepreneurs, Business Owners, and Corporations, Salesforce is the king of CRM. Salesforce is the most popular and robust CRM Software used by online businesses. With a name that big, Salesforce CRM doesn't compromise its reputation. CRM Shopify Integration with Salesforce will help you to accomplish several e-commerce goals. There are over 400 integrations available between Shopify and Salesforce.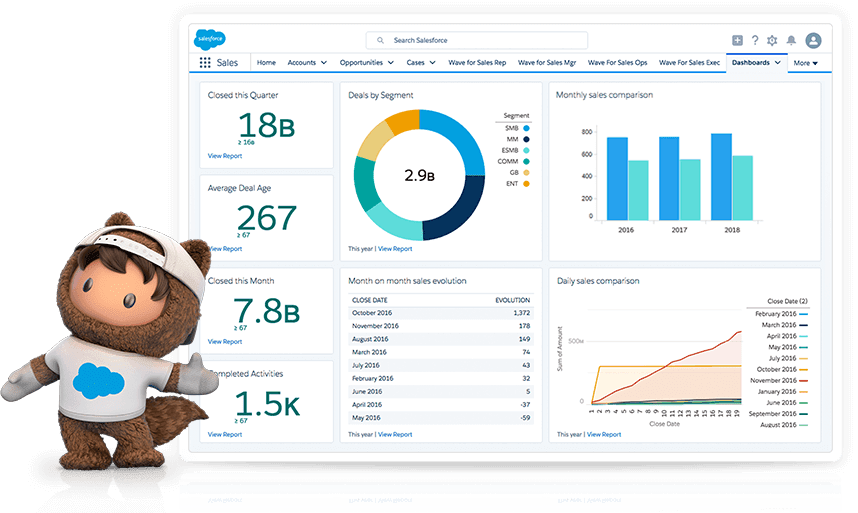 This CRM Shopify Integration saves you valuable time by automating a lot of your Marketing Efforts and increasing your Sales. Get ready to add your Shopify Customers as "Contacts" in your Salesforce Account. You'll further be able to monitor and keep track of your customer's important details and buying patterns. You can also generate Sales Forecast Reports with Salesforce to convert your Leads. Salesforce also supports Email Integration with applications like Microsoft Outlook, Gmail, etc. They really have just about everything that you could possibly think of when it comes to operations in a business and managing their customers. This is definitely recommended for established Marketing Agencies.
You can also use Automated Tools like Hevo Data to integrate data between Shopify and Salesforce to a Data Warehouse of your choice.
Salesforce has a variety of pricing options, ranging from $25 to about $300 per user monthly. So, as you can see it gets very pricey very quickly. Salesforce is definitely recommended if you're trying to scale your business. But if you're just starting out, you might want to explore other feasible options.
2) HubSpot
Next up is HubSpot. The dedicated CRM Shopify Software was launched by HubSpot back in 2018. They've been regarded as one of the best CRM Shopify Integrations over the last few years. HubSpot offers an incredible free CRM that supports up to 1 Million Contacts and Companies. Of course, you can always upgrade to add extra features to build, grow and scale your business. As far as Integration Service features are concerned, this platform is just as good as Salesforce.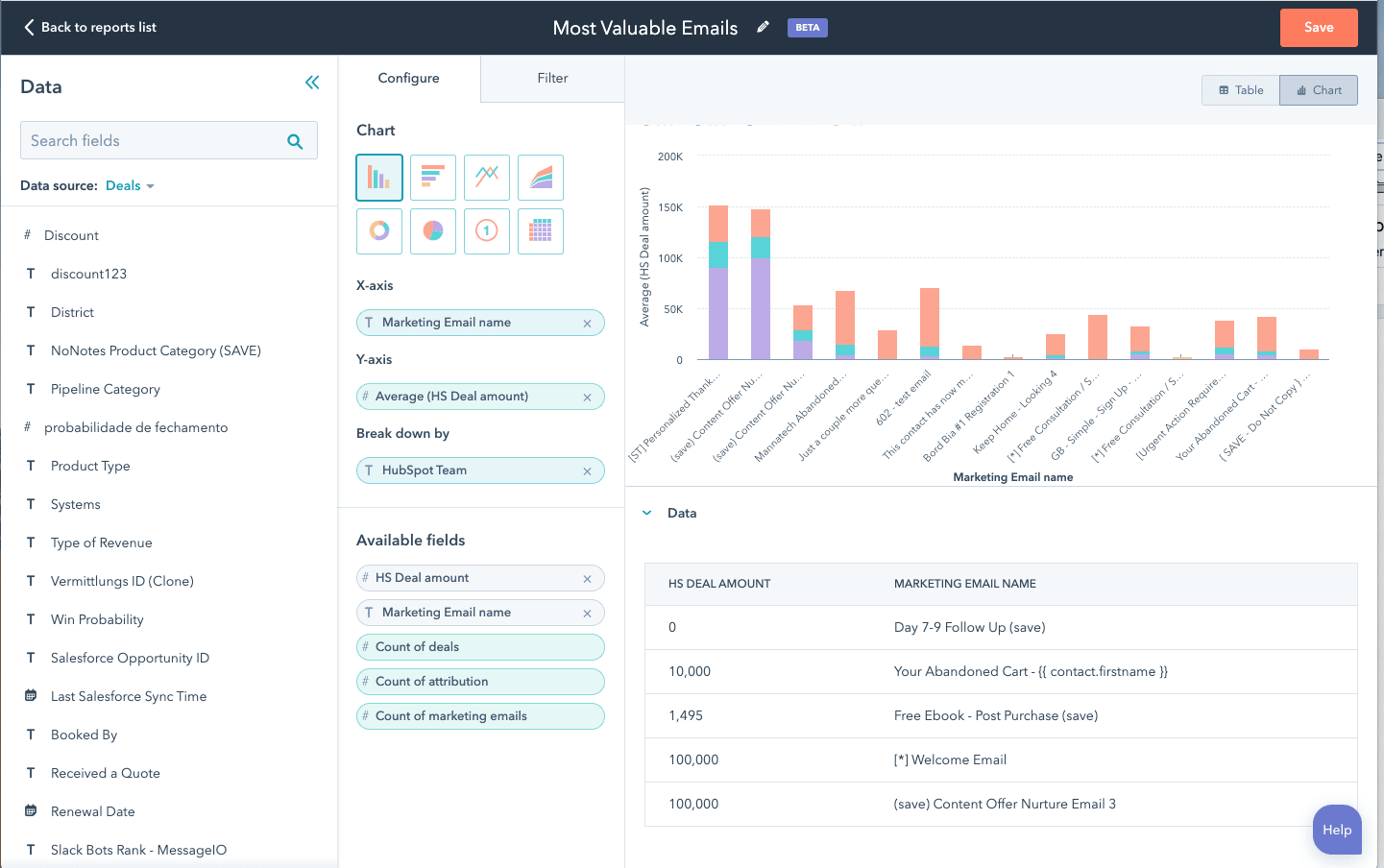 You can Collect Leads, Schedule Appointments or Tasks with your team and with your potential clients or customers, and make use of the Reporting Tools to understand valuable insights. You can do Email Marketing through this CRM Shopify System as well. HubSpot lets you segment your customers using various set criteria. You can then go on to create a Customized Workflow for each segment.
HubSpot is completely free with no time limitations. You can upgrade to paid plans to add extra features and tools to your Software. HubSpot also offers various pricing options, ranging from $40 to $3200 per user monthly.
3) Zendesk
Zendesk is another popular name in the industry. Zendesk, considered to be the biggest competitor to Salesforce for the CRM crown, is used by over 200,000 companies. Zendesk's CRM is known as Zendesk Sell and it helps establish CRM Shopify Integration seamlessly. You can use Zendesk Sell to import all your Sales and Customer Data from Shopify to your Database. The CRM automates all communication and builds Multi-Channel Marketing Campaigns. You are also allowed to create or update the existing records like Order Details, Product Details, etc.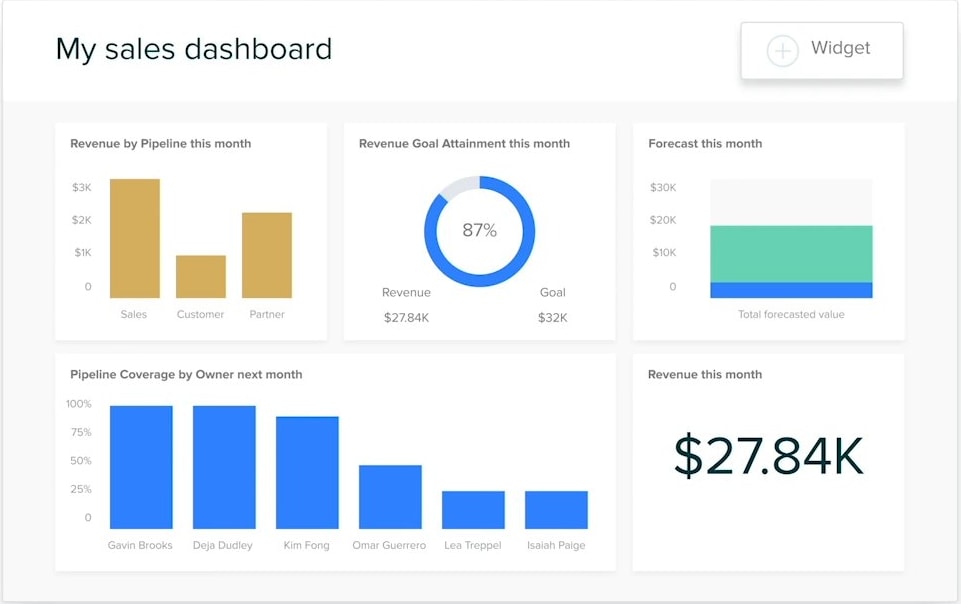 The most unique feature of Zendesk is that it enables Store Owners to create an Online Community for their customers where they can ask and answer queries. This allows your customers to be engaged within the community and reduces a lot of workload from the Support Team by automating most of the process. This is best suited for large businesses.
Zendesk is priced significantly higher and ranges from $19 per user to $199 per user monthly.
4) Zoho
Zoho's CRM Platform has become quite popular for being affordable and easy to use. Zoho is best suited for businesses that generate most of their leads from Social Media. Zoho offers advanced Social Media Lead Generation and monitoring features that can help you keep track of posts related to your business. Zoho CRM Shopify Integration leverages extensions, namely Zoho Flow and Zoho Inventory.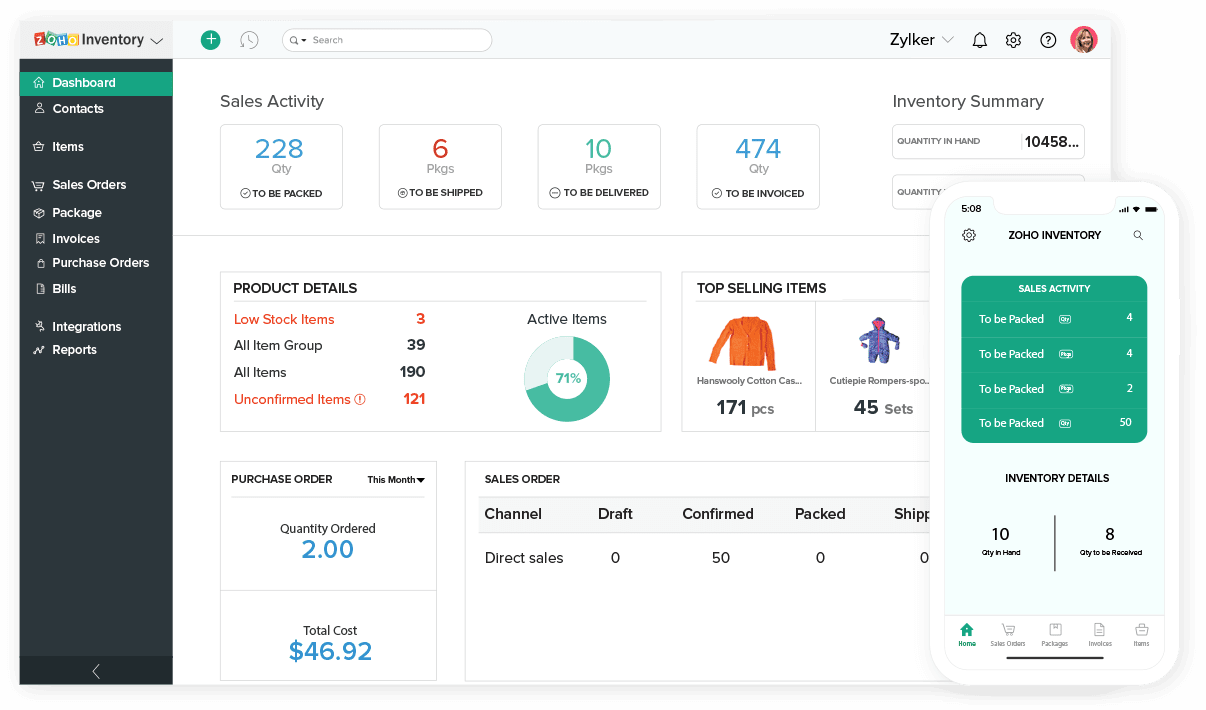 Zoho allows you to manage your leads efficiently, and perform invoicing and integration with Zoho Workplace. The CRM offers interactive insights and customization options. It provides you with detailed segmentation of customers using Shopify data. This CRM also allows you to create or update the existing records like Customer Data, Inventory Quantity, etc. When compared to Salesforce and HubSpot, Zoho lacks advanced features to automate tasks.
Zoho CRM is super affordable, it's just $8 per user for the Base Level Pack all the way up to $35 per user for the Higher Level Packs which include all of the features like Inventory Management, Email Automation, and Sales Signaling.
Agile is one of the newer CRMs and isn't much heard of, but it has built up a strong reputation of offering robust and advanced functionalities that are comparable to those found in more highly-priced options like Salesforce. Agile CRM is seen as the low-cost alternative for Mid to Small-Sized Businesses due to its competitive pricing and high-utility tools.
Agile CRM is a one-time integration platform aimed at enhancing your selling experience with Shopify. Setting up Agile CRM Shopify Integration enables you to create Personalized Newsletters for selective customers, send automated Emails, keep a track of your customers' buying patterns, and collect feedback from them. The CRM automates your Sales, Marketing, and Service processes.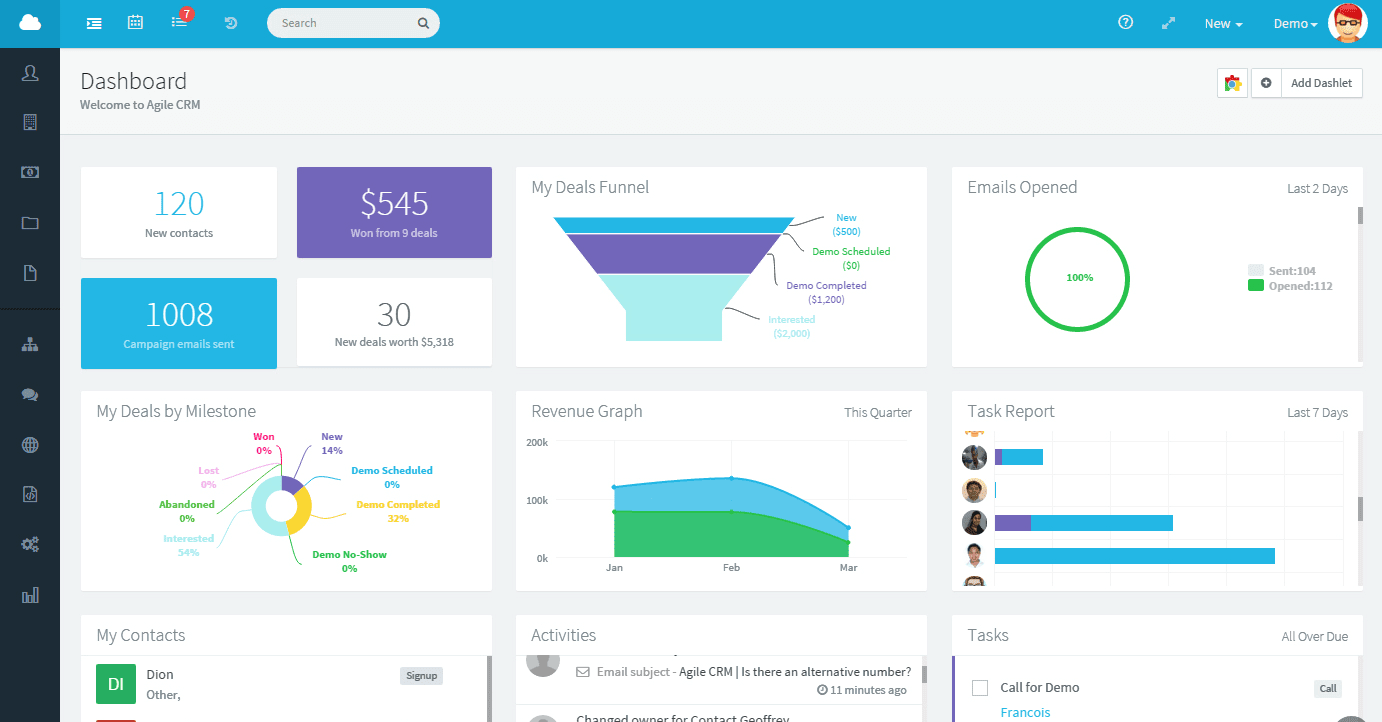 With Agile, it is possible to reach out to abandoned cart owners with personalized messages. Agile's Cart Abandonment Tool allows you to remind such users about their cart and even persuade them to complete the purchase.
You have a Free Version that allows 10 users, and 50,000 Contacts and Companies, along with other features. But in order to integrate it with Shopify, you'll need to upgrade to the Enterprise Plan which can cost up to $47.99.
Conclusion
There are plenty of tools out there that you're going to want to use for your Marketing Agency, a CRM is just one of the 20 to 30 tools that you're going to end up using. You can use CRM to improve the way your business works. All CRMs operate a little bit differently but they're all very similar. Well, the best CRM Shopify Integration will differ based on the preference and use cases of each Store.
This article provided you with a basic understanding of what CRMs are and how can a CRM Shopify Integration help you to scale your business. The article gives an overview of some of the most widely used CRM Shopify options which will help you in deciding the right CRM for your Online Shopify Store.
Visit our Website to explore Hevo
Hevo Data with its strong integration with 100+ Sources & BI tools such as Shopify allows you to not only export data from sources & load data in the destinations, but also transform & enrich your data, & make it analysis-ready so that you can focus only on your key business needs and perform insightful analysis using BI tools. It helps transfer data from Shopify to a destination of your choice for free.
Give Hevo Data a try by Sign Up for a 14-day free trial today. Hevo offers plans & pricing for different use cases and business needs, check them out!
What do you think about different CRM Shopify Integrations, what CRMs you're using for your Shopify Store, or what struggles you're having when using your CRM, share your thoughts in the comments section below.
No-code Data Pipeline For Your Data Warehouse