gRPC vs GraphQL: A Definitive Comparison with 5 Key Differences
Every Organisation relies heavily on Data Sharing. Employees from various departments and different Organizations will wish to share information with one another. This data can be in the form of Text, Documents, Videos, etc. Users will also want to visit an Organization's Website and request the data they are interested in.
Thus, there should be a way to facilitate these Data Exchange Processes. Traditional ways of exchanging data like the use of Physical Data Storage Devices may not be effective for this. The good news is that there are many Data Exchange Technologies available for you. Two of the most common Data Exchange Technologies are gRPC and GraphQL. These two technologies can facilitate Data Exchange between your Organization's Users and between your Organization and other Organizations. This will facilitate Data Exchange between different parties regardless of the distance between the two.
In this article, we will be discussing gRPC vs GraphQL. This will help you know the key differences between the two so that you may choose the suitable one for your Organization.
Table of Contents
The gRPC Concept: What It Is and How to Use It
gRPC is a quick and lightweight system for requesting data. It's a new version of an old method known as Remote Procedure Call (RPC). It was developed by Google and made Open-Source later. It works based on contracts and negotiations that are defined by the relationship between the Server and the Client rather than by the Architecture.
gRPC is lightweight and requires few resources. This makes it a good solution even for low powered situations. It uses Protocol Buffers (Protobuf) to serialize Structured Data and facilitate effective communication. gRPC is Open Source, hence, you can use it for free.
gRPC is suitable where the Data Requester wants to preserve resources. It is mostly used in IoT devices like Smart Light Switches, Voice Controllers, Cameras, and Smoke Alarm Locks.
What Is GraphQL and How Do I Use It?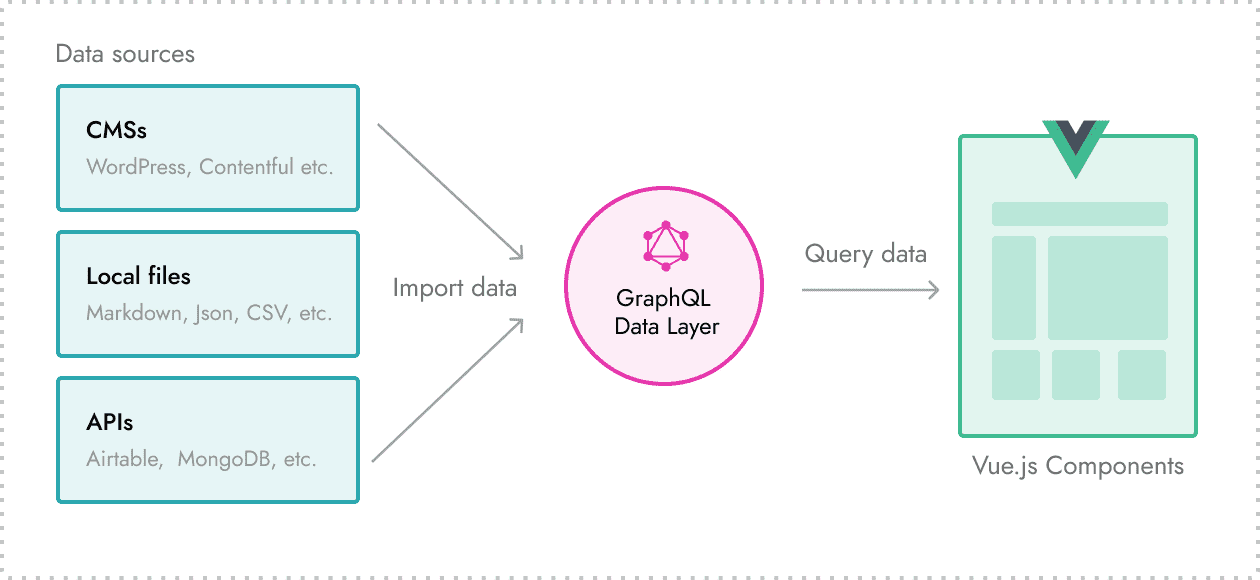 GraphQL is a system for requesting data whose focus is on pinpointing requests and delivering what is required. It is a Client-driven approach that makes it unique from other APIs. Instead of using the normal Server to Client Model, it lets the Client decide how everything is handled. The Client decides the type of data that is wanted and the preferred format for the data.
GraphQL doesn't over fetch data, but it returns exactly what is requested by the Client. It is also Cross-platform, with the ability to support more than a dozen languages including Perl, PHP, Java, Python, and others.
In the next section, we will be discussing gRPC vs GraphQL to know how they compare in different core areas.
Simplify your Data Analysis with Hevo's No-code Data Pipeline
Hevo Data, a No-code Data Pipeline, helps load data from any Data Source such as Databases, SaaS applications, Cloud Storage, SDK's, and Streaming Services and simplifies the ETL process. It supports 100+ Data Sources including 40+ Free Sources. It is a 3-step process by just selecting the data source, providing valid credentials, and choosing the destination. Hevo loads the data onto the desired Data Warehouse/Destination like Google BigQuery, Snowflake, Amazon Redshift, Firebolt (Integration Coming Soon!) and enriches the data transforming it into an analysis-ready form without having to write a single line of code.
It's a completely Automated Pipeline that offers data to be delivered in real-time without any loss from source to destination. Its fault-tolerant and scalable architecture ensure that the data is handled in a secure, consistent manner with zero data loss and supports different forms of data. The solutions provided are consistent and work with different BI Tools as well.
Get Started with Hevo for Free
Check out why Hevo is the Best:
Secure: Hevo has a fault-tolerant architecture that ensures that the data is handled securely and consistently with zero data loss.
Schema Management: Hevo takes away the tedious task of schema management & automatically detects the schema of incoming data and maps it to the destination schema.
Minimal Learning: Hevo, with its simple and interactive UI, is extremely simple for new customers to work on and perform operations.
Hevo Is Built To Scale: As the number of sources and the volume of your data grows, Hevo scales horizontally, handling millions of records per minute with very little latency.
Incremental Data Load: Hevo allows the transfer of data that has been modified in real-time. This ensures efficient utilization of bandwidth on both ends.
Live Support: The Hevo team is available round the clock to extend exceptional support to its customers through Chat, Email, and Support Calls.
Live Monitoring: Hevo allows you to monitor the data flow and check where your data is at a particular point in time.
Sign up here for a 14-Day Free Trial!
gRPC vs GraphQL: What's the Difference?
The following are the differences between gRPC and GraphQL:
gRPC vs GraphQL: Best Use Case
gRPC Best Use Case
gRPC is a quick system for requesting data. It is suitable for use where processing is to be done routinely or where a system requires a set amount of data. It is also suitable for use where the Data Requester has limited resources.
GraphQL Best Use Case
GraphQL requires the user to define the required Data Format. It is best used in situations where the Data Requester wants to get the data in a specific format for a particular use case. In such cases, the Data Formats and the relationships between them are very important.
gRPC vs GraphQL: Architecture
gRPC Architecture
gRPC's Architecture is based on the concept of Contracts. In this architecture, negotiation is defined by the Client-Server Relationship instead of the Architecture itself. Much of the power and responsibility is given to the Client to execute. At the same time, much of the handling and computation work is offloaded to the Remote Server that hosts the resource.
GraphQL Architecture
GraphQL has a unique approach to the Client-Server Relationship and it is like a reversal of the traditional model. It is the Client that determines the data they want as well as the format in which they want it. This approach reverses the classic Server to Client dictation and facilitates an extended functionality.
gRPC vs GraphQL: Protocols and Verbs
gRPC Protocols and Verbs
It uses the HTTP/2 Protocol which is capable of supporting Bidirectional and Multiplexing. It is an improvement of the HTTP/1 Protocol. It also uses a binary protocol rather than JSON.
For more information on HTTP/2, visit Google's Web Fundamentals Guide here.
GraphQL Protocols and Verbs
It uses the HTTP Protocol. It can be accessed via a simple POST API or via the playground. It also offers different names such as Query and Mutation of CRUD operation.
gRPC vs GraphQL: Speed
gRPC Speed
Speed is an important factor to consider when comparing gRPC vs GraphQL. gRPC has a great focus on performance through a Compact Data Format, through the use of HTTP/2 as the transport layer and fast encoding and decoding of messages.
Code generation on both the Client and the Server is done using Protocol Buffers (protobuf) definitions to save Developers from the need to write boilerplate code. It also gives them an opportunity to enjoy type safety.
GraphQL Speed
GraphQL allows the Clients to request for any number of Data Fields at a go. The response will be as fast as the speed of the slowest requested field. This means that users should optimize queries continuously based on usage patterns.
Thus, GraphQL will be slower than gRPC in most cases.
gRPC vs GraphQL: Supported Programming Languages
gRPC Supported Programming Languages
gRPC has official libraries for most of the popular programming languages including Java, C#, C/C++, JavaScript, Go, PHP, Python, and Kotlin. This gives users the flexibility to choose the languages they are comfortable with.
GraphQL Supported Programming Languages
GraphQL is also flexible when it comes to the supported programming languages. It supports more than a dozen languages including Perl, PHP, Java, Python, and others. Thus, users can also choose the programming language of choice.
That is how gRPC and GraphQL compare in different core areas.
Conclusion
This blog discussed fine differences across gRPC and GraphQL. We also discussed concepts behind gRPC and GraphQL, their protocols and architecture.
For Businesses, extracting complex data from a diverse set of Data Sources like CMS Systems or Files can be a challenging task. This is where Hevo saves the day by providing an efficient, reliable and fast ETL Service.
Visit our Website to Explore Hevo
Hevo Data offers a faster way to move data from 100+ Data Sources, into your Data Warehouse to be visualized in a BI tool. Hevo is fully automated and hence does not require you to code. Hevo also provides a pre-built Native REST API Connector that will allow you to integrate data from a plethora of custom and non-native sources. All this without writing a single line of code and free of cost.
Want to take Hevo for a spin? Sign Up here for a 14-day free trial and experience the feature-rich Hevo suite first hand. You can also have a look at the unbeatable pricing that will help you choose the right plan for your business needs.
Share your learning experience from gRPC vs GraphQL and the contrasts you found most useful. Let us know what you think in the comments area below!
No-code Data Pipeline for Your Data Warehouse