How to Connect Snowflake to Intercom?: 2 Easy Methods
Everything is available and managed over the internet in today's digital society. This process generates a large amount of data, making real-time analysis, formulating insights, detecting frauds and abnormalities, notifying users, and other tasks challenging.
Snowflake is a fully managed data warehouse system that is Cloud-based and enables superior Data Analytics. Snowflake manages its Cloud infrastructure and data using AWS, Azure, and GCP. Snowflake performs SQL queries on the data in order to convert and provide insights.
Intercom is a customer communication platform that includes live chat, marketing, feedback, and customer care. Applying tags to customers (users and companies) and conversations between customers and support teams allows Intercom to group them.
This blog post aims to discuss Customer Communications platform, Intercom and a Cloud-hosted data warehouse, Snowflake. You will also know how you can connect Snowflake to Intercom.
Table of Contents
What is Snowflake?
Snowflake is a fully managed SaaS (Software as a Service) platform that combines Data Warehousing, Data Lakes, Data Engineering, Data Science, Data Application Development, and Secure Sharing and Consumption of Real-time / Shared Data. To meet the demanding needs of expanding companies, Snowflake provides out-of-the-box capabilities such as Storage and Compute Separation, On-the-fly Scalable Compute, Data Sharing, Data Cloning, and third-party Tool Support.
Snowflake is not based on any existing database or "Big Data" software platform, such as Hadoop. In contrast, Snowflake blends a cutting-edge Cloud Architecture with a brand-new SQL query engine. Snowflake provides users with all of the features and capabilities of an enterprise analytic database, as well as a lot more.
Key Features of Snowflake
The following are some of the features of Snowflake as a Software as a Service (SaaS) solution:
Snowflake helps you break down silos and ensure that everyone in your business has access to relevant data, allowing you to make better data-driven decisions. This is a key first step in, among other things, improving partner relationships, pricing optimization, lowering operational expenses, and increasing sales effectiveness.
By converting from nightly Batch Loads to Real-time Data Streams in Snowflake, you may improve the quality and speed of your analyses.
Snowflake uses the Caching Paradigm to deliver cache results quickly.
You can use Snowflake to learn more about your customers' habits and how they utilize your products.
Snowflake allows you to create your own Data Exchange, which allows you to securely share live, regulated data.
What is Intercom?
Intercom is a popular commercial messaging solution that is simple to integrate into any website. Lead creation, conversion, and management are all aided by Intercom. It supports workflows and dialogues that are automated. It also allows visitors to perform numerous tasks linked to their customer journey directly from the chatbox, such as learning about purchase progress, order confirmation, raising a support request, and so on.
Despite the fact that Intercom has its own dashboard and reporting tools, it is common for businesses to upload their produced lead data into their own data warehouse for analysis and decision-making. With this data in their warehouse, they can mix it with their previous data and conduct far more in-depth research.
Key Features of Intercom
Outbound Messaging: You may also utilize mobile push notifications, customized emails, and in-app messages to entice users to take action or convert leads into loyal customers. This functionality assists you in providing customer support and onboarding in your mobile app and on the web.
Team Inbox: You can use a shared, collaborative, and highly customized inbox to respond to customer questions. This Intercom feature allows you to provide scalable and personalized help to your customers.
Product Tours: With guided, adoption-driving tours, you can support and onboard customers while highlighting new Intercom features.
Help Articles: Intercom allows you to submit articles to a knowledge base so that your clients can self-serve assistance. You can also share articles automatically through Messenger or talks with teammates.
Benefits of Connecting Snowflake to Intercom
Chatbots for customer service systems like Intercom communicate directly with consumers and learn about their tastes, preferences, budget, and a variety of other factors. The number of tickets raised by each client for various issues speaks eloquently about the various goods and their feedback.
Customer service apps and user interaction data from Marketing Campaigns, CRMs, E-Commerce Platforms, Email Marketing Tools, Social Media Marketing Platforms, and Cloud telephony services are common sources of data for top organizations.
User Behavior Patterns, such as Wishlists, Search History, Cart Addition, and Cart Abandonment Data, can potentially reveal product demand trends. To maximize profitability, all of this data can be utilized to forecast Sales trends and spend Marketing and other expenses accordingly. This data is mined and evaluated on a regular basis, assisting a business in gaining insights, decreasing loss, and optimizing income.
Ways to Connect Snowflake to Intercom
Method 1: Connect Snowflake to Intercom using Hevo Activate
Hevo Activate provides a hassle-free solution and helps you directly transfer data from Snowflake, Google BigQuery, Amazon Redshift, Facebook, etc., to Intercom, Google Sheets, Salesforce, HubSpot, Zendesk, etc without any intervention in an effortless manner. Hevo Activate is fully managed and completely automates the process of not only loading data from your desired source but also enriching the data and transforming it into an analysis-ready form without having to write a single line of code.
Hevo's pre-built integration with Snowflake and CRM Sources will take full charge of the data transfer process, allowing you to focus on key business activities. Hevo also provides Intercom andSnowflake as a Destination for seamlessly loading data into it.
Get Started with Hevo for Free
Method 2: Connect Snowflake to Intercom Manually Using CSV Files
This method would be time-consuming and somewhat tedious to implement. You will have to first manually export data from Snowflake in CSV format and then again import that data into Intercom using CSV files.
Methods to Connect Snowflake to Intercom
Method 1: Connect Snowflake to Intercom using Hevo Activate
Hevo Activate helps you directly transfer data from Redshift, Snowflake, etc., and various other sources to CRMs such as Intercom, HubSpot, various SaaS applications, and a lot more for free, in a completely hassle-free & automated manner.
Hevo Activate handles all of your data preparation requirements, allowing you to focus on essential business operations and get a far more powerful understanding of how to create more leads, keep customers, and push your firm to new heights of profitability. It offers a consistent solution for managing data in real-time and ensuring that you always have analysis-ready data at your preferred destination.
Take a look at what makes Hevo Activate so special:
Real-time Data Sync: With its excellent integration with multiple sources, Hevo Activate enables you to transfer data fast and efficiently. This guarantees that bandwidth is used efficiently on both ends.
Data Transformation: It gives a straightforward interface for perfecting, changing, and enriching the data you wish to transmit.
Secure: Hevo Activate features a fault-tolerant design that ensures data is handled securely and consistently, with no data loss.
Massive Connector Availability: Hevo Activate has a huge number of connections that allow you to bring data from various Data Warehouses and load it into Marketing & SaaS apps like Salesforce, HubSpot, Zendesk, Intercom, and others in an integrated and analysis-ready format.
Simplicity: Using Hevo Activate is simple and straightforward, guaranteeing that your data is exported in a matter of seconds.
Completely Managed Platform: Hevo Activate is a fully managed platform. You do not need to devote time or effort to maintaining or monitoring the infrastructure required in code execution.
Live Assistance: The Hevo Activate team is accessible 24 hours a day, 7 days a week to provide outstanding support to its clients via chat, email, and support calls.
The steps to Connect Snowflake to Intercom using Hevo Activate:
Step 1: Configure Snowflake as your Warehouse
Step 1.1: In the Asset Palette, click ACTIVATE, and then:

Select + CREATE ACTIVATION in the ACTIVATIONS tab.
Click + ADD WAREHOUSE on the Select Warehouse page.
Choose Snowflake from the drop-down menu on the Select Warehouse Type page.
Step 1.2: In the Asset Palette, click DESTINATIONS, and then:

In the Destinations List View, click + CREATE.
Select Snowflake as the destination type on the Add Destination page.

Step 1.3: Set the following parameters on the Configure your Snowflake Warehouse page: Warehouse Name, Account Name, Region, Database User, Database Password, Database Name, Schema Name and Warehouse.
Step 1.4: To test connectivity with the Snowflake warehouse, click TEST CONNECTION.
Step 1.5: Click SAVE & CONTINUE when the test is completed successfully.
Step 2: Configure Intercom as your Target Destination
To set Intercom as your Target destination, you can follow the simple steps given below:
Step 1.1: Click Activate in the Asset Palette.
Step 1.2: Do one of the following:


In the Select Warehouse page, select your Activate Warehouse or click + ADD WAREHOUSE to add a new warehouse. Read Activate Warehouses to configure the selected Warehouse type.
In the Select a Target page, click + ADD TARGET.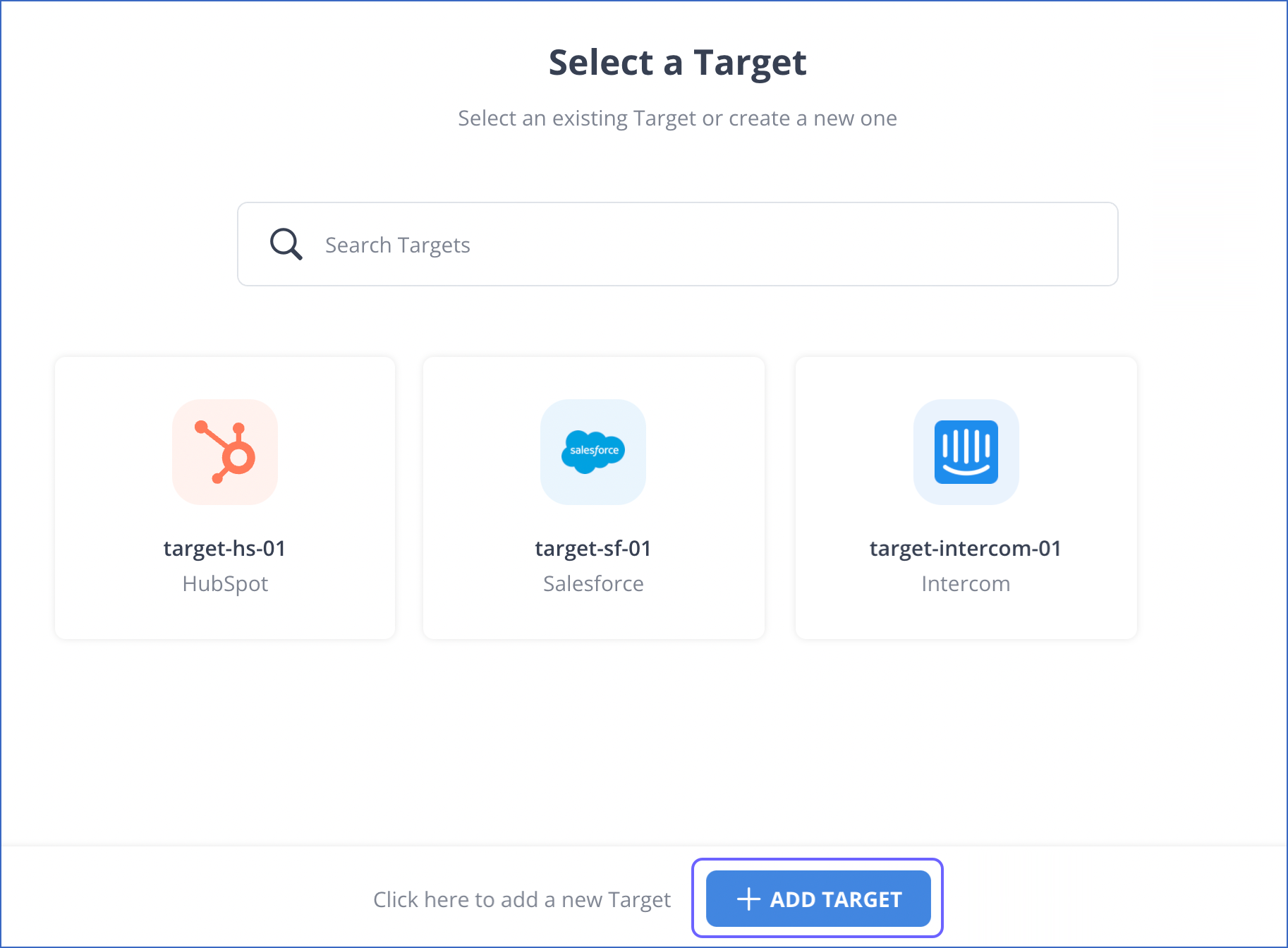 Step 1.3: In the Select a Target Type page, click on Intercom.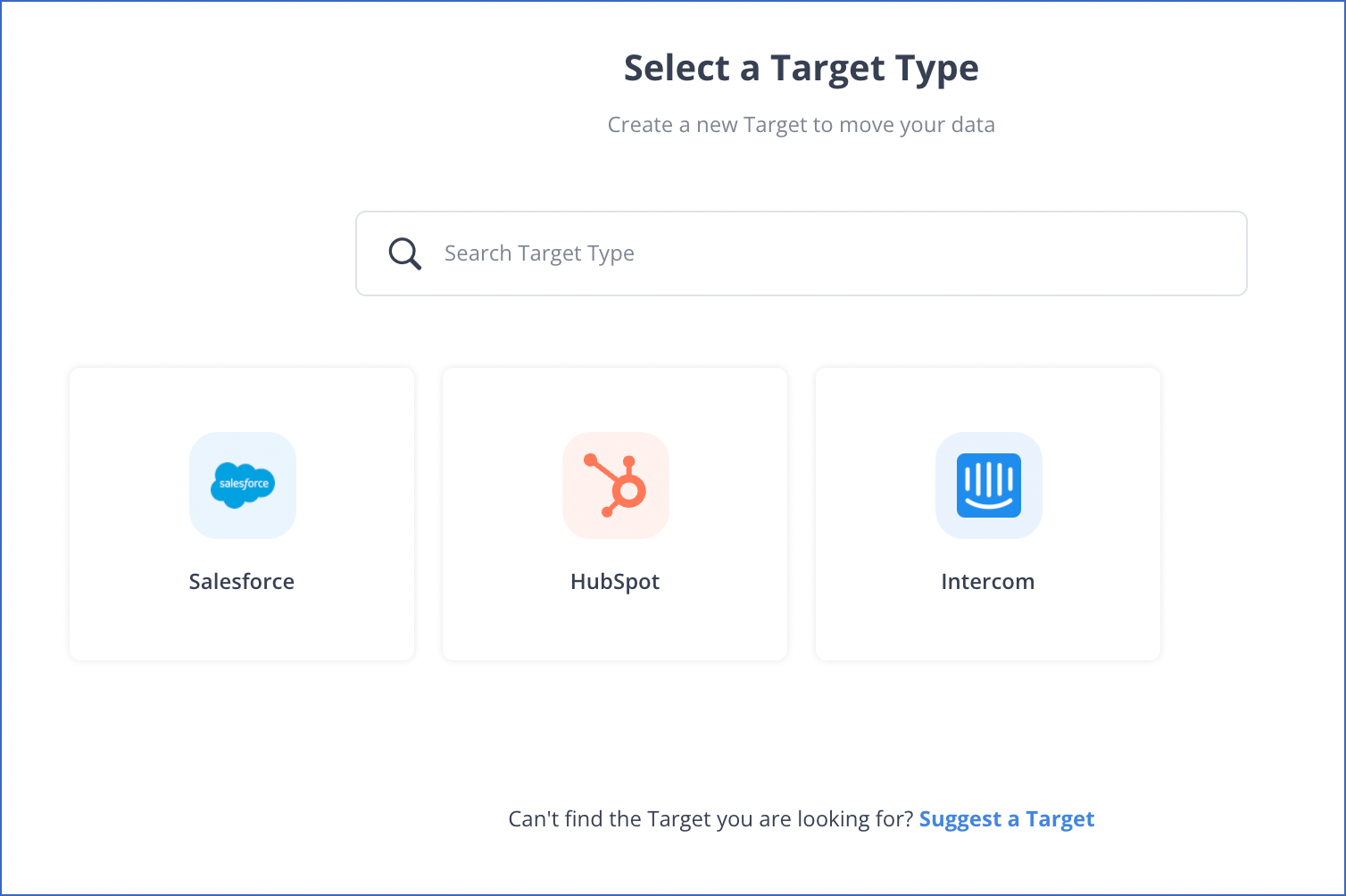 Step 1.4: In the Add the Intercom Target page, click + ADD INTERCOM ACCOUNT.

Step 1.5: Log in to your Intercom account and click Authorize access to allow Hevo to access your data.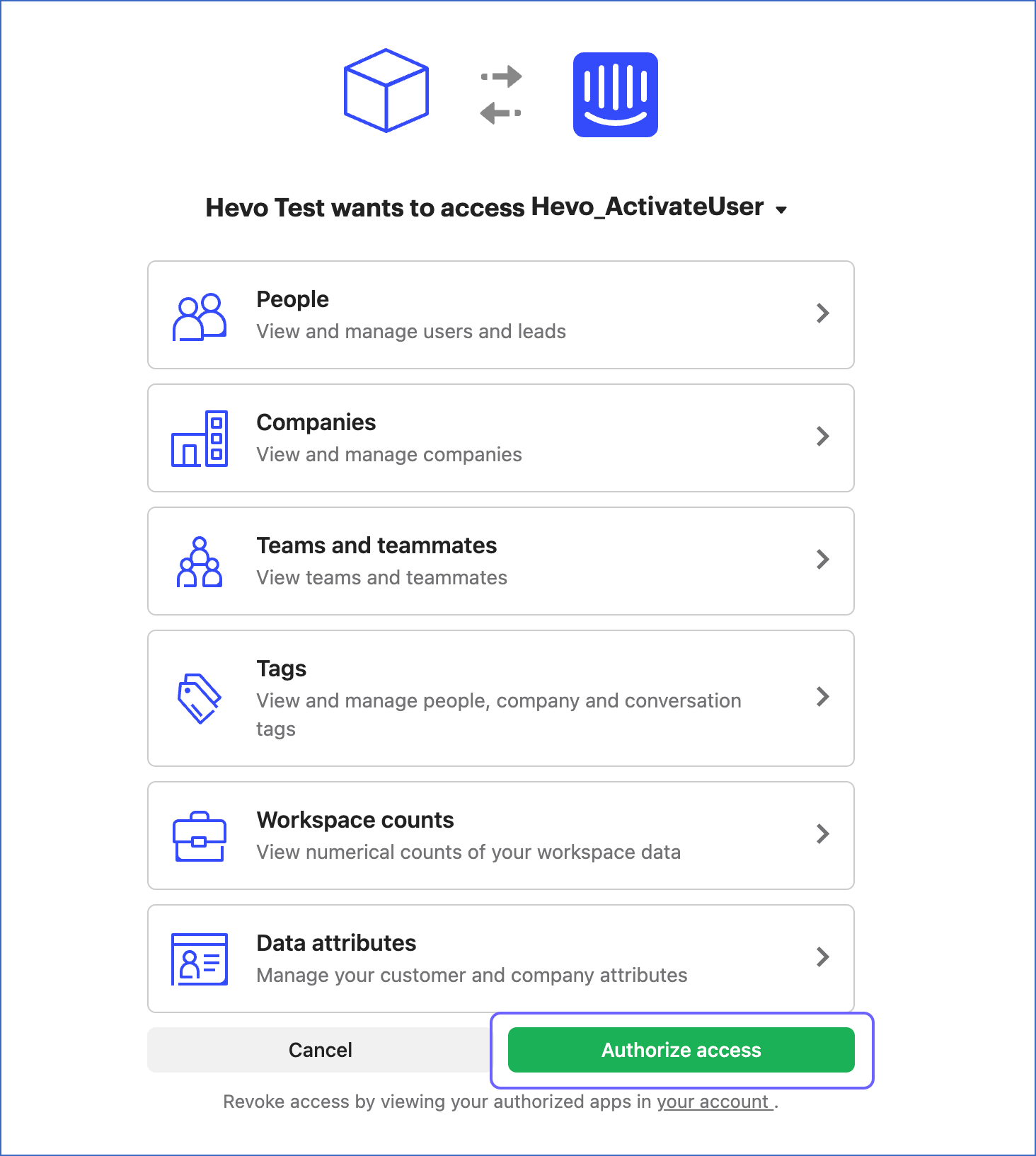 Step 1.6: In the Add the Intercom Target page, specify a unique Target Name.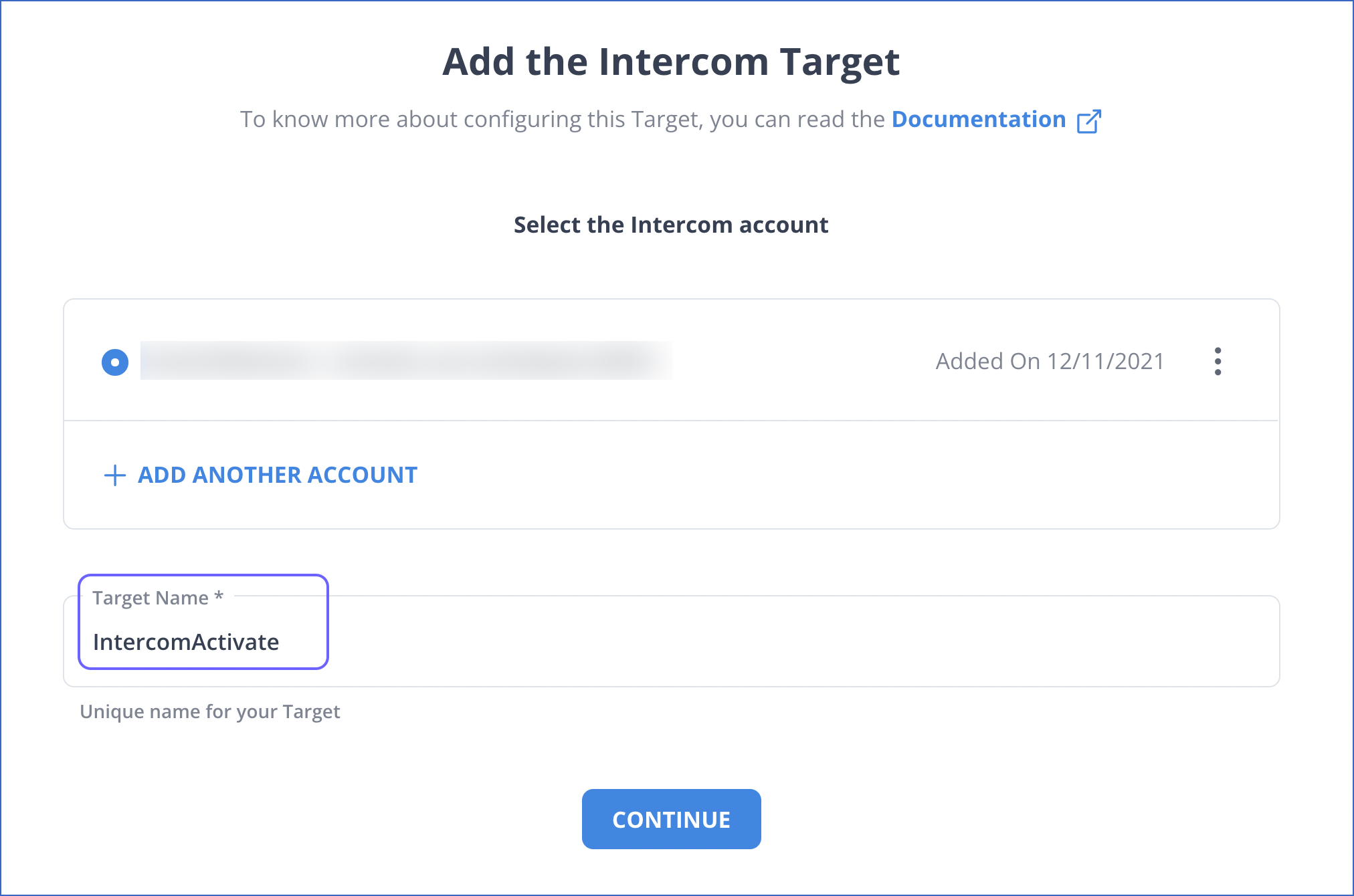 Step 1.7: Click CONTINUE. You can view the new Target in the Targets List View. If you are creating an Activation, you return to the Select Data to Synchronize page.

Method 2: Connect Snowflake to Intercom Manually using CSV Files
You cannot directly export the data from Snowflake to Intercom. To export data from Snowflake to Intercom, first you will have to export data from Snowflake as CSV files and then load the CSV files into Intercom.
Step 1: Export Data from Snowflake as CSV
The first step in exporting data from Snowflake to Intercom is exporting data from Snowflake as CSV files. There are different ways to do so:
1) Using COPY Command and Storing CSV File in Cloud
You can always use the COPY command to begin your Snowflake to Intercom data transfer. To begin, you will require a SQL client interface capable of connecting to your Snowflake. When combined with a Cloud platform like AWS, GCP, or Azure, the COPY command becomes extremely powerful. This command allows you to save a query result to the Cloud platform. That is S3 for AWS. That's Cloud Storage Bucket for CGP and Azure Container for Azure. You can then download files to your local storage. If you're particularly inventive, you can route them to other destinations from there. (However, before you do so, learn about reverse ETL.)
Let's take a look at an AWS command to export data into S3 to get a sense of how a COPY command looks.
copy into s3://mybucket/unload/ from mytable storage_integration = s3_int;
In both GCP and Azure, the COPY command works in the same way. The export file path, table name, and connection information are all included in the COPY command. To define your storage integration parameter, look at the create statement below.
create storage integration s3_int
  type = external_stage
  storage_provider = s3
  storage_aws_role_arn = 'arn:aws:iam::001234567890:role/myrole'
  enabled = true
  storage_allowed_locations = ('s3://mybucket1/path1/', 's3://mybucket2/path2/');
In this example, the parameter names are plain and descriptive. For other Cloud platforms, the create syntax follows identical guidelines.
2) Using a BI Tool
You can use a BI Tool to start your Snowflake to Intercom journey. The quickest and easiest way to export CSV files from Snowflake is to connect it to a BI tool that allows you to query your Snowflake instance directly and get the query results. Metabase is one of the top BI tools for exporting CSV files because most people find SQL analytics to be quite simple. With either method, you can export a CSV to your PC in one click.
In Metabase's web UI, the download button is located in the bottom right corner of the SQL results listings. Mode's API may be used to export CSV files, or you can add a button to a Notebook that lets users export CSV files.
3) Using SnowSQL
SnowSQL can also be used to start your Snowflake to Intercom journey. You can use a BI Tool to start your Snowflake to Intercom journey.SnowSQL is a command-line utility that allows you to run DDL and DML queries against your Snowflake cluster. Data Definition Language (DDL) and Data Manipulation Language (DML) are query languages for managing how data is stored and manipulating data (i.e. queries to modify the data itself). It's also capable of loading and unloading data. The installation process may differ depending on your operating system.
SnowSQL must first be installed. When you're ready to get started, look over this Snowflake document. Let's look at how to use SnowSQL to export CSV files.
If you're using Linux or macOS, the export syntax is as follows:
snowsql -c my_example_connection 
  -d sales_db  
  -s public 
  -q 'select * from mytable limit 10' 
  -o output_format=csv  
  -o header=false 
  -o timing=false > output_file.csv
Simply replace the single quotes in the select query with double quotes if you want to execute it on a Windows terminal.
snowsql -c my_example_connection 
  -d sales_db 
  -s public 
  -q "select * from mytable limit 10" 
  -o output_format=csv > output_file.csv
Instead of utilizing a separate SQL client, you can easily export a query result to your operating system using SnowSQL. You could even send it to your boss through email if you're a command-line wizard.
The first step in transferring data from Snowflake to Intercom is to export the data as a CSV file.
Step 2: Load CSV Data into Kafka
The second step in exporting data from Snowflake to Intercom is importing CSV data into Intercom. To begin, log in to Intercom and select 'New users or leads' from the persons list.
Then choose 'Import persons' from the drop-down menu:
After that, select the technique you wish to use to import users and proceed with the processes.
After selecting the CSV import option, simply follow the steps below to import your users:
Step A: After selecting the 'Import users at any time' section above. Make sure you select the 'Open CSV Import tool' option.
Step B: Click 'Import users' to import a list of your product's logged-in users or customers. Alternatively, you can choose to import a list of leads into your Intercom workspace by selecting 'Import leads.'
Step C: Click 'Upload' after dragging and dropping your CSV file. The maximum file size is 20 megabytes. If the file is greater than that, you should split it apart.
Step D: Intercom will now ask you to choose the columns that include your users' email addresses, IDs, full names, and sign-up dates. For each, select 'Select this column' and then 'Confirm.'
Note: It's important to note that every user or lead in your CSV must have an email address.
Step E: If you've added any additional columns, Intercom will prompt you to name your custom characteristics. Once you've given your custom attribute a name, click 'Confirm.'
Step F: Add a memorable word to your CSV list, such as 'New Sign-Ups 2015'.
Step G: Once imported, look for 'tag: New Sign-Ups 2015' in your Intercom User list. You can now send a manual message to everyone on the list or establish a segment for that group and send a targeted auto message to them.
Note that the country calling code must be added to the beginning of your phone numbers. For example, you would add '+1′ or '001' to a US phone number. You have successfully done Snowflake to Intercom data transfer!
Updating CSV Data
For current users, you can change settings and add new attributes. A column with user email addresses is required for all CSV imports. A few things to keep in mind:
By sending the same user_id but a different email address, you can update a user's email address. You'll change the email address for the user with that user_id in Intercom.
Setting a new value for user_id and utilizing the existing email address will result in a new record being created.
Sending email in a CSV import is adequate to match the user record in Intercom if you utilize both user_id and email in Intercom.
When you update existing columns and leave a field blank, the values will be overwritten with unknown values.
Limitations of Connecting Snowflake to Intercom Manually
There is just one way to transfer data from Snowflake to Intercom. To maintain both tools up to date, two-way sync is required.
The manual process takes time because the records must be updated on a regular basis. This is a waste of time and resources that could be used for more vital company duties.
Updating current data and sustaining workflows across various platforms takes a lot of engineering bandwidth, which might be frustrating for certain users.
There is no room for transformation during data transport. This could be a significant disadvantage for businesses who want to change their data before exporting it from Snowflake to Intercom.
Conclusion
In this article, you have learned how to effectively connect Snowflake to Intercom using 2 different methods. The second method uses the CSV Files to connect Snowflake to Intercom.
However, creating & managing multiple connections between Snowflake, Intercom and all the applications in your business is a time-consuming & resource-intensive task.Using the first method, you can opt for a more economical & effortless approach by automating your workflow via a Cloud-Based Reverse ETL Tool like Hevo Activate!
visit our website to explore hevo
Hevo Activate helps you directly transfer data from a source of your choice such as Snowflake, Google BigQuery, Amazon Redshift, Facebook, etc., to any SaaS application like Google Sheets, CRMs like Intercom, etc., in a fully automated and secure manner without having to write the code repeatedly. It will make your life easier and make data migration hassle-free. It is user-friendly, reliable, and secure.
Hevo, with its strong integration with CRM Tools like Intercom, HubSpot, Salesforce, allows you to not only export & load data but also transform & enrich your data & make it analysis-ready in a jiffy.
Want to take Hevo for a ride? sign up for a 14-day free trial and simplify your Data Integration process. Do check out the pricing details to understand which plan fulfills all your business needs.
Tell us about your experience of connecting Snowflake to Intercom! Share your thoughts with us in the comments section below.
No-code Data Pipeline for Snowflake