Understanding ArcGIS Power BI Simplified
The possession of an analytical tool in which you can add maps to your text data to make them location-specific is an amazing and wonderful way to improve and enrich your customer experience thereby growing your business. Looking through a map for demographics allows you to come up with patterns and solutions to your business problems. This information may be specific to locations on a map such as the best schools to attend, parks to visit, where to purchase a home, a store to get quality products, etc.
ArcGIS is a geographic tool that is used to perform such analysis in an automated way. It helps in the creation of maps from your data and when combined with an incredible analytic tool like Microsoft Power BI, what you get is a sophisticated report filled with insights and pathways that allows you to make the best business decisions.
In this article, you will be introduced to ArcGIS Power BI and given a general overview of the product and how you can combine information from many independent sources to derive new sets of information to aid in the transformation of your organization through the creation and addition of locations to your visualizations.
Table of Contents
Introduction to Microsoft Power BI

Microsoft Power BI is an analytics tool developed by Microsoft used in transforming your raw data into a visually appealing structure where analysis and decisions can be made. This is done by building Dashboards, Templates, Charts, Graphs, Lines, and Creative Reports through a unified and scalable platform that bridges the gap between your unstructured data and decision-making thereby helping you to gain deeper and useful insights.
Microsoft Power BI consists of different formats such as Power BI Desktop, an online Software-as-a-Service (SaaS) called Power BI Service, and a range of mobile apps available on Windows, iOS, and Android devices. It also includes the Power BI Report Server which allows for the publishing of Power BI reports to an On-premises Report Server, after creating them in Power BI Desktop.
Analyzing your data using Microsoft Power BI gives room for confident decision-making and creates a data-driven culture for an organization. This in turn helps the establishment in asking relevant questions and getting the most appropriate answers where needed. Microsoft Power BI is a Business Intelligence tool that can be used to gather information from various data sources and turn them into meaningful insights using Data Visualizations, in-built Artificial Intelligence capabilities, integration with Microsoft Excel, and pre-built or custom data connectors designed to help you not only read the information but also get a clear idea of actions to be taken.
Simplify ETL Using Hevo's No-code Data Pipeline
Hevo is a No-code Data Pipeline that offers a fully-managed solution to set up data integration from 100+ data sources including Microsoft Power BI and will let you directly load data to a Data Warehouse or the destination of your choice. It will automate your data flow in minutes without writing any line of code. Its fault-tolerant architecture makes sure that your data is secure and consistent. Hevo provides you with a truly efficient and fully-automated solution to manage data in real-time and always have analysis-ready data.
Let's Look at Some Salient Features of Hevo:
Fully Managed: It requires no management and maintenance as Hevo is a fully automated platform.
Data Transformation: It provides a simple interface to perfect, modify, and enrich the data you want to transfer.
Real-Time: Hevo offers real-time data migration. So, your data is always ready for analysis.
Schema Management: Hevo can automatically detect the schema of the incoming data and maps it to the destination schema.
Live Monitoring: Advanced monitoring gives you a one-stop view to watch all the activities that occur within pipelines.
Live Support: Hevo team is available round the clock to extend exceptional support to its customers through chat, email, and support calls.
Explore more about Hevo by signing up for the 14-day trial today!
Introduction to ArcGIS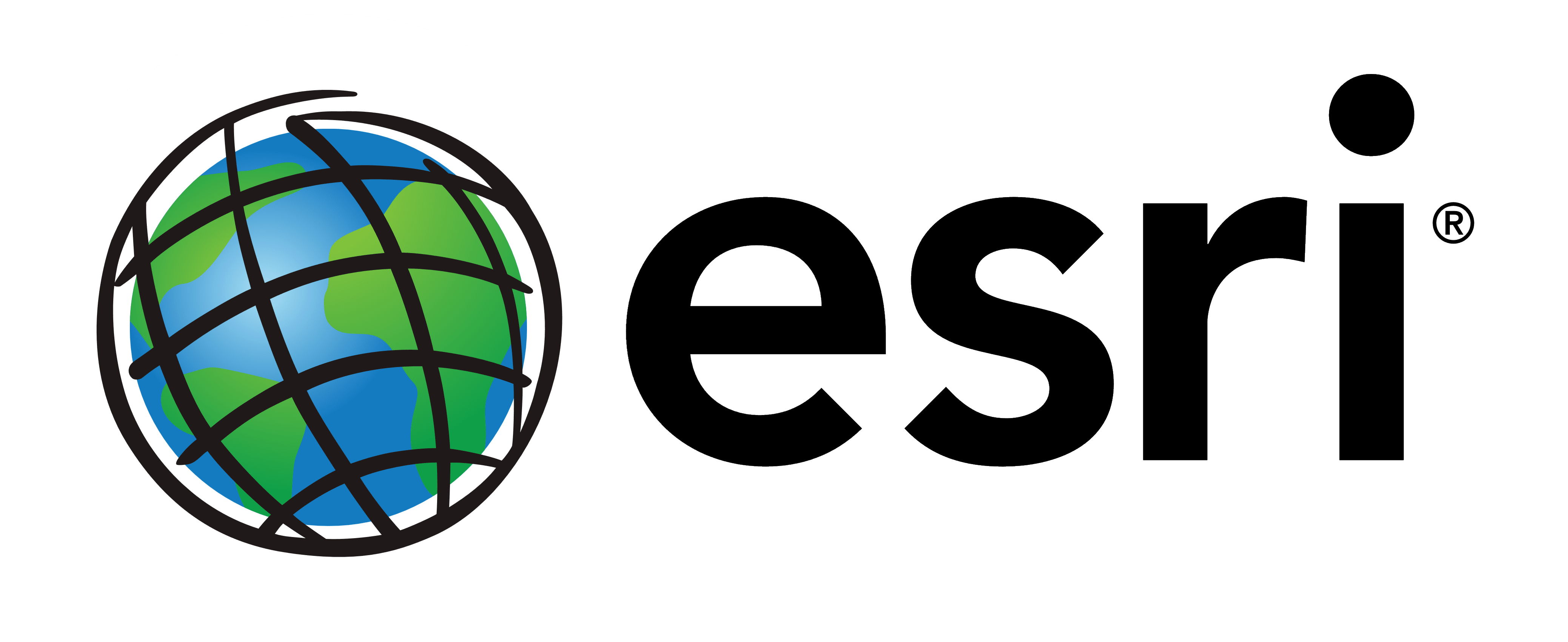 ArcGIS is a Geographic Information System (GIS) software that is used in handling and analyzing geographical information by presenting compelling visualizations, managed by Environmental Systems Research Institute (ESRI). It comprises the creation and use of maps, analysis of the mapped information, compiling diverse geographic data, sharing the discoveries across an organization or community, as well as managing geographic information in a database.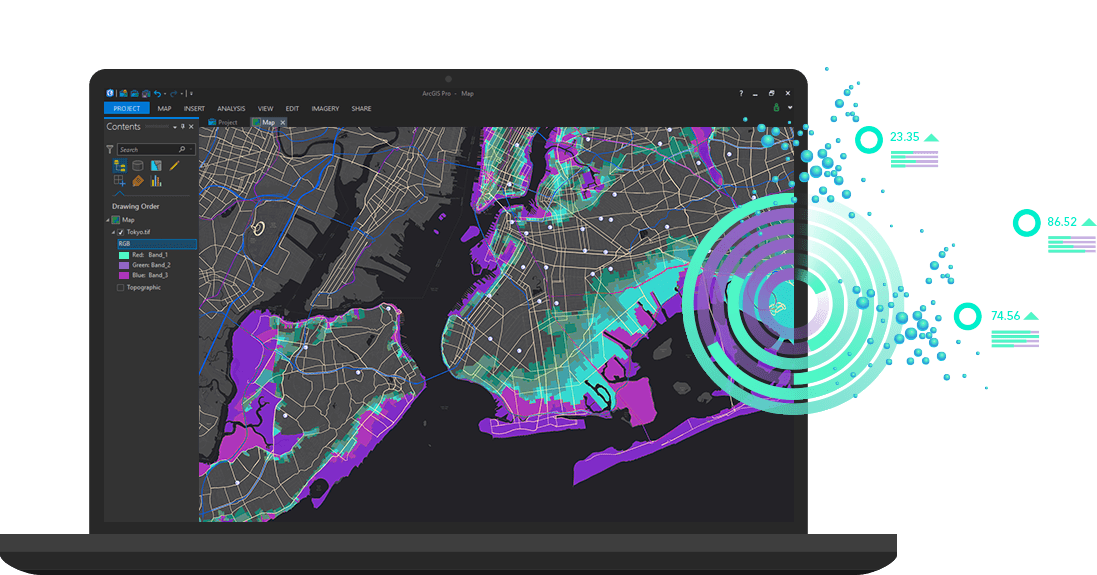 It is used by a vast variety of people and institutions ranging from academic departments and institutes to develop and foster research to several private/commercial institutions and governments.
ArcGIS is made up of four key parts which are used to create geographical visualizations. The first part is a Geographic Information Model for modeling aspects of the real world, the second is basically for storing and managing the geographic information which is stored on files and databases, the third is made up of applications for creating, manipulating, editing, analyzing, and sharing information, and finally, the last part is a collection of web services that provides contents to software clients in a network.
ArcGIS has ranging functionality to implement geographic workflows and can be deployed on mobile devices, laptops, desktop computers, and Servers. Windows desktop software versions consist of the following: ArcReader, ArcGIS Desktop known as ArcMap, and ArcGIS Pro. Server-based ArcGIS software is available and forms part of the ArcGIS Enterprise product.
Introduction to ArcGIS Power BI
ArcGIS Power BI is one of the custom visualization tools in-built in Microsoft Power BI. ArcGIS Power BI provides mapping capabilities that enable you to create more attractive data stories using reports and dashboards. ArcGIS Power BI helps you in performing spatial analysis which leads to a greater understanding of your data through mapping important locations, spotting prominent patterns, budding relationships, etc. These can be done by using smart maps like Heat Maps, Clustering Data into Aggregates, adding Demographic and Reference Layers of Interest, Measure Drive Time, etc.
ArcGIS Power BI is a wonderful mapping tool that gives you the ability to do a lot more with maps than ever before like adding data to maps which would then be viewed differently from the regular data. Visualizations from your dashboards and reports can be published and shared with others.
A sample visualization created using ArcGIS Power BI is as follows: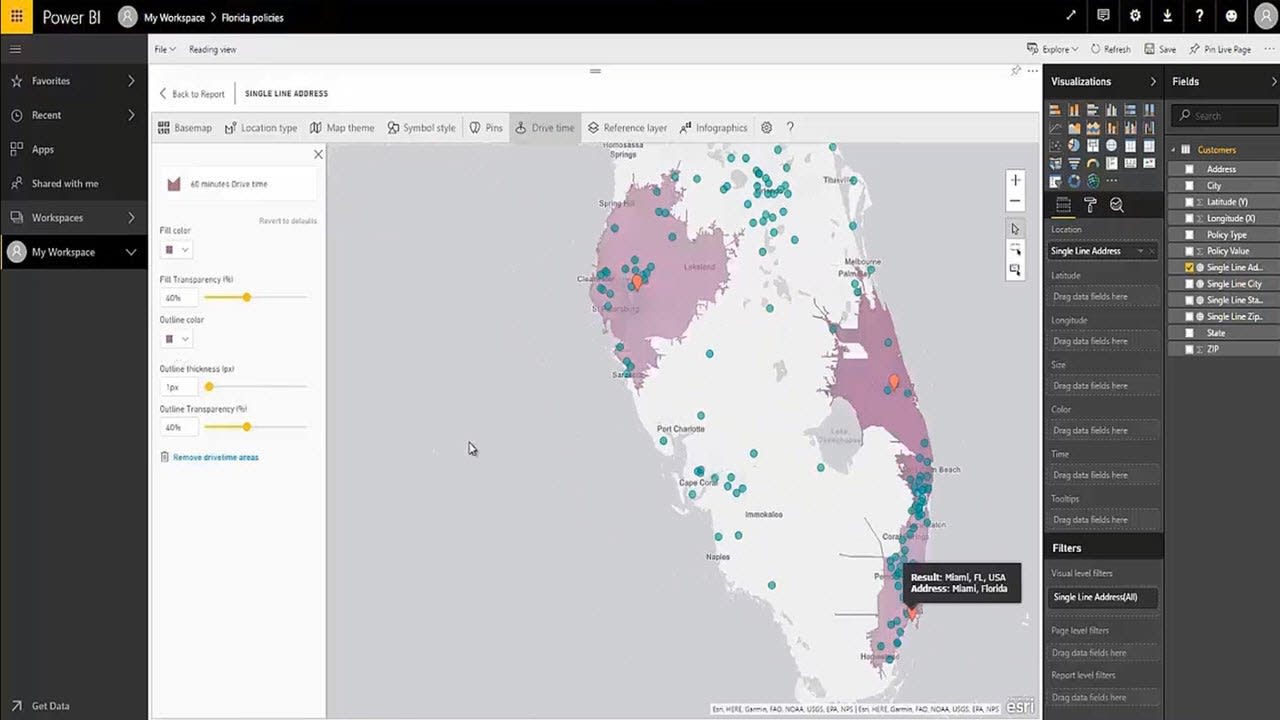 To use ArcGIS Power BI, you either connect directly from Power BI or sign in using your ArcGIS account. Doing either of these gives you access to content from your organization and the visual becomes active where selection, navigation, and user profile tools would appear on the map.
To successfully use ArcGIS Power BI to achieve your goals, you will be introduced to a few points that should be kept in mind as they are very helpful tips. These points as follows:
1) Preparing Data
Before venturing into using maps, your data needs to be changed into a required format for easy assimilation and this is done through Geocoding. Geocoding is the process of transforming a text-based description of a location to a geographic location on the earth's surface using Latitudes and Longitudes. These text-based descriptions could be an address, a name of a place, or a business. You can Geocode by entering one location description at a time or by using a table that contains many descriptions at once.
ArcGIS has resources you can use to locate Cities, Landmarks, names of businesses, Addresses, and other places around the world. It does this using the World Geocoding Service to detect such locations. Another feature it has is the ArcGIS GeoEnrichment Service which is used to detect boundary locations such as ZIP Codes, States, Provinces, Countries, etc.
The important thing to note when adding data to a map for ArcGIS Power BI is to always select the location type that is best suited for that information as this will be used in creating a relationship between your business data and the specified location type you choose. To do this, in the location field on ArcGIS Power BI, input the type of location depending on what you want. The location types are Address information such as an Address, Neighborhood, City, Region, Sub-region, Province, etc., and Standard Administrative boundaries.
2) Adding a Map to the Report
To come with an efficient report using ArcGIS Power BI with visually appealing dashboards, you need to add maps to it so that conclusions derived from locations can be done quickly. To add map visualizations to a report, carry out the following steps:
Sign in to Power BI then connect to your data source.
Open an existing report or create a new one to see the visualization pane which will appear beside the report.
Click ArcGIS Power BI and a new visualization will appear on the report page and from there you can add maps to your report.
3) Adding Data to the Map
You can add data to your map as this allows you to control the way locations appear on the map. The available options are location data, size, color values, time, and tooltips.
Location-based data from Power BI datasets added to ArcGIS visualization enables it to be more tailored but before adding location data to a map, ensure that your data is appropriately configured for use with ArcGIS Power BI. The location-based data includes Location, Latitude, and Longitude and it is advised that you add these values to the map before adding other non-location-based data like size, color, and others as listed above.
4) Editing Map Contents
ArcGIS Power BI has sets of map tools that can be used to customize the contents of the map and determine how they are displayed. The map tools for editing are an expandable series of buttons seen on the map when you click on the map tools button when you are in the application.
There are lots of other features found on ArcGIS Power BI which would prove helpful to transform your data from text-based to location-specific data using mapping capabilities.
More information on ArcGIS can be found here and ArcGIS Power BI can be found here.
Conclusion
The purpose of this article was to expose you to how analysis can be carried out from information gotten from a location and how veritable conclusions can be derived from them using ArcGIS Power BI. You were given an in-depth understanding of how data can be used to describe locations to reveal what is happening there, what conclusions could be derived from such locations, and how modeling your data to specific locations can be used to tie relationships between the business and such a location.
Most businesses today use multiple platforms to run their businesses. Performing an analysis of this business data can be a complicated task since all the data is spread across the various platforms being used. In order to perform an analysis, the data from all these platforms has to be integrated and stored in a centralized location. Making an in-house solution capable of performing data integration would require immense engineering bandwidth for development and maintenance. Businesses can instead use existing platforms like Hevo to integrate data from their sources and visualizing it in Microsoft Power BI easily or even set up ArcGIS Power BI if required.
Hevo helps you directly transfer data from a source of your choice to a Data Warehouse or desired destination in a fully automated and secure manner without having to write the code. It will make your life easier and make data migration hassle-free. It is User-Friendly, Reliable, and Secure.
Details on Hevo pricing can be found here. Give Hevo a try by signing up for the 14-day free trial today.
No-code Data Pipeline For Microsoft Power BI