Data Challenges
Data is the core of Lendingkart's business as the complete underwriting and loan approval process works on the ML training models which are driven by data. Lendingkart's proprietary algorithms use over 7000+ variables to assess the applicant's creditworthiness and this data is collected from multiple sources stored across databases, docs, apps, etc.
We were using custom scripts and have also tried some external tools to build our data pipelines that can fetch data from multiple sources, transform it, and store it in our data lake or data warehouse. But building these pipelines used to take a lot of time and even the output wasn't reliable.
The data sources at Lendingkart were mostly fixed but their data pipelines weren't finalized. Pradeep and his team used to try out multiple pipeline combinations with a range of transformations. This entire process was time consuming and used to eat up most of their team's bandwidth due to which they couldn't focus on other important projects.
The Solution
Considering the impact of this delay and unreliable data output, Pradeep decided to look for an automated data pipeline solution that can be reliable, provide pre-built integration with multiple data sources, support advanced transformations and can build pipelines quickly.
We tried several data pipeline tools that are available in the market but none of these tools was a good fit for our use case except Hevo. Hevo provides built-in integrations with a wide range of data sources including the ones that we use at Lendingkart. Creating pipelines on the Hevo platform is super easy and quick.
The data engineering team at Lendingkart built multiple pipelines using Hevo and found some of its features like Auto-mapping, CDC, JSON based API parsing, and Python interface extremely helpful as it saved their time and efforts in extracting, transforming and storing their data to the data warehouse.
Hevo became one of the key tools in Lendingkart's data stack as it helped them connect and pull data from multiple data sources like MongoDB, MySQL, Salesforce, Google Analytics, Facebook Ads, Intercom, Mixpanel and store it into Amazon S3 and Redshift. The data science and analytics team at Lendingkart used this data from S3 and Redshift for training ML algorithms and creating MIS reports on the custom-built dashboard.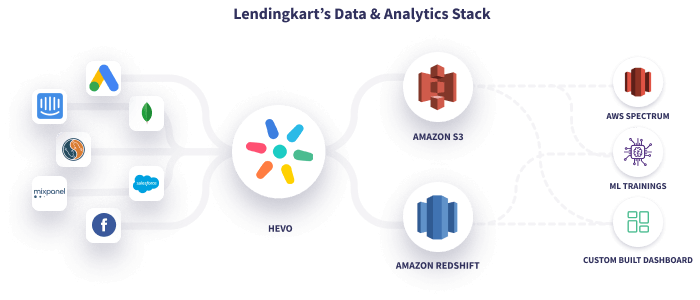 Key Results
Managing and maintaining multiple scripts and tools for creating a data pipeline was a complex and costly affair. Hevo not just helped Lendingkart build pipelines quickly but also allowed them to aggregate 4X more data at the same cost compared to their old setup.
Earlier educating new joiners to understand our scripts and data pipelines was a time consuming task. After switching to Hevo, now even a rookie engineer can easily learn and build a pipeline in just a few hours.
Since its inception, Lendingkart Finance Ltd. has disbursed over 1,00,000 loans to more than 89,000 SMEs from over 1300 cities across India. The company has grown exponentially and recently raised ₹319 crores in Series D funding to further expand its lending base and reach out to under-served small enterprises. Hevo is proud to be a part of Lendingkart's digital lending journey and looking forward to strengthening this data-driven engagement in the future.
Excited to see Hevo in action and understand how a modern data stack can help your business grow? Sign up for our 14-day free trial or register for a personalized demo with our product expert.