Data Challenges
The analytics team at Supr Daily was using a single BI tool to perform data integration, data processing, analytics, and reporting functions. This tool was primarily used for ingesting data from their backend database to a data warehouse and creating reports on top of it. This data warehouse was created on Snowflake but it was fully managed by their BI tool.
To keep a track of their day-to-day business operations, different teams at Supr Daily were heavily dependent on the reports that used to get generated on this tool. In 2019-20 Supr Daily's business grew multifold and so did their data. That was the time when they realized that they can cover a lot more use cases with their data and hence they needed to upgrade the infrastructure to support their futuristic data and analytics plans.
We had few limitations with an existing data warehouse. Major ones being the ability to create limited processed datasets and their refresh. Refreshes were always full-load and not incremental. We were also having difficulties in consuming this data outside the SQL environment. Processing via R/Python/Scala was difficult. We've created almost 50k charts for different teams to monitor business KPIs but in a single day we could only refresh 20k charts due to the compute bandwidth limitations.
It was becoming extremely difficult for their business teams to trust the data and charts because of the latency and refresh issues. Their analytics team realized the limitations and hence they decided to look for a specialized cloud data warehousing platform and a data integration solution that can help them achieve a lot more with their data.
The Solution
While evaluating the different data warehousing platforms, Mashal decided to settle with Snowflake. Having previously worked with Snowflake, they had confidence in Snowflake with respect to its query execution time and compute requirements. After setting up the data warehouse and migrating all their data sets to Snowflake, Mashal started evaluating the specialized data integration tool to unify their data from multiple sources.
We didn't want to spend a lot of time integrating our data, cleaning it, and making it ready for analytics. We're looking for a plug-and-play solution that can ease our efforts in building data pipelines without writing any code. We tried Hevo and decided to go ahead with it primarily for 3 reasons - high data accuracy, prompt customer support, and no-code data platform.
The migration of their org-wide engineering & analytics data and charts from their BI tool to Snowflake took almost 3 months but Mashal could set up their data pipelines on Hevo within a week's time. They use Hevo to connect and load their data from Postgres and MySQL, Google sheets, and S3 to Snowflake. They use Sisense as their BI dashboard tool and created multiple reports to track their key metrics related to orders and inventory. They also use MoEngage to run their marketing campaigns for better conversion and customer engagement.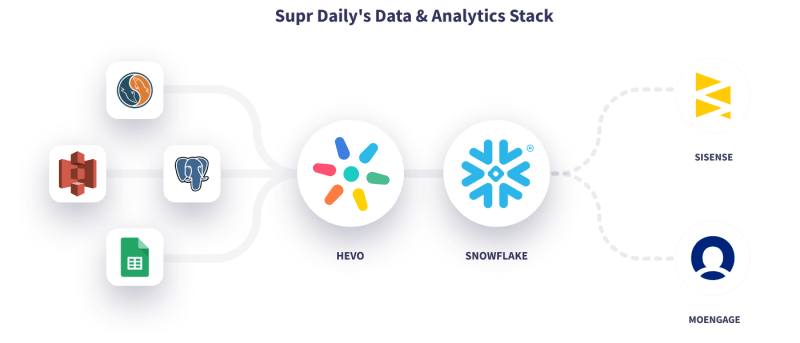 Data plays a very crucial role in streamlining our day-to-day operations. It helps multiple teams to make important decisions at the right time. We can't afford even a single error in our day-to-day operations as it can lead to delivery issues and impact customer satisfaction. We use dbt to build predictive models to forecast the demand-supply for the next few days and reduce wastages or leakages happening on a day-to-day basis to save cost. We are extremely happy with the quality of data that we get from Hevo and it definitely helps our teams take the data-driven decisions faster.
Key Results
Switching to a modern data stack has helped Supr Daily cover multiple use cases with more data sets. They are now able to power all their 50K+ charts with the most accurate, unified, and real-time data. Building automated, no-code data pipelines using Hevo helped Supr Daily save the bandwidth of 5 data engineers and almost 90 days of time which otherwise would have been spent in writing and maintaining custom scripts.
Hevo's support team has answers to all our questions, they are super helpful and respond quickly to all our queries. I would definitely recommend Hevo to anyone who is looking for an advanced data integration tool. It's definitely a cost-effective tool that can do all the heavy lifting without the hassle of writing or maintaining any code.
Supr Daily is expanding its operations in the already existing cities with more inventory and wider reach to individual houses and aiming to cross a 100M customer base this year, Hevo is happy to be a part of their growth journey and looking forward to strengthening this partnership in the years to come.
Excited to see Hevo in action and understand how a modern data stack can help your business grow? Sign up for our 14-day free trial or register for a personalized demo with our product expert.