AWS RDS Replication: A Comprehensive Guide
Most cloud services house robust support for seamless & real-time replication of data, a functionality that most organisations seek to achieve. Amazon Web Services (AWS) is one such cloud service by Amazon that provides users and businesses with robust end-to-end cloud-based solutions & APIs. One of the most popular services that Amazon Web Services provides is the Relational Database Service, also known as RDS. It allows users to leverage robust database engines such as Oracle, MySQL, PostgreSQL, etc. and scale their database instance elastically, allowing them to store and replicate large volumes of data seamlessly.
This article focusses on AWS RDS Replication and aims at providing you with a comprehensive guide and in-depth knowledge of various techniques that you can use to set up replication in AWS RDS. Upon a complete walkthrough of the content, you will be able to set up AWS RDS Replication successfully to start replicating your data with ease.
Table of Contents
Introduction to AWS Relational Database Services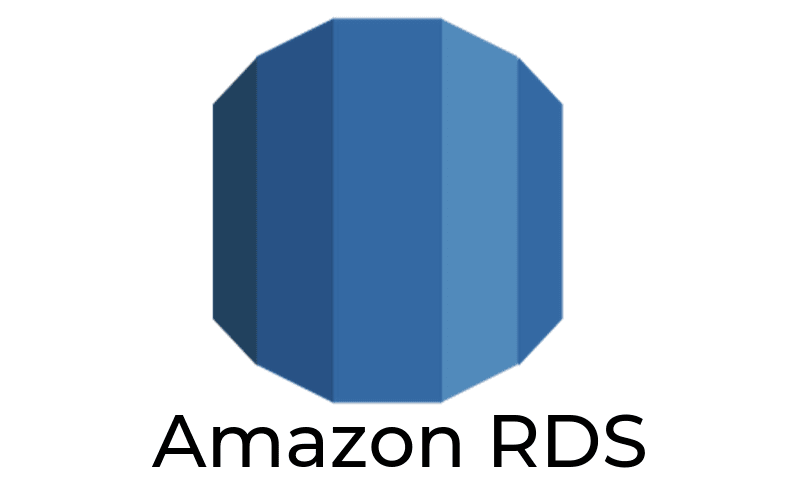 AWS RDS stands for Amazon Relational Database Services. It is a cloud-based service from Amazon. It simplifies setting up, operating & scaling up a relational database in the cloud. AWS RDS is not actually a database, but it's a service that manages databases & various operations related to their administration.
Amazon RDS supports a wide variety of database instances such as PostgreSQL, MySQL, MariaDB, etc. It is highly scalable, easy to work on and ensures data security using its virtual private cloud.
AWS is the world's leading and most used cloud service, with approximately 175 fully-featured services from data centres globally. Millions of customers, including the fastest-growing startups, largest enterprises (Netflix, Uber), and leading government agencies, are using AWS to lower their costs, become more agile & innovate faster.
For further information on AWS RDS, you can check the documentation manual here.
Simplify Data Replication using Hevo's No-code Data Pipelines
Hevo Data, a No-code Data Pipeline, can help you replicate data from Amazon RDS (among 100+ sources) swiftly to a database/data warehouse of your choice. Hevo is fully-managed and completely automates the process of monitoring and replicating the changes on the secondary database rather than making the user write the code repeatedly. Its fault-tolerant architecture ensures that the data is handled in a secure, consistent manner with zero data loss.
Hevo provides you with a truly efficient and fully-automated solution to replicate and manage data in real-time and always have analysis-ready data in your desired destination. It allows you to focus on key business needs and perform insightful analysis using BI tools.
Have a look at the amazing features of Hevo:
Secure: Hevo has a fault-tolerant architecture that ensures that the data is handled in a secure, consistent manner with zero data loss.
Minimal Learning: Hevo, with its simple and interactive UI, is extremely simple for new customers to work on and perform operations.
Live Monitoring: Hevo allows you to monitor the data flow so you can check where your data is at a particular point in time.
Data Transformation: It provides a simple interface to perfect, modify, and enrich the data you want to export.
Schema Management: Hevo takes away the tedious task of schema management & automatically detects schema of incoming data and maps it to the destination schema.
Completely Managed Platform: Hevo is fully managed. You need not invest time and effort to maintain or monitor the infrastructure involved in executing codes.
Get started Hevo today! Sign up here for a 14-day free trial!
Prerequisites
Working knowledge of Amazon Web Services.
Working knowledge of AWS RDS.
A general idea of data replication.
Ways to Achieve Replication in AWS RDS
There are multiple ways in which you can set up replication in AWS RDS:
Using Multi-AZ (Availability Zone) for RDS Replication
Multi-AZ replication in AWS RDS allows users to ensure that a standby replica of their desired database is always available across numerous regions and availability zones where there is a need to replicate data. With Multi-AZ RDS Replication in place, AWS RDS will automatically & synchronously replicate data to a standby replica with minimum latency. It thereby helps minimize latency-based spikes while carrying out backups and further boost redundancy of data across numerous standbys. Such standby replicas thus contain an exact copy of the data, but, they can only store the data and do not serve any read requests.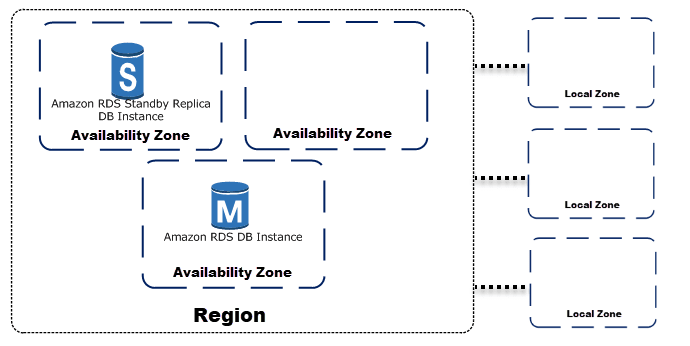 You can learn more about deploying a Multi-AZ environment for AWS RDS and its failover process from the following sections:
Deploying a Multi-AZ in AWS RDS
You can deploy a Multi-AZ environment for AWS RDS by enabling the "create an aurora replica or reader nose in a different AZ" functionality. Before you turn on this functionality, ensure that you take the following points into considerations to ensure maximum performance:

AWS RDS supports efficient replication by providing synchronous standby replicas across numerous availability zones.
Deploying a Multi-AZ environment for AWS RDS ensures high data availability and also provides support for a robust failover process. It allows the database to recover and resume quickly even during host failures, "main instance" reboot, maintenance, software patching, etc.
Failover Process of Multi-AZ in AWS RDS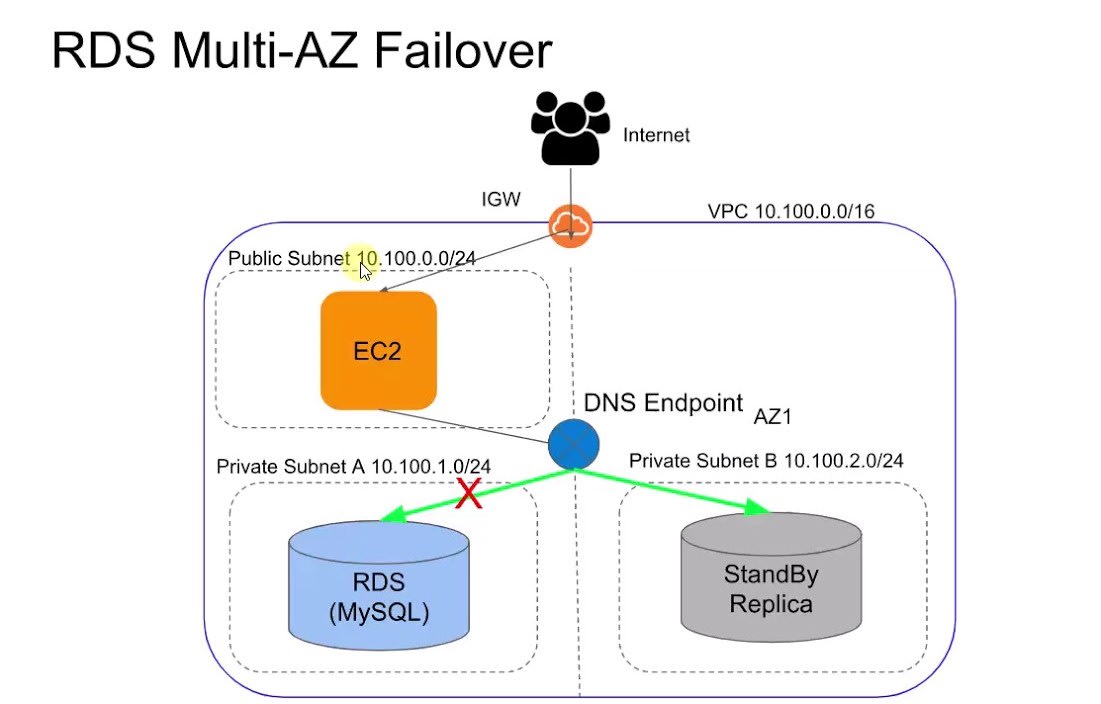 AWS RDS houses a robust and systematic failover process that invokes immediately whenever a planned or unplanned failure or failover occurs to ensure a smooth recovery process. It performs the following operations to achieve this:
In case you have the Multi-AZ functionality in place, it will automatically switch over to a standby replica in a different availability zone with minimum latency. The time required to switch depends upon the number of transactions and the primary database, with most switch-overs typically occurring in 60-120 seconds.
It further modifies the DNS record of the database instance and points it to the standby database or replica instance, ensuring a smooth transition process.
It ensures a seamless transition process for applications by requiring them to re-connect the current connection without changing the URLs.
AWS RDS focusses on efficiently handling failovers by allowing databases to transition from the primary instance to the replica with minimal interventions or abruption. It thereby lets databases recover or resume operations with ease. AWS RDS invokes the failover process by making the primary database switch to a replica under the following conditions:
Loss of an availability zone.
Change in the primary databases or its servers.
Failure of the primary database.
Manually forcing the failover using the reboot mechanism.
AWS RDS further allows users to monitor the events or failovers of the Multi-AZ instance in numerous ways, namely via SMS or email notifications, using APIs or the RDS console, etc. You can also leverage the RDS console and the APIs to keep track of the current state of your Multi-AZ deployment.
In case you want to learn more about using event notification in AWS RDS, you can click here to check out the official documentation.
Using Read Replicas for RDS Replication
Read replicas represent a unique type of database instance that a user can create by leveraging the built-in replication functionality of a diverse set of databases such as Aurora, MySQL, PostgreSQL and MariaDB. These replicas focus on minimizing the load on the primary database instance by re-routing the read queries to the read replica.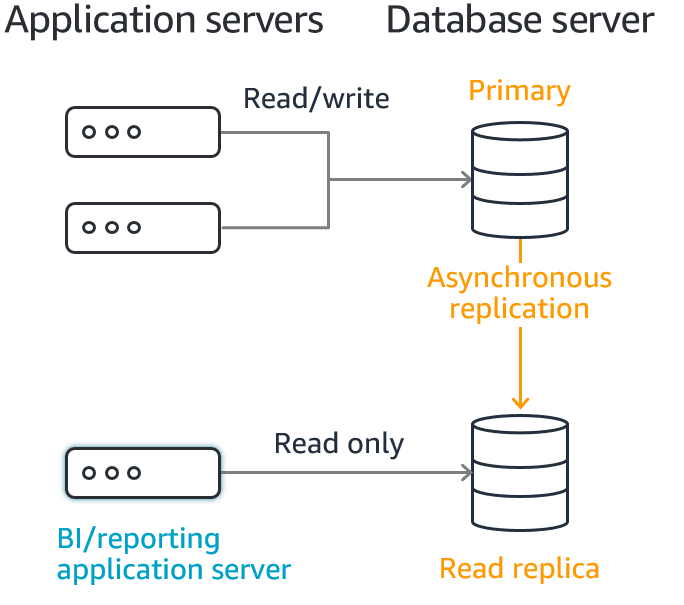 Read replicas houses the support to scale elastically beyond the capacity constraints, allowing the database instance to manage heavy workloads seamlessly. It supports read-only connections and lets applications connect to it in a way similar to any database.
You can learn more about setting up AWS RDS Replication by creating read replicas and its failover process from the following sections:
Creating Read Replicas in AWS RDS
To start creating read replicas in AWS RDS, you first need to enable the automatic backup functionality. To do this, click on the modify option found in the AWS RDS dashboard.

Once you've clicked on it, you now need to specify a backup retention period for your database instance by specifying a value greater than 0 days.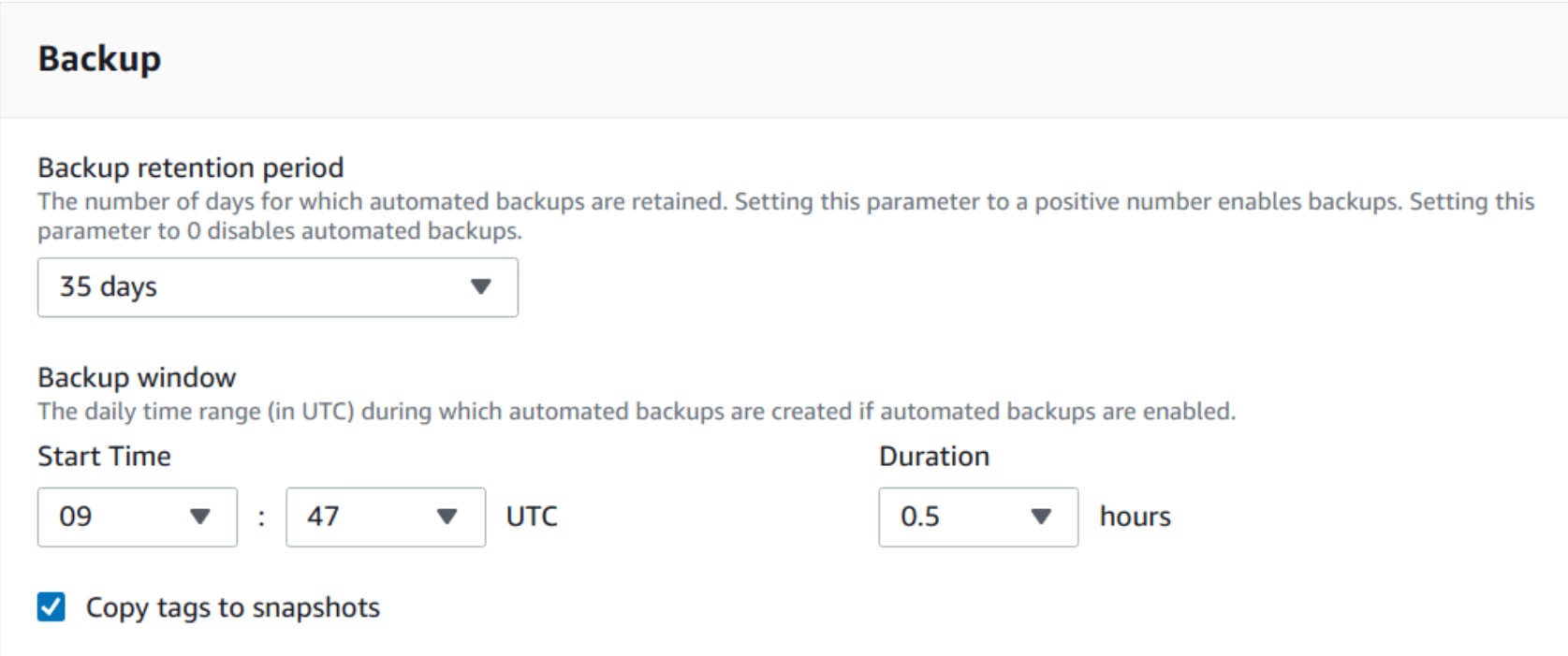 With automatic backup now enabled, you then to specify an existing database instance as the data source. Once you've done it, AWS RDS will automatically take a snapshot of the source database instance and create a read-only replica instance by leveraging the database snapshot. AWS RDS will then use the asynchronous replication mechanism to update the read replicas based on the changes that occur on the source database.
With the read replicas now ready, you will need to set up communication between the read replica and the source database instance in a secure manner. RDS will then set up all on the configurations in AWS, based on the security mechanism in place.
Once the connection between the replica & primary database is up, the replication process will begin, and it will start replicating data on the read replica by leveraging the snapshot. A large replication transaction can result in an I/O suspension to take place, resulting in a slight delay. You can avoid this by enabling the Multi-AZ functionality in RDS.
This is how AWS RDS creates read replicas to start replicating data across numerous standby replicas.
Failover Process of Read Replicas in AWS RDS
Deleting a read replica in AWS RDS is a crucial step that helps support an effective and robust failover recovery mechanism. Ensure that you consider the following points while deleting a read replica:
You will need to remove the read replica explicitly by using the same technique used for deleting a database instance.
In case you delete the source database instance without deleting the read replicas, each read replica will now get promoted to a single or stand-alone position.
AWS RDS will automatically leverage the associated read replicas as the replication data source, in case, the Multi-AZ deployment fails.
Conclusion
This article teaches you in-depth about the AWS RDS Replication & answers all your queries regarding it. It provides a brief introduction of numerous concepts related to it & helps the users understand them better. If you're looking for an all-in-one solution, that will not only help you transfer data but also transform it into analysis-ready form, then Hevo Data is the right choice for you! It will take care of all your analytics needs in a completely automated manner, allowing you to focus on key business activities.
Want to take Hevo for a spin? Sign up here for a 14-day free trial and experience the feature-rich Hevo suite first hand. You can have a look at our unbeatable pricing that will help you choose the right plan for your business needs!
Share your experience of learning about AWS RDS Replication! Let us know in the comments section below.
No-code Data Pipeline For Amazon RDS