Clinical Data Analyst: 9 Critical Aspects
Medical institutions such as Hospitals, Clinics, and Doctors' offices collect data about patients every day. This data is used to make data-driven decisions to ensure the best care for your patients while reducing costs and errors. Health-related data is an essential aspect of the current healthcare process, right from the outcome of a specific treatment to a large-scale Clinical experiment. Since data is ubiquitous, ranging from overhead costs to patient outcomes to drug safety and more, in the healthcare industry, the Clinical Data Analyst plays an important role in interpreting a colossal amount of health record data.
In addition, by using real-time Medical Data to generate insights, the Clinical Data Analyst also helps in advising other departments on Data requirements, Medication errors, and Ensuring improved population health. The Clinical Data Analyst is also in charge of verifying the accuracy of scientific tests and data. These Analysts make sure that legal data storage rules are followed, which improves the quality and efficiency of care.
This article will first introduce Clinic Data and then will explain what characteristics compromise a Clinical Data Analyst. Then it will discuss the various responsibilities that come with the role of a Clinical Data Analyst. Furthermore, the article will briefly explain the challenges you may face in this profession. Read along to know more about Clinical Data Analyst.
Table of Contents
What is Clinical Data?
Clinical Data is any information that is a collection of observations about a patient or population on a broader scale. Clinical Data is divided into the following 6 categories:
Electronic Health Records
Administrative Data
Insurance Claims Data
Patient/Disease registries
Health Surveys
Clinical Trials Data
Today, healthcare companies can capture vast amounts of Clinical Data because of the widespread adoption of Electronic Medical Records (EMRs). Unfortunately, the majority of this data is never assessed. To solve real health problems and provide real public benefits, healthcare companies need to focus on deriving value from available Clinical Data. At the same time, due to the rise of mobile devices and accessible applications, patients expect seamless care in hospitals. The consequence of such demands has resulted in a healthcare revolution with substantial benefits for patients, and the solution to these begins with superior Clinical Data Analysis.
Clinical Data Analysis is a discipline that uses Medical Data to Produce insights, Assists in lowering administrative expenses, Optimizing care coordination, Improving patient wellbeing, Providing Clinical decision support, and Reducing fraud and abuse. It also contributes to cost reduction by eliminating differences in Suppliers, Overhead, and Labor. As healthcare organizations are grappling with the challenges of Big Data transformation, Clinical Data Analytics can help in their efforts to deliver the best-personalized services.
In other words, as data-driven quality improvement has become the heart of healthcare transformation, Clinical Data Analytics is a vital tool for healthcare providers. In reality, Clinical Data Analytics is a must for all significant performance improvement initiatives aimed at addressing value-based care in an automated, cost-effective, and timely manner.
What is Clinical Data Analytics?
Understanding what this analytics system is and how it can help in the healthcare profession is critical to staying on top of current trends and giving the best possible assistance and treatment to patients. Simply said, health care analytics is a feature of business marketing software and consulting services that are aimed to make critical healthcare operations easier.
Here the intention is to collect patient data and evaluate it quantitatively and statistically in order to develop models for explaining current patterns and forecasting future trends. This area of research is very relevant because it is used to guide medical decisions. The information gleaned from the analysis is utilized to identify gaps in care, problems with provision, and cost-cutting and management options.
What is the Importance of Data Analytics for Health Care?
Clinical data is frequently derived from a variety of sources. The primary data comes from health records, illness registries, patient surveys, and provider information exchanges. Effective clinical data analytics collects and presents information in such a way that it provides more positive results and aids in giving more specific care, especially to persons with a diverse medical history. There are three main ways that data analytics is helping to improve healthcare and even lower costs.
The focus of healthcare analytics is shifting from reactive to preventive care. Reactive healthcare, such as responding to an aggravated, preexisting problem, is more expensive than taking preventative measures before the problem worsens. Preventive care can be carried out effectively with the use of analytics. Preventive care, for example, can reduce the number of people who need treatment in the emergency room, lowering expenses for both medical providers and patients. Analytics calculates a patient's risk percentage, which aids medical professionals in determining what care is required to lower the chance of subsequent problems.

The deployment of evidence-based treatment is aided by analytics. Hospitals and other medical professionals may now make more timely and effective treatment decisions for patients because of the migration to electronic health records. Care professionals can lower the risk of post-treatment complications like infection, medication reaction, and more by having access to relevant previous information. As a result, both providers and patients save money.

More customized care is supported by health care analytics. – Patients have previously complained about transferring doctors and having to repeat the same tests, questions, and even procedures. Any clinician with analytical access to all of a patient's information and history can give more personalized and less repetitious care. This, once again, saves both time and money for all parties.

Health care analytics is already transforming the industry, and it has the ability to do so considerably more in the years ahead. Clinical data analytics is a powerful tool for analyzing individual health data and providing the most personalized, effective care while saving time and money for both doctors and patients.
What is a Clinical Data Analyst?
As the need for adopting transformational Clinical Analytics to empower care providers is rising, there is a need to hire skilled professionals that can revamp the existing Clinical Workflow and translate data to enhance healthcare services. A Clinical Data Analyst is a healthcare information professional responsible for executing several critical tasks like validating the gathered data and providing precise insights. They work primarily in settings such as Clinics, Pharmacies, and Hospitals, where regular updates and Data Management are necessary.
Clinical Data Analyst also develops and manages Databases used by healthcare professionals for Research or insights generation. These Analysts Collect data, Validate data for the clinical trials, and Transform information to maintain a robust Database for enabling seamless Data Analysis. They are also in charge of evaluating data patterns and generating forecasts based on analysis to predict potential ailments.
However, working with Clinical Data is not straightforward as it is with other sectors like Sales and Marketing. The most challenging aspect of Clinical Data Analytics is gathering and harmonizing information from a variety of sources, such as Medical claims, Electronic health records, and patient monitoring devices. Clinical Data Analyst acts as liaisons for medical staff and other departments within companies to ensure that there are no privacy breaches while integrating the systems.
Simplify your Data Analysis with Hevo's No-code Data Pipeline
A fully managed No-code Data Pipeline platform like Hevo Data helps you integrate and load data from 100+ different sources (including 40+ free sources) to a Data Warehouse or Destination of your choice in real-time in an effortless manner. Hevo with its minimal learning curve can be set up in just a few minutes allowing the users to load data without having to compromise performance. Its strong integration with umpteenth sources allows users to bring in data of different kinds in a smooth fashion without having to code a single line. 
Its completely automated pipeline offers data to be delivered in real-time without any loss from source to destination. Its fault-tolerant and scalable architecture ensure that the data is handled in a secure, consistent manner with zero data loss and supports different forms of data. The solutions provided are consistent and work with different Business Intelligence (BI) tools as well.
Get Started with Hevo for Free
Check out some of the cool features of Hevo:
Completely Automated: The Hevo platform can be set up in just a few minutes and requires minimal maintenance.
Transformations: Hevo provides preload transformations through Python code. It also allows you to run transformation code for each event in the pipelines you set up. You need to edit the event object's properties received in the transform method as a parameter to carry out the transformation. Hevo also offers drag and drop transformations like Date and Control Functions, JSON, and Event Manipulation to name a few. These can be configured and tested before putting them to use.
Connectors: Hevo supports 100+ integrations to SaaS platforms, files, databases, analytics, and BI tools. It supports various destinations including Google BigQuery, Amazon Redshift, Snowflake Data Warehouses; Amazon S3 Data Lakes; MySQL, MongoDB, TokuDB, DynamoDB, and PostgreSQL databases to name a few.
Real-Time Data Transfer: Hevo provides real-time data migration, so you can have analysis-ready data always.
100% Complete & Accurate Data Transfer: Hevo's robust infrastructure ensures reliable data transfer with zero data loss.
Scalable Infrastructure: Hevo has in-built integrations for 100+ sources like Google Analytics, that can help you scale your data infrastructure as required.
24/7 Live Support: The Hevo team is available round the clock to extend exceptional support to you through chat, email, and support calls.
Schema Management: Hevo takes away the tedious task of schema management & automatically detects the schema of incoming data and maps it to the destination schema.
Live Monitoring: Hevo allows you to monitor the data flow so you can check where your data is at a particular point in time.
Sign up here for a 14-Day Free Trial!
What are the Key Roles of a Clinical Data Analyst?
The role of a Clinical Data Analyst depends on the Clinical environment in which they work. For example, in a Research Department that specializes in Clinical Research, you as a Clinical Data Analyst must determine whether a drug or medical device is effective and safe for patients.
Given the complexity of the job and the possibility of ethical and legal violations, a Clinical Analyst must oversee data collection and share the results with Clinical trial personnel and managers.
However, irrespective of the job role designation, the primary goals of a Clinical Data Analyst are Data Capturing, Data Provisioning, and Data Analysis. In the Data Capture stage, Analysts must ensure that the right data is captured from the sources, in an appropriate format, and in an accessible manner. The data must then be brought into a single location in a common format, with data sets communicating with one another using common linkable identifiers such as patient and provider identities.
Finally, in the analysis stage, the Clinical Data Analyst must:
Understand the data during evaluation.
Search for relevant oddities and trends in the data.
Interpret hidden patterns and understand behaviors.
Present findings through simplified storytelling such that the observations and insights are understood by a non-technical audience.
What are the Major Responsibilities of a Clinical Data Analyst?
A Clinical Data Analyst has the following major responsibilities:
1) Data Collection and Evaluation
Data can often be discrete and scattered. As a Clinical Data Analyst, you must collect and evaluate data from a variety of sources, such as Expense reports and Electronic Health Records (EHRs), with the aid of Big Data and its applications. This data is used to perform Statistical Analysis of Clinical trial data, Document the findings, and Share them with Data Management and Analytical laboratory professionals to ensure that any Outliers, Data problems, or Inconsistencies are corrected as soon as they are discovered.
2) Perform Cost-benefit and ROI Analysis
As a Clinical Data Analyst, you also perform Cost-Benefit and Return-on-Investment Analysis to select new software and equipment for a healthcare organization aiming to meet compliance standards. For this, you can develop specialized software and Clinical Data testing systems, including Design, Documentation, Implementation, and Reporting. Based on your observations, you communicate with hospital employees and management about your findings frequently.
3) Ensure Standard Practices
During Clinical Trials, Analysts ensure data adherence to Good Clinical Practices (GCP), Good Clinical Data Management Practices (GCDMP), and Established organizational processes. Here, the Research Team and Data Analysts work in collaboration to ensure that data is compiled without any error.
4) Examine Health Models
As a Clinical Data Analyst, you will also examine health models that consciously transfer profits from hospitals to outpatient facilities, taking into account the impact of risk contracts (positive or negative) of your at-risk contracts. To achieve this, you should coordinate with internal Project Staff and Clinical Sites on all aspects like compliance and data collection. By generating automated internal and external reports, you can help healthcare organizations understand hospital functions and systems to assist in the decision-making process.
5) Provide Technical Assistance
Clinical Analysts also assist doctors and other personnel in troubleshooting technological difficulties. For this, they may train Researchers and Medical Providers to work with different computer systems and programs to record data.
The insights provided by you as a Clinical Data Analyst will also help healthcare organizations utilize data points to boost staff and patient satisfaction. These insights based on Clinical Data can minimize provider practices that are not evidence-based.
Education Background and Certification of Clinical Data Analyst
Clinical data analysts generally must have at minimum a bachelor's degree in areas such as life science, health sciences, computer science, or information technology/management based on the requirements of the company. Along with the required degree or diploma certification, training that provides thorough knowledge in clinical research, record management, data management, etc. must be pursued if you desire to become a clinical data analyst as this job needs expertise in data management along with clinical research skills.
There are several certifications available in the market that help Clinical Data Analysts to explore the data. Here are some of the popular certifications:
Certified Clinical Research Professional (CCRP)
Registered Health Information Technician (RHIT)
Certified Clinical Data Manager (CCDM)
Certified Clinical Research Associate (CCRA)
While a master's diploma isn't always an obligatory requirement, many employers decide upon applicants to have a complicated diploma in healthcare informatics or an associated field, specifically the ones looking for control roles. Possible regions of look at encompass medical studies administration, fitness informatics, healthcare innovation, bioinformatics, and biotechnology.
Clinical Data Analyst Personality Traits and Skills
The capacity to assemble, code, and organize data is one of the most important abilities for this position. Microsoft Office software, such as Word, Excel, PowerPoint, and Access, should be mastered. They could also be knowledgeable about other clinical data management applications. All medical, financial, and legal information must be kept confidential if you know how to analyze data.
These experts also have excellent interpersonal and communication abilities. They deal with a variety of circumstances involving doctors, patients, and other workers. They can also juggle many agendas and come up with creative solutions to difficulties. This profession also requires creative thinking, an eye for detail, the ability to work autonomously, and a cheerful mindset.
What are the Challenges Faced by a Clinical Data Analyst?
While a Clinical Data Analyst strives for transparent and ethical usage of Clinical Data, privacy concerns still prevail. Patients or participants in Clinical trials may hesitate to share their health record details for analysis. This may result in a lack of diversity in the Clinical Dataset Pool. As a result, the analysis outcomes may be inaccurate. Further, data sharing in healthcare is not systematic since Gathering, Curating, and Maintaining a high-quality data set takes a lot of time, effort, and money. This can hamper real-time prediction and analysis processes.
Fortunately, Data Privacy and Governance issues can be addressed using Federated Learning. Federated learning is a technique that allows multiple parties like Hospitals, Pharmaceutical corporations, or Independent Researchers to collaboratively train algorithms without centralizing or exchanging data. This technique eliminates the necessity to move large amounts of data to a central server for training Machine Learning models at the data source. It also reduces the time lag which occurs while collecting and centralizing data at a shared server.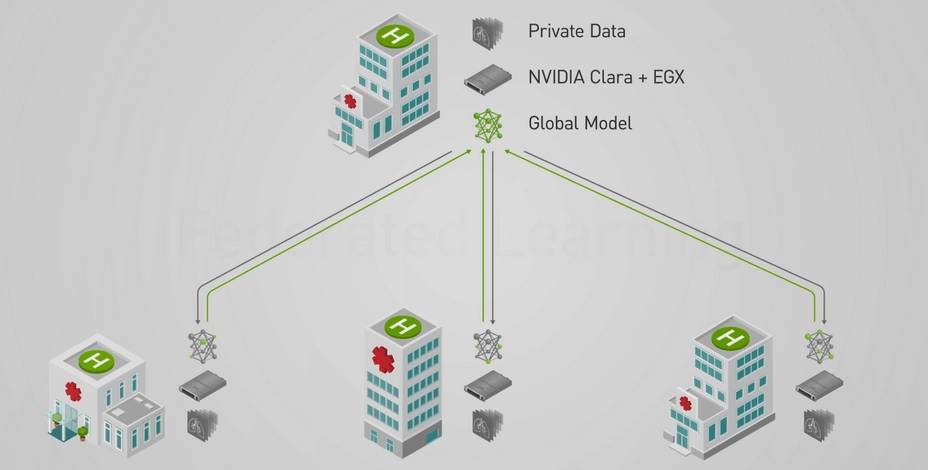 To learn more about Federated Learning, visit here.
Conclusion
This article provided you with a detailed introduction to Clinical Data and the work and importance of a Clinical Data Analyst. Furthermore, it discussed the role that such an Analyst plays in the healthcare industry and pointed out the various responsibilities associated with the job of a Clinical Data Analyst.
The healthcare industry will continue to be populated with data. As the use of digital medical records grows, the demand for the position of Clinical Data Analyst is likely to increase. From Compiling data, Communicating with data users, Creating reports, Developing Clinical applications, Monitoring data usage, to translating the data into actionable intelligence, healthcare companies will depend on the acumen of the Clinical Data Analyst.
Your work as a Clinical Data Analyst will involve regular data transfers for analytical purposes. Hevo Data helps you directly transfer data from a source of your choice to a Data Warehouse or desired destination in a fully automated and secure manner without having to write any code or export data repeatedly. It will make your life easier and make data migration hassle-free allowing you to focus on your Clinical Data Analytics. It is User-Friendly, Reliable, and Secure.
Hevo Data, a No-code Data Pipeline provides you with a consistent and reliable solution to manage data transfer between a variety of sources and a wide variety of Desired Destinations with a few clicks.
Visit our Website to Explore Hevo
Hevo Data with its strong integration with 100+ data sources (including 40+ Free Sources) allows you to not only export data from your desired data sources & load it to the destination of your choice but also transform & enrich your data to make it analysis-ready. Hevo also allows integrating data from non-native sources using Hevo's in-built Webhooks Connector. You can then focus on your key business needs and perform insightful analysis using BI tools. 
Want to give Hevo a try?
Sign Up for a 14-day free trial and experience the feature-rich Hevo suite first hand. You may also have a look at the amazing price, which will assist you in selecting the best plan for your requirements.
Share your experience of understanding the role of a Clinical Data Analyst in the comments below!
No Code Data Pipeline for your Data Warehouse