MySQL Analytics Tools: A Quick Guide
Table of Contents
Introduction to MySQL
MySQL is the RDBMS(Relational Database Management System) based database system, which is made up of rows and columns. MySQL is an open-source database freely available for everyone to use. MySQL can be used for OLTP and OLAP use cases. SQL(Structured Query Language) is used to deal with the MySQL database.
MySQL Analytics Tools
Data analytics is more important than the available raw data for a business or management person to make decisions or define future business strategies.
In data visualization, we can depict data in figures, charts, bars, and graphs.
So here MySQL analytics tools come into action, there are a bunch of analytics and visualization tools available for free and paid license basis.
Here is a list mentioning a few of the MySQL analytics tools:
Hevo, A Simpler Alternative to Integrate your Data for Analysis
Hevo offers a faster way to move data from databases or SaaS applications into your data warehouse to be visualized in a BI tool. Hevo is fully automated and hence does not require you to code.
Get Started with Hevo for Free
Check out some of the cool features of Hevo:
Completely Automated: The Hevo platform can be set up in just a few minutes and requires minimal maintenance.
Real-time Data Transfer: Hevo provides real-time data migration, so you can have analysis-ready data always.
100% Complete & Accurate Data Transfer: Hevo's robust infrastructure ensures reliable data transfer with zero data loss.
Scalable Infrastructure: Hevo has in-built integrations for 100+ sources that can help you scale your data infrastructure as required.
24/7 Live Support: The Hevo team is available round the clock to extend exceptional support to you through chat, email, and support call.
Schema Management: Hevo takes away the tedious task of schema management & automatically detects the schema of incoming data and maps it to the destination schema.
Live Monitoring: Hevo allows you to monitor the data flow so you can check where your data is at a particular point in time.
Sign up here for a 14-Day Free Trial!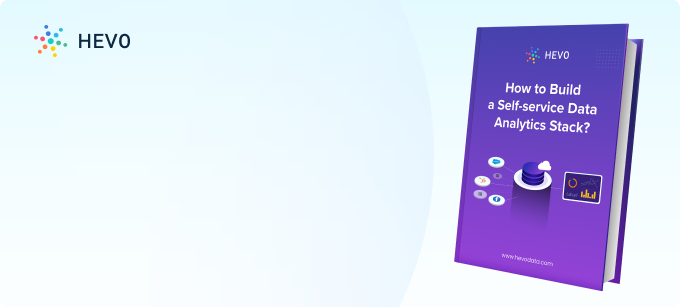 Download the Guide on How to Set Up a Data Analytics Stack
Learn how to build a self-service data analytics stack for your use case.
1. Power BI
Power BI is Microsoft's Data Visualization tool used to convert data from various sources to interactive dashboards. Power BI has a bunch of connectors to connect with data sources for visualization.
To create a dashboard will need below two products of Power BI:
Power BI Desktop – to create dashboards
Power BI Service- to analyze and view the reports
Steps to connect and create dashboard in Power BI
Step-1: Connect to BigQuery.
File menu -> Get Data -> Database -> MySQL database
Step-2: Select the MySQL table or view.
Get data -> MySQL -> Select Database -> Schema -> Table or View -> Load
Step-3: Select the required visualizations and fields from the source table for analytics purposes.
Pros of Power BI
Can work for an extensive amount of data preparation
Report preview is available for mobile devices
Cons Of Power BI
The premium model is required to share the report
Does not support Mac and Linux for report creation
2. Tableau
Tableau is the world's most popular analytical and visualization platform, tableau helps to visualize and explore the data. Tableau is available in both free and paid versions.
Tableau is the world's most popular analytical and visualization platform, tableau helps to visualize and explore the data. Tableau is available in both free and paid versions.
Steps to create an analytical dashboard using MySQL
Step-1: Connect to the MySQL database.
Click on Connect data -> MySQL -> Enter Database details ->Sign IN
Step-2: From the database select Cdata.
Step-3: Select the required figures, graphs, charts, and arrange them accordingly.
Advantages of Tableau
High Performance
Dashboards are mobile-friendly
Upgradation is very easy
Easy to use
Disadvantages of Tableau
Versioning is poor
Auto Refresh to report is not available.
SQL knowledge is a must
Manual efforts required
3. Ubiq
Ubiq is a web-based analytics tool used to create dashboards and visualization reports. We can easily create reports such as any system performance monitoring, sales data, drill-down or drill-through reports.
Steps to create a report using Ubiq
Step-1: Download the connection client and install, select for the remote or local database.
Step-2: Now add a database to select data.
Step-3: Once you add the database will redirect to the project page, create the project and start building the reports.
Conclusion
There many more MySQL analytics tools are available and each one has its own advantages and disadvantages. So based on the use case we can choose the best fit tool for analysis purposes.
Visit our Website to Explore Hevo
Hevo is a No-code data pipeline. It has pre-built integrations with 100+ sources. You can connect your SaaS platforms, databases, etc. to any data warehouse of your choice, without writing any code or worrying about maintenance. Interested in trying Hevo? Sign Up for the 14-day free trial.
No-code Data Pipeline for MySQL