Understanding Data Dashboards: A Comprehensive Guide
GiffGaff, a mobile network operator company in the UK, surveyed and showed that global data usage will increase up to over 67 billion by the end of 2021. The network company researched in 2016, and at that time, the global data usage was only 9.4 billion. The company also predicted the amount of mobile data usage will rise to 5.07 GB by 2021. This shows that you are living in the era of the digital landscape with exponential data growth.
Data is revolving all around us. With a Data Analytics platform, a person can take frequent decisions, minimize workload, improve business performance, and design innovative products. Since you are surrounded by a massive amount of data, it is difficult to determine a path from where you can start or take an initial step. That is why Data or IT Dashboards are gaining popularity. These tools monitor the health of a business's profile and keep a tab of real-time monitoring of end-points to drive business growth. In this article, you will learn about Dashboards in great detail.
Table of Contents
What is a Data Dashboard?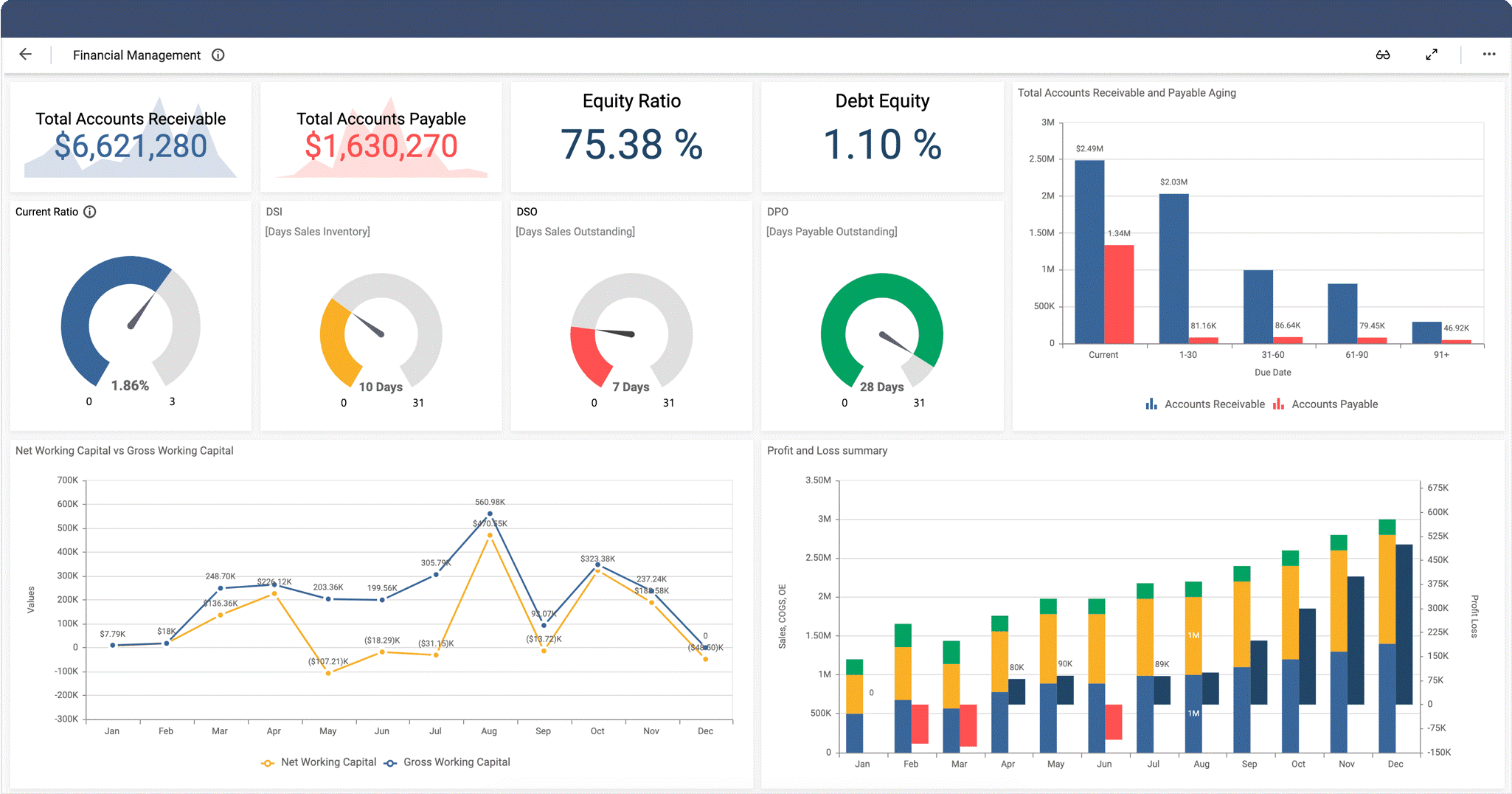 A Dashboard is a visual display of the essential information required to acquire the goals of the organization. It is a Business Intelligence(BI) software that arranges and combines every important aspect on a single display, enabling the companies to monitor everything all at once. The purpose of Dashboard is not just limited to the visual display of essential assets, it provides deeper insights into decision making.
Why Should You use a Dashboard?
In the world of Business Intelligence, Dashboards manage data, organize important information, prepare a display for users allowing them to understand what's happening across the organization. Dashboard tools use different data sources to gather, collect and display information. By having a visual display of data sources on a single, easy-to-access, and user-friendly interface, one can understand intricate relationships between data sources.
Data Dashboards create a connection between distinct yet related metrics, identify loopholes, explore trends and unveil potential challenges that exist behind the bars of enterprise's data. A secure, customized, easy-to-understand Dashboard creates a 360-degree picture of the organization. They are agile. They show compatibility with mobile phones, tablets, and portable devices. Third-party Vendors, Suppliers, Board of Directors, and audiences receive proper information and access them whenever it is needed.
Dashboards vs Reports: What's the Difference?
The difference between dashboards and reports is about the shift in perspective from periodic reporting (like yearly or quarterly) to continue monitoring (like weekly or daily). What makes dashboards and reports invaluable is how you and your team can use them to your advantage.
Similarities between Reports and Dashboards
Here are the similarities between dashboards and reports:
Both of them allow you to bring multiple metrics together.
Both of them allow you to visualize your data.
Reports and Dashboards both provide access to historical data.
You can carry out Trend Analysis to see what's worked in the past to shift your approach for the future using both Dashboards and Reports.
Differences between Reports and Dashboards
Here are the differences between Dashboards and Reports:
Reports are known for sharing information on goals or known areas of interest.
Dashboards can help you monitor known areas of goals or interests.
Dashboards display dynamically updated and live data (your dashboard updates with your data source as well).
Dashboards differ from reports as they are interactive- you can filter, segment, and visualize your data.
Simplify Data Analysis with Hevo's No-code Data Pipelines
Hevo Data, a No-code Data Pipeline helps to integrate data from multiple sources(among 100+ sources) to a Data Warehouse/destination of your choice to visualize it in your desired BI tool. Hevo is fully-managed and completely automates the process of not only loading data from your desired source but also enriching the data and transforming it into an analysis-ready form without having to write a single line of code.
Get Started with Hevo for Free
Its fault-tolerant architecture ensures that the data is handled in a secure, consistent manner with zero data loss. It provides a consistent & reliable solution to manage data in real-time and always have analysis-ready data in your desired destination. It allows you to focus on key business needs and perform insightful analysis using a BI tool of your choice.
Check out what makes Hevo amazing:
Secure: Hevo has a fault-tolerant architecture that ensures that the data is handled in a secure, consistent manner with zero data loss.
Schema Management: Hevo takes away the tedious task of schema management & automatically detects schema of incoming data and maps it to the destination schema.
Minimal Learning: Hevo with its simple and interactive UI, is extremely simple for new customers to work on and perform operations.
Hevo Is Built To Scale: As the number of sources and the volume of your data grows, Hevo scales horizontally, handling millions of records per minute with very little latency.
Incremental Data Load: Hevo allows the transfer of data that has been modified in real-time. This ensures efficient utilization of bandwidth on both ends.
Live Support: The Hevo team is available round the clock to extend exceptional support to its customers through chat, email, and support calls.
Live Monitoring: Hevo allows you to monitor the data flow and check where your data is at a particular point in time.
Sign up here for a 14-Day Free Trial!
Benefits of Using a Dashboard for Your Business

Ease-of-use, intuition, and improved visualization are some of the common advantages of Dashboards. Some of the other cutting-edge benefits of using them are as follows:
1. Intensified Visibility
The Dashboard display enables you to answer every small to large queries related to your organization. You can check what's happening, what's working, what's important for your organization, and what's not. It is used as a magnifying glass through which companies can envisage the broader picture of their organization. Getting real-time details from a Dashboard screen will help the owner to respond actively according to market conditions.
2. Saved Time
Have you ever wondered how much time and effort is required by your employees to prepare a single spreadsheet file, generate charts, design graphs, and images? Obviously, they need a lot of time, and yet, you're not sure about the accuracy and reliability of outcomes.
The dashboard comprises different features supporting the automatic formation of pie charts, statistics bars, graphs, tabular results, and so on. All these characteristics reduce labor workload, pressure, save time and responsibility of staff.
3. Customized Approach
Every organization uses a Dashboard for a different purpose. Henceforth, customization is necessary to present information in the most valuable and effective upshots. Companies mold the Dashboard features according to their expectations and needs. With the drag and drop functionality, one can experience a high level of detail and in-depth analysis to complete the job and achieve objectives.
4. Improvised Results
Dashboard screen generates key metrics that permit you to improve results constantly. For instance, if you see green arrows are going up, it means your organization is doing well. Nonetheless, you need to re-evaluate your business strategies and tactics after viewing the downward position of red arrows. The symbolic representation of arrows allows you to check challenging spots and threats through which users can fix errors, debugs, and glitches. All these visualizations of threats improvise profits and revenues.
5. Amplified Productivity
As mentioned above, the Dashboard displays the performance of key metrics in the form of red and green arrows. The screen also represents performance in digits, such as incoming and outgoing traffic, the total number of purchased items, profit generated by purchased items, the total number of subscribers, and the list goes on and on. These numerical results enable owners to improve their marketing strategies, thereby amplifying the productivity of a company. As it identifies weak areas, thus organizations can pay more focus and attention to only those areas. This saves time and intensifies the efficiency rate.
6. Deliver Timely Information
Companies are now deploying Dashboards across the entire network. Every user can access them and utilize Dashboard features for a different purpose. The purpose of installing a Dashboard on every computer, laptop, and mobile device is to provide timely information to everyone. The presence of the right information at the right time helps users in the decision-making process.
7. Real-time Analytics
Real-time analytics is particularly useful for e-commerce and inventory stores. Retailing stores always want to know the behavior, preferences, and recommendations of their customers. The Dashboard provides real-time analytics of your customers' behavior and likings. In this way, stores can redesign their product lines to accelerate revenues.
8. Instant Alerts and Notifications
If designed and installed properly, the Dashboard can work as a trustworthy friend. These tools alert or notify you instantly. Besides, BI Dashboard tools prepare a one-page summary report including sales, profits, customer service results, and revenues and email you by the end of the day. It helps business owners to quickly determine whether they are heading in the right direction or not.
9. Minimized Cost
Business Analysts and critiques use Dashboard tools to overcome cost and redundancy errors. The Business Intelligence tools drill down deeply into minimal details to acquire useful insights and valuable visualization by accessing a large number of datasets. Without Dashboard tools, the entire process would be expensive as you need proper setup, machinery, servers, IT experts, professional team to gain suitable insights.
10. Better Forecasting
Dashboard tools enable enterprises to understand future demands and predict what's essential for the company's growth. By analyzing historical patterns and prior trends, a business can plan more maturely or effectively, ensuring high success rates for the upcoming business cycle.
11. Consistent and Timely Cross-functional Communication
With dashboards, everyone in the business can validate and make business decisions and create greater synergy across the organization.
With the help of the data readily available on a dashboard, leaders and executives no longer have to request information from a Data Analyst. Analysts can easily work in the background while users can access the information they need at any time. This way, everyone comes out with a win.
12. Monitoring Multiple Metrics and KPIs at once
Whenever a change takes place within a department, irrespective of whether it's good or bad can have a ripple effect on your business. Putting your data on a dashboard can largely simplify things.
You can use a dashboard to your advantage to dig deeper and draw a correlation between your KPIs and metrics to get an idea of what's working- and what's not. You can monitor your metrics and KPIs on a central dashboard, and make adjustments to your business practice in real-time.
How to Pick which Metrics and KPIs to Track on a Dashboard?
An important part of the Dashboard design process is choosing the KPIs and metrics to track. Dashboards are developed as a direct response to the needs of your business or team. Dashboards are versatile as well, which makes them useful for any department or industry.
But before you build a dashboard, it is important that you understand which KPIs and metrics you wish to track. Answering questions like what type of dashboard do you use to display your data and the kind of business questions your dashboard needs to address steps in the right direction.
It is recommended that you structure your dashboard around questions and answers. For instance:
Is your Website Bounce Rate on par with the industry standard? Visualize this metric to refine your Website Retention strategy before it's too late.
Understanding what is your Customer Acquisition Rate is an integral part of understanding your data. You can easily display this metric on your dashboard for a quick answer.
Are you filling out your sales funnel with fewer leads this month compared to last month? You can answer this question by displaying this metric on your dashboard and adding a comparison value to get the full picture.
Understanding the Types of Dashboards
It sounds simple, but choosing the right type of Dashboard is not so easy. The selection of the right type of Dashboard doesn't depend only on the beautiful display or colorful visualization. Before choosing from a dozen of options out there, you must know the purpose of the Dashboard, i.e., to drive action, increase organizational discernibility into performance and intensify data.
Besides, you must answer the following questions before selecting the Dashboard-type:
What are your goals and objectives?
What problems are you facing and how you are going to solve them?
What kind of performance loopholes/gaps are present in your company?
Do you need an Analytical, Operational, or Strategic Dashboard for your enterprise?
Who's going to use the Dashboard tool in your company?
The above questions must be answered first before choosing the right type of Dashboard. There are three types of Dashboards, let's discuss all of them in detail.
1. Operational Dashboards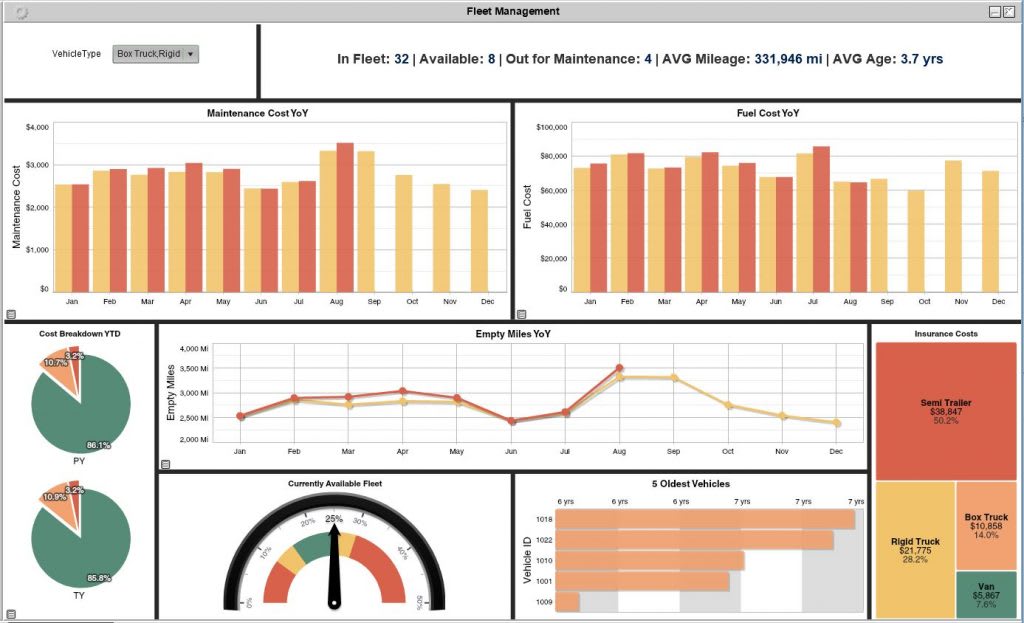 The purpose of the Operational Dashboard is to monitor and track progress towards a specific target. The Operational Dashboard works as a reporting tool required to keep an eye on business process and activity changes regularly. These tools enhance the total visibility on different networks, computers, and applications. They also monitor the existing performance of key metrics and Key Performance Indicators(KPI) and prepare a data-based report instantly.
Business managers and business users use an Operational Dashboard to monitor business activities throughout the day. These are typically used to achieve data awareness goals and track whether business processes are performing well or bad. Consequently, the job of the Operational Dashboard is to use real-time data and update about business exceptions. If you're planning to stay ahead of the business problems, select the Operational Dashboard for your business.
2. Analytical Dashboards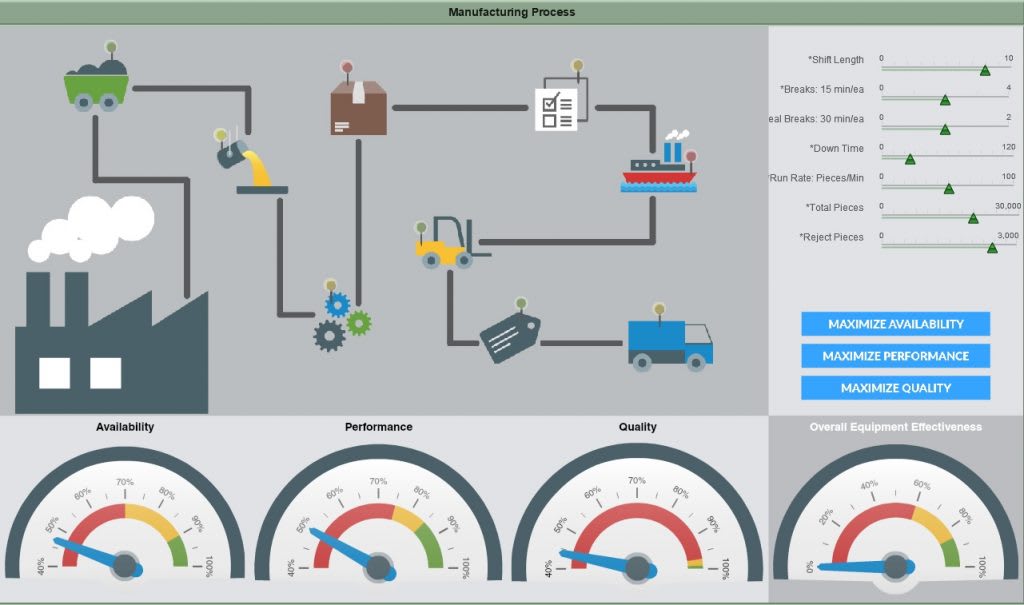 The Board of Directors, Executives, Business Analysts, and Data Analysts use Analytical Dashboard tools to acquire a broad picture of a company's strategy and profile. They use this tool to explore trends, predict results (positive or negative), explore opportunities, and contrive insights. As such, these Dashboards are integrated with drill-down and ad-hoc features.
Behind the scenes, Analytical Dashboards extract data from history to determine trends, helping the executive team to take a promising decision for the future. They are complex, meaning that it is not easy for every user to interpret them. The analytical reports should be envisaged by the right people as they demand an exceptional level of understanding and thinking.
3. Strategic Dashboards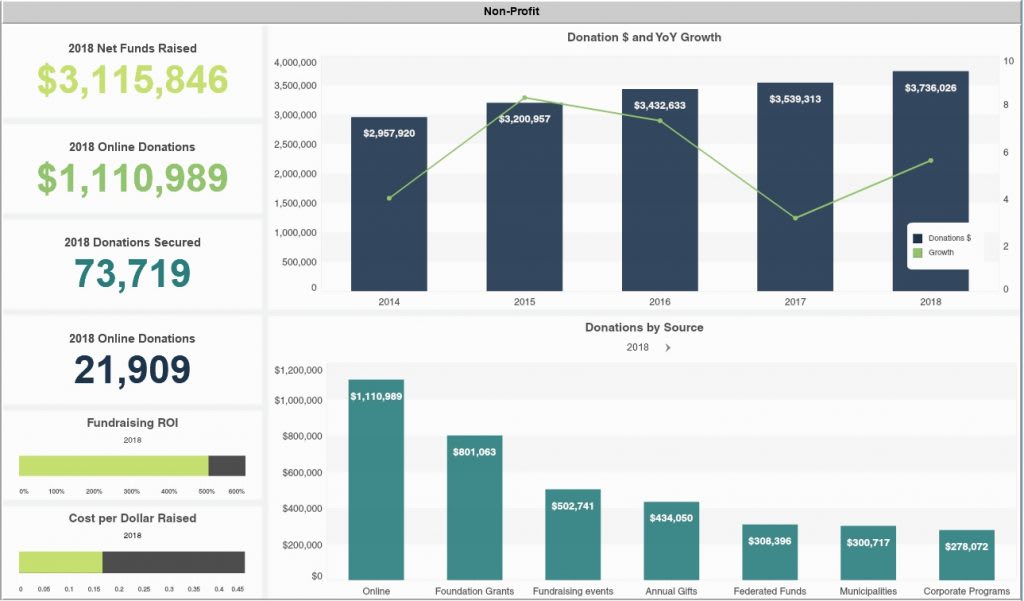 Directors and Executives use Strategic Dashboards to monitor KPIs. Senior-level management uses this tool to track and monitor the status of KPI. By knowing the status of specific KPI, the management team can understand what kind of efforts have worked and which areas need more focus. Unlike the Operational Dashboard, the timeframe of a Strategic Dashboard can be either preceding 30 days, 6 months, or 1 year.
This Dashboard screen gives a clear picture of your KPIs and tells you whether things have improved or not. These tools use multiple sources to provide a bigger picture. The results of the Strategic Dashboard must be shared with different departments, employees, and staff because sometimes, working individuals know how to kick-off performance of key metrics.
Conclusion
In this blog, you have learned about Dashboards and their importance. They make your Data Analysis simple and effective by showing you visuals and helping you make data-driven decisions. They work on top of a Database or a Data Warehouse.
Visit our Website to Explore Hevo
With Hevo, you can load your data from multiple external sources to a Data Warehouse of your choice. Hevo is a No-code Data Pipeline and has awesome 100+ pre-built integrations that you can choose from.
It will make your life easier and make data migration hassle-free. It is user-friendly, reliable, and secure. Check out the pricing details here.
Wanna try Hevo? Sign Up for a 14-day free trial and see the difference!
No-code Data Pipeline for your Data Warehouse