Data Challenges
Voiceflow's clients use the platform to design, test, and deploy their conversational applications on channels like web-chat, Amazon Alexa, Google Home Assistant, IVR & more. To further aid their users, Voiceflow is introducing conversation analytics so users can track metrics to monitor and optimize their application's performance.
The data churned out by Voiceflow's platform is siloed across multiple databases making it difficult or in some cases, impossible to perform newer, more complex queries. Consequently, product teams were not always able to leverage this data to optimize the product and operations.
In some cases, we were unable to join our data across various sources and perform complex queries. Data integration was a greenfield project for us. Since we follow a very lean HR policy with a heavy focus on automation, we decided to defer pipeline management and optimization to the experts instead of going through the unnecessarily time-consuming process of solving this in-house.
The Solution
Before finalizing Hevo, Frank and his team evaluated both open source and other SaaS data pipeline tools - AirByte (OSS), Stitch, and our cloud provider-specific solutions like AWS EMR and GCP Cloud Composer.
Frank was looking for an easy-to-use data pipeline tool that -
Offers beyond basic data transformation capabilities so they could flatten objects in their NoSQL store to a compatible relational format for their data warehouse.
Has good observability into different pipeline stages to make troubleshooting easier and sufficient information to effectively debug data problems.
Supports incremental loading instead of full table scans to reduce the amount of data being moved around.
On top of our must-have features, Hevo provided excellent documentation at the correct depth and time in our user journey. Hevo's support team also provided quick turnaround times to address any concerns we had regarding the service.
Frank and his team use Hevo to ingest their Intercom data and product data housed in MongoDB, DynamoDB, Postgres. This data is then cleaned, disentangled, and flattened before being loaded to their BigQuery data warehouse. Their BI tool, Looker rests on top of this Data Warehouse and is used by product teams to consume the analytics-ready data provided by Hevo.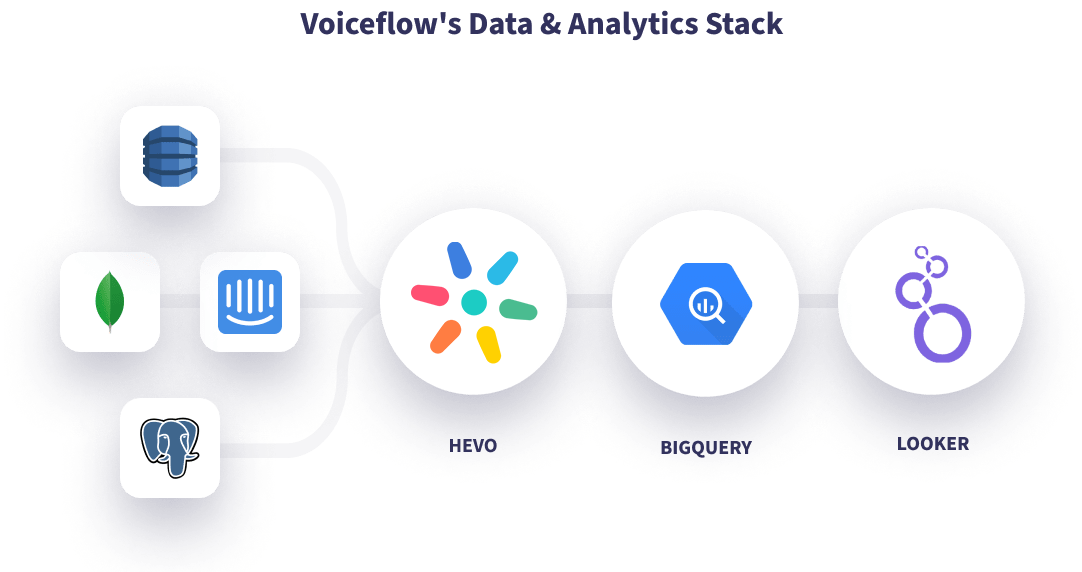 Key Results
Hevo has enabled Voiceflow to gain visibility to a much larger dataset that was previously inaccessible to downstream tools and people allowing them to obtain deeper insights into their product and customers.
Hevo is a simple yet powerful tool that has enabled us to realize our endeavor to give the teams more insights on how to optimize the product and our operations. Its rich feature set makes it a one-stop solution for all our data pipelining needs.
After their initial seed funding round of $3M, Voiceflow has recently raised $20M in series A funding to further innovate and revolutionize the conversation design space. Voiceflow's expansive growth has been verified by its impressive clientele including brands like Google, Amazon, Ogilvy, BMW, Spotify, and more. They're gearing up to roll out a new set of analytics features so that users can assess the insights into how their conversational designs are performing. Hevo is extremely happy to be a part of Voiceflow's growth journey and excited to work together in solving their next set of data challenges.
Excited to see Hevo in action and understand how a modern data stack can help your business grow? Sign up for our 14-day free trial or register for a personalized demo with our product expert.