Becoming a Certified Data Analyst: Top 10 Certifications
In recent years, the explosive interest in technologies such as Big Data and Artificial Intelligence has led to a significant increase in the demand for Data Analysts and Data Scientists. With Data Analytics, companies can leverage data to find out what works for them and what does not.
By carefully collecting, classifying, and analyzing critical data, organizations are better equipped to set future goals and develop strategies and tactics to achieve them successfully. This implies that Data Analysts who have the skills to uncover insights from data are in high demand.
Upon a complete walkthrough of this article, you will have a decent understanding of the work and importance of a Certified Data Analyst. Furthermore, this article will take you through the skills and knowledge areas in which you should be well equipped to excel in this role. Read along to know more about this in-demand profession.
Table of Contents
Introduction to Data Analytics
Data Analytics is a broad term that encompasses many different types of Data Analysis. Any kind of information can be subjected to Data Analytics techniques to produce insights that can be used to foster the decision-making process.
Data Analytics techniques can uncover trends and patterns that would otherwise be lost in the enormous amount of data. This information can be used to optimize processes and increase the overall efficiency of an organization.
In Data Analytics, you need to analyze the data gathered from various sources, clean it up, and then turn it into information that can be interpreted. The data collected from multiple sources can be Structured, Unstructured, or Semi-Structured in nature. The final result can be visualized through Charts, Graphs, and other tools.
There is a great need for professionals who can help organizations turn raw data into meaningful information that can, in turn, drive business growth. There are various job roles in Data Analytics, and being a certified Data Analyst among them can bring out the most incredible career opportunities.
Introduction to Data Analyst
Data Analysts are IT professionals who Collect, Process and Perform Statistical Analysis on large data sets to draw meaningful insights that can be leveraged to foster data-driven decision-making.
With the development of computers and an increasing inclination towards technological interdependence, Data Analytics has evolved by many folds. The relational database breathed new life into Data Analysts and enabled them to use SQL to pull data from databases.
Data Analyst: Typical Job Description
Most Data Analytics Jobs involve Collecting and Cleaning data to uncover business insights and trends. Since this job involves analyzing and interpreting data, it is analytical in nature. The day-to-day Data Analyst Job varies with the nature of the Industry or the Company, or the type of Data Analysis you're performing.
Data Analysts are responsible for extracting hidden insights and channeling them visually in the form of Dashboards and Reports. Tableau, Google Analytics, Power BI are some of the tools used extensively by Data Analysts.
Most Data Analysts work closely with IT, Management, and Data Science teams to determine the company's goals. They extract and clean data from primary as well as secondary sources, and then analyze and interpret the results using standard statistical tools and techniques. In most cases, they identify trends, relationships, and patterns in complex data sets and identify new opportunities for process improvement. Data Analysts also need to report on their findings and effectively convey them to various teams and all the stakeholders involved.
Simplify your Data Analysis with Hevo's No-code Data Pipeline
Hevo Data is a No-code Data Pipeline that helps to transfer your data from 100+ sources to the Data Warehouse/Destination of your choice to visualize it in your desired BI tool. Hevo is fully managed and completely automates the process of not only loading data from your desired source but also takes care of transforming it into an analysis-ready form without having to write a single line of code. Its fault-tolerant architecture ensures that the data is handled securely and consistently with zero data loss.
It provides a consistent & reliable solution to manage data in real-time and you always have analysis-ready data in your desired destination. It allows you to focus on key business needs and perform insightful analysis using a BI tool of your choice.
Check out Some of the Cool Features of Hevo:
Completely Automated: The Hevo platform can be set up in just a few minutes and requires minimal maintenance.
Real-Time Data Transfer: Hevo provides real-time data migration, so you can have analysis-ready data always.
100% Complete & Accurate Data Transfer: Hevo's robust infrastructure ensures reliable data transfer with zero data loss.
Scalable Infrastructure: Hevo has in-built integrations for 100+ sources that can help you scale your data infrastructure as required.
24/7 Live Support: The Hevo team is available round the clock to extend exceptional support to you through chat, email, and support calls.
Schema Management: Hevo takes away the tedious task of schema management & automatically detects the schema of incoming data and maps it to the destination schema.
Live Monitoring: Hevo allows you to monitor the data flow so you can check where your data is at a particular point in time.
You can try Hevo for free by signing up for a 14-day free trial.
Skills Required to Become a Certified Data Analyst
To become a Certified Data Analyst, you need to have a broad and extensive range of skill sets. From domain expertise to various tools, here are all the skills you need to become a Certified Data Analyst: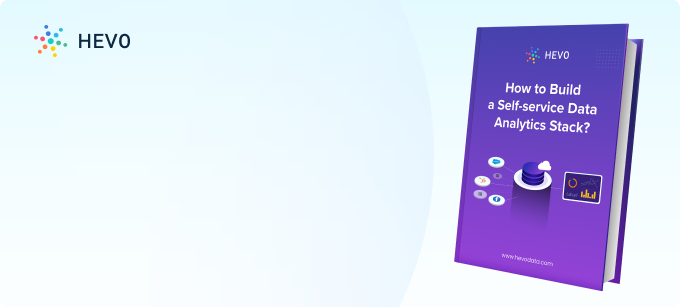 Download the Guide on How to Set Up a Data Analytics Stack
Learn how to build a self-service data analytics stack for your use case.
1) Creative and Analytical Thinking
Curiosity and Creativity are the key qualities one should possess to become a Certified Data Analyst. Having a solid foundation in statistical methodology is important, but looking at problems with a creative and analytical lens is equally important to unravel different layers of a problem.
2) Data Visualization
Data Visualization is one of the most important skills one should possess to become a Certified Data Analyst. A Data Analyst must master the art of representing the data in an easy-to-understand manner. A good Data Analyst knows what types of Visualization Charts to use, how to scale visualizations, depending on the type of audience.
3) Data Warehousing
Sometimes you need to work in tandem with the Data Engineering team in the backend as a Data Analyst to connect databases from multiple sources, create a Data Warehouse, and use Queries to extract and manipulate the data. Hence, to become a Certified Data Analyst, you must be familiar with the key concepts associated with Data Warehousing.
4) Data Cleaning
Data extracted from a database is not always clean and ready for analysis and this is where Data Cleaning comes into the picture. To become a Certified Data Analyst, you must be able to remove corrupt records from a dataset which can hamper your analysis.
5) Mathematics and Statistics
Objective decision-making is a crucial part of problem-solving. To make decisions objectively, you need to rely on Mathematics and Statistics. You need to find patterns, segment them, and make predictions based on historical information. Therefore, you must have a strong foundation of Mathematics and Statistics to come up with the optimized solution to a problem and efficiently perform Data Analysis.
6) SQL Databases
SQL Databases are relational databases with Structured data stored in the form of tables and as a Data Analyst, you must know how to extract information from various tables to perform the analysis.
7) Database Query Languages
The most common Query Language used by Data Analysts is SQL and there are many variations of this language including PSQL, PL / SQL (Procedural Language / SQL). You must be proficient in Query languages to become a Certified Data Analyst.
8) Microsoft Excel
Microsoft Excel is a Spreadsheet program offered by Microsoft which is extensively used for performing Data Analysis. As a Data Analyst, you should be able to work with Microsoft Excel and understand advanced modeling techniques.
9) Machine Learning
Machine Learning is not a mandatory skill to become a Data Analyst but knowledge of Machine Learning is an added advantage when it comes to performing exploratory analysis.
10) Programming Languages
Data Analysts need to be fluent in one language and have some hands-on experience with it. Data Analysts use Programming Languages ​​such as R and Python for Data Collection, Data Cleansing, Statistical Analysis, and Data Visualization.
11) Strong and Effective Communication Skills
Once a Data Analyst is able to uncover hidden insights from a large data set, then the findings need to be communicated to the stakeholders who are involved and this is where Soft skills play a major role. As a Data Analyst, you should be able to communicate effectively and pitch your findings to the prospect teams.
Top 10 Certifications to Become a Certified Data Analyst
Before starting with any of the top Certifications you can opt for, to become a Certified Data Analyst, you need to know the difference between Certifications and Certificates; although they sound the same, there is a major difference between them.
A Data Analytics Certification means that you have passed a specific assessment and are ready to work on a given job role as per industry standards whereas a Data Analytics Certificate simply indicates that you have education in a Data Analytics domain, it does not necessarily mean that you possess a certain skill set.
Given below are some of the best Data Analytics Certifications:
1) Microsoft Certified: Data Analyst Associate
Microsoft Certified: Data Analyst Associate Certification is one of the most valued Certifications that can help you in becoming a Certified Data Analyst. It mainly focuses on leveraging the potential of Power BI to optimize the value of a company's data assets. It provides the skills necessary to clean and transform data and to design and build scalable data models.
Associate Analysts are proficient in Data Preparation, Data Modeling, Data Visualization, and Data Analysis in the context of Power BI. Ideal candidates for this certification are the candidates who have prior experience working with Power BI.
To know more about the Certification, click here to check out their official website.
2) Microsoft Certified Azure Data Scientist Associate
The Microsoft Certified: Azure Data Scientist Associate Certification is for individuals who seek to obtain subject matter expertise level on data science and machine learning on Microsoft Azure. This role's responsibilities include developing and implementing an appropriate working environment for Azure data science workloads.
You experiment with data and train prediction algorithms. You also oversee the management, optimization, and deployment of machine learning models in production. In order to get the certification, individuals are required to pass exam DP-100, which costs $165.
There are both free and paid ways to prepare for this, which you can check on Microsoft's website.
3) Google Data Analytics Certificate
If you are a complete beginner and have no prior experience with Data Analytics and looking for a Certification to become a Certified Data Analyst then Google Data Analytics Certification is the best option for you. It mainly focuses on introducing you to the world of Data Analytics through a curriculum tailored by Google.
It will help you develop all the mandatory skills required for Data Analytics using tools like SQL, Tableau, R, and more. Clearing the assessments will help you equip yourself with the skills that are needed to apply for an entry-level position as a Certified Data Analyst.
To know more about the Certification, click here to check out their official website.
4) Cloudera Certified Associate Data Analyst
The Cloudera Certified Associate (CCA) Data Analyst Certification enables data professionals to use Hive and Impala to extract and generate reports on the Cloudera CDH environment.
Individuals who clear the CCA Data Analyst Certification know how to use Query Language Statements in Impala and Hive to analyze data in the cluster. They also become proficient in structuring the data.
To know more about the Certification, click here to check out their official website.
5) Associate Certified Analytics Professional
The Associate Certified Analytics Professional or aCAP designation is for an entry-level analytics professional who is educated in the analytics process but may not have experience in practice yet. It's an independent certification that leads to the elite-level Certified Analytics Professional (CAP) designation. A person eligible for aCAP should have:
Masters in education in an analytics/data program.
Adherence to analytics code of ethics.
Verified competency as an analytics professional.
To earn aCAP designation, a person must pass the aCAP exam, which covers all seven domains of the analytics process- Business Problem Framing, Analytics Problem Framing, Data, Methodology Selection, Model Building, Deployment, and Lifecycle Management. He/She should also have industry experience of fewer than 3 years. To learn more about the Associate Certified Analytics Professional designation and exam, visit their website here.
6) Certified Analytics Professional(CAP)
If you have good knowledge and hands-on experience in performing Data Analysis and are looking for an advanced level Certification then Certified Analytics Professional (CAP) is the right choice for you. Data professionals who earn Certified Analytics Professional are familiar with Business Problems, Analytical Problems, and various Analytical Methodologies. Implementation and lifecycle management are additional skills that certified individuals possess.
To know more about the Certification, click here to check out their official website.
7) Springboard Data Analytics Certification
The Springboard Data Analytics Certification is specifically tailored for those who have a knack for Problem Solving and Critical Thinking. This is a completely supervised online course that offers a job guarantee. Hence, this certification demands a prior two years of professional experience from the candidate.
When you are enrolled in this program, you are assigned a mentor who guides you throughout your learning journey. It offers Project-based assignments and real-life Case Studies to test your learnings in Data Analytics. To complete the program you are assigned a final project which is reviewed by your mentor and upon clearing the assessment you are ready to become a Certified Data Analyst.
To know more about the program, click here to check out their official website.
8) Certification of Professional Achievement in Data Sciences
Certification of Professional Achievement in Data Sciences is a non-degree, part-time program offered by Columbia University. It is intended to develop a knack for foundational data science skills.
This certification is developed for the student community who are required to complete a minimum of 12 credits, in four required courses: Algorithms for Data Science, Probability and Statistics for Data Science, Machine Learning for Data Science, and Exploratory Data Analysis and Visualization.
To enroll in this certification students are required to pay Columbia Engineering's rate of tuition (around $2196 per credit) with an additional non-refundable technology fee of $396 per course. To know more about the certification process, check out Columbia University's website here.
9) IBM Data Science Professional Certificate
The IBM Data Science Professional Certificate is an entry-level professional certificate for individuals interested in pursuing a career in data science or machine learning. This is a distinct course, which does not require you to have a Ph.D. or Masters in Computer Programming or Data Science. Anyone with a passion for data with no prior knowledge of computer science or programming languages can get started with this course.
The main focus of this course is based on developing a demonstrated ability to solve real-world problems. It includes a series of hands-on labs in the IBM Cloud that will give you practical skills with applicability to real jobs. You will learn about Programming Tools like Jupyter, GitHub, R Studio, Libraries like Pandas, NumPy, Matplotlib, Seaborn, and Projects like random album generators, predict housing prices, and many more.
To know more about the IBM Data Science Professional Certificate and the skills involved, visit their website here.
10) Open Certified Data Scientist
The Open Group Certified Data Scientist (Open CDS) certification is for Data Scientists who have the qualities and capabilities to effectively analyze business data. Open CDS doesn't include any written tests or training courses. All interested candidates are tested on their skills and experience against a set of conformance requirements through written applications and peer interviews.
Getting an Open CDS Certification is a three-step process:
Step One: Candidates have to obtain 4-5 Milestone Badges (four for Levels 1 & 3, five for Level 2) from the Open Group.
Step Two: Candidates have to complete the Experience Application Form.
Step Three: Candidates have to attend a board review.
It's only after passing all three levels that you'll be held certified as an ODS Data Scientist. This certification lasts for three years, after which you'll have to re-certify. To apply for ODS Certification or know more about it, visit their website here.
Average Salary of a Certified Data Analyst
Data Analyst is one of the most sought-after career opportunities and one of the most evolved professionals in the Information Technology field. Large amounts of data is generated across companies every day, so there are several job opportunities for these professionals.
As of July 2021, the average salary for an entry-level Certified Data Analyst is approximately $78000 per annum in the US whereas the average salary for an entry-level Data Analyst in India is ₹430000 per annum.
It's no wonder Data Analysis skills like Predictive Analytics, Python, SQL, and others are among the highest-paying skills in the world today. The demand for Certified Data Analysts is not only enormous, but it is also increasing every day.
Conclusion
This article explained the various important aspects that you need to consider before pursuing Data Analytics as a career. It discussed the work you will do and the salary that you may expect as a Certified Data Analyst. Also, the article elaborated on the skills that you need to master before you can compete for the role of a Certified Data Analyst in the current scenario.
A huge part of your work as a Certified Data Analyst involves collecting data from multiple sources and integrating the incoming data into the desired form. This cumbersome process can be simplified by using Hevo Data. Hevo Data, a No-code Data Pipeline, helps you transfer data from a source of your choice in a fully automated and secure manner without having to write the code repeatedly.
Hevo, with its strong integration with 100+ sources & BI tools, allows you to not only export & load Data but also transform & enrich your Data & make it analysis-ready in a jiff.
Want to take Hevo for a spin? Sign up here for a 14-day free trial and experience the feature-rich Hevo suite first hand. You may also have a look at the amazing price, which will assist you in selecting the best plan for your requirements.
Share with us your experience of learning about how to become a Certified Data Analyst. Tell us in the comments below!
No-code Data Pipeline for Your Data Warehouse