9 Best Data Transformation Tools in 2023
Data Transformation is one of the most crucial steps of your entire data integration process it allows you to change your data format. So, choosing the right data transformation tool for the process becomes mandatory.
In this blog, you will discover the top 9 Data Transformation tools in the market. All these tools offer top-notch data transformation capabilities with zero data loss and no compatibility issues. You can use any of the data transformation tools mentioned in this blog according to your requirements.
Table of Contents
What is Data Transformation?
Data Transformation refers to the process of transforming data from one format to another format. Data transformation allows companies to convert their data from any number of sources into a format that can be used further for various processes.
Data transformation processes can be classified into two types – simple and complex. You can transform your data using either an ETL tool or Python scripts. With Data Transformation tools, you can automate the transformation and simplify your ETL process.
What are Data Transformation Tools?
Data Transformation tools refer to the tools that can automate your transformation process within minutes. As data transformation is one of the most crucial steps of your data integration, data transformation tools play an important role. A data transformation tool should offer enrichment, cleansing, and modification with zero data loss.
The next section of this blog focuses on some of the top data transformation tools.
Top 9 Data Transformation Tools
9 Best Data Transformation Tools
Some of the most efficient data transformations tools are as follows:
Let's discuss these data transformation tools in detail.
1. Hevo Data
Overview
Hevo Data, a No-code Data Pipeline helps you to replicate data from any data source with zero maintenance. You can get started with Hevo's 14-day Free Trial and instantly move data from 150+ pre-built integrations comprising a wide range of SaaS apps and databases.
GET STARTED WITH HEVO FOR FREE
Hevo not only loads the data onto the desired Data Warehouse but also enriches the data and transforms it into an analysis-ready form without having to write a single line of code. Its fault-tolerant architecture ensures that the data is handled in a secure, consistent manner with zero data loss.
Check out what makes Hevo amazing:
Near Real-Time Replication: Get access to near real-time replication on All Plans. Near Real-time via pipeline prioritization for Database Sources. For SaaS Sources, near real-time replication depend on API call limits.
In-built Transformations: Format your data on the fly with Hevo's preload transformations using either the drag-and-drop interface or our nifty python interface. Generate analysis-ready data in your warehouse using Hevo's Postload Transformation.
Monitoring and Observability: Monitor pipeline health with intuitive dashboards that reveal every stat of pipeline and data flow. Bring real-time visibility into your ETL with Alerts and Activity Logs.
Reliability at Scale: With Hevo, you get a world-class fault-tolerant architecture that scales with zero data loss and low latency.
24×7 Customer Support: With Hevo you get more than just a platform, you get a partner for your pipelines. Discover peace with round-the-clock "Live Chat" within the platform. What's more, you get 24×7 support even during the 14-day free trial.
Hevo Data provides Transparent Pricing to bring complete visibility to your ETL spend. You can also choose a plan based on your business needs.
Pricing
Stay in control with spend alerts and configurable credit limits for unforeseen spikes in the data flow. Simplify your Data Analysis with Hevo today!
Sign up here for a 14-Day Free Trial!
2. Datameer
Datameer offers an innovative data modeling and transformation toolset that brings non-coders into the analytic engineering process and fosters collaboration between citizen data users and engineers to accelerate the creation and delivery of datasets for analytics, machine learning, and reporting.
Organizations globally are modernizing their data stack with Snowflake. The Snowflake Data Cloud offers tremendous advances in terms of scalability, flexibility, ease of use, and reduced administration. While modern ETL and ELT tools have automated loading and syncing data into Snowflake, data engineering teams work with developing fit-for-purpose datasets to meet the ever-growing analytical and machine learning needs of the business.
With Datameer, business teams with no prior SQL coding experience can self-serve and create their own datasets inside of Snowflake via a no-code visual interface. Data engineers can review, contribute or optimize these datasets if needed using a more traditional SQL editor. Datameer gives data engineers the control they require and analysts the ability to support a collaborative data modeling and transformation process.
3. IBM InfoSphere DataStage
Overview
IBM InfoSphere DataStage is a cloud-ready data integration tool that can clean, modify, and transform your data conveniently. It provides real-time data transfer into data warehouses, data lakes, etc. As it is built on containers and microservices, real-time analytics becomes easy. DataStage transformations provide enriched and tailored information to your organization. It also provides features, likes built-in search, automatic metadata propagation, and simultaneous highlighting of compilation errors. DataStage is available as DataStage Enterprise and DataStage Enterprise Plus.
Pricing
IBM InfoSphere DataStage is available on IBM Cloud Pak for on-premise and as a hosted offering. So, you need to contact Cloud Pak for the on-premise pricing. You can also add some Gold services for your hosted offering. The pricing starts at $2,500 per month for on-cloud non-production, Dev/Test. You can know more about their pricing here.
4. Informatica – PowerCenter
Overview
Informatica is an enterprise tool for extracting, transforming, and loading data into your warehouse. Informatica supports integration with various traditional databases in real-time and batch. Informatica provides enterprise-class data transformation for any type of data, format, size, and complexity. You can map it once, and then deploy it anywhere without writing any line of code. It supports a wide range of industry-standardized formats, such as ACORD, SWIFT, HIPAA, etc.
Pricing
The Basic plan of Informatica starts at $2000 a month. The pricing of Informatica also depends on data sources, security features, etc. As it doesn't offer transparent pricing, you have to request a quote. You can also use their 30-day free trial.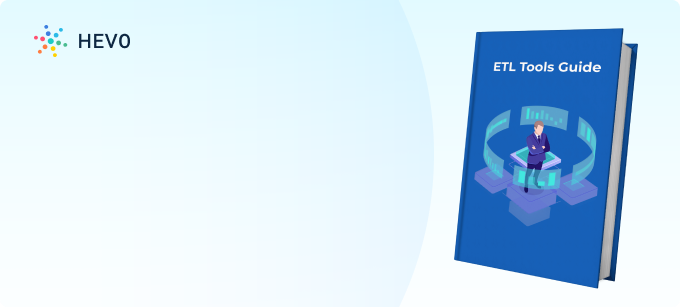 Download the Guide to Evaluate ETL Tools
Learn the 10 key parameters while selecting the right ETL tool for your use case.
5. Matillion
Overview
Matillion is an ETL tool for Amazon Redshift, Azure, Synapse, Snowflake, and Google BigQuery. It sits perfectly between your raw data sources and your business intelligence (BI) and analytics tool. It takes away the compute-intensive activity of extracting, transforming, and loading data from your on-premise server. With Matillion, you can easily transform your raw data and gain valuable insights from it.
Matillion also offers the flexibility to transform your data as and when needed by your BI tool. You can also solve complex business rules with Matillion's data transformation. You can know more about Matillion's data transformation from here.
Pricing
Matillion offers flexible pricing plans for data integration and data transformation. The Medium plan starts at $1.79 per hour, Large plan starts at $3.49 per hour, and XLarge plan starts at $6.49 per hour. The Enterprise plan offers customization to you. You can know more about Matillion's pricing here.
6. SAP Data Services
Overview
SAP Data Services is an ETL tool which offers data integration, data transformation, data profiling, and text data processing on a single platform. You can create applications or jobs for mapping and transforming your data. SAP Data Services provides high-performance parallel transformation and supports multi-users. With SAP Data Services, you can transform your data into an ever-ready resource for business insight and use it to maximise your efficiency. You can simplify and accelerate your data transformation process with SAP. They also provide service support for you to bridge the gap between data transformation strategy and execution.
Pricing
The license schema of Data Service is CPU-based. SAP doesn't provide you with a price list. You have to request a quote to know about their pricing.
7. Talend
Overview
Talend is a big data and cloud data integration tool. It supports scaling the massive volume of data and advanced data analytics. Talend is partnered with some leading cloud service providers, data warehouses, and analytics platforms, including Google Cloud Platform, Amazon Web Services (AWS), Snowflake, etc.
Talend provides data extraction, transformation, and loading on a single platform. With Talend, you can enrich your job to include on-the-fly data transformation. Know more about data transformation in Talend from here.
Pricing
Talend offers a variety of pricing plans. It starts at $1,170 monthly or $12,000 annually. You can also take a free trial of Talend. Know about Talend pricing here.
8. Pentaho Data Integration
Overview
Pentaho is also referred to as 'Kettle'. It is an open-source ETL tool. It supports hybrid and multiple cloud-based architectures. Pentaho translates your ETL process to an XML. Talend offers a drag-and-drop option and hence, has a minimal learning curve.
It allows data migration, data cleansing, data transformation, and data loading for a large set of sources. Pentaho considers data transformation as a network of logical tasks called 'Steps' and data transformations as 'Data Flows'. Know how to do data transformation in Pentaho from here.
Pricing
Pentaho Community is open source and free to use. The Enterprise Edition doesn't offer transparent pricing. You can request a quote here.
9. CloverDX
Overview
CloverDX is a Java-based ETL tool. It provides rapid automation of your data integration process. CloverDX supports data transformation with numerous data sources, such as Emails, XML, JSON, etc. You can use its features – job scheduling and monitoring to enhance its capabilities. Its distributed environment provides scalability and availability.
You can write each transformation in Java or use CloverDX Transformation Language. Transformation in CloverDX can be defined using three attributes – transform, transform URL and transform class. Know more about data transformation in CloverDX here.
Pricing
CloverDX pricing starts at $5000 as a one-time payment per user. You can also use their free trial. Know more about their pricing from here.
Conclusion
In this blog, you have learned about some of the top data transformation tools available in the market. You can use any of the mentioned tools according to your convenience. With data transformation, you can refine your data for data integration and data management. Organizations choose their data transformation tools that offer secure transformation, enrichment, and cleansing at a reasonable price.
Hevo Data fulfills all these requirements and offers the best solution to you.
visit our website to explore hevo[/hevoButton]
Hevo is a No-code Data Pipeline, it supports pre-built integration from 150+ data sources with transparent pricing. You can perfect, modify and enrich your data with Hevo without any data loss.
SIGN UP for a 14-day free trial and see the difference!
Share your experience of using data transformation tools in the comment section below.
Transform your Data in Minutes