7 Best Reporting Tools for 2021: In-depth Analysis
Data Reporting and visualization plays an essential role in understanding business by transforming massive datasets into meaningful pictorial insights. There are various factors like functionalities, flexibility, and ease of operability that need to be considered while choosing the ideal Reporting Tool for your business.
This article will provide you with an in-depth analysis of some of the Best Reporting Tools available in the market. It also aims to provide you with knowledge about the features & use cases of these Reporting Tools to help you make the right choice for your business.
Table of Contents
Understanding Reporting Tools
Data integrated from various sources usually contain millions of rows, and it is quite challenging to get meaningful insights out of them. Reporting Tools ingest data from these sources and present the information in the form of tables, charts, visual representations, graphs, or other styles that help users understand the information present inside the data. These Reporting Tools assist the users to make informed decisions after careful consideration of visually represented data points.
These tools present the data in a very appealing manner, making data more readable, useful, and presentable. Data can be presented either as Static Reports or as Interactive Reports.
An example of a dashboard created for an E-Commerce Business on one of the Reporting Tools can be seen below.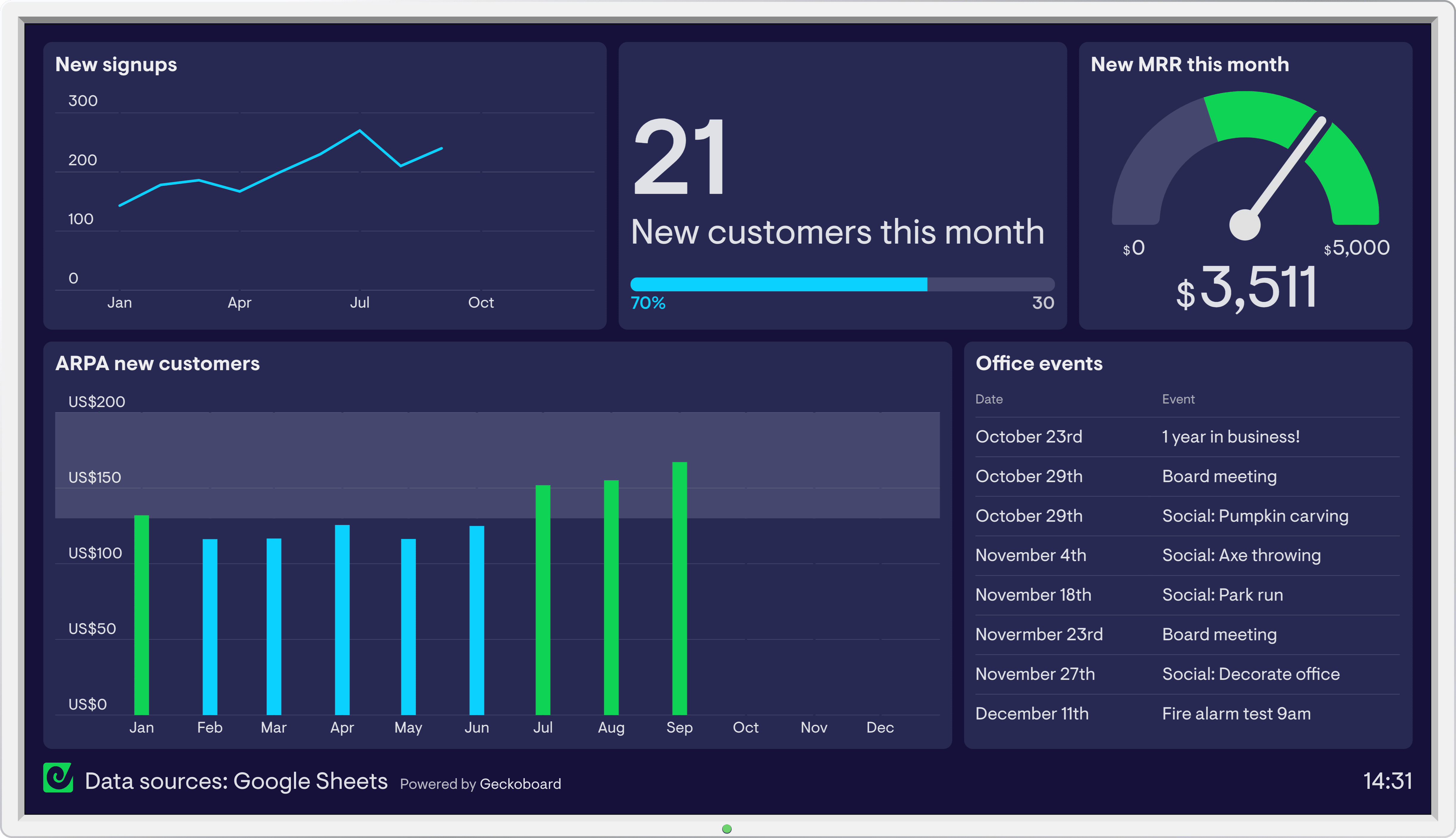 Simplify ETL using Hevo's No-code Data Pipeline
Hevo is a No-code Data Pipeline. It supports pre-built data integrations from 100+ data sources. Hevo offers a fully managed solution for your fully automated pipeline to set up integration from all your data sources and directly load data to any of the Reporting Tools. It will automate your data flow within minutes without writing any line of code. Its fault-tolerant architecture makes sure that your data is secure and consistent. Hevo provides you with a truly efficient and fully-automated solution to manage data in real-time and always have analysis-ready data at your Reporting Tool.
Hevo focuses on Three Simple Steps to Get You Started:
Connect: Connect Hevo with your data sources by simply logging in with your credentials.
Integrate: Consolidate your data from several sources in Hevo's Managed Data Integration Platform and automatically transform it into an analysis-ready form.
Visualize: Connect Hevo with your desired Reporting Tool and easily visualize your data to gain better insights.
Let's look at some Salient features of Hevo:
Fully Managed: It requires no management and maintenance as Hevo is a fully automated platform.
Data Transformation: It provides a simple interface to perfect, modify, and enrich the data you want to transfer.
Real-Time: Hevo offers real-time data migration. So, your data is always ready for analysis.
Schema Management: Hevo can automatically detect the schema of the incoming data and maps it to the destination schema.
Live Monitoring: Advanced monitoring gives you a one-stop view to watch all the activities that occur within pipelines.
Live Support: Hevo team is available round the clock to extend exceptional support to its customers through chat, email, and support calls.
Explore more about Hevo by signing up for a 14-day free trial today.
Top 7 Reporting Tools
Some of the Best Reporting Tools available in the market are as follows:
1) Tableau

Tableau is the leading Business Intelligence and Data visualization Tool in 2021. It has several in-built connectors to connect to various sources, thereby creating visual masterpieces with a perfect blend of symbolic elements like colours, tables, and charts that help businesses implement data-driven decisions. Some key features of Tableau are as follows:
Tableau is a Reporting Tool with an intuitive dashboard with thousands of symbolic elements to create visuals.
Tableau enables users to securely collaborate on the worksheets and dashboards with peers and leaders for design suggestions and review.
Tableau offers excellent support for real-time data integration. It also encompasses robust In-memory Computation.
Tableau has over 200+ connectors available in its library, which can connect to any Relational and Non-relational Database, CSV and Excel files, Hive, Snowflake, etc.
Tableau Pricing
Tableau offers a 14-day free trial following which the user has to choose one of the tiers which are as follows:
For Individuals: Provides a single User License for Tableau Desktop and Tableau Prep Builder along with one Creator License for Tableau Server and Tableau Online.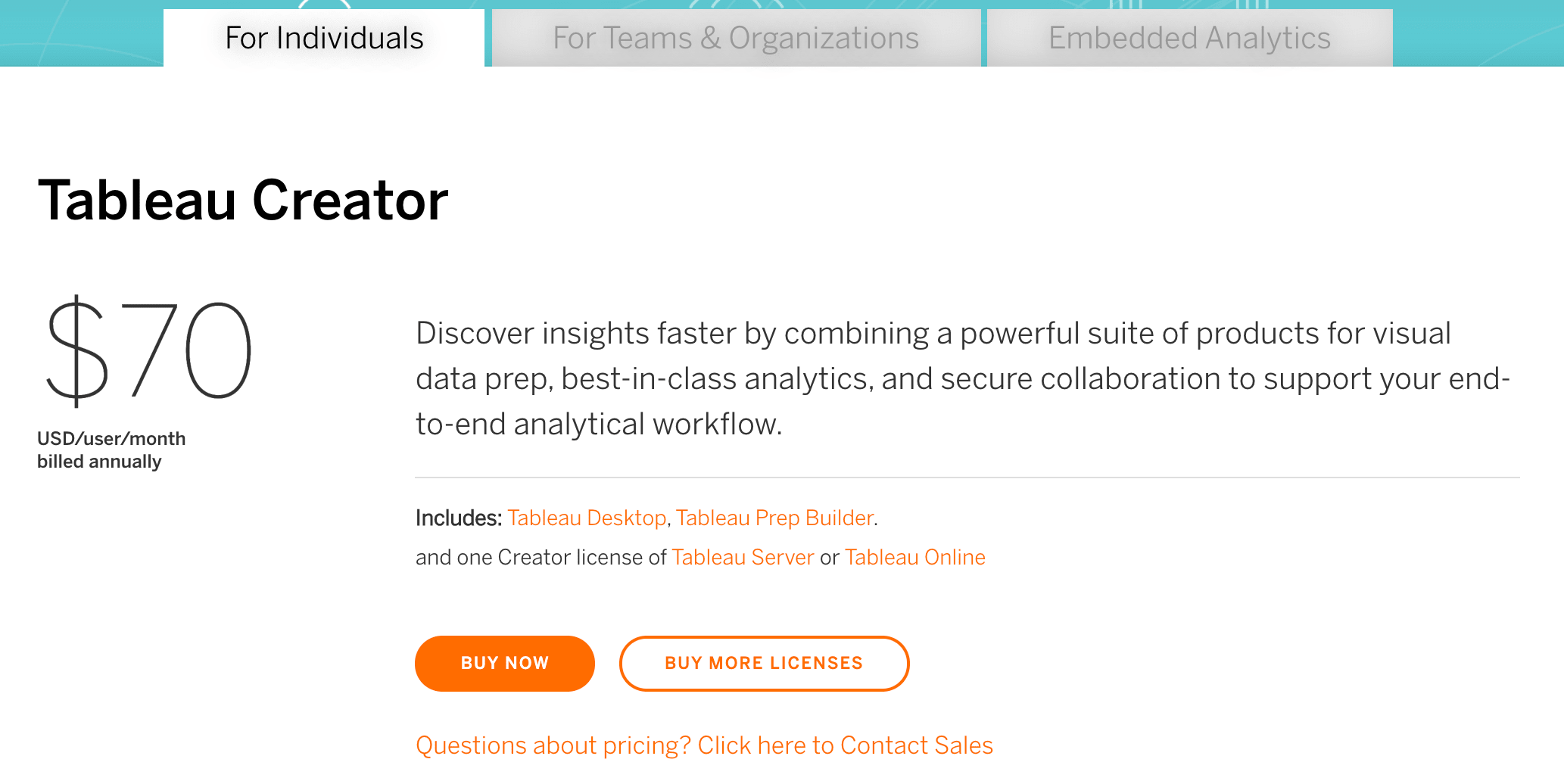 For Teams and Organizations: Total amount is based on the number of users. The pricing for each user is as follows: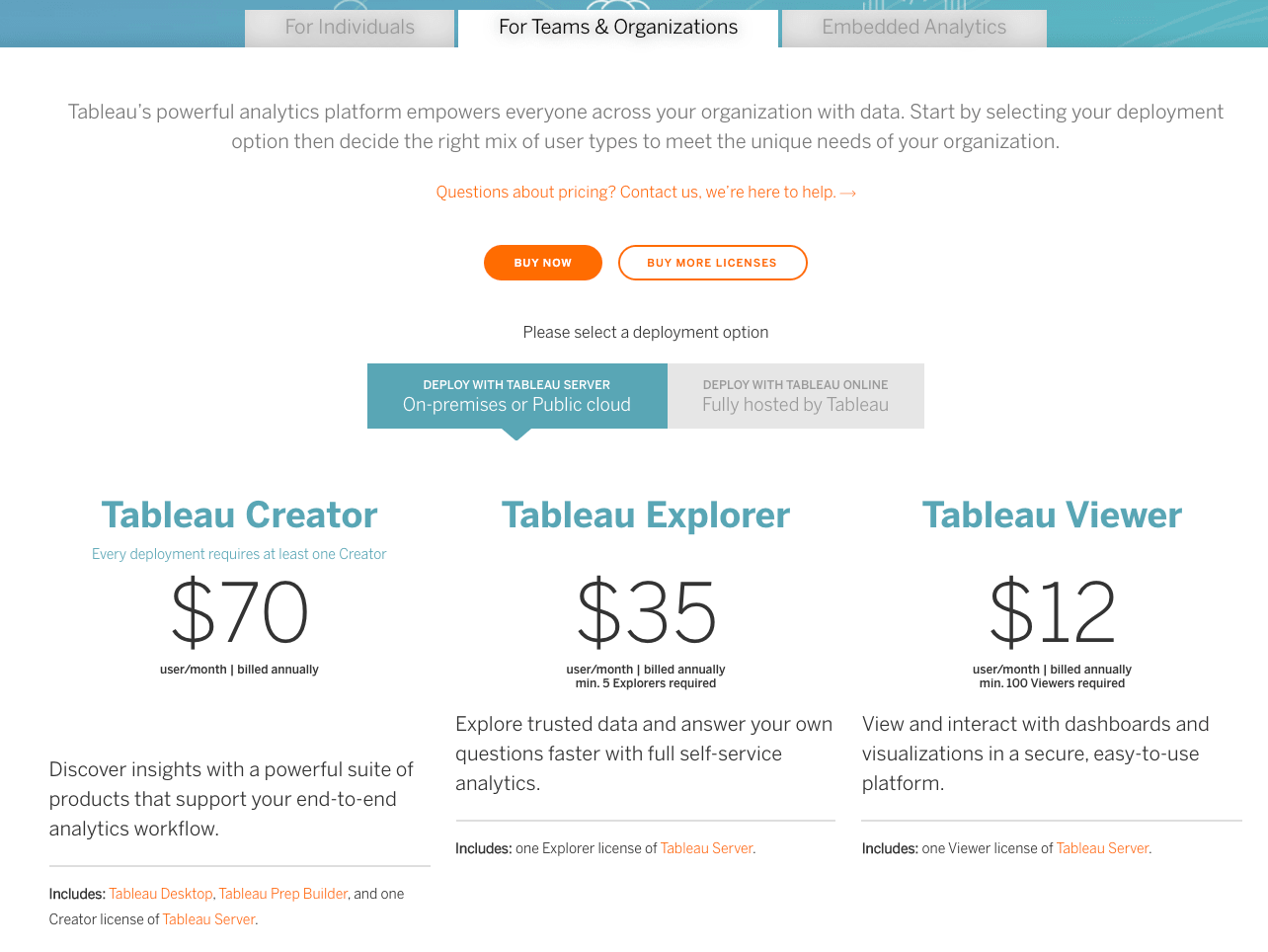 Tableau works only on Tableau Server for Teams and Organizations. The above pricing is offered when Tableau Server can be deployed on the On-premise Hardware or Public Cloud offerings of the organization. If the Team or the Organization wishes to host the Server on Tableau Fully Hosted Online Solution, the pricing is as follows: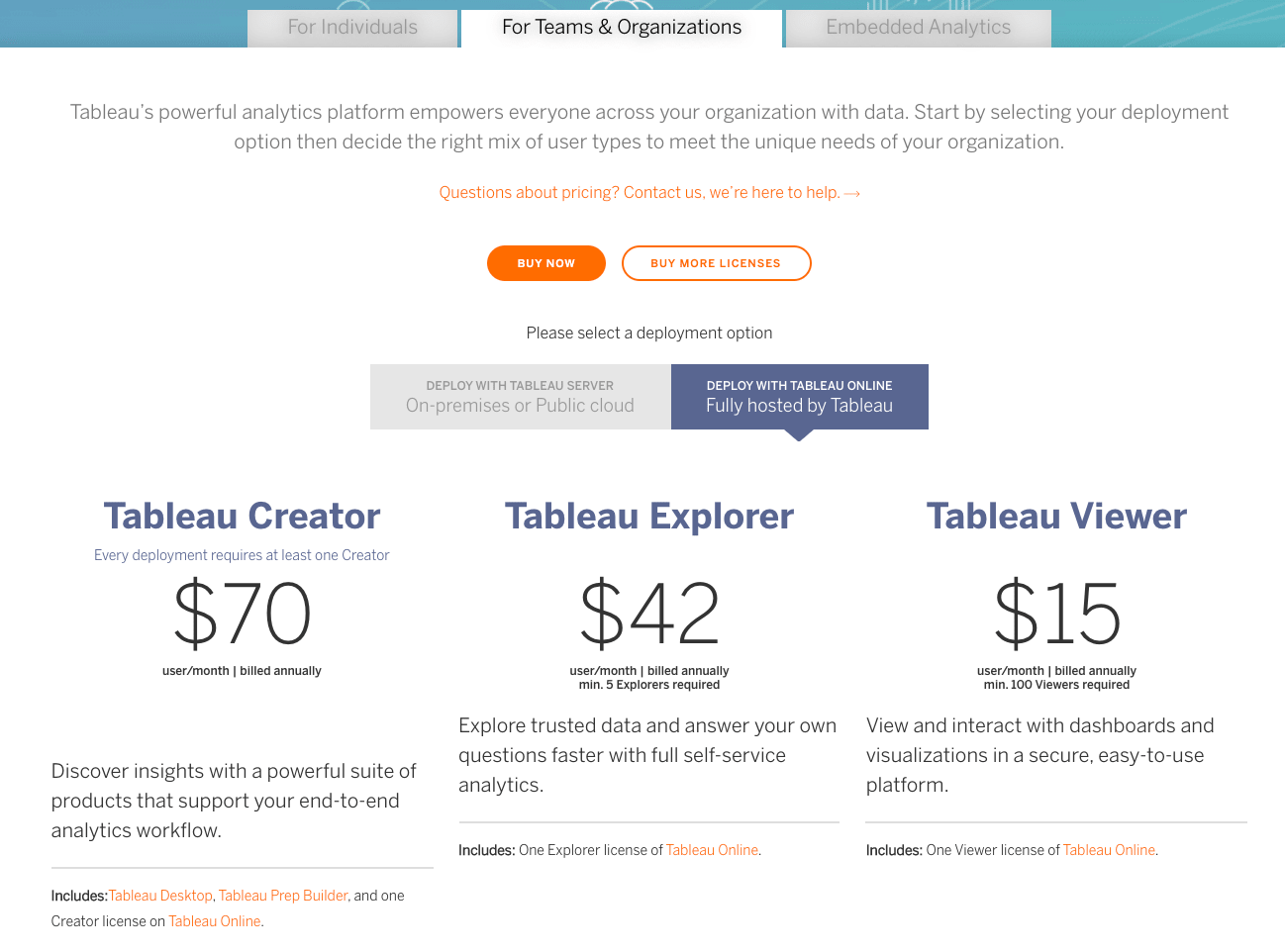 Embedded Analytics: It offers powerful analytics without the need to manually build them using a robust set of APIs. Pricing for this tier can be finalized after a discussion with the sales team based on business requirements.

More details on Tableau can be found here.
2) Looker

Looker is a Reporting Tool part of Google Cloud that allows users to perform analysis on live data with a built-in modelling language known as LookML, a variant of SQL. Looker has Git Integration to extend and enhance SQL based analysis. Looker generates real-time snapshots with the data based on SQL queries and can be used when you want to perform complex analyses with big datasets to generate on-the-spot reports. Some key features of Looker are as follows:
Looker allows around 12 different types of filters to analyze the data at the most granular level.
Looker allows cross-filtering on live data with simple clicks on the dashboard points. This allows users to perform an in-depth analysis on-the-fly.
Looker has cross integration with different apps that allow users to set actions and Webhooks for automated alerts and notifications.
Looker Pricing
Looker does not offer a transparent pricing model. Instead, it offers a customized approach in which the pricing is modelled based on business and user needs. Users can request a quote or demo from the Looker team on the official website.

More information on Looker can be found here.
3) SAP Crystal Reports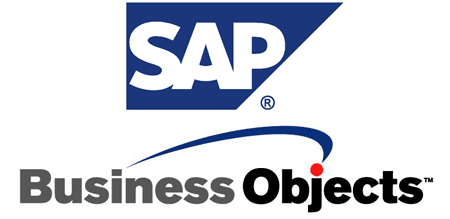 SAP Crystal Reports is a Windows-based On-premise Business Intelligence Tool built to perform data analysis and present in visual forms. It supports building reports without a programming language. Users can build reports from their Design Wizards and parameterize them to get a report of their choice. It leverages analytical functions such as sorting, ranking, formulas, grouping, and formatting to get the most data. The various features of SAP Crystal Reports are as follows:
It uses the company's LDAP directory to allow users for Single Sign-on and can be accessed across platforms and across devices.
Its user interface supports over 20 languages, enabling international clients to view dashboards in their native languages.
SAP Crystal Reports Pricing
SAP Crystal Reports offers a 30-day free trial following which the user has to pay for each license.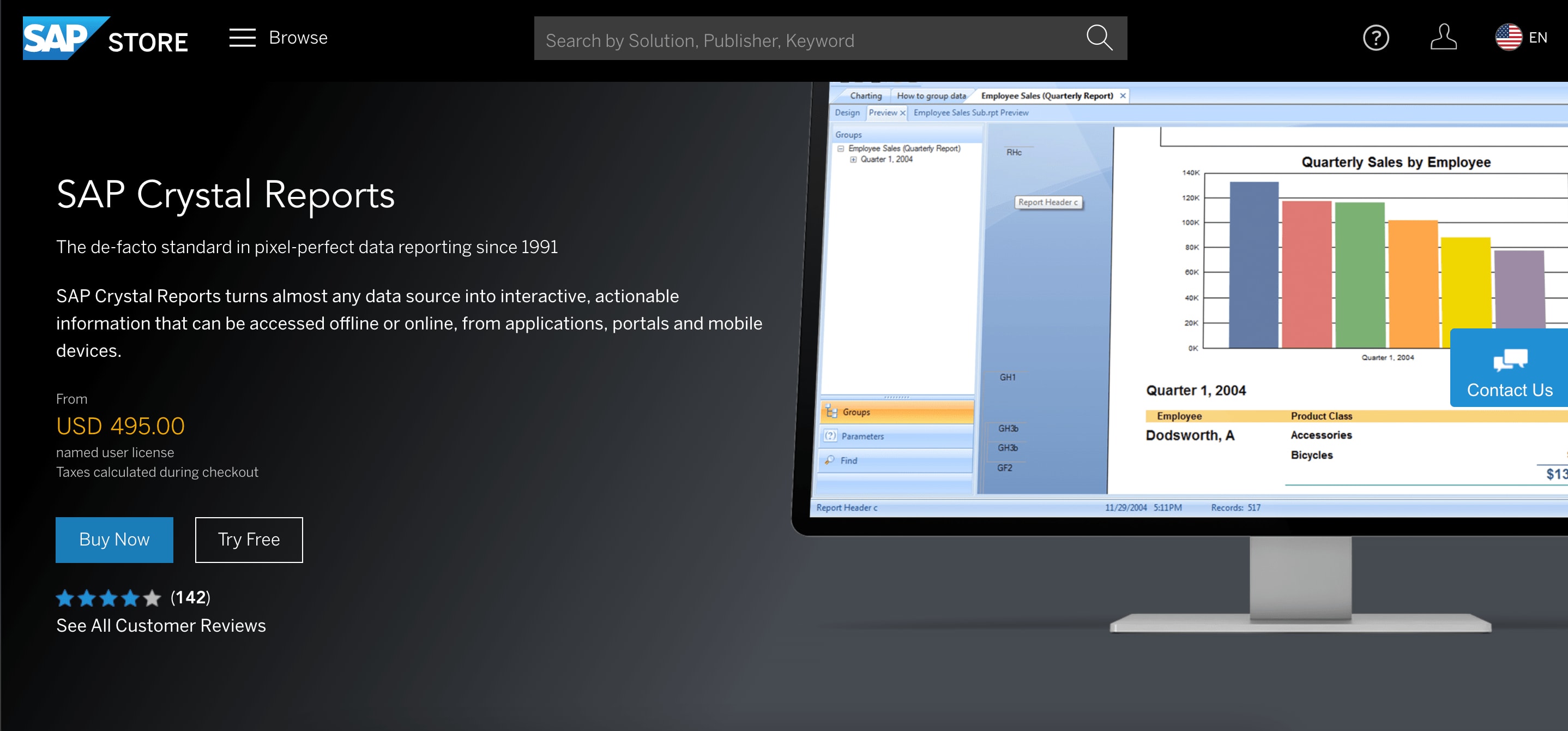 More information on SAP Crystal Reports can be found here.
4) Pentaho Business Intelligence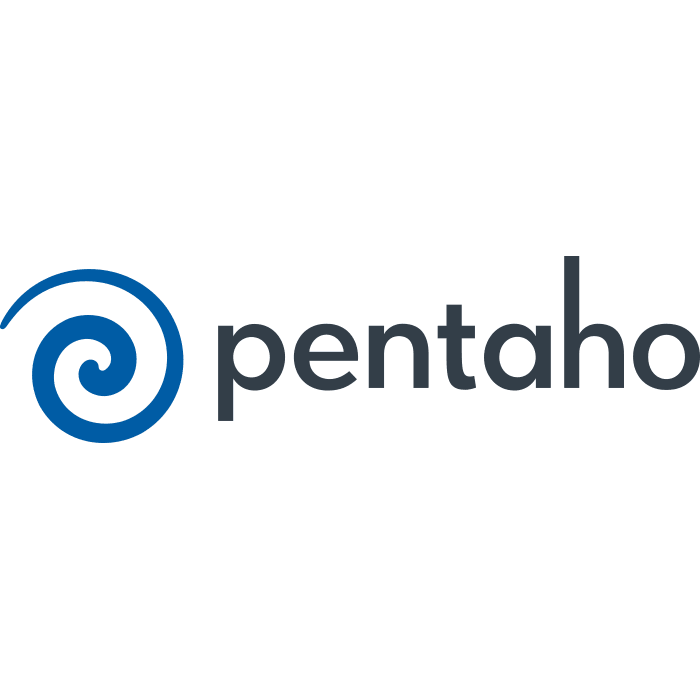 Pentaho Business Intelligence is a platform designed by Hitachi to create lightweight reports. It is a collection of Reporting Tools that generate pixel-perfect reports. It allows you to create HTML, Excel, PDF, RTF format reports for business users, and CSV and XML to feed the data into other systems. Some features of Pentaho Business Intelligence are as follows:
It allows you to share reports across the organization.
Reports can easily be viewed on Pentaho's web-based viewer.
Pentaho allows you to import data from virtually any data source to create appealing visualizations.
Pentaho Business Intelligence Pricing
Pentaho Business Intelligence offers a Free and Open-source Community Edition with basic functionalities and a 30-day free trial for its Enterprise Edition following which the user has to contact the Hitachi team for a pricing plan.

More details on Pentaho can be found here.
5) QlikView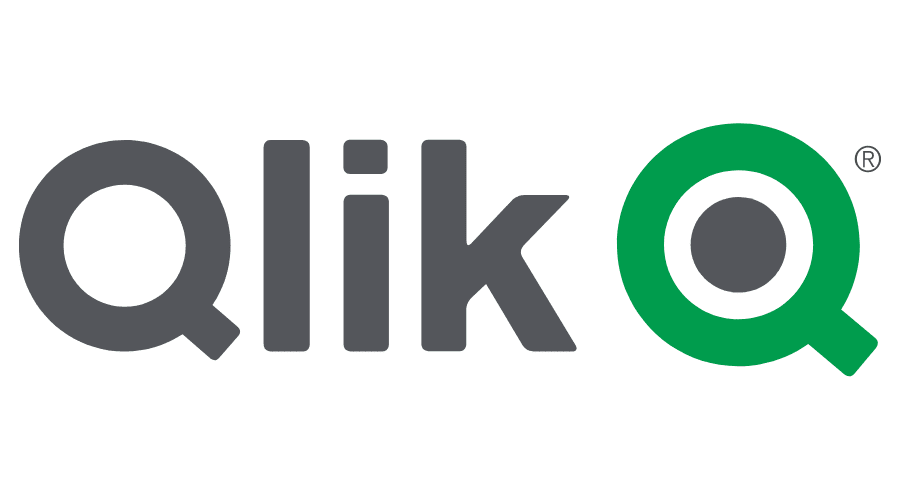 QlikView is a classic Reporting Tool that provides analytical solutions and allows you to develop appealing visualization from the data. It is an Enterprise Tool that converts raw data into a meaningful format. Some features of QlikView are as follows:
Unlike other dashboarding tools, QlikView stores the data in memory for super-fast analysis.
It supports scalability and provides consistent reporting.
It contains ample templates and supports various forms of data presentation.
It provides Data Discovery and the utmost security to the data.
QlikView Pricing
Qlik offers two tiers based on business requirements. A comparison of both tiers is as follows: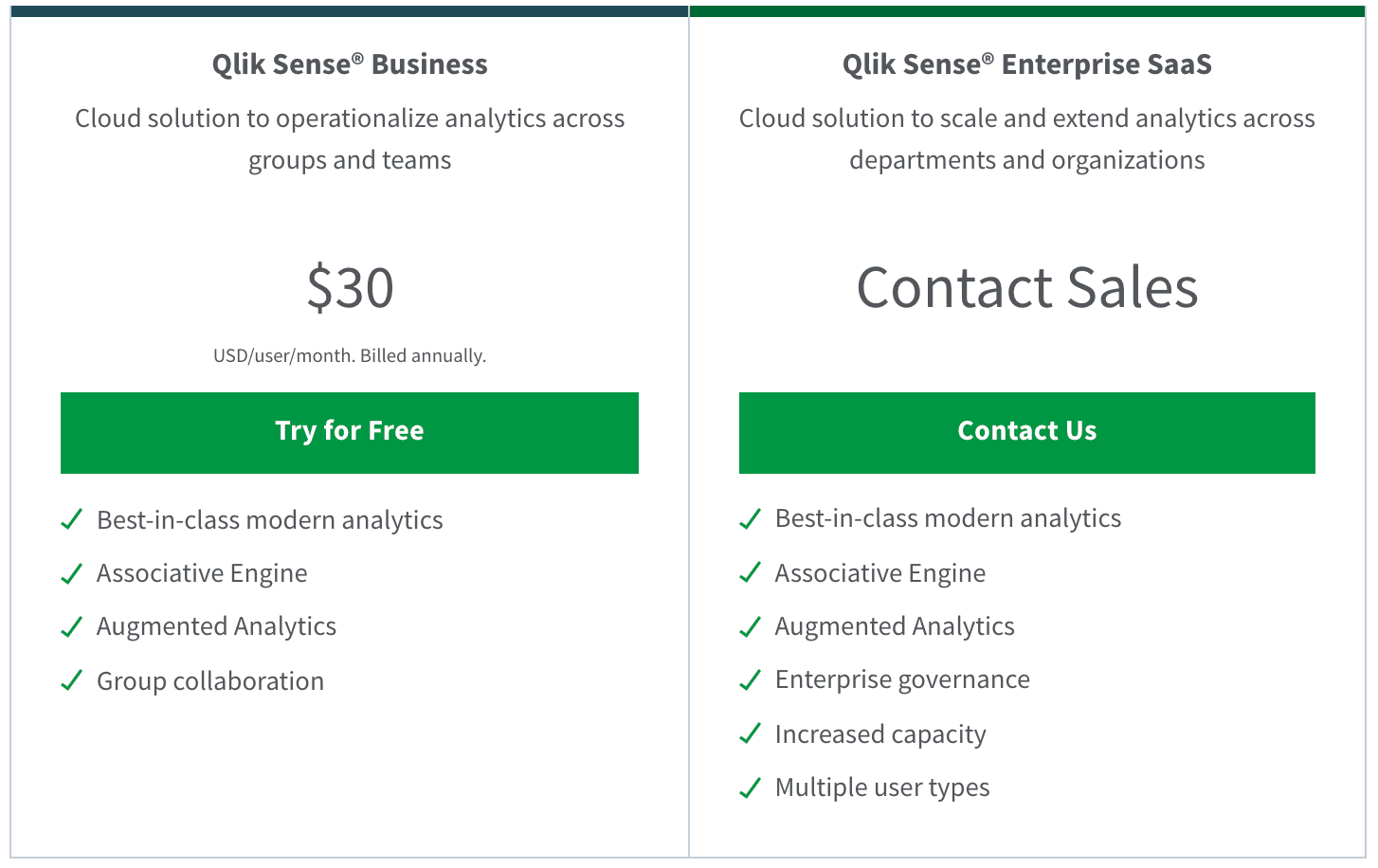 More information on QlikView can be found here.
6) Google Data Studio

Google Data Studio is Google's free Data Visualization and Reporting Tool. It contains a wide range of connectors that quickly connect with data sources to import data and create appealing visualizations by transforming the data according to needs. Business users can analyze these reports to understand the performance, key metrics, market trends, etc. to make data-driven decisions. Some key features of Google Data Studio are as follows:
Google Data Studio is easy to use and is available under the Google platform.
It houses 250+ connectors that connect with various data sources to bring the data for analysis and reporting.
It has a pre-built template that allows users to build a dashboard quickly.
Google Data Studio Pricing
Google Data Studio is currently available free of charge for all its users.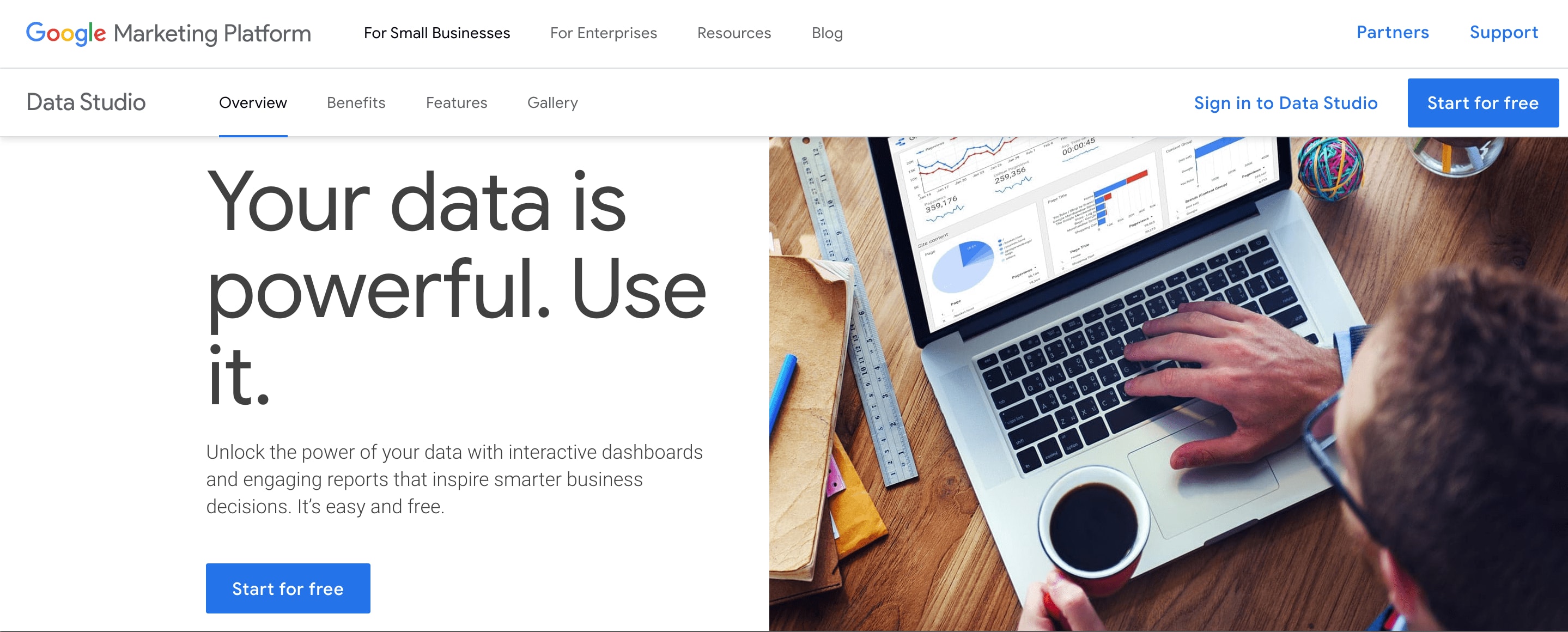 More information on Google Data Studio can be found here.
7) Amazon QuickSight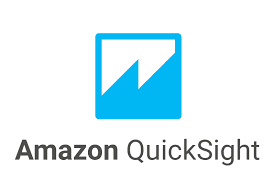 Amazon QuickSight is a Cloud-scale Business Intelligence (BI) Service and is available under the Amazon Web Services platform. It connects to various data sources in the Cloud and allows users to combine data from these sources. Amazon QuickSight can include AWS data, third-party data, B2B data, Excel data, and many more. Amazon QuickSight has a user-management tool by which you can scale the cluster to incorporate a huge volume of users without deploying or managing the infrastructure.
Amazon QuickSight Pricing
Amazon QuickSight offers a Standard and Enterprise Edition. The pricing for the Standard Edition is as follows: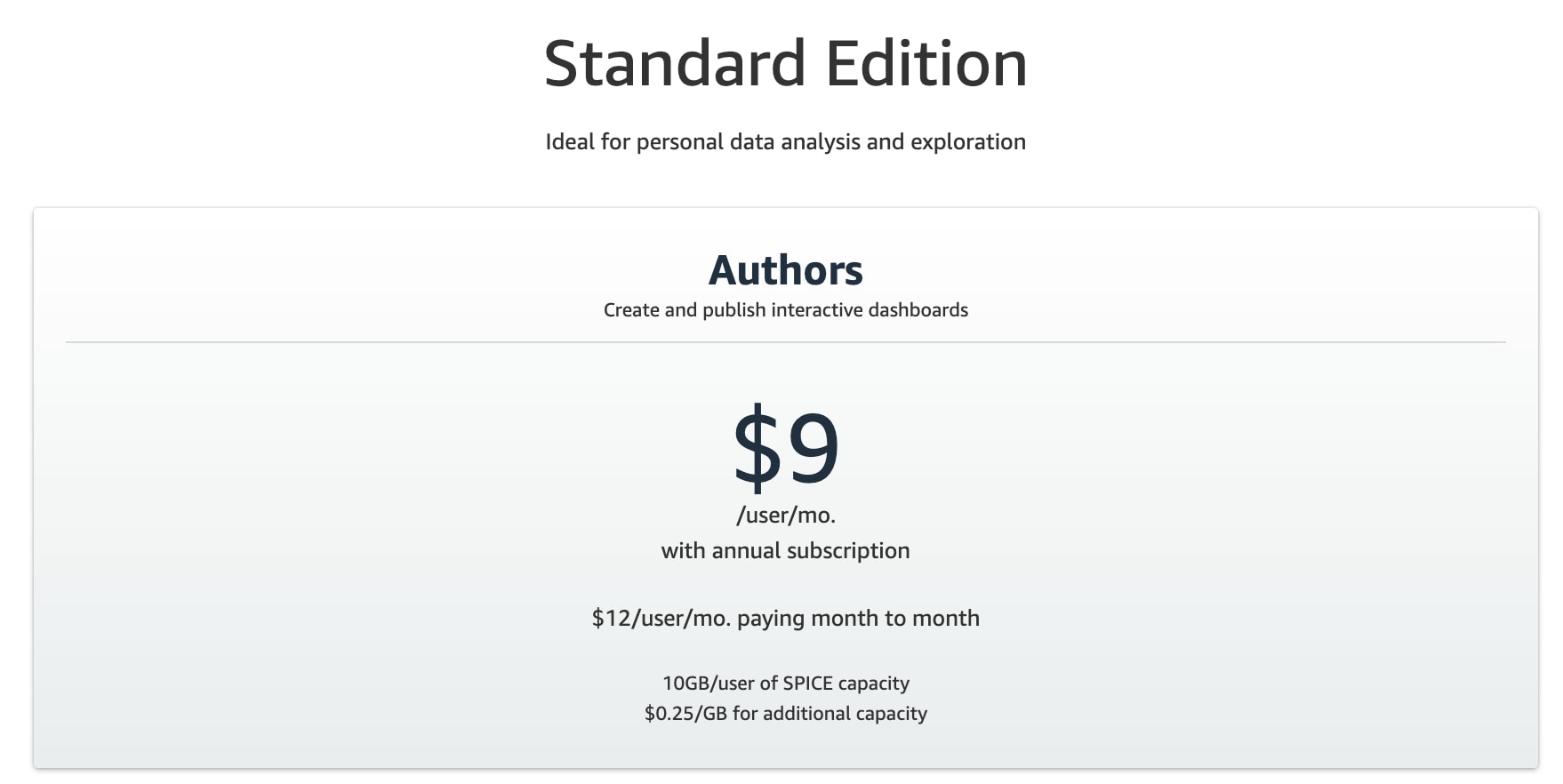 The pricing for the Enterprise Edition is as follows: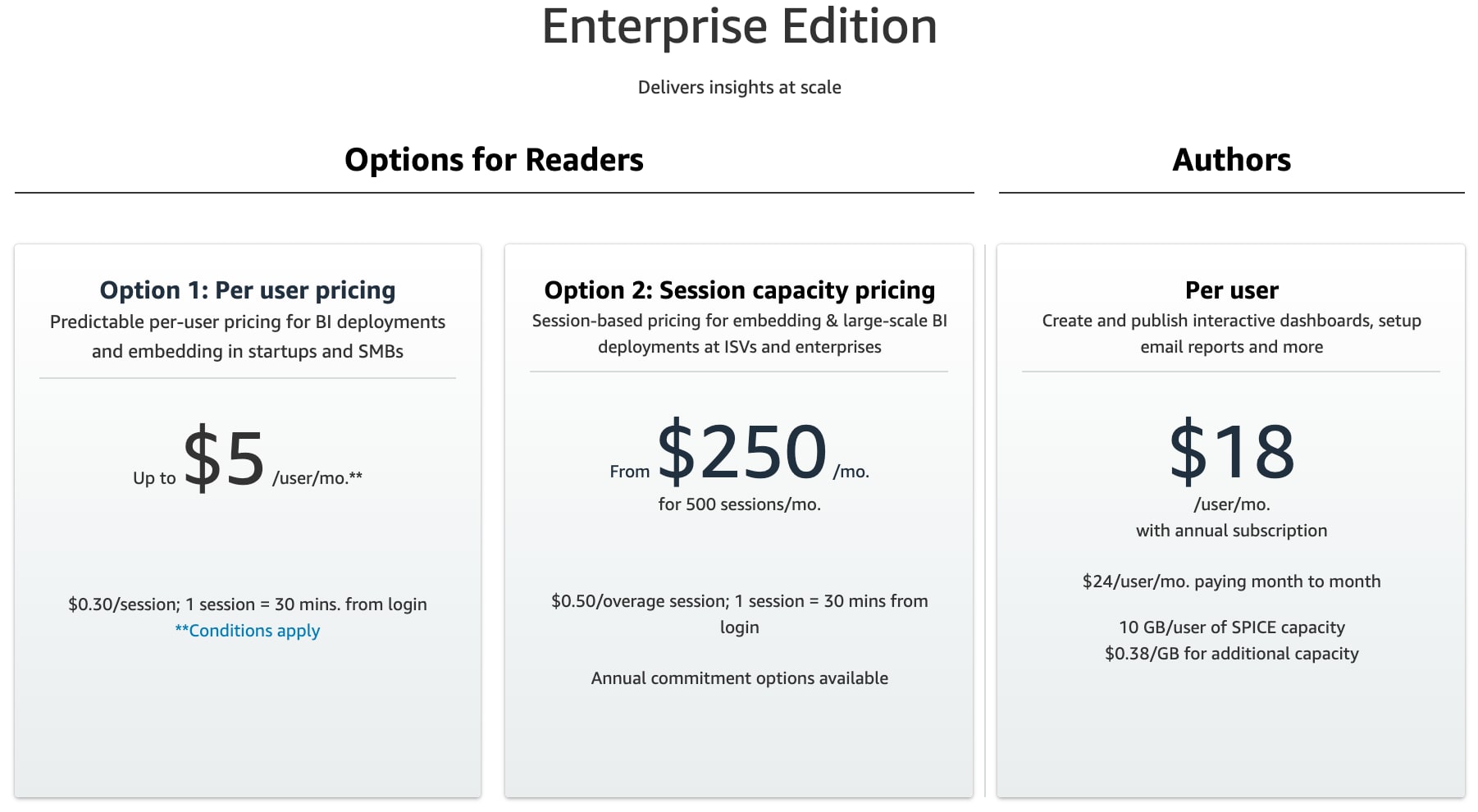 An in-depth comparison of both the editions is as follows: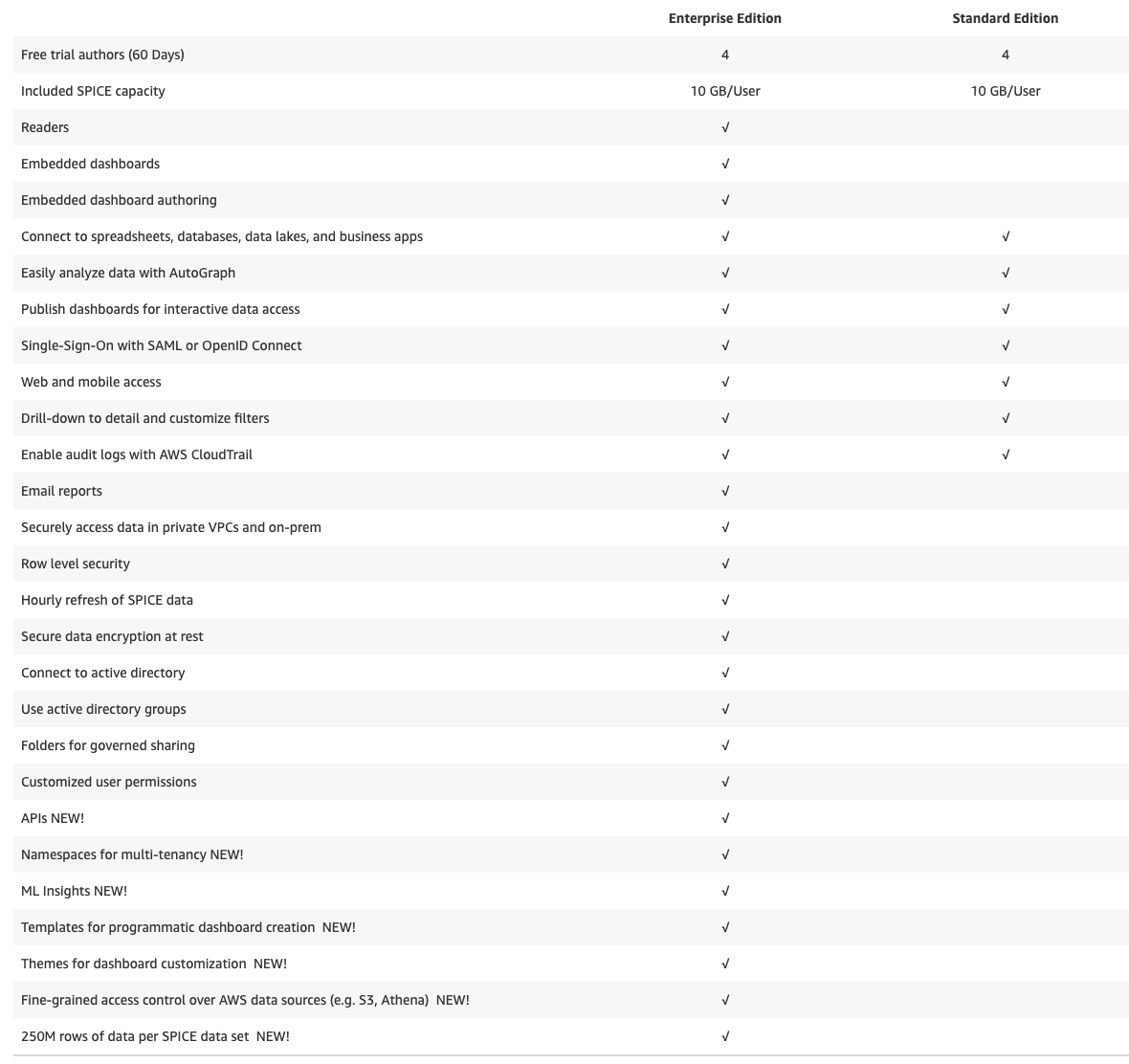 More information on Amazon QuickSight can be found here.
Conclusion
This article provided you with an in-depth analysis of the Best Reporting Tools in the market allowing you to understand which tool would be the best for your business and data needs. Combining data from various sources to perform the required analysis can either be done manually or automatically in real-time using existing platforms like Hevo which can then be connected to one of the best Reporting Tools in the market.
Give Hevo a try by signing up for the 14-day free trial today.
No-code Data Pipeline For Your Data Warehouse