Top 7 Data Recovery Tools of 2023
Once in a while, your systems may unintentionally wake up to an unforeseen event such as data loss. Data loss, which has become a common affair in our digital economy, can occur in a variety of ways, including accidental deletions, virus attacks, inaccessible partitions, data corruption, and even more catastrophic situations like data theft.
Ever-increasing cases of theft and corruption necessitate companies to use Data Recovery Tools for recovering their lost information.
This guide contains our top picks for Linux and Windows data recovery tools. We'll feature handy solutions to help you recover as much data as possible with simplicity and assistance that may be worthwhile. Read on to know more about our best picks.
Table of Contents
What are Data Recovery Tools?
Data Recovery Tools are software applications that are intended to retrieve and restore data that has been lost or damaged. These tools are utilized when files or data have been accidentally deleted, formatted, or lost due to hardware malfunction, virus attack, or other factors. Data recovery software is suitable for recovering both user-stored and system-created data, files, and folders.
IT support staff and service providers typically utilize data recovery software. This type of software can access the core architecture of a hard disk, allowing it to retrieve data from damaged storage devices or deleted files/folders by referencing and accessing the file structure records/entries.
Why Data Recovery Tools are Important?
Losing critical data can severely affect your business operations, reputation, and financial stability. Therefore, data recovery tools play a crucial role in mitigating these risks and ensuring the continuity of business operations. A straightforward data recovery solution can safeguard against mishaps and guarantee maximum productivity and uptime.
How do I Pick From the Best Data Recovery Tools?
"If you don't know where you are going, any road will get you there" -Lewis Carrol.
Before we let out our best Data Recovery Tools, it's important to understand your "why" behind a selection. Choosing the right data recovery solution for your requirements can be a daunting task and that's why we present you with five key parameters that we are confident will assist you in selecting the best one.
Performance & Versatility: It's best to learn firsthand what file types a rescue tool can recover (file type support), and additionally if it all supports data recovery for external storage devices (files system support) like external HDD or USB flash drives. Nowadays, most data is stored on external hard drives, and if your rescue tool does not allow data recovery, it might be a letdown.
Speed: If you are concerned about lost data, it is quite likely that you will want a recovery program to quickly restore your data. You don't want to sit in front of your computer for hours on end attempting to get your request to be processed. High-speed scanning is usually an option in good-performing data recovery tools. Some even include customized scanning while focusing on a single file for recovery.
Features: Good data recovery tools should be adaptable, simple to use, and offer features that set them apart from their competitors. While searching for a recovery program, check for capabilities such as the ability to preview deleted files before recovery, the option to recover just specified files, and the ability to recover data from devices that are failing, partially unreadable, or that have lost a partition.
User Reviews: A good recovery tool will feature an active user community group, which often expresses concerns about the dependability and usefulness of the software. It is pointless to have a robust file recovery program if there is no user group to govern it.
Pricing: After carefully considering all these factors, the next step is to select the best recovery solution for your budget. The selection procedure should be intelligently designed to meet your most pressing requirements. Spending a lot of money on an expensive product just to discover that you aren't using it to its full potential will be regarded as a waste of money.
Scale your data integration effortlessly with Hevo's Fault-Tolerant No Code Data Pipeline
1000+ data teams rely on Hevo's Data Pipeline Platform to integrate data from over 150+ sources in a matter of minutes. Billions of data events from sources as varied as SaaS apps, Databases, File Storage and Streaming sources can be replicated in near real-time with Hevo's fault-tolerant architecture.
Get Started with Hevo for Free
Check out what makes Hevo amazing:
Near Real-Time Replication -: Get access to near real-time replication on All Plans. Near Real-time via pipeline prioritization for Database Sources. For SaaS Sources, near real-time replication depend on API call limits.
In-built Transformations – Format your data on the fly with Hevo's preload transformations using either the drag-and-drop interface, or our nifty python interface. Generate analysis-ready data in your warehouse using Hevo's Postload Transformation.
Monitoring and Observability-: Monitor pipeline health with intuitive dashboards that reveal every stat of pipeline and data flow. Bring real-time visibility into your ETL with Alerts and Activity Logs.
Reliability at Scale -: With Hevo, you get a world-class fault-tolerant architecture that scales with zero data loss and low latency.
24×7 Customer Support – With Hevo you get more than just a platform, you get a partner for your pipelines. Discover peace with round-the-clock "Live Chat" within the platform. What's more, you get 24×7 support even during the 14-day free trial.
Hevo Data provides Transparent Pricing to bring complete visibility to your ETL spend. You can also choose a plan based on your business needs.
Sign up here for a 14-Day Free Trial!
What is the Windows Data Recovery Tools?
Here are our top five choices for the best data recovery tools on the Windows Platform. These Windows data recovery tools will handle a wide range of file formats, including images, documents, videos, and more, to ensure that your data is not permanently lost.
1) Stellar Data Recovery
Stellar is a quick and reliable data recovery tool that features highly customized searches, a large file-type library, and deep scanning capabilities. Considered as a highly recognized data recovery tool, Stellar has consistently won awards over the past 25 years and is an excellent utility for Windows, Mac, and Linux users.
Stellar is available in both free and paid versions and supports a wide range of data formats, including digital photos and videos, audio libraries, PowerPoint decks, PDF and Word documents, Excel workbooks, email files, and more. It can also recover files from damaged volumes and formatted media.
Stellar Data Recovery Features
Simple to Start: Stellar is an excellent choice because it contains three simple steps to start your data recovery. All you have to do is choose the storage drive and file type (if desired), scan the disc and save the recovered files.
Preview Lost Data: Stellar has a preview feature that lets you know in advance which files can be recovered. The tool displays an augmented preview of the recoverable files, including Office documents, PDF, images, videos, Zip, RAR, HTML and PHP files, etc.
Feature-Rich Wizard: Stellar also comes with a feature-rich wizard that allows you to scan by file type, by specific folders, and preview files while the scan is still running.
Premium Features: Furthermore, you can fix damaged films, photographs, crashed systems, and lost partitions, but only in their premium edition. It also has powerful RAID recovery capabilities for recovering data from failed or damaged RAID arrays.
Stellar Data Recovery Performance
In a test done by TechRadar, Stellar used approximately 75% CPU and 200MB of RAM on a system running with 8GB of RAM and 1TB of a hard drive. The data recovery scan took a four-minute period to complete which points to a decently good performance.
Pricing
Stellar Data Recovery offers six plans:
| | |
| --- | --- |
| Stellar Free | Free (Caps the data recovery limit at 1 GB) |
| Standard | $49.99/year |
| Professional | $89.99/year |
| Premium | $99.99/year |
| Technician | $199/year |
| Toolkit | $299/year |
All paid subscriptions include an unlimited data recovery limit.
Supported File Types
Stellar Data Recovery can restore more than 300 file types like:
Photo and Video: BMP, DWG, CDA, ANM, DIVX, EMF, etc.
Document: DOCX, DOC, PPTX, PPT, XLS, XLSX, etc.
Archive: 7Z, ARJ, BZ2, HQX, etc.
Application: DCI, AI, EMLX, SCPT, MAIL, FP3, etc.
and many more.
Supported File System
Windows: NTFS, FAT, FAT16, FAT32, and exFAT.
Linux: Ext2, Ext3, and Ext4.
Mac: HFS, HFS+, and APFS.
2) EaseUS Data Recovery Wizard
If you enjoy the Windows Explorer interface, you might appreciate the EaseUS Data Recovery Wizard as well. The program is lightweight and simple to use, and it can recover lost data in as little as three steps.
The program is trusted by over 5 million users worldwide and has over 17 years of data recovery experience. The EaseUS application not only allows you to generate a comprehensive backup copy of your system, but also allows you to backup the operating system, user settings, and apps.
EaseUS Data Recovery Wizard Features
All in One Data Recovery Tool: EaseUS Data Recovery Wizard is an all-in-one data recovery tool that can recover lost data, storage media, formatted files, emergency virus attacks, hard drive damage, recycle bin empty data, OS crash, lost partition, and RAW Partition. A paid subscription to EaseUS will also recover data loss caused by power failure, system crash, hard drive failure, viruses, and accidental or poorly-planned operating system reinstallation.
Innovative Scan Algorithm: In its innovative scan algorithm, EaseUS has two modes: Quick Scan, which takes less time to finish, and Deep Scan, which scours the drive inch by inch for deeply hidden data.
Export/Import Scan Sessions: Users may export/import their scan sessions on huge devices using EaseUS. When the device to be scanned becomes huge and scanning takes a long time, users can commence, halt, or continue a data recovery scanning process at any moment, allowing you to personalize your data recovery plan.
Select Filters on Search: EaseUS also assists customers in selecting filters for looking at the required files among a plethora of others. The filter can assist you in sorting by file type and providing you with access to what you require.
Free Remote Support on Premium Customers: EaseUS Data Recovery Wizard Pro provides premium customers with free remote support in tough circumstances such as disc reformatting or partition loss. Remote assistance with professionals enables a greater percentage of data recovery.
EaseUS Data Recovery Wizard Performance
PCMag found EaseUS to be fairly fast when compared to Stellar Data Recovery tool when tested on a 2 TB hard disc, where the EaseUS Data Recovery Wizard recovered the files in just 10 hours while Stellar Data Recovery took a shocking 34 hours.
Pricing
| | |
| --- | --- |
| Data Recovery Wizard Free | Free (Recover deleted, hidden, missing, or RAW partitions up to 2GB). |
| Data Recovery Wizard Pro | Free trial available. The subscription comes at $99.95/year and $149.95 for lifetime updates. |
| Data Recovery Wizard Technician | Free trial available. The subscription comes at $299/year and $499 for lifetime updates. |
Supported File Types
EaseUS Data Recovery Wizard supports more than 1000 types of files like:
Documents: DOC/DOCX, XLS/XLSX, PPT/PPTX, PDF, CWK, HTML/HTM, INDD, EPS, etc.
Graphics: JPG/JPEG, TIFF/TIF, PNG, BMP, GIF, PSD, CRW, etc.
Audio and Video: AVI, MOV, MP4, M4V, 3GP, 3G2, AIF/AIFF, M4A, MP3, WAV, WMA, etc.
Other Files: Such as Archives(ZIP, RAR, SIT, ISO, etc.), HTML, SITX, etc.
Supported File System
Windows: FAT, exFAT, NTFS, and ReFS.
Linux: Ext2 and Ext3.
3) Disk Drill Data Recovery
Disk Drill Data Recovery is one of the most dependable data recovery programs for Windows and Mac platforms, with a quick and easy-to-use user interface that makes data recovery simple and comfortable for its customers.
Disk Drill is compatible with almost every sort of storage device, including your computer's internal hard disc, external USB drives, SD and CF cards, other memory cards, digital cameras, solid-state drives (SSD), flash drives, and so on. It can recover data from situations such as unintentionally deleted files, an empty recycle bin, a crashed hard disc, a formatted external drive, virus infestations, damaged memory cards, and lost partitions.
Disk Drill provides its consumers with three options: Data Recovery, Data Protection, and Drive Backup.
Disk Drill Data Recovery Features
Recover Data from your Smartphone: Disk Drill Data Recovery is one of a kind data recovery tools that can recover user data from a phone. Supported brands include Samsung Galaxy, iPhone, Lenovo, Huawei, OnePlus, Google Pixel, LG, and more but the option is currently available only on Disk Drill for Mac.
Quick and Deep Scans: Because they are cut from the same cloth, both Disk Drill and EaseUS data recovery tools provide quick and deep scan capabilities that may assist users in recovering data when a specific recovery capability is required. The default is to use all recovery methods, but depending on the particular recovery situation, you can choose other options such as a partitioned search or a deep scan.
Pause and Resume: Disk Drill scans can be interrupted and restarted as per users' convenience.
Filters for a Faster Search: The Disk Drill Windows data recovery tool allows you to see the files it has discovered before committing to recovering them. Files identified by the tool are listed by file type in app windows to make it easy to locate them.
Disk Drill Data Recovery Performance
Techradar found Disk Drill to be fairly good when tested on a 16GB USB drive which returned all the lost contents within five minutes.
Pricing
Disk Drill, one of our data recovery tools offers both free and paid versions:
| | |
| --- | --- |
| Disk Drill Basic | Free recovery: up to 500 MB. |
| Disk Drill Pro | $89.99/year and $118.00 for lifetime access. |
| Disk Drill Enterprise | $499/year and $598 for lifetime access. |
The paid subscriptions include fast recovery speed with phone, email, and live support.
Supported File Types
Disk Drill Data Recovery supports more than 1000 types of files like:
Documents: DOCX, PDF, PPTX, XLSX, etc.
Images: BMP, JPEG, JP2, GIF, TIFF, PSP, Polaroid/Sigma: X3F, Pentax: PEF, Adobe: AI, APM, IDML, INDB, INDD, INDL, INX, LRCAT, PSB, PSD, and many more.
Audio and Video: MP3, AIF, AIFC, AIFF, WMA, AVI, FLV, M4V, MP4, MPG, WMV, and many more.
Other Files: ACCDB, DB, SQL, MYO, OTF, etc.
Supported File System
Windows: NTFS, FAT, FAT32, and exFAT.
Linux: Ext3 and Ext4.
Mac: HFS, HFS+, and APFS.
And any RAW disk.
4) Recuva
Unarguably one of the best freeware data recovery tools available in the market, Recuva is an advanced file recovery tool developed by Piriform, the same company behind CCleaner- an incredible PC cleaner tool used by a staggering 2.5 billion users worldwide.
Recuva can help users recover their accidentally deleted files, files lost from computer crashes, or even files from damaged or newly formatted drives. For those hard-to-find files, Recuva has an advanced deep scan mode that scours your drives to find any traces of files you have deleted and can recover pictures, music, documents, videos, emails, or any other file type you've lost.
Recuva Features
Simple yet Effective Interface: Recuva comes with a simple yet effective user interface. Most options are just a click away and installing the software is a very quick and easy process.
Works Easy: Recuva works easily on your system. While there are many programs that can run effectively, they can at the same time use a lot more computational power which would hamper your productivity.
Recuva Portable Version: Recuva comes as a portable version- meaning that users can install Recuva on an external drive like a USB stick, without overwriting any free space on your hard drive which you may be trying to recover.
Support for Multiple File Systems: Recuva can also recover from any writable media you have like memory cards, external hard drives, USB sticks, and more.
Overwrite Files Securely: Users can securely overwrite the files the program finds to ensure that nobody else can restore the files you see in the results. The overwrite methods include DoD 5220.22-M, NSA, Gutmann, and Secure Erase.
Recuva Performance
In a test done by TechRadar, Recuva on average used only 10% CPU and 600MB of RAM and a minute to complete for a system running on 8GB of RAM and 1TB of a hard drive, which points to a respectable performance.
Pricing
Recuva offers:
| | |
| --- | --- |
| Recuva Free | Free of cost with advanced file recovery. |
| Recuva Professional | $19.95 as a one-year subscription for one system and includes advanced file recovery, virtual hard drive support, automatic updates, and premium customer support. |
| CCleaner Professional Bundle | Includes Recuva Professional along with CCleaner Professional, Defragger Professional, and Speccy Professional that costs $39.95 for one year on up to 3 PCs. |
Supported File Types
Graphics: BMP, JPG, JPEG, PNG, GIF, and TIFF.
Microsoft Office 2007 (or newer): DOCX, XLSX, and PPTX.
Microsoft Office (pre-2007): DOC, XLS, PPT, and VSD.
OpenOffice: ODT, ODP, ODS, ODG and ODF.
Audio: MP3, MP2, MP1, AIF, WMA, OGG, WAV, AAC, and M4A.
Video: MOV, MPG, MP4, 3GP, FLV, WMV, and AVI.
Archives: RAR, ZIP, and CAB.
Other file types: PDF, RTF, VDX, and URL.
Supported File System
Windows: FAT, exFAT, and NTFS.
Linux (As of version 1.5.3): Ext2, Ext3, and Ext4 file.
5) R-Studio
R-Studio is the most effective and powerful data recovery tool of its category available at this pricing point. It is the most complete data recovery solution for recovering files from multiple file systems and partitions, thanks to its innovative and unique data recovery methods.
It works on both local and network drives, even if the partitions have been formatted, damaged, or erased. You have complete control over the data recovery process because of the flexible parameter options.
R-Studio Features
Remote Data Recovery: R-Studio can recover your data over the network on computers running Windows, macOS X, Linux, and other UNIX operating systems.
Scanning Process Visualization: R-Studio visually displays elements detected when scanning an object, such as files of recognized kinds, FAT and NTFS MFT records, boot records, and so on.
Recover Data from Damaged RAID Setups: R-Studio can recover data from damaged RAID configurations and includes a file viewer to preview recovered data in addition to supporting multiple file systems.
Advanced-Data Recovery Algorithm: R-Studio can recover files that are not recognized in file system metadata, not found during a disk scanning procedure, can fast search for lost partitions, and recover files from devices with unknown file systems.
S.M.A.R.T. Data Monitoring: R-Studio monitors your drive's S.M.A.R.T. (Self-Monitoring, Analysis, and Reporting Technology) data (included in HDDs, SSDs, and eMMC drives) and notifies you of any possible faults. This allows you to make backups of your data if your hard disc is failing.
R-Studio Performance
R-Studio performed well in TechRadar's test on a 16GB USB device, recovering data in 10 minutes. Another test from Disk Drill revealed that R-Studio worked quickly through 102,01 GB of data and finished the data recovery operation in 20 minutes.
Pricing
R-Tools Technology offers two data recovery tools for Windows:
| | |
| --- | --- |
| R-Undelete Home | Freeware and uses the same unique data recovery technology as the heavyweight R-Studio. |
| R-Studio | Most comprehensive data recovery solution that costs $79.99 for lifetime updates. |
| R-Studio Network | $179.99 for lifetime updates. |
| R-Studio Technician | $899.00 for lifetime updates. |
R-Studio Network and R-Studio Technician offer recovery over a network and are for commercial use.
Supported File Types
R-Studio supports a huge number of types of files like:
Photo and Video: BMP, DWG, CDA, ANM, DIVX, EMF, etc.
Document: DOCX, DOC, PPTX, PPT, XLS, XLSX, etc.
Archive: 7Z, ARJ, BZ2, HQX, etc.
Application: DCI, AI, EMLX, SCPT, MAIL, FP3, etc.
Supported File Systems
Windows : FAT12, FAT16, FAT32, exFAT, NTFS, NTFS5, ReFS/ReFS2+ file (Resilient File System); ReFS for 2019 (including deduplication).
macOS: HFS, HFS+, HFSX, APFS, FAT/exFAT.
Linux and UNIX: Ext2/3/4FS (created by Linux or other OS), and UFS1, UFS2, UFS BigEndian (used by the FreeBSD, OpenBSD, and NetBSD operating systems).
CD/DVD/Images: ISO9660.
Magnetic tape devices: UStar/Tar/CPIO/Pax (R‑Studio Technician).
Linux Data Recovery Tools: Our 3 Finest Picks
If you are primarily a Linux OS user, you may have experienced recurring data loss and failures on your system. In these cases, using Linux data recovery tools can assist you in recovering recently lost and perhaps foregone data.
Apart from the previously stated fantastic data recovery tools for Windows, all of the aforementioned programs also support the Linux platform and can work together to restore your lost/partitioned/deleted data.
Here are a few additional options to explore, if you are seeking more.
Linux Data Recovery Tools #1) TestDisk
TestDisk is a really intuitive, super useful tool that is an open-source software offering from the GNU General Public License (GPL v2+). It is also useful in recovering a non-booting disk if an error was caused by harmful software, virus, or even accidental file deletion. It is a powerful command-line utility that is easy to use and fast to understand.
TestDisk Features
Fast and Easy: From installing the setup file to using the command line, TestDisk is a highly reliable utility that is fast and easy to use.
Partition Recovery: TestDisk can perform a quick check on the disk's structure and compare it with the partition table for entry errors. It can recover deleted partitions, rebuild partition tables, and rewrite the Master Boot Record (MBR).
File System Repair: TestDisk is equipped to deal with specific logical file system corruption on FAT 12, FAT 16, FAT 32, exFAT, NTFS (New Technology File System) boot sector, and MFT repair, extended file systems, ext2, ext3 and ext4, and HFS+.
TestDisk Performance
TestDrive has a mixed bag of results. Some users have complained that the data recovery program was unable to finish partition recovery, while others found it to be reasonably useful.
Pricing
Test Drive is one of the many open-source Linux data recovery tools offering so it's free.
Supported File Systems in Linux
Linux btrfs.
Linux ext2, ext3, and ext4.
Linux GFS2.
Linux LUKS encrypted partition.
Linux RAID md 0.9/1.0/1.1/1.2

RAID 1: mirroring.
RAID 4: striped array with parity device.
RAID 5: striped array with distributed parity information.
RAID 6: striped array with distributed dual redundancy information.

Linux Swap (versions 1 and 2).
Linux Data Recovery Tools #2) Redo Rescue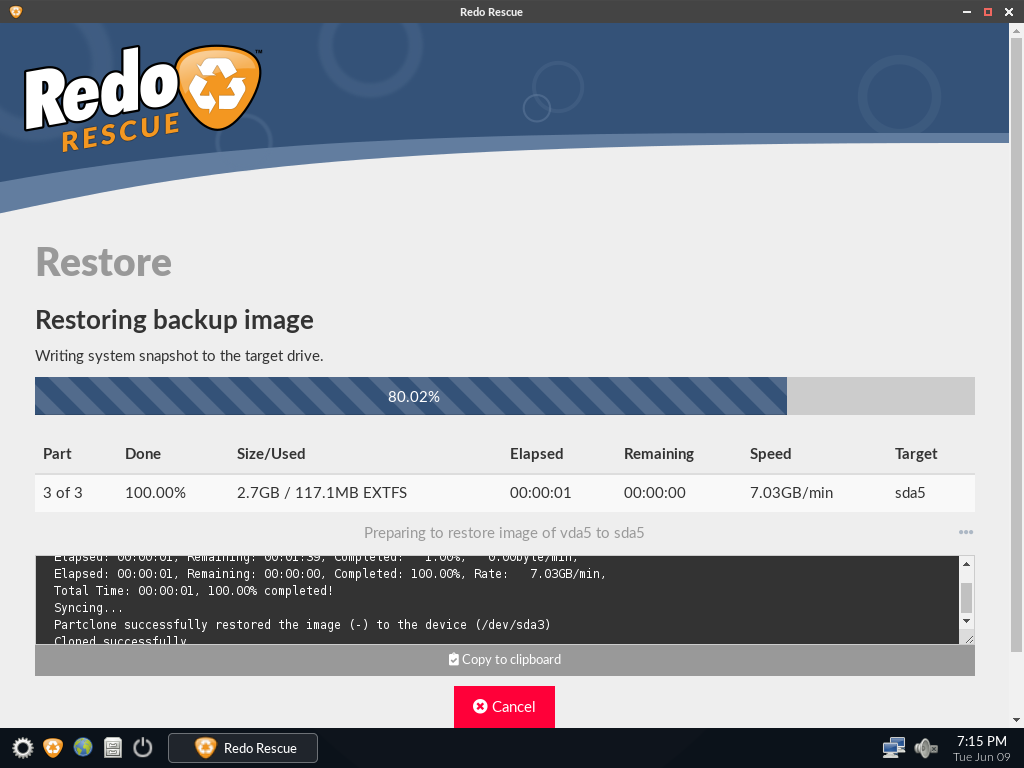 Redo Rescue restores your data from a live USB/CD system by creating and storing snapshots of your system. Redo Recover, previously known as Redo Backup, can restore the system image, even to a new blank drive, and recover in minutes from ransomware and viruses, deletions, hardware damage, and hackers.
Redo Rescue Features
Customer Trust: Redo Rescue has been downloaded over 2.2 million times and is trusted by organizations and individuals all across the world.
Open Source: Like TestDisk, Redo Rescue is also one of the many open-source data recovery tools that provide bare-metal recovery and can restore the master boot record and partition table.
UEFI Secure Boot Support: Redo Rescue comes with UEFI Secure boot support which helps your computer resist attacks and infection from malware.
Selective Restoration: With Redo Rescue, you can selectively restore partitions and remap them to different locations on the target drive.
Runs Quick: Redo Restore can run swiftly because it doesn't operate on your system. It runs outside your OS in a USB/CD system and hence poses no challenge in competing for computing resources.
Redo Rescue Performance
Redo Rescue was reported to function quickly and efficiently by a Sourceforge user. In less than 3 minutes and with a file size of 2.9 GB, Redo Rescue produced an image for an 8.9 GB system running Debian in an external HD.
Pricing
Like TestDrive, Redo Rescue is one of the many open-source Linux data recovery tools offerings and it's available for free.
Linux Data Recovery Tools #3) Ddrescue
Another riveting member in our pack of open-source Linux data recovery tools, Ddrescue is a well-founded and preferred data recovery software developed and distributed under the terms of the GNU General Public License. Ddrescue is excellent in recovering data from read errors and can copy data from one file or block device (hard disc, cdrom, etc) to another, trying to rescue the good parts first.
Note: Ddrescue by GNU should not be confused with dd-rescue by Kurt Garloff. The latter is a different tool.
Ddrescue Features
Interface-agnostic: One of the great strengths of Ddrescue is that it is interface-agnostic, and so can be used for any kind of device supported by your kernel (ATA, SATA, SCSI, old MFM drives, floppy discs, or even flash media cards like SD).
Automatic Functions: Ddrescue data recovery tool has automatic functions which means that you don't have to wait for an error, stop the program, restart it from a new position, etc.
Automatic Merging of Backups: If you have two or more damaged copies of a file, cdrom, etc, and run Ddrescue on all of them, one at a time, with the same output file, you will probably obtain a complete and error-free file.
Fill Mode: Ddrescue features a "fill mode" able to selectively overwrite parts of the output file, which has a number of interesting uses like wiping data, marking bad areas, or even, in some cases, "repairing" damaged sectors.
Ddrescue Performance
GNU Ddrescue is fast and reliable: it skips bad blocks and copies the good blocks, and then comes back to try copying the bad blocks, tracking their location with a simple log file.
Pricing
Ddrescue is an open-source data recovery tool and it comes as a free utility.
Conclusion
Instead of manually trying to navigate around the crisis and escalating the losses, it's sensible to have a data recovery tool do the job for your team. With premium subscriptions, most data recovery tools in the market offer professionally competent team support to simplify your job and get your data back.
As is seen in many firms, handling data from a lot of different applications altogether can get stressful, and can potentially pave a way for data loss. Hevo Data is a solution that was created expressly to handle the issue of heterogeneous data source integration, allowing Small and Medium Businesses to operate smoothly with their everyday applications.
Hevo Data with its strong integration with 150+ Sources & BI tools allows you to not only export data from sources & load data in the destinations, but also transform & enrich your data, & make it analysis-ready so that you can focus only on your key business needs and perform insightful analysis using BI tools.
Visit our Website to Explore Hevo
Hevo lets you migrate your data from your favorite applications to any Data Warehouse of your choices like Amazon Redshift, Snowflake, Google BigQuery, or Firebolt within minutes with just a few clicks.
Would you like to try the Hevo? Sign Up here for a 14-day free trial and experience the feature-rich Hevo suite first hand. You can also check our pricing and make a decision on your best-suited plan.
In the comments section below, please share your thoughts on learning about our top picks for Linux and Windows data recovery tools. Tell us about any alternative data recovery software that you found beneficial. We'd like to hear your ideas and views.
Recover Data using No-Code Data Pipeline