Top 7 Data Catalog Tools in 2023
Data Catalogs are the new black in data management and analytics.

Gartner Research
With the world amassing more data than ever, the need for a composite, overreaching view into all your data becomes paramount. Now, organizations need to maintain a hierarchical structure to data access and protect data from external threats, known as data governance.
But, introducing too many barriers to data access can act counterproductively. Hence, making the need for data catalog tools more assertive than ever been seen or observed. Data catalog tools help in data administration, cost-saving, fraud and risk mitigation, operational efficiency, and gaining competitive advantage.
In this blog, we'll cover the basics of the top 7 data catalog tools- what they are and why you should use them.
What is Data Catalog?
In layman's terms, data cataloging means collecting, organizing, and governing operations data. And, the tools which help meet those expectations are known as data catalog tools and solutions. In short, data catalog tools help organizations make proactive business decisions.
Alas, it's about better visibility into your data for deeper analysis and better insights.
Why Do You Need Data Catalog Tools?
Here're a few real-world use cases of data catalog tools that are worth the mention:
Empowered self-service analytics: Data catalog tools help users not only access data but understand it, too. Data cataloging is becoming essential for non-technical users today because it helps them navigate through unstructured data elements, see the business context, and manage resources better.
Demonstrate the provenance of data for establishing compliance to govt regulations: Organizations need to comply with data privacy and usage regulations based on the geography/country/city they operate in, which can be tedious, time-consuming, yet the most important job. A data catalog tool makes this process seamless.
Maintain data access hierarchy: Data governance is a big part of the data cataloging process. This means, for streamline processes inside an organization, a data vocabulary that everyone agrees with is imperative — a data catalog tool allows you to achieve the same.
Benefits of Using Data Catalog Tools
Data catalog tools come in different shapes and forms. But by and large, they offer you the same set of advantages, like:
Quality catalog of all your data.
Data flow tracking between different data types.
Identification of flaws in your data flow and their remedies.
Sensitive data management capabilities.
Little to no risk of data breaches.
Machine learning qualities to help manage big data seamlessly.
How To Select Data Catalog Tools?
When you are confronted with so many options to choose from, in the data catalog tools market, these judgments can be of help. To help you choose the best of data catalog tools, here are a few questions to discuss:
Who will use my data catalog tools? Different individuals and departments in an organization have different needs. Step one is to be clear with which individual or group will access your data catalog tool. For example, a Data Scientist may use a data catalog tool to inspect metadata while a Chief Data Officer may use it to view the analysis.
Which deployment is right for my company? Think about the pros and cons of using cloud vs on-premise data catalog tools before picking your solution. If you want security and compliance, your on-premises solution is sufficient. If you prefer accessibility, cloud tools are your yes.
Does it support my existing workflow? Always check whether your current processes align with that of the new software. Because the data catalog software will require integration with the data lake. Investing time and money in software that requires massive changes don't make operational sense.
If a demo is available, evaluate it first! Some vendors provide free trial periods. Leverage them to try the software firsthand. And evaluate it through and through.
Top 7 Data Catalog Tools
Aginity
Aginity is considered to be as one of the best data catalog software. The reasons vary, from its easy-to-understand product ecosystem and SQL friendliness to on-demand service scalability options. It not only catalogs all the company data but also catalogs the math utilized to create analytics.
That is why Aginity is considered to be the world's only integrated analytics management tool that, by default, enables better collaboration between data engineers and business analysts. Aginity is also popular because of its easily accessible data governance and data cleansing capabilities.
Here're some main capabilities of Aginity that set it apart from the rest and put it on top of our list:
A shift from data management to analytics management: Aginity professes a paradigm shift in traditional BI data management operations. It offers users to leverage a "write-once, use everywhere" go-to analysis approach to analytic logic. The approach saves time, maintains enterprise-wide logical operations synchronicity. This helps achieve three things: Maintaining SQL consistency throughout the company, you spend less time training non-technical staff, and everyone in an organization (with added permissions) can find, save, execute, and re-use saved SQL queries.
Extensive business usecases: Aginity helps increase collaboration amongst teams, manage analytics workflow for reliable and easy categorization, promotion, and enhance analytics assets throughout the organization.
Apache Atlas
Apache Atlas is a metadata management and data governance tool. It helps organizations locate, archive, and deal with complex data assets efficiently. Apache Atlas has open-sourced its design, which has led it to become the fundamental component of the modern data platform — helping organizations in three different ways:
Using metadata to picture the kin better.
Streamlining data analytics operations throughout the organization for correct decision-making.
Adding entities to metadata to enable easy searching.
Here're what we found unique in Apache Atlas:
Apache Atlas is open source: Apache Atlas's skeleton stands on three essential components: Type system, Graph engine, and Ingest/Export functions. Organizations can leverage the pre-built architecture and contribute to the development process to build processes for new use cases. If you want to dive deeper into the technicalities, learn from Apache documentation.
Centralized data governance operations for better quality Analytics: Apache Atlas lets users define new metadata types and easily share metadata within teams via a common metadata repository. And, with an infrastructure to ensure correct analytic functions and operations, enables synchronous data vocabulary.
Amundsen Lyft
Amundsen, named after a Norwegian explorer, Ronald Amundsen, is a data discovery and metadata engine. The Lyft engineering team developed the software to address pain points encountered generally.
The data teams at Lyft improved their productivity by at least 20% using Amundsen. In general, Amundsen was built to create a centralized data cataloging repository from different data sources and create visibility into how particular processes are evolving using metadata.
Here're some features of Amundsen Lyft that we found worth mentioning.
Easy data discovery: Using simple text search, users can find data with extended features of showing in-line metadata, too. The software also indicates popularity ranking and recommended sources of frequently used/visited data tags with relevant search results.
Get a better look into data: Added information into data blocks help workers navigate better into particular data asset. This feature reduces the need to look back and forth or navigate through data, helping save time.
data.world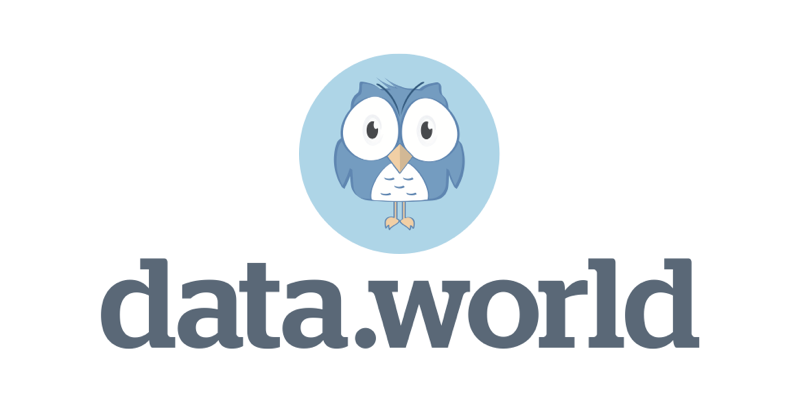 data.world is a cloud-native enterprise data catalog platform for modern data stack. data.world Search Builder allows users to perform comprehensive searches with multiple filters, logical operators, categories, and custom metadata fields.
Its unique service architecture presents an agile solution to all your data storage, analysis, and governance needs. data.world is publicly positioned as a Public Benefit Corporation and is also certified B.
Here're some features we liked the most:
Complex search option for comprehensive information gathering: Data. world's search builder allows users to search for information using complex search inputs. This means users can now search information with multiple tags — like filters, logical operators, categories, and custom metadata fields.
Sensitive Data Discovery: The world systematically looks for sensitive data for tracking and informed data management. data.worlds's Sensitive Data Discovery automates implementing policies enterprise-wide which saves crucial person-hours and data correctness issues from occurring.
LinkedIn DataHub
LinkedIn DataHub, an open-source metadata management platform, enables data discovery, data observability, and federated data governance. Developed by LinkedIn, the solution heeds to decode today's metadata needs. Its unique architecture allows companies to scale processes in accordance with the increase of metadata management capabilities.
The main capabilities of LinkedIn DataHub are as follows:
Architecture is basically a fundamental rethink: The solution is built for continuously changing metadata — a modern-day business reality. DataHub's modular design means it lets companies scale their solution with growing data and governance needs.
Discover data quickly: The frontend user interface includes three ways to look into data: Search, Browse, View/Edit Metadata.
Alation
Alation is a rapidly growing data governance platform that returns search results within seconds without querying. Alation users benefit from its machine learning capabilities, which help them understand and use their data better.
Alation data catalog tool uses active data governance to put people first, so that your employees can have access to the data they need, at their fingertips. Here are some more interesting features offered by Alation:
Quick Search & Discovery: Alation houses an interactive home screen that acts as a single system of reference for your data & data users across the organization. Using Alation's powerful search engine and reporting capabilities, you can easily browse for usage patterns, understand data quality and context.
Guided Navigation: Your employees will never feel lost when trying to search for a specific feature. Alation provides its users with a guided navigation setup that helps you navigate and find information with ease.
Active Governance: You can speed up your time to insight and improve active data governance across your organization using Alation's valuable services. Alation can guide you and connect your employees to their support teams.
Collibra
Collibra helps unify data across individuals, teams, people, organizations, and systems and is one of the best data cataloging tools in its class. It provides a quality data catalog with embedded governance and privacy options. Collibra can be combined with data silos into a complete and scalable cloud service platform that anyone, anywhere can access. Collibra is safe and compliant with enterprise-level standards.
Features that distinguish Collibra from other data catalog solutions:
Easy-to-use & Intuitive Workflow: Collibra can be used by business analysts, data engineers, marketing, IT, HR, and other organizations. It has a smart and easy-to-use interface with additional features such as self-service and fast ML capabilities.
Out-of-the-box Operating Model: Collibra provides a ready-to-use operating model and a flexible structure for all types of data. The Collibra Connect feature can link data sources, business applications, data lakes, data quality systems, and all metadata sources into one response system to give you a comprehensive view and complete control.
Conclusion
To make a data catalog tool go-to solution for enterprise-wide data governance, management, and analytics, a swift data movement into a data warehouse is imperative — and, Hevo can help you!
Now you can also read about Google Cloud Data Catalog which is a recently unveiled component of the family of Google Cloud Data Analytics services.
Hevo offers top-of-the-line data transfer and data migration services to cater to today's data warehousing needs. And it's simple, too. Just select a source of your choice, choose a data warehouse, or the desired destination. That's it. From here Hevo will take charge of operations in a fully automated and secured manner. It will make your life easier and data migration effortless.
Visit our Website to Explore Hevo
Details on Hevo pricing can be found here. Want to take Hevo for a spin? Sign Up here for a 14-day free trial and experience the feature-rich Hevo suite first hand.
No-Code Data Pipeline for your Data Warehouse