How to Connect Drip to BigQuery? | 2 Easy Methods
Marketing is one of the most critical business strategies for e-commerce businesses. However, embracing e-commerce-specific marketing tools is essential to streamline most marketing initiatives. Specific marketing tools like Drip, an e-commerce revenue engine, allow you to copilot your email campaigns, lead generation, and more.
Drip also provides customizable pre-built templates that boost your engagement, analyze your growth, and guide you with campaigns. You can gain essential insights into your customers and how they respond to various sections of your website. This data produced by Drip is crucial and should be stored safely in Data Warehouses like BigQuery. With BigQuery ML, you can perform advanced analytics on data to find further insights into your business.
This article will give you an overview of Drip and BigQuery before delving into the two methods for Drip BigQuery integration. Read along to understand better the step-by-step procedure for connecting Drip to BigQuery.
Table of Contents
What is BigQuery?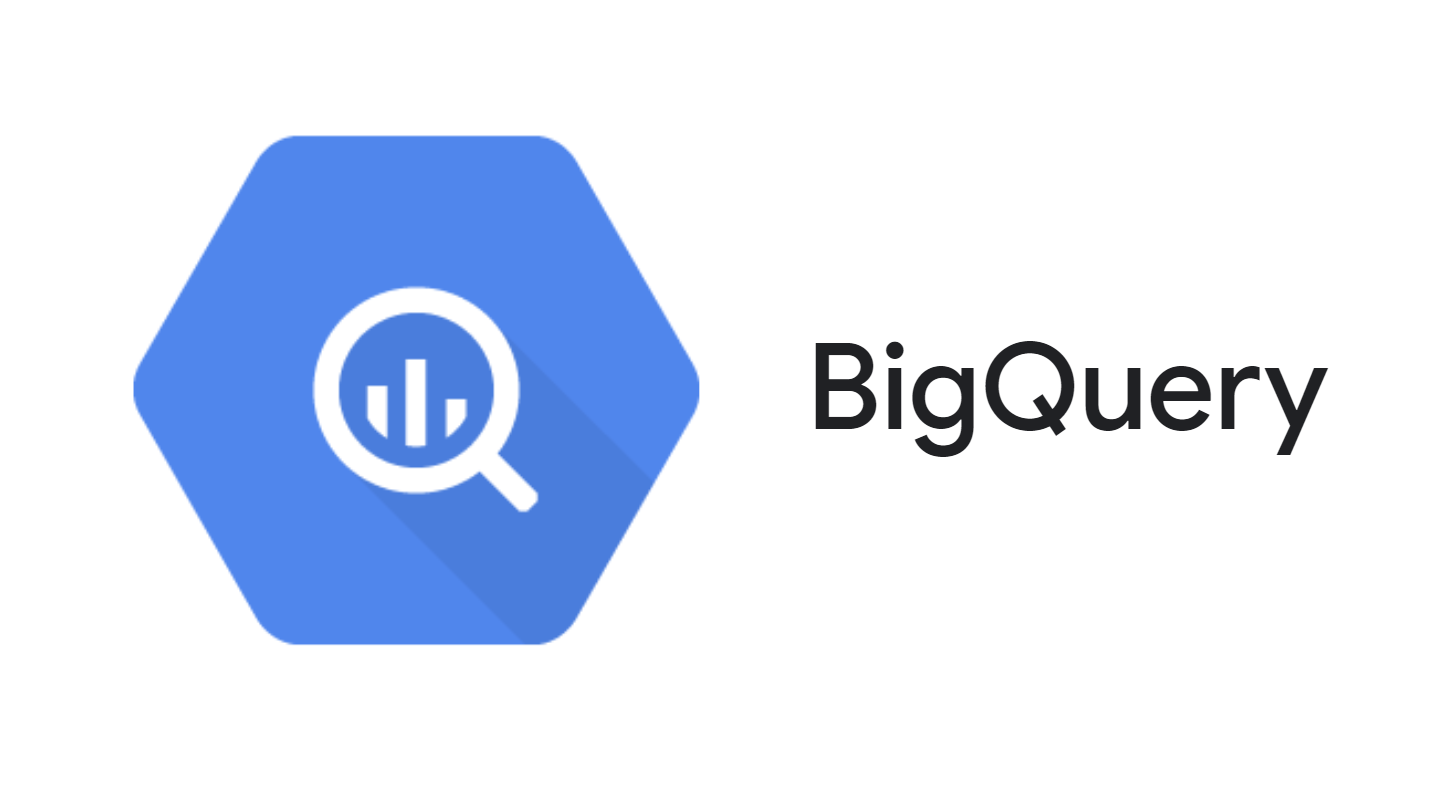 BigQuery is a serverless, fully managed, and highly scalable Data Warehouse offered by Google for Data Management and Analysis. It provides a Platform as a Service (PaaS) that executes large-scale SQL commands and delivers real-time data. The built-in features of BigQuery, such as geospatial analysis, advanced Machine Learning algorithms, and Business Intelligence, help you make effective business decisions.
The working of BigQuery revolves mainly around three processes — ingestion, preparation, and analysis. Ingestion involves loading data, which can be done manually or automatically with the Data Transfer Service. Following ingestion is the storage and preparation of data for analysis. Once the data is ready, you can export it from BigQuery and use different solutions such as Google Data Studio and Power BI for Advanced Data Exploration.
Key Features of BigQuery
Here are some of the key features of BigQuery:
Functionality: BigQuery supports Data Analysis across multiple cloud platforms, which is advantageous compared to other Data Warehousing solutions. The User Selling Point (USP) of BigQuery is that it provides an effortless way to analyze data present in different clouds. Due to this, you can harness the power of your data at its source without moving it to another central location for processing and analysis.
Machine Learning: BigQuery ML implements Machine Learning algorithms in BigQuery with simple SQL commands. You can quickly solve your business problems with Machine Learning models like linear regression, binary logistic regression, time series analysis, matrix factorization, and deep neural networking.
Automated Data Transfer: BigQuery Data Transfer enables the automatic movement of data into BigQuery that can be set at regular intervals or scheduled at a particular time. BigQuery Data Transfer lets you import data from a wide range of Google-owned services like Google Play, Google Ads, and YouTube channels. However, you can also load data from external Cloud Storage Services like Amazon S3 and Data Warehouses like Redshift.
Explore These Methods to Replicate Data From Drip to BigQuery
You can use the following two methods to replicate data from Drip to BigQuery to make valuable decisions:
Method 1: Connecting Drip to BigQuery Using Manual Method
To replicate your data from Drip to BigQuery, you must first export data from Drip. The data must then be manually loaded into your BigQuery Data Warehouse. Drip BigQuery integration using the manual method may be complicated and take a long time.
Method 2: Automated Data Replication From Drip to BigQuery Using Hevo
Hevo Data, an Automated Data Pipeline, provides a hassle-free solution to connect Drip (Free Source Connector with Hevo) to BigQuery within minutes with an easy-to-use no-code interface. Hevo is fully managed and completely automates the process of not only loading data from Drip but also enriching the data and transforming it into an analysis-ready form without having to write a single line of code.
GET STARTED WITH HEVO FOR FREE
What is Drip?
Drip is an Automated Marketing Platform that helps e-commerce businesses and brands take their email marketing strategies to a higher level. It enables users to curate personalized emails and provides engagement tools like popups, forms, etc. Companies can execute marketing campaigns without any hassle or coding knowledge. Along with increasing sales, you will be able to monitor the company's progress and receive essential insights into the customer's purchases.
You can use Drip for B2C as well as B2B marketing campaigns. Users can integrate Drip with e-commerce stores like Shopify, Salesforce, and Wix to better understand customers and offer personalized content to potential and current customers.
Key Features of Drip
Here are some of the key features of Drip:
Lead Management: Drip has pre-built playbooks such as welcome series and post-purchase campaigns that assist you in building a lead database just in a few clicks. A Marketing Lead Database is essential as it stores your leads' most crucial data and their contact information. The database is filtered, cleansed, and segmented into leads and potential customer lists containing valid data. This segmentation will make it easy to understand the company's progress.
Online Marketing: Drip focuses mainly on email marketing campaigns, it provides its users with engagement tools like dynamic onboard forms. You can personalize these templates according to your choice without running a single line of code. The best part of using Drip is that it records all the user activity, such as clicking the popup or form. Businesses can gain significant insights and boost their sales by analyzing this data.
Effective Analysis: Understanding your customers' behavior is essential for company growth. Drip offers an analytical solution that helps you check the customers' activity, campaign performance, etc. Drip analyzes the data and offers actionable insights to increase engagement and conversion rates. These analytics and guidance fill in the gaps in your marketing strategy, making it more effective.
Methods to Connect Drip to BigQuery
While you get your email marketing analytics, popup engagements, etc., on Drip, for an in-depth analysis, you should connect Drip to BigQuery. Moving your data from Drip to BigQuery helps you connect with ideal BI tools and allows you to perform Machine Learning techniques to obtain insights. As a result, you can get better insights from the already obtained essential information from the Drip platform. In this section, you will learn about the two methods for Drip BigQuery integration:
Method 1: Connecting Drip to BigQuery Using Manual Method
Connecting Drip to BigQuery Using Manual Method has two steps – exporting the data from Drip and uploading it to BigQuery for safekeeping and further analysis. Follow the below-given instructions to connect Drip to BigQuery efficiently:
Step 1: Exporting Data from Drip
To export data from Drip, you must go under the analytics section and get a report in a CSV file format. You will automatically get a mail of the CVS file on the email address you have used to register with Drip. You can export three lists: customer list, analytics, and account information.
Follow these steps to export data from Drip:
From the top menu bar, visit the Analytics Section.
Go to Email Metrics.
Click on the Bulk Download tab.
Select the desirable workflow email type.
Enter the Start Date using the calendar.
Enter the End Date using the calendar.
Click on the Download Report button.
The CSV file contains details of customer id, subject, delivery count, open count, etc. Note that you will not get the email address of your customers in a bulk download of email metrics.
You need to export the people list if you want a list of the email addresses. To download the people list CSV file from Drip, follow these steps:
Under People, go to the Active section.
To create a segment of your data, use the filter option (optional).
Go to the Actions section.
Click on the Export to CSV.
Click the Okay button.
Shortly you will receive a mail containing a link to a CSV file, including email address, id, status, tags, lead source, etc.
Step 2: Loading Data to BigQuery
You must create an empty table to load any data to Google BigQuery. Follow these given steps to upload your Drip data to BigQuery properly:
Go to the Google BigQuery Home Page.
Navigate to the Console.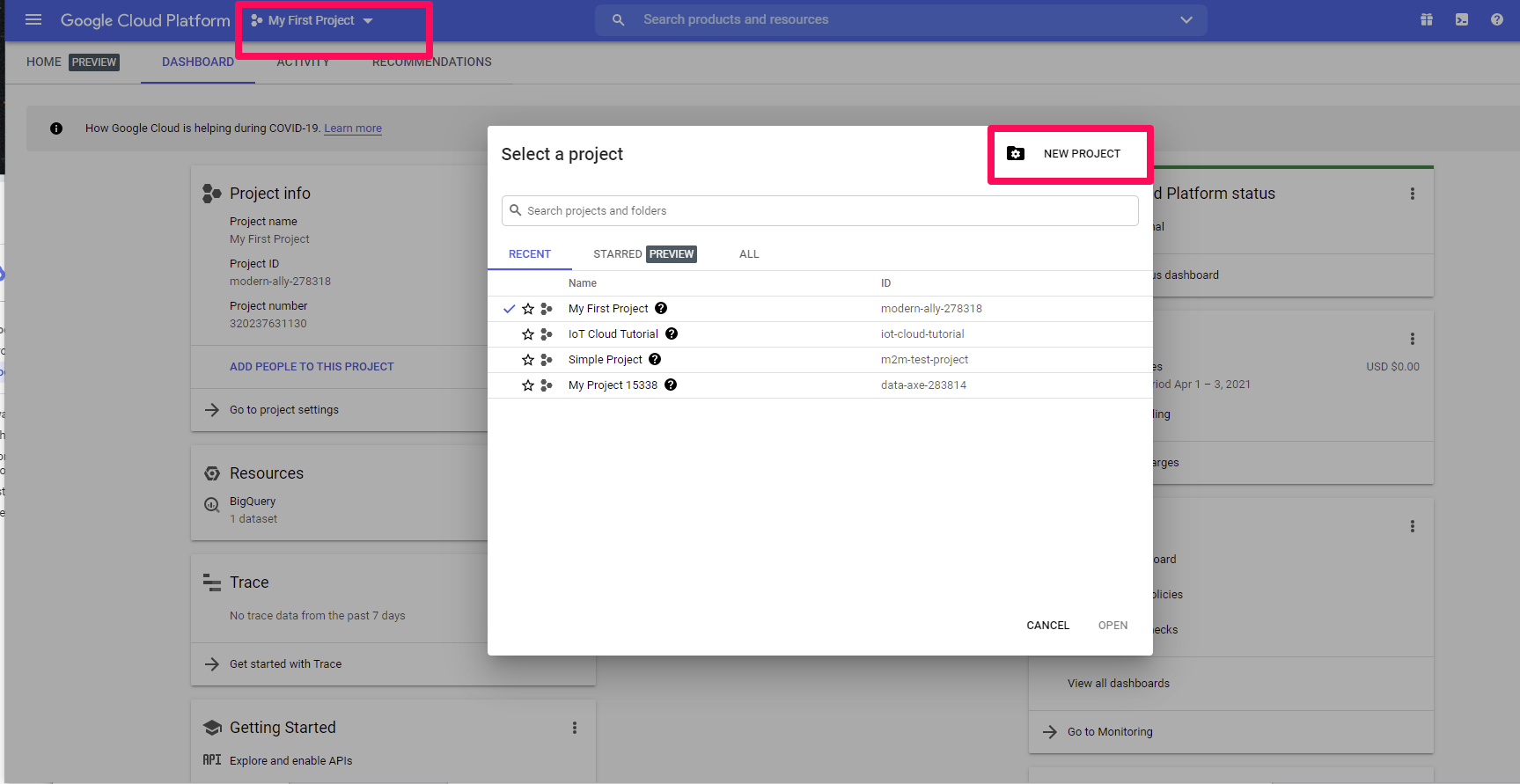 Click on create a New Project.
You'll be presented with a Create Table window. Under the option Create table from, choose the Upload option.
Choose the file and the relevant file format.
Enter the source of the data, the name of the project, and the dataset.
Click on the Create Table button.
Now, your Drip data will get uploaded on Google BigQuery, and you can analyze it using the SQL console. Note that there are two table types in BigQuery – Native and External. BigQuery will automatically choose the table structure. However, you can manually add fields using the "+Add field" button.
Limitations of Connecting Drip to BigQuery Using Manual Method
BigQuery is a Data Warehouse that can safely store large amounts of data. It can be integrated with Drip for better analysis and insights. However, the manual process of connecting Drip to BigQuery is tedious to implement and does not support real-time data transfer.
To avoid this issue, you should use a No-code Data Pipeline Platform such as Hevo Data for hassle-free Data Replication from Drip to BigQuery.
Method 2: Automated Data Replication From Drip to BigQuery Using Hevo
Hevo Data is a No-code Data Pipeline platform that automates data transfer from 100+ Data Sources, including Drip (Free Source Connector with Hevo), to BigQuery Data Warehouse or any other chosen Destination.
Hevo entirely automates importing data from your preferred source, enriching and converting it, and translating it into an analysis-ready format without requiring you to write a single line of code. Due to its fault-tolerant architecture, data may be handled securely and reliably with minimal data loss.
Hevo Data handles all your Data Preparation requirements, allowing you to focus on core business operations and better understand how to produce more leads, sustain customer retention lifecycles, and take your company to new heights of profitability. It offers a consistent and comprehensive solution for real-time Data Management, guaranteeing that analysis-ready data is always available at your preferred location.
Take a look at some of Hevo's most notable features:
Fully Managed: Hevo requires no management and maintenance as it is a fully automated platform.
Data Transformation: Hevo provides a simple interface to perfect, modify, and enrich the data you want to transfer.
Faster Insights Generation: Hevo offers near real-time Data Replication so that you can access real-time insights generation and quicker decision making.
Schema Management: Hevo can automatically detect the schema of the incoming data and map it to the destination schema.
Scalable Infrastructure: Hevo has in-built Integrations for 100+ Data Sources (with 40+ Free Sources) that can help you scale your data infrastructure as required.
Live Support: Hevo team is available round the clock to extend exceptional support to its customers through chat, email, and support calls.
Sign up here for a 14-day free trial!
The following are the steps to connect Drip to BigQuery using Hevo Data:
Step 1: Configure Drip as a Source
To establish Drip as the Source in your Pipeline, follow these steps:
In the Asset Palette, choose PIPELINES.
In the Pipelines List View, click + CREATE.
Select Drip on the Select Source Type page.
On the Configure your Drip Source page, enter the following information:

Pipeline Name: A unique name for your Pipeline that is no longer than 255 characters.
Account ID: The account ID from which data will be consumed.
API Key: Your Drip account's API token allows Hevo to access your data.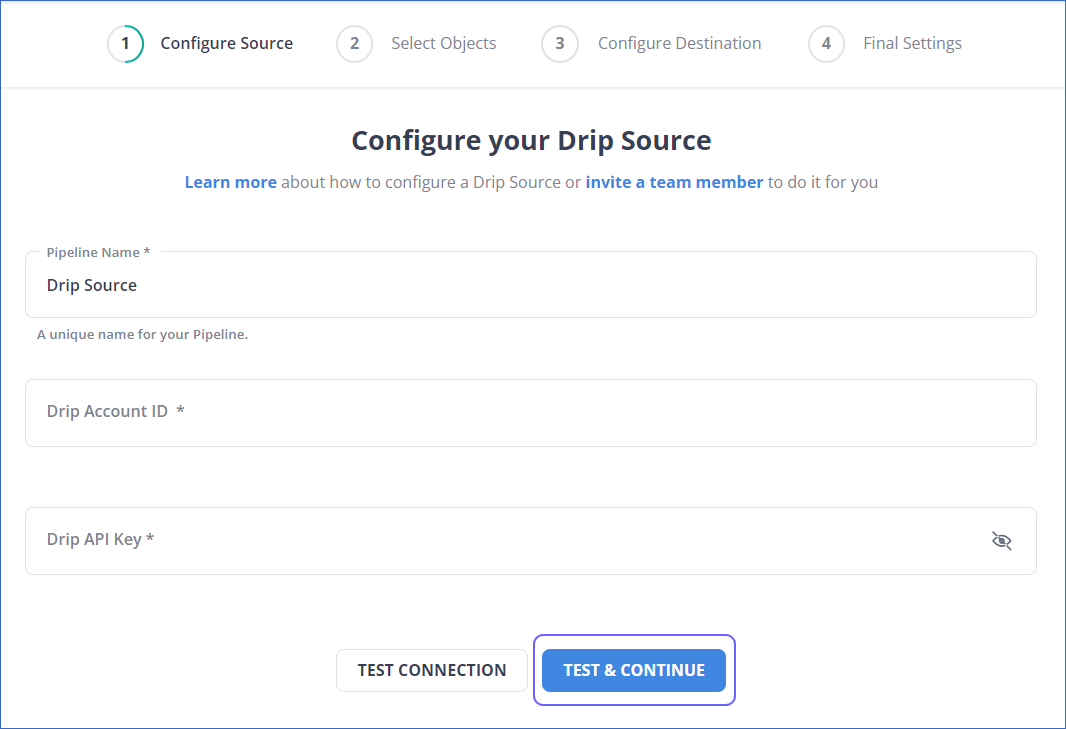 Click on TEST & CONTINUE.
Continue by configuring the data intake and configuring the Destination.
Step 2: Configure Google BigQuery as a Destination
To configure BigQuery as a Destination, follow these steps:
In the Asset Palette, choose DESTINATIONS.
In the Destinations List View, click + CREATE.
Select Google BigQuery as the Destination type on the Add Destination page.
Select the authentication method for connecting to BigQuery on the Configure your Google BigQuery Account page.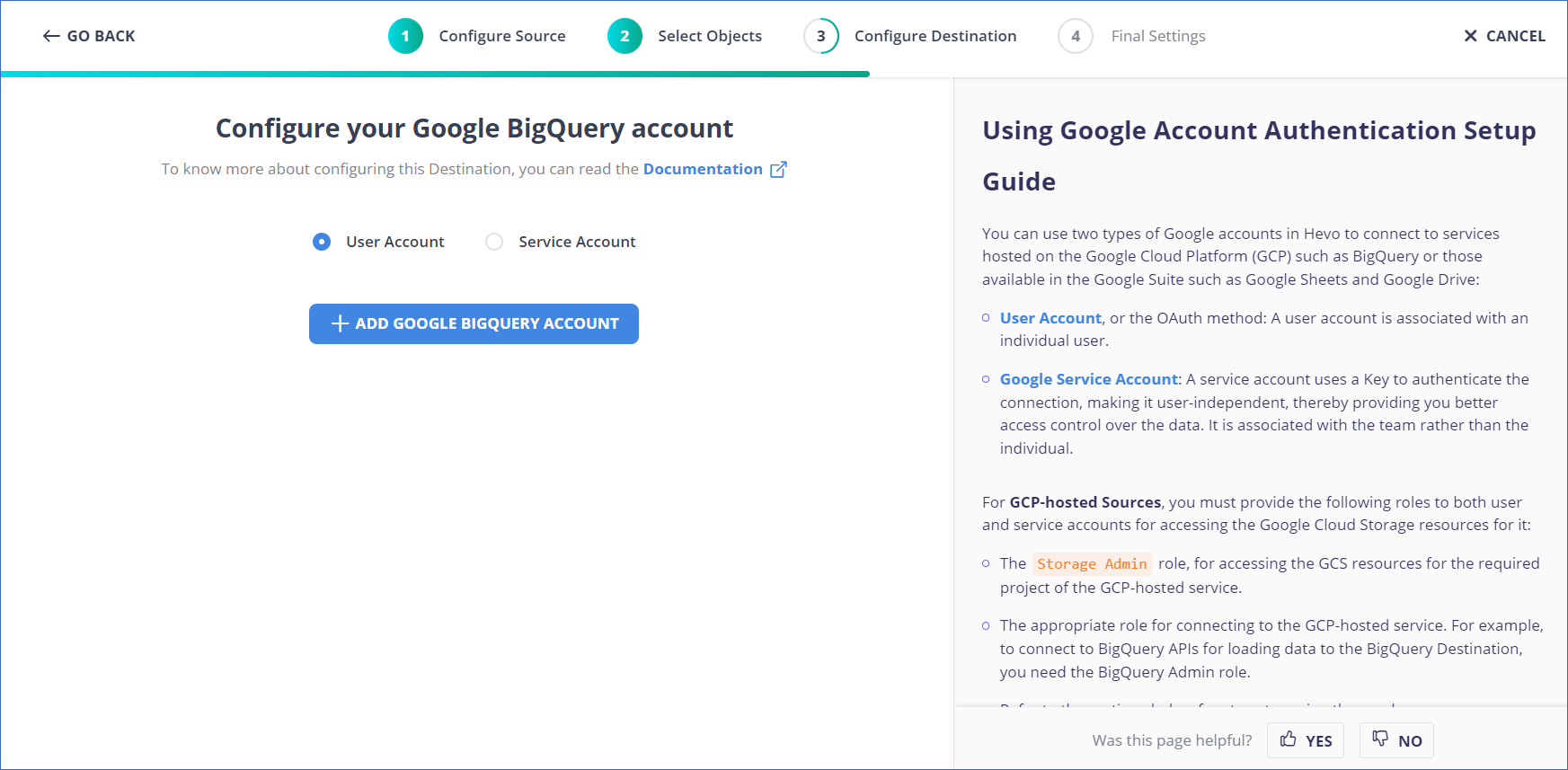 Perform one of the following:

To connect with a Service Account, follow these steps:

Attach the Service Account Key file.
Click on CONFIGURE GOOGLE BIGQUERY ACCOUNT.

To join using a User Account, follow these steps:
Click on + ADD A GOOGLE BIGQUERY ACCOUNT.
Sign in as a user with BigQuery Admin and Storage Admin permissions.
Provide Hevo access to your data by clicking Allow.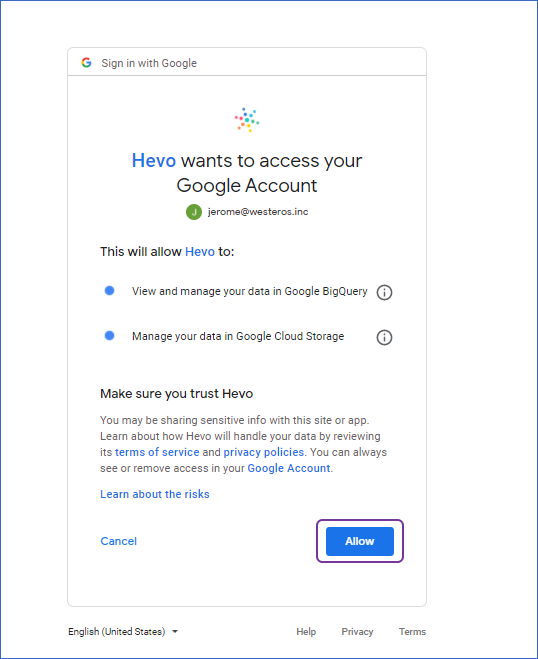 Configure your Google BigQuery Warehouse page with the following information:

Destination Name: Give your Destination a distinctive name.
Project ID: The BigQuery instance's Project ID.
Dataset ID: The dataset's name.
GCS Bucket: A cloud storage bucket where files must be staged before being transferred to BigQuery.
Enable Streaming Inserts: Select this option to stream data to your BigQuery Destination as it arrives from the Source, rather than loading it via a task according to a Pipeline schedule.
Sanitize Table/Column Names: Select this option to replace any non-alphanumeric characters and spaces in table and column names with an underscore (_).
Populate Loaded Timestamp: Enabling this option adds the __hevo_loaded_at_ column to the Destination Database, indicating the time when the Event was loaded to the Destination.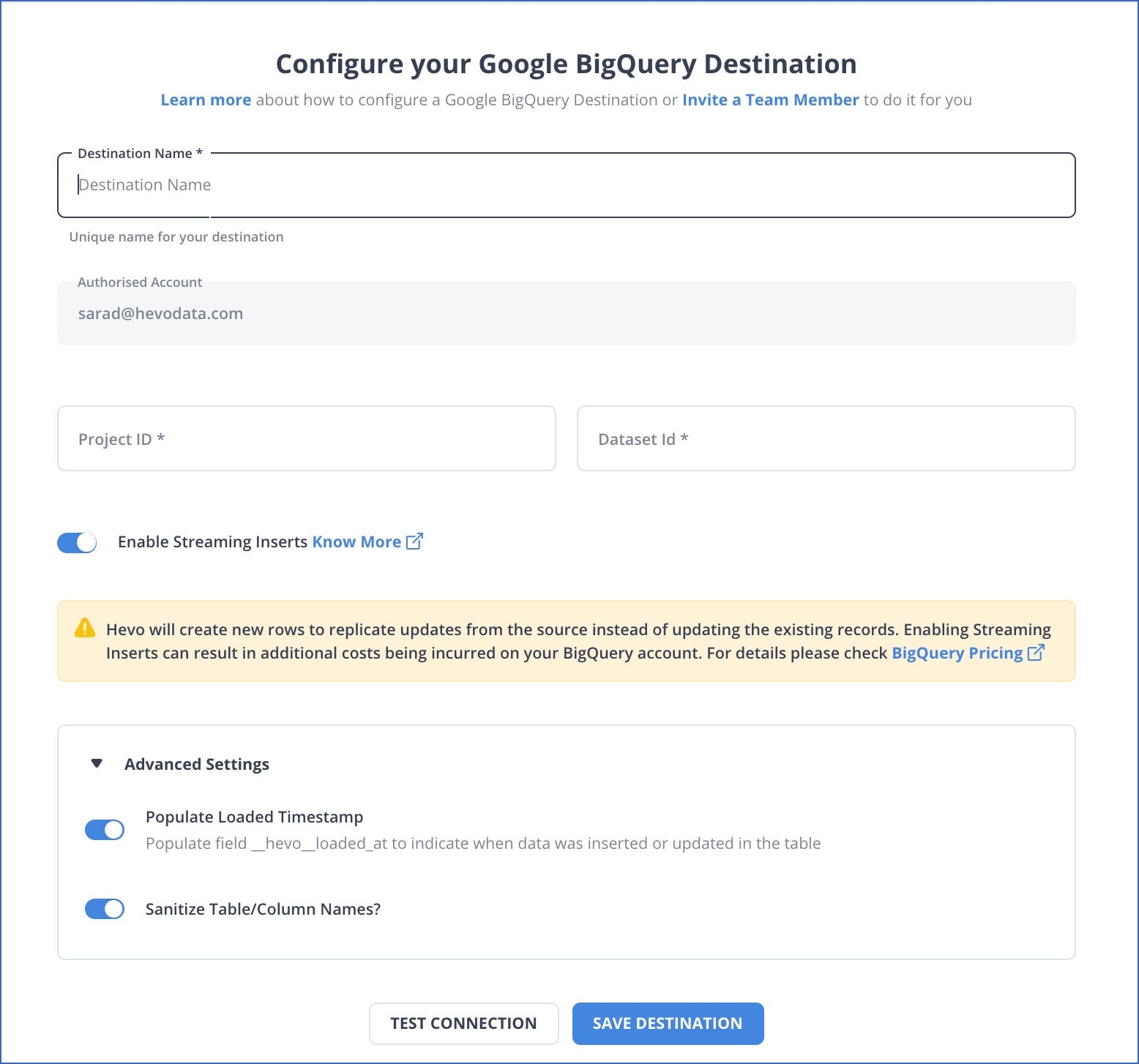 To test the connection, click TEST CONNECTION and then SAVE DESTINATION to finish the setup.
Recommended
Conclusion
This article provides an overview of Drip and BigQuery and their features. It also explains the two methods for connecting Drip to BigQuery. Manual data replication from Drip to BigQuery would need significant time and resources, making the process time-consuming and stressful. On the other hand, a Data Integration solution, such as Hevo, enables you to replicate data quickly and efficiently.
Hevo Data is a No-code Data Pipeline that can replicate real-time data from 100+ Data Sources, including Drip (with 40+ free sources), to your BigQuery Data Warehouse, BI Tool, or any other destination of your choice. It is a strong, fully automated, and secure solution that does not require any programming!
VISIT OUR WEBSITE TO EXPLORE HEVO
You can perform On-demand Transformations on the data using Hevo Models and Workflows and prepare it for analysis suitable for your BI tool.
Want to take Hevo for a ride? SIGN UP for a free 14-day trial to streamline your Data Integration process. You may examine the pricing information to see which plan best suits your company's needs.
You can share your experience connecting Drip to BigQuery in the comments below.
No-code Data Pipeline for BigQuery