Integrate Google Analytics and Mailchimp: 2 Easy Ways
Data Analytics is the latest and the most desired skill nowadays for escalating and resolving business and marketing strategies. Marketing factors need to be implemented with maximum efficiency to make data analysis an easy and useful process.
This article talks about integrating Google Analytics and Mailchimp data for efficient analysis. Apart from some basic features that Google Analytics and Mailchimp offer for productive collaboration, you will read about the significance of this tandem. Read along to know more about the methods that you can use to integrate Google Analytics with Mailchimp, few drawbacks of these processes and prospective solutions to the same.
Table of Contents
Introduction to Google Analytics

Google Analytics is a popular tool used for carrying out free website analytics. With an array of features that support the in-depth analysis of website traffic and trends, meaningful insights can be drawn, helping business to fine-tune their business and marketing strategies.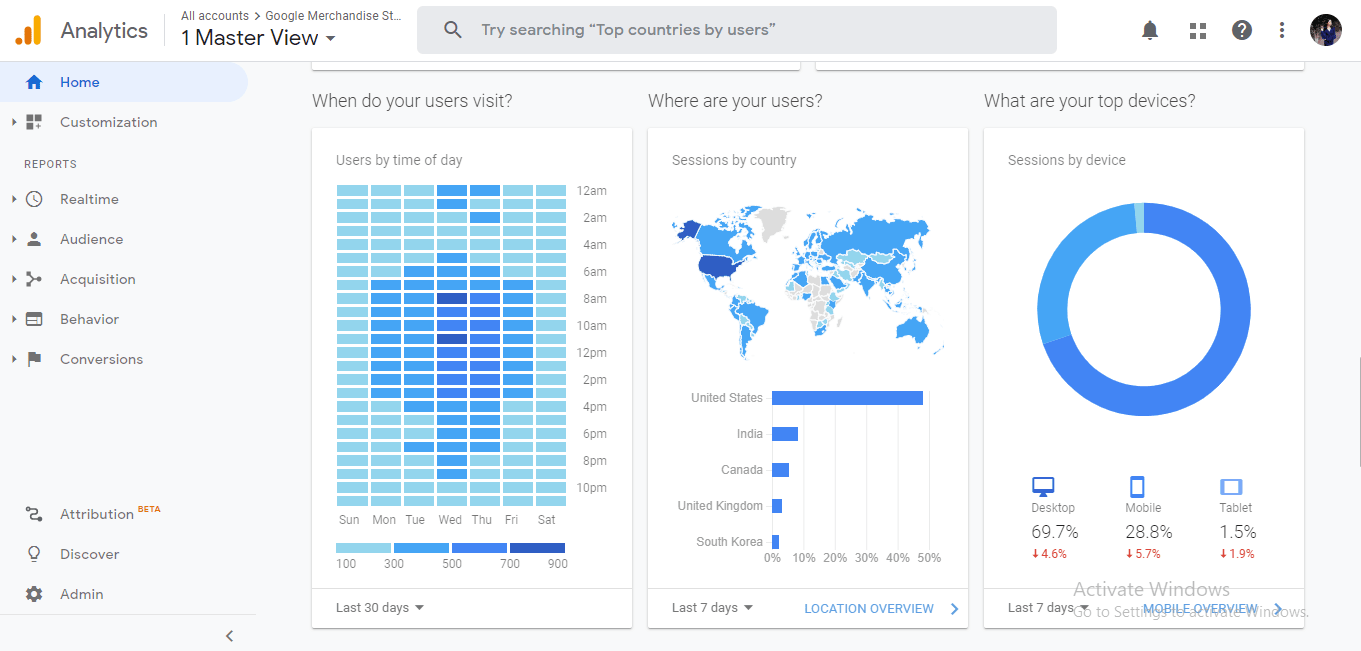 Google Analytics supports rendering several business reports, allowing users to perform real-time analysis of their audience, behaviours, acquisitions, etc. Using Google Analytics you can draw crucial insights such as the number of active users, their geographies, etc. You can also get insights about the channels that bring in the most number of customers, your customer retentions statistics, and a lot more.
For further information on Google Analytics, you can check the official website here.
Introduction to Mailchimp

Mailchimp is a popular integrated marketing platform that allows users to communicate with clients, customers, etc. using its robust set of features such as email marketing. Mailchimp allows a business to analyze performance, optimize strategies and target customers efficiently.
Mailchimp enables users to access almost 2000+ contacts and 10,000 leads/month, free of cost and thereby, helps business get started on improving their marketing performance.
For further information on Mailchimp, you can check the official website here.
Simplify your data analysis with Hevo's No-code Data Pipelines
Hevo Data, a No-code Data Pipeline helps to integrate data from Mailchimp (Free Source) and 30+ other free data sources and load it in a data warehouse of your choice to visualize it in your desired BI tool. Hevo is fully managed and completely automates the process of not only loading data from your desired source but also enriching the data and transforming it into an analysis-ready form without having to write a single line of code. Its fault-tolerant architecture ensures that the data is handled in a secure, consistent manner with zero data loss.
It provides a consistent & reliable solution to manage data in real-time and always have analysis-ready data in your desired destination. It allows you to focus on key business needs and perform insightful analysis using BI tools such as Tableau, PowerBI and many more.
GET STARTED WITH HEVO FOR FREE
Check out what makes Hevo amazing:
Secure: Hevo has a fault-tolerant architecture that ensures that the data is handled in a secure, consistent manner with zero data loss.
Schema Management: Hevo takes away the tedious task of schema management & automatically detects schema of incoming data and maps it to the destination schema.
Minimal Learning: Hevo with its simple and interactive UI, is extremely simple for new customers to work on and perform operations.
Hevo Is Built To Scale: As the number of sources and the volume of your data grows, Hevo scales horizontally, handling millions of records per minute with very little latency.
Incremental Data Load: Hevo allows the transfer of data that has been modified in real-time. This ensures efficient utilization of bandwidth on both ends.
Live Support: The Hevo team is available round the clock to extend exceptional support to its customers through chat, email, and support calls.
Live Monitoring: Hevo allows you to monitor the data flow and check where your data is at a particular point in time.
Simplify your data analysis with Hevo today! 
SIGN UP HERE FOR A 14-DAY FREE TRIAL!
Significance of Integrating Google Analytics and Mailchimp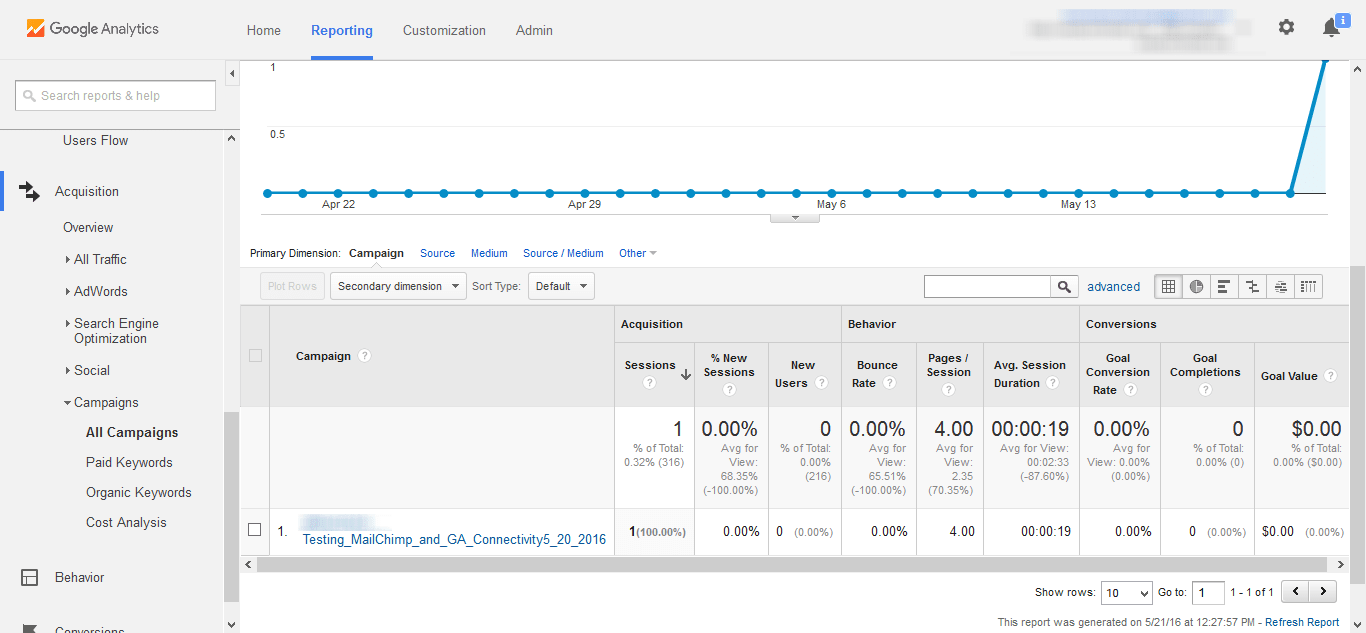 How can integrating Mailchimp with Google Analytics be helpful? Well, for starters, both offer plenty of free features which can be used in tandem with each other for easy and effective marketing analysis. Instead of filtering data based on specific parameters and relying on manual monitoring for the same, you can use integration with Google Analytics to automatically carry out analysis for the fetched data.
Methods to integrate Google Analytics and Mailchimp data
There are multiple methods that you can use to integrate Google Analytics with Mailchimp data:
Method 1: Using Readily Available Connectors for Mailchimp & Google Analytics
Readily available Mailchimp or Google Analytics connectors, provide a secure channel for establishing a connection between them. Mailchimp usually makes use of Google Data Studio and other API-based connectors to integrate data with Google Analytics. A diverse set of hundred plus connectors are available, including the Google Analytics 360 connector support, that allows you to integrate data with ease.
The only issue in using these connectors is the compatibility issues that arise when working with various databases and the ability to scale up, as the business grows.
Method 2: Using Custom Scripts to integrate Google Analytics with Mailchimp
Using one of the several manual methods is one such way. These include exporting data using independent APIs and other data organization systems. Some small businesses still rely on Microsoft Excel and other sheet organization tools to analyze data. While these methods work well with small amounts of data, the channel becomes obsolete when dynamic data and larger chunks of data come into the picture.
Conclusion
This article teaches you how to integrate data from Google Analytics and Mailchimp. It provides in-depth knowledge about the concepts behind every step to help you understand and implement them efficiently. These methods, however, can be challenging especially for a beginner & this is where Hevo saves the day. 
VISIT OUR WEBSITE TO EXPLORE HEVO
Hevo Data, a No-code Data Pipeline helps you transfer data from a source of your choice in a fully automated and secure manner without having to write the code repeatedly. Hevo with its strong integration with Google Analytics and Mailchimp along with other free data sources allows you to not only export & load data, but also transform & enrich your data, & make it analysis-ready in a jiffy.
Want to take Hevo for a spin? 
SIGN UP and experience the feature-rich Hevo suite first hand.
Tell us about your experience of integrating Google Analytics and Mailchimp! Let us know in the comments section below.
Build Integrated Marketing Reports