Hevo vs Airbyte: 5 Critical Differences
Data Analysis is a critical part of the decision-making process in any business. Modern-day businesses have to analyze data to stay competitive in today's world of cut-throat competition. In most cases, the data to be analyzed is stored across different sources. Hence, there is always a need to extract data from these sources and load it into a centralized location. The data can then be analyzed from there to draw meaningful insights for decision-making.
There are numerous tools available in the market that can help you perform this process of loading data from multiple sources. Two of the most popular solutions available in the market are Hevo and Airbyte. This article will provide you with an in-depth understanding of the various factors that drive the Hevo vs Airbyte decision.
Table of Contents
Introduction to Hevo
Hevo is a No-code Data Pipeline that offers a fully managed solution to set up data integration from 100+ data sources (including 40+ free data sources) to numerous Business Intelligence tools, Data Warehouses, or a destination of choice. It will automate your data flow in minutes without writing any line of code. Its fault-tolerant architecture makes sure that your data is secure and consistent. Hevo provides you with a truly efficient and fully-automated solution to manage data in real-time and always have analysis-ready data.
GET STARTED WITH HEVO FOR FREE
Let's look at Some Salient Features of Hevo:
Secure: Hevo has a fault-tolerant architecture that ensures that the data is handled in a secure, consistent manner with zero data loss.
Schema Management: Hevo takes away the tedious task of schema management & automatically detects schema of incoming data and maps it to the destination schema.
Minimal Learning: Hevo, with its simple and interactive UI, is extremely simple for new customers to work on and perform operations.
Hevo Is Built To Scale: As the number of sources and the volume of your data grows, Hevo scales horizontally, handling millions of records per minute with very little latency.
Incremental Data Load: Hevo allows the transfer of data that has been modified in real-time. This ensures efficient utilization of bandwidth on both ends.
Live Support: The Hevo team is available round the clock to extend exceptional support to its customers through chat, email, and support calls.
Live Monitoring: Hevo allows you to monitor the data flow and check where your data is at a particular point in time.
Hevo also helps you to start moving data from 100+ sources to your data warehouse in real-time with no code for the price of $239/month!
SIGN UP HERE FOR A 14-DAY FREE TRIAL[/hevoButton]
Introduction to Airbyte
Airbyte is the new Open-source Data Integration platform that runs on the Cloud and can sync data from numerous Software-as-a-Service (SaaS) products, APIs & databases to Data Warehouses, Data Lakes, and other destinations of your choice. It gives users the ability to either extract data by leveraging the in-built maintenance-free connectors or creating their own connectors from scratch. Airbyte users do not have to worry about scheduling, orchestration, or monitoring for changes as it is handled automatically by the platform.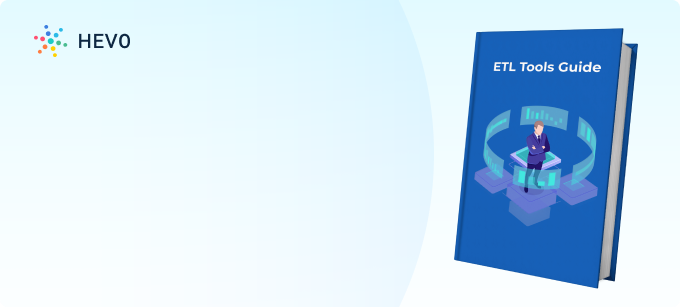 Download the Guide to Evaluate ETL Tools
Learn the 10 key parameters while selecting the right ETL tool for your use case.
The key features of Airbyte are as follows:
Maintenance-free connectors: Users only have to authenticate their Data Warehouse and sources. All connectors will automatically adapt to schema changes or updates to the application.
Building new connectors: Users have the ability to develop their own connectors using the language of their choice.
Alerts: Airbyte houses an automated alert mechanism that will notify all users when an issue arises.
No Security Compliance Issues: Since Airbyte is a self-hosted solution, it doesn't bring any security or privacy risk to the users' infrastructure.
More information about Airbyte can be found here.
Factors that Drive Hevo vs Airbyte Decision
The key factors that drive the Hevo vs Airbyte decision are as follows:
1) Hevo vs Airbyte: Integration Support
Hevo provides one of the best Enterprise-grade, in-class integration support to its users, allowing them to connect to over 100+ data sources, including more than 80 Software-as-a-Service (SaaS) platforms. Hevo Data supports integration with numerous types of data sources, such as Software-as-a-Service (SaaS) products, Databases, Data Warehouses, external files like CSV, Marketing applications, JSON, etc. It also supports data ingestion via REST APIs and Webhooks. You can also leverage Hevo to stream data in real-time and capture changes using its Change Data Capture (CDC) feature.
Other than a set of diverse data sources, Hevo offers one of the best destination support. Users can seamlessly transfer data into a Data Warehouse, Business Intelligence tool, or a destination of their choice.
For more information about integrations supported by Hevo, visit the official website here.
Airbyte houses different connectors that its users can leverage to create integrations with various data sources. It uses a grading system to help users know what to expect from a connector. The connectors are put into three grades, namely Certified, Beta, and Alpha. The Certified connectors are well tested and robust, followed by Beta and then the Alpha connectors.
Airbyte also supports 11 destinations, namely Google BigQuery, Google Pubsub, Local CSV, Local JSON, MeiliSearch, MySQL, Oracle, PostgreSQL, Amazon Redshift, Microsoft SQL Server, and Snowflake.
More information about Airbyte integrations can be found here.
2) Hevo Data vs Airbyte: Data Transformation Capabilities
Hevo provides users with Enterprise-grade Data Transformation capabilities and both ETL and ELT functionalities. It performs the required Data Transformation on every event that comes through the users' automated data pipelines and gives them complete control over any Data Transformation that takes place. Hevo also gives users high-level control over how their data undergoes transformation since it gives them complete freedom to make changes to their data.
More information on how Hevo handles Data Transformation can be found here.
Airbyte is an ELT tool, but you can also use it as an EL-only tool. It does perform any transformations by default, but it's optional. Users can choose to move the data in raw form to their destination. Airbyte provides normalization to help its users to use it without much effort.
For more information on Airbyte's data transformation capabilities, visit their official website here.
3) Hevo vs Airbyte: Data Security
Hevo has a fault-tolerant architecture, providing its users with Enterprise-grade Data Security, ensuring the security of your data at all times. It also implements the most secure industry standards, namely GDPR, SOC II, and HIPAA. Hevo also uses multiple/two-factor authentication for all user accounts, and users must enter an OTP to log into their accounts. Hevo connectors create an SSL connection, and it uses HTTPS encryption to keep its Software-as-a-Service (SaaS) connections safe.
Airbyte is an Open-source and self-hosted solution. Hence, it is as safe as your Data Infrastructure. Due to this, it does not bring any privacy or security risks to your infrastructure.
4) Hevo vs Airbyte: Customer Support and Documentation
Hevo Data comes with excellent customer support features for its users. Users can contact the Hevo support team 24/7 through emails, calls, or via its live chat support feature powered by Intercom. Their support team has a short response time to make sure that you get the necessary help anytime for all issues.
Hevo also has extensive documentation that users can refer to to get answers to their questions. To know more about Hevo's documentation and support features, visit their official website here.
Airbyte also comes with extensive documentation from which you can get answers to your questions. To get additional help, you can use channels such as Slack, Twitter, and GitHub. They also accept 30-minute video calls during weekly office hours. Although Airbyte doesn't have a live chat feature, they have a chatbot powered by Drift.
5) Hevo vs Airbyte: Pricing
Hevo offers two paid tiers, i.e., Starter and Business, along with its Free tier. The pricing for each paid tier depends on the number of events a user is expected to integrate. The Starter tier offers 5 Million events at $239/month, 20 Million events at $399/month, 50 Million events at $759/month, and 100 Million events at $1159/month. The Business tier is a custom tier for large Enterprises with complex requirements. Users can schedule a call with the Hevo team to create a tailor-made plan in the Business tier based on their unique requirements.
An in-depth comparison of the features offered in each tier are as follows:
Airbyte offers users to choose between 3 pricing plans i.e. Community, Cloud, Enterprise. The Community plan is free and it supports an unlimited number of connectors. However, Airbyte does not follow a transparent pricing model for its Cloud and Enterprise plans. The final price depends on the users' unique use case and business requirements.
| | | |
| --- | --- | --- |
| | | |
| Platform Focus | Data Ingestion, ELT, ETL | ELT |
| Ability to develop new data sources | No | Yes |
| Support for Data Lakes | Yes | Yes |
| Data Transformations | Both ETL and ELT | ELT only |
| Data Security Certifications/ Compliance | HIPAA, GDPR & SOC II | Offers all security protocols offered by users' Data Infrastructure |
| Purchase Process | Self Service or By Contacting Sales Team | By joining waitlist |
| Free Trial | Yes, 14-day free trial | No, but offers easy deployment of free Community Edition. |
Conclusion
This article provided you with an in-depth knowledge of the various factors that drive the Hevo vs Airbyte decision. It helped you understand their features, data transformation capabilities, security measures, pricing, etc., allowing you to make the right choice for your use case. However, if you are looking for an all-in-one solution that will also transfer your data into a form suitable for analysis, then Hevo is the right choice for you.
visit our website to explore hevo[/hevoButton]
Hevo helps you directly transfer data from a source of your choice to a Data Warehouse or desired destination in a fully automated and secure manner without having to write the code or export data repeatedly. It will make your life easier and make data migration hassle-free. It is User-Friendly, Reliable, and Secure.
Want to take Hevo for a spin? Sign Up here for a 14-day free trial and experience the feature-rich Hevo suite first hand. You can also have a look at our unbeatable pricing that will help you choose the right plan for your business needs!