Connect Instagram Feed to WordPress: Easy Steps to Embed 101
Embedding your Instagram Feed to WordPress Website means People can connect with you on both platforms. You can effortlessly increase brand exposure, sales, and conversions this way. After all, cross-promoting your social networks on your website increases audience reach and engagement of your brand and products.
In this article, you will gain information about Connecting Instagram Feed to WordPress. You will also gain a holistic understanding of Instagram, WordPress, their key features, and the steps involved in setting up Instagram Feed WordPress Connection. Read along to find out in-depth information about Instagram Feed WordPress Connection.
Table of Contents
What is Instagram?
Instagram is one of the most well-known free Social Media platforms that allows users to share photos and short videos. It is considered to be a popular way to connect with brands, celebrities, leads, family, friends, etc.
Instagram allows users to edit photos and videos right from their mobile or web application and upload them to their profile. Users have been given the ability to write captions with the posts along with any required hashtags or location-based geotags. Users can choose to make their profile public or private as per their requirements. A private profile means that only the followers of a user can view the posts whereas a public profile means that anyone with an active Instagram account can view the posts. Any post by a user will automatically be indexed on the feed of their followers along with its captions, hashtags, and geolocation.
More information on Instagram can be found here.
Key Features of Instagram
Some of the most popular features of Instagram are as follows:
1) Direct Messaging
Allows users to chat with each other privately free of charge. Direct Messaging can be used to send a message to another Instagram user in text form or in the form of a picture or a video.
2) Video and Voice Calls
Allows users to video or voice call each other anytime free of cost.
3) Stories
Allows users to post casual moments from their daily lives that are deleted automatically after 24 hours.
4) Live Videos
Allows users to stream live videos to all their followers through their Stories. These Live Videos can also be joined by other people using Instagram after approval from the user that started the Live Video.
5) IGTV
Instagram TV (IGTV) was first introduced as a separate application but was then integrated with the main Instagram application. IGTV allows users to share videos of duration up to an hour.
6) Instagram Business
Allows businesses to create their own professional business profile for Marketing purposes.
What is WordPress?
WordPress is currently one of the most widely used CMS in the market, with over 41% of the top 10 million websites leveraging it. WordPress has also found uses across other fields such as Pervasive Display Systems (PDS) (application domains such as healthcare, computing, etc).
To start working on WordPress, you need to install it on a Web Server, where a computer runs the software package WordPress.org to serve as a Network Host or as a part of a hosting service like WordPress.com. You can use a local computer for learning purposes and single-user testing.
WordPress ensures more human-readable permalinks by directing all requests for non-static URIs to a single PHP file. This file can parse the URI and identify the target page.
Key Features of WordPress
Some of the key features of WordPress are as follows:
1) Ease of Publishing
WordPress became popular because of how easy it was to publish any form of content to the Internet with it. You can pen down pages and posts, plug in different types of media, and format them seamlessly in a matter of a few clicks. Once you have ironed out the details, you can get your content on the web with just a click with WordPress.
2) Publishing Tools
You can manage your content seamlessly with WordPress. You can glance through post revisions, create drafts, and even schedule publications. You can decide if you wish to make your content private or public. If you wish to make some content private, you can secure it with a password in a hassle-free fashion.
3) Simplicity
The WordPress interface allows you to get publishing very quickly, with a simplistic UI to supplement your user experience.
4) User Management
You can decide the different levels of access for your website. Every website has several people associated with it. An Editor works on content, the Administrator manages the site, Contributors and Authors write the content, and subscribers have a profile to manage.
5) Flexibility
WordPress allows you to develop almost every type of website imaginable, ranging from a personal blog to an eCommerce website. You can improve your website with custom themes built for specific use cases and supplement it with various plugins to work on a better user interface for your users. WordPress also grants you the freedom to build a website from scratch and build it to completion in no time flat.
6) Optimized for SEO
WordPress has been optimized for SEO (Search Engine Optimization) right out of the gate. To achieve a more fine-grained SEO control, you can utilize various SEO plugins offered by WordPress.
7) Media Management
The ability to add media seamlessly is imperative for a CMS. With WordPress in place, you can simply drag-and-drop media to the uploader to add it to your website. Apart from the ability to add captions and alt text, WordPress houses a few image editing tools that you can play around with.
8) Easy Installation and Upgrades
WordPress is very easy to install and upgrade. Numerous web hosts offer One-Click WP Installers. If you prefer an FTP program, you can start with creating a database, uploading WordPress with FTP, and then running the installer.
Simplify Instagram & WordPress ETL and Analysis with Hevo's No-code Data Pipeline
A fully managed No-code Data Pipeline platform like Hevo Data helps you integrate and load data from WordPress and 100+ Different Sources (including 40+ free sources such as Instagram Business) to a Data Warehouse, or Destination of your choice in real-time in an effortless manner. Hevo with its minimal learning curve can be set up in just a few minutes allowing the users to load data without having to compromise performance. Its strong integration with umpteenth sources allows users to bring in data of different kinds in a smooth fashion without having to code a single line.
Get Started with Hevo for Free
Check out some of the cool features of Hevo:
Completely Automated: The Hevo platform can be set up in just a few minutes and requires minimal maintenance.
Transformations: Hevo provides preload transformations through Python code. It also allows you to run transformation code for each event in the pipelines you set up. You need to edit the event object's properties received in the transform method as a parameter to carry out the transformation. Hevo also offers drag and drop transformations like Date and Control Functions, JSON, and Event Manipulation to name a few. These can be configured and tested before putting them to use.
Connectors: Hevo supports 100+ integrations (including 40+ free sources such as Instagram Business) to SaaS platforms, files, Databases, analytics, and BI tools. It supports various destinations including Google BigQuery, Amazon Redshift, Snowflake Data Warehouses; Amazon S3 Data Lakes; and MySQL, SQL Server, TokuDB, DynamoDB, PostgreSQL Databases to name a few.
Real-Time Data Transfer: Hevo provides real-time data migration, so you can have analysis-ready data always.
100% Complete & Accurate Data Transfer: Hevo's robust infrastructure ensures reliable data transfer with zero data loss.
Scalable Infrastructure: Hevo has in-built integrations for 100+ sources (including 40+ free sources such as Instagram Business) that can help you scale your data infrastructure as required.
24/7 Live Support: The Hevo team is available round the clock to extend exceptional support to you through chat, email, and support calls.
Schema Management: Hevo takes away the tedious task of schema management & automatically detects the schema of incoming data and maps it to the destination schema.
Live Monitoring: Hevo allows you to monitor the data flow so you can check where your data is at a particular point in time.
Sign up here for a 14-Day Free Trial!
Benefits Of Embedding Instagram Feed to WordPress
Some of the benefits that marketers get by connecting Instagram Feed to WordPress websites are as follows:
1) Outspread the Marketing Sphere Globally
According to statistics, approximately 500 million people use Instagram on a regular basis. There is no better option than leveraging Instagram as your online building platform in today's fastest-growing Instagram-addicted world.
As a result, by embedding Instagram feeds on websites, marketers may reach a huge number of customers while increasing engagement and driving conversions.
2) Give your Visitors access to more Creative Content
You can provide your website visitors with more fascinating stuff by showing an Instagram hashtag feed on your WordPress website. The number of times visitors can scroll down your website's content is no longer limited. Visitors to your website may now browse your Instagram posts without leaving your site. It will boost your visitors' engagement with your brand and urge them to interact with it.
3) Improves the Ranking of your WordPress Website
Adding an Instagram widget to your website boosts its vibrancy and might make it appear more interesting. Along with the Instagram graphics, captions are added to your website, giving a clear picture of what your website/blog is about.
This makes it easier for people to comprehend your brand's motivations and aims, increasing your website's click-through rates. As a result, the website performs better and has a higher SEO ranking.
4) Creates a Trustworthy Brand Image
Brands can present their authentic market image and genuine customer experiences by showcasing User-Generated content from Instagram on their websites. As a consequence, brands improve the reliability and authenticity of their offerings, resulting in stronger customer relationships.
How to Connect Instagram Feed to WordPress?
Instagram Feed to WordPress Connection can be set up in the following ways:
Method 1: With a WordPress Plugin
The steps followed for setting up Instagram Feed to WordPress connection with a WordPress Plugin are as follows:
A) Install and Activate Instagram Feed Pro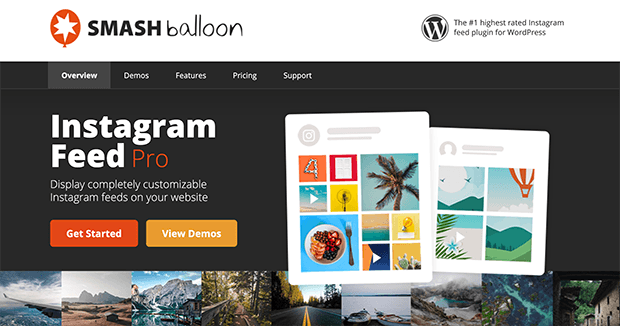 Step 1: Get a copy of the "Instagram Feed Pro" plugin, and download it to your system.
Step 2: Now, upload this plugin to your WordPress Website. For any information regarding the installation of a WordPress plugin, you can visit here.
B) Connect Your Instagram Account
Step 1: In your WordPress account, go to the WordPress Dashboard in the left navigation pane.
Step 2: Select the "Instagram Feed" option. Now select the "Settings" option.
Step 3: Connect your Instagram Account. It can be done in the following 2 ways:
1) Connecting Account Automatically
Step 1: In the Instagram Feed Pro section that appears, click the "Connect an Instagram Account" button.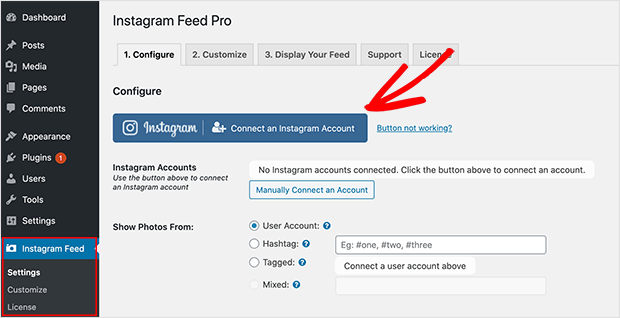 Step 2: A popup will appear with 2 options regarding whether to connect a Personal or Business Instagram account. Select the appropriate option according to your requirement.
Step 3: Now, click on the "Connect" button.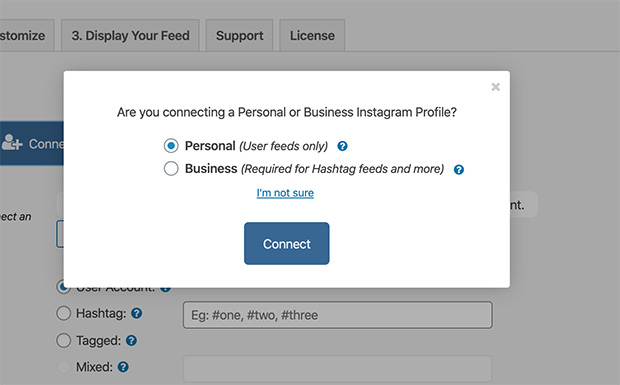 Step 4: Confirm the account that you'd like to connect. Now, click on the "Connect Accounts" button.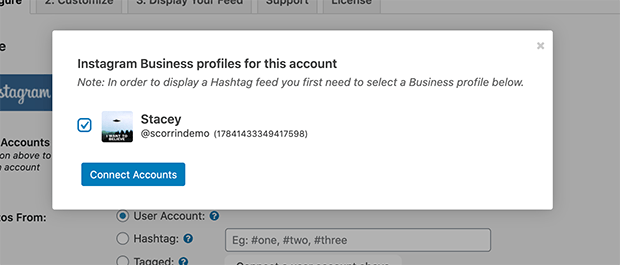 2) Manually Connecting Instagram Account
Step 1: In the Instagram Feed Pro section that appears, click the "Manually Connect an Account" button.
Step 2: Paste the Access Token and User ID associated with your account.
Step 3: Now, click on the "Connect This Account" button.

Now, the Instagram account has been connected in any of the above 2 ways.
Step 4: On scrolling down the "Instagram Feed Pro" section, you'll come across the "Show Photos From" field. Select the appropriate checkbox.
Step 5: Click on the "Save Changes" button.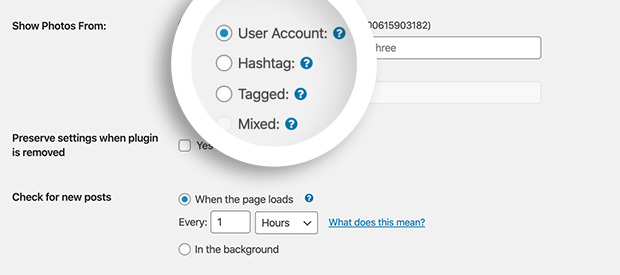 C) Customize Your Instagram Feed Settings
Step 1: From the "Instagram Feed Pro" Settings page, click the "Customize" tab.
Step 2: You'll come across the general customization settings where you can set your feed's height, width, background color.
Step 3: You can also change the Layout settings of your feed to control how your feed will look like on the website.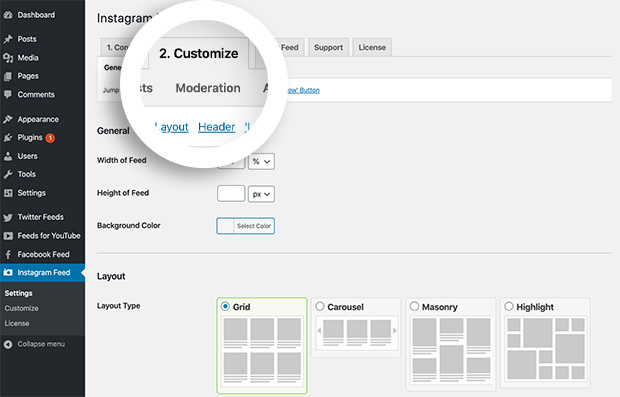 Step 4: In the layout settings, you can even set the number of photos and columns in the feed. You can also change the padding around your images.
Step 5: Then, in the "Header" section, you can decide whether to show the Feed Header, the Load More button, and the Follow button. You can also customize the features any further.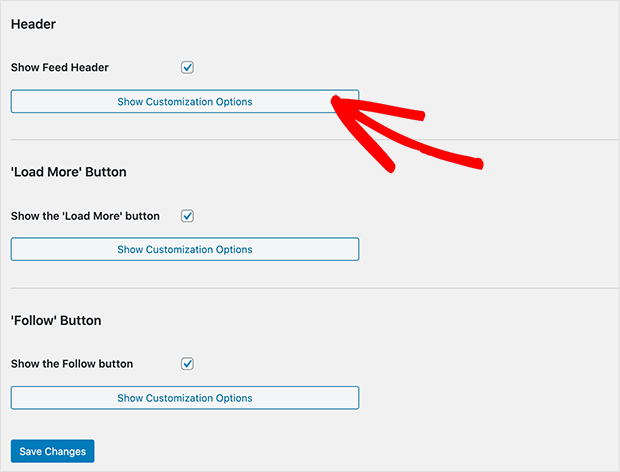 Step 6: Click on each tab and set up the settings according to your requirements.
Step 7: Click on the "Save Changes" button.
D) Display Your Instagram Feed
2 ways of displaying your Instagram feed illustrated here are as follows:
A) Adding Your Instagram Feed to a WordPress Page
For displaying your Instagram Feed to a WordPress page:
Step 1: Open your WordPress account.
Step 2: Go to the WordPress dashboard in the left navigation pane. Navigate to the "Pages" option. Then, select the "Add New" option to open a new page in the WordPress editor.
Step 3: After giving a Title and adding content to your page, click the Plus (+) icon for adding a new WordPress content block.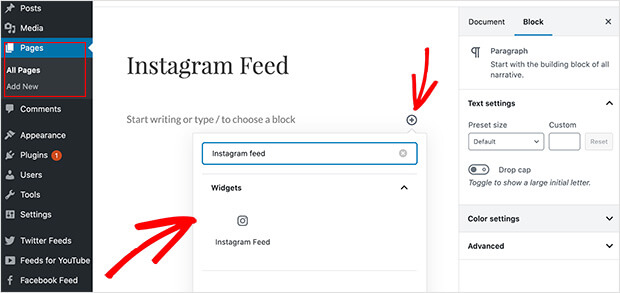 Step 4: Within the block search box, type "Instagram" and from the options, click the "Instagram Feed" option to add your feed to the page.
Step 5: See the preview, and click on the "Publish" button to make it live on your WordPress website.
B) Displaying Your Feed With an Instagram Widget in WordPress
To add your Instagram feed to a widget ready area of WordPress the following steps are:
Step 1: In the WordPress dashboard, select the "Appearance" option. Then select the "Widgets" option.
Step 2: Now, drag the "Instagram Feed" widget to the sidebar you have chosen.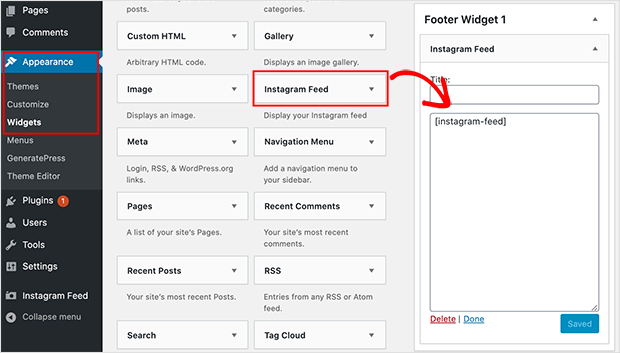 Step 3: The plugin will automatically add the shortcode for you.
Step 4: Click on the "Save" button.
Method 2: Embed Instagram Post Without a Plugin
For connecting Instagram Feed to WordPress without a plugin, there are two steps to be followed:
A) Enable oEmbeds for Instagram
Step 1: Go to your WordPress dashboard. Navigate to "Instagram Feed". Then click on the "oEmbeds" option.
Step 2: On the oEmbeds page, click on the "Enable Instagram oEmbeds" button.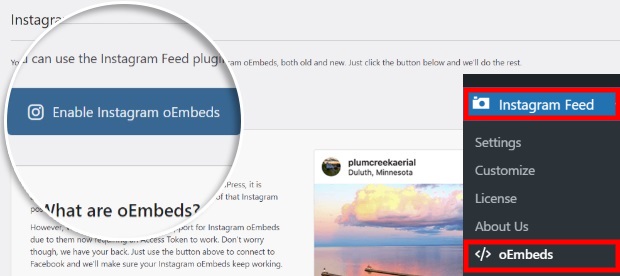 Step 3: Click on the "Connect to Facebook" button. Since Instagram is a part of Facebook, hence you first need to connect your website to Facebook.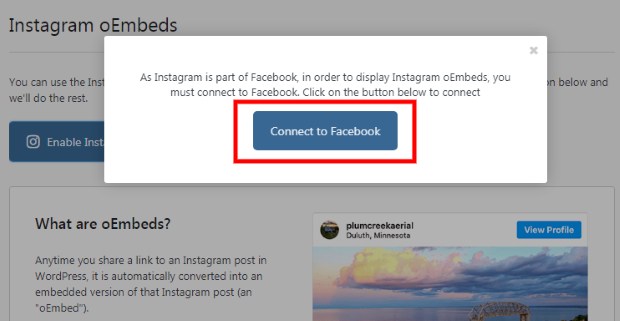 Step 4: Select the pages and click on the "Next" button.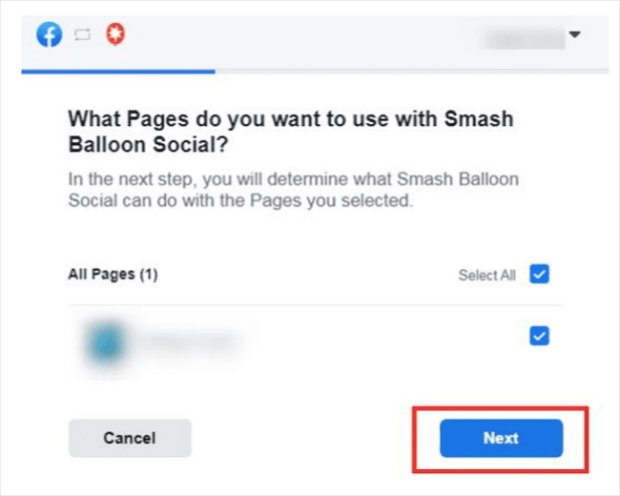 Step 5: Finally, click on the "Done" button.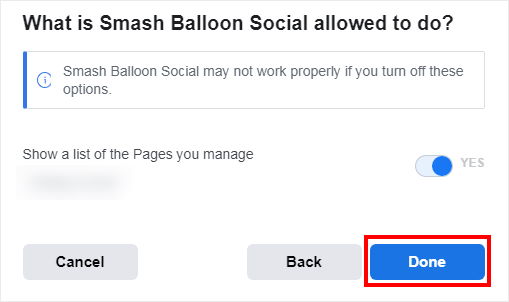 Now you can move on to embed your Instagram posts on WordPress.
B) Embed Your Instagram Posts on WordPress
Step 1: Log in to your Instagram account. Find the post you want to embed in WordPress.
Step 2: Select the 3 dots that look like this ⠇, in the top right corner of the post.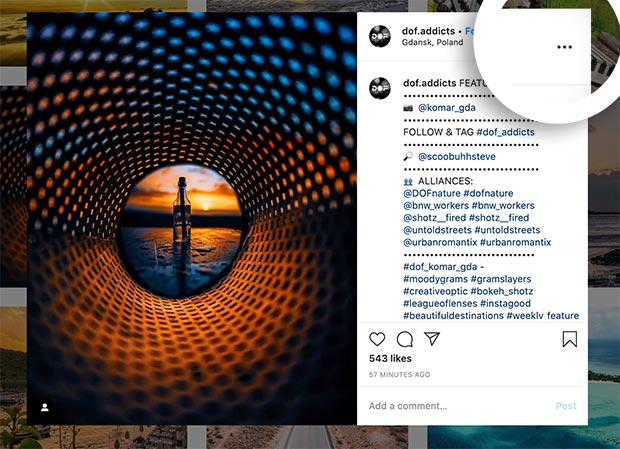 Step 3: Select the "copy link" option from the menu that appears.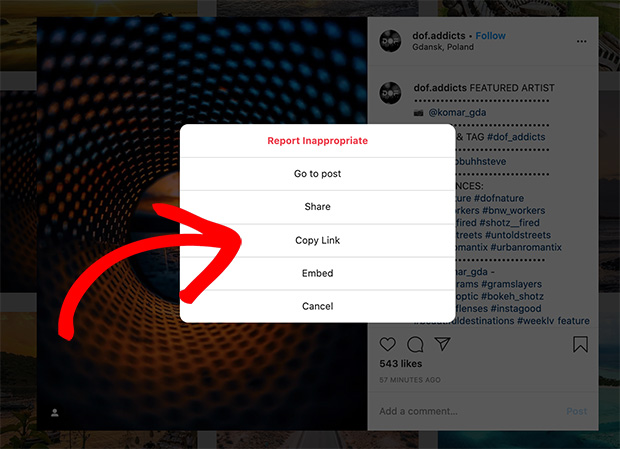 Step 4: Create a new post or page in WordPress.
Step 5: Paste the link directly into the block editor.
Step 6: Publish the content to make your post live on the WordPress website.
For any further details about Connecting Instagram Feed to WordPress, you can visit here.
Conclusion
In this article, you have learned about Connecting Instagram Feed to WordPress. This article also provided information on Instagram, WordPress, and their key features.
Hevo Data, a No-code Data Pipeline provides you with a consistent and reliable solution to manage data transfer between a variety of sources and a wide variety of Desired Destinations with a few clicks.
Visit our Website to Explore Hevo
Hevo Data with its strong integration with WordPress and 100+ data sources (including 40+ Free Sources such as Instagram Business) allows you to not only export data from your desired data sources & load it to the destination of your choice but also transform & enrich your data to make it analysis-ready. Hevo also allows integrating data from non-native sources using Hevo's in-built Webhooks Connector. You can then focus on your key business needs and perform insightful analysis using BI tools.
Want to give Hevo a try?
Sign Up for a 14-day free trial and experience the feature-rich Hevo suite first hand. You may also have a look at the amazing price, which will assist you in selecting the best plan for your requirements.
Share your experience of understanding Connecting Instagram Feed to WordPress in the comment section below! We would love to hear your thoughts.
No-code Data Pipeline for Instagram & WordPress