Looker Tableau Comparison: 4 Critical Differences
These days, industries rely heavily on Visualization and BI tools to extract meaningful information from their massive data pool to understand market aspects. Visualization tools can help users derive meaning from the data, thus allowing them to make data-driven decisions.
In this article you will be taking a glimpse at the 4 key Looker Tableau Differences, to give you an idea of what each tool does, and what use cases find them indispensable. This will allow you to make an educated decision about the tool to pick, based on your business requirements and use cases.
Table of Contents
Introduction to Looker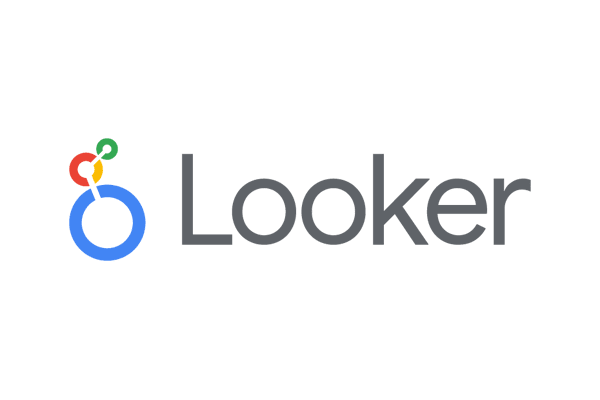 Looker is a powerful Data Analytics and Visualization platform that enables companies to extract critical information from the data and create appealing visualization to gain better insights. Looker is a browser-based interactive platform that makes collecting, visualizing, and analyzing data easy. Looker is simple to use and offers a unique modeling language and various graphs and charts to choose from.
Looker is a data discovery platform that helps almost all organizations extract values from the data and analyze real-time data to build commercial enterprise solutions. Looker has adequate support for huge data volume and can be analyzed in the Looker database and browser-based platform. Looker allows users to choose, customize and develop a variety of interactive dashboards with the help of available graphs and charts.
Key Features of Looker
Looker offers great customization in terms of choosing pricing plans, deploying dashboards, and many more.
Looker has an intuitive dashboard and provides a vast visualization library to choose various visualization options like chards, clouds, diagrams, heatmaps, etc.
Looker also integrates with Big Data platforms and databases, and there is no need to extract data from the databases. It can perform analytical queries directly on the database.
Looker offers an SQL-like language known as LookML to perform analytical operations on the data.
It has excellent customer support, technical support available through chat and email.
Introduction to Tableau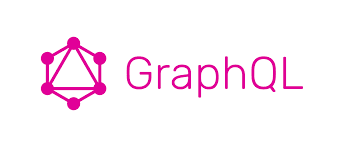 Tableau is a very efficient Data Visualization tool to perform data analysis over substantial data sets and is widely used by data analysts, scientists, etc. Tableau provides easy drag and drops features to add dimensions, metrics, charts, graphs which makes it easy for customers to analyze the data without any difficulty.
Tableau is a widely used Business Intelligence tool in the current market. Its popularity is due to its capability of handling Big Data and is relatively simple to deploy, learn and use. Tableau generates insights from the raw data and creates a visual masterpiece for businesses to make data-driven decisions.
Key Features of Tableau
Here is a list of key features of Tableau that make it such an indispensable tool:
Tableau Dashboard: Tableau dashboard has an intuitive dashboard with self-explaining wizards, allowing non-technical users to create visualization easily. Dimensions, charts are simple drag and drop on drawing space to perform analysis.
Collaborative Sharing: Tableau allows users to collaborate with their peers for collaborative work or review. Users can also share to the cloud, which makes the dashboard accessible from anywhere.
Data Sources in Tableau: Tableau has more than 200+ connectors that help users connect to external data sources like RDBMS, Cloud, spreadsheet, etc., securely. Tableau also provides several monitoring features such as data connectivity, auto-refresh, etc.
Advanced Visualizations (Chart Types): Tableau has a vast collection of advanced visualization techniques namely graphs, maps, tables, and charts.
If you wish to make more sophisticated visualizations you can leverage Tableau's advanced methods to visualize data as follows:
Area Chart
Bar Chart
Box-and-whisker Plots
Bubble Cloud
Bullet Graph
Cartogram
Dot Distribution Map
Heat Map
Simplify your Data Analysis with Hevo's No-code Data Pipeline
A fully managed No-code Data Pipeline platform like Hevo helps you integrate data from 100+ data sources (including 30+ Free Data Sources) to Looker in real-time in an effortless manner. Hevo with its minimal learning curve can be set up in just a few minutes allowing the users to load data without having to compromise performance. Its strong integration with umpteenth sources provides users with the flexibility to bring in data of different kinds, in a smooth fashion without having to code a single line.
Check Out Some of the Cool Features of Hevo:
Completely Automated: The Hevo platform can be set up in just a few minutes and requires minimal maintenance.
Real-Time Data Transfer: Hevo provides real-time data migration, so you can have analysis-ready data always.
100% Complete & Accurate Data Transfer: Hevo's robust infrastructure ensures reliable data transfer with zero data loss.
Scalable Infrastructure: Hevo has in-built integrations for 100+ sources, that can help you scale your data infrastructure as required.
24/7 Live Support: The Hevo team is available round the clock to extend exceptional support to you through chat, email, and support calls.
Schema Management: Hevo takes away the tedious task of schema management & automatically detects the schema of incoming data and maps it to the destination schema.
Live Monitoring: Hevo allows you to monitor the data flow so you can check where your data is at a particular point in time.
You can try Hevo for free by signing up for a 14-day free trial.
Understanding the Looker Tableau Differences
Looker and Tableau are both excellent in terms of their Data Visualization capabilities. However, you can distinguish them on the basis of a few factors. Here are a few factors you can keep in mind for the Looker Tableau comparison:
Looker Tableau Differences: Features
Looker: Looker has a language called LookML to perform data modeling, a similar yet better way to write SQL and define the query. Looker allows users to develop models that enable non-business users to scan SQL databases to analyze the data. Looker API will allow users to integrate different applications such as Google Doc, Excel, and other third-party applications. Looker has easy-to-build dashboards that are accessible from any device. However, it doesn't support OLAP (Online Analytical Processing).
Tableau: Tableau houses hundreds of connectors to connect various sources that include OLAP, Big Data, NoSQL, and the cloud. Tableau can efficiently pull data from SQL servers for analysis. Tableau performs Data Manipulation and Data Preparation in a straightforward manner, but users need extensive training to perform these operations for the first time.
Tableau is very well supported for huge volumes of data and has various options to design, customize and develop dashboards accessible from anywhere.
Verdict: Both Tableau and Looker are very versatile in terms of dashboarding capabilities and data analysis. On doing feature analysis, we found that both tools have excellent capabilities to connect to SQL databases. However, Looker has more powerful SQL modeling capabilities and is easier to run. Users without prior experience in data analysis can easily use Looker. However, on the other hand, to use Tableau, users need to do extensive training.
Looker Tableau Differences: Implementation
Looker: Looker is a browser-based development tool, and hence the deployment and implementation are much faster than other BI tools. Users with basic knowledge about performance can deploy Looker as it is available in a packaged jar file and can easily be deployed in systems by simple commands. Looker also allows users to deploy on their local systems for local development, which can be later moved to the customer's server or Looker's server.
Tableau: Tableau offers a variety of products and with various implementation options. It comes with a quick-start option for easy deployment. However, enterprise-level deployment has to follow specific steps before making it available for users.
Verdict: Tableau can be an option for small-scale industries to take advantage of Tableau's quick-start module. However, for more extensive deployment, Looker is easy to deploy than Tableau, which has a complicated four-step process.
Looker Tableau Differences: Customer Service and Support
Looker: Looker has a comprehensive public help center containing documents, forums, and videos to help users solve most problems. It also has email supports to help and provides training on its platform.
Tableau: Tableau offers a comprehensive knowledge-based category to cover its three main products: Tableau Desktop, Tableau Server, and Tableau Online. Users have to submit tickets via webform or customer portal and access support resources related to their software version. It also has a community that offers training, troubleshooting ideas, and many more.
Verdict: Both Looker and Tableau have excellent online support. However, Looker users can access technical support via chat; Tableau users need to contact private support portals for resolutions.
Looker Tableau Differences: Pricing
Looker: Looker doesn't have any standard pricing scheme; instead, it follows a customized approach. Users can discuss with Looker's pricing specialist to discover the business requirement and offer excellent prices. Users can get a quote of pricing from here.
Tableau: Tableau has various subscription plans, and users are free to choose among them as per their needs. Prices are listed per user/month, which is then billed annually. The Creator plan, which includes full functionality, costs around $70 per user per month and can be deployed on-premise or on the cloud. You can find more information on Tableau pricing here.
Tableau offers a 14-day free trial to try and test before making a purchase.
Verdict: As Tableau has straightforward pricing plans, Looker appears to be more focused on cost customization needs and business requirements.
Here is a brief summary of the key Looker Tableau differences: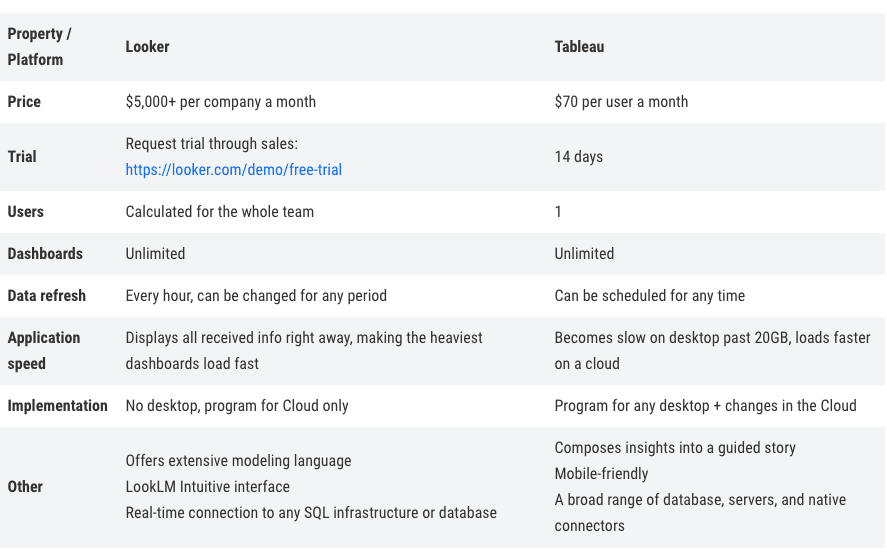 Conclusion
In this article, two top BI tools were compared: Looker and Tableau on different aspects. Choosing a good and optimum BI tool that handles all business requirements is a callous process. However, this blog tried to make it a little bit easier for you by making the Looker Tableau comparison against different factors.
Extracting complex data from a diverse set of data sources to carry out an insightful analysis can be a challenging task and this is where Hevo saves the day! Hevo offers a faster way to move data from Databases or SaaS applications into your Data Warehouse to be visualized in a BI tool such as Tableau or Looker. Hevo is fully automated and hence does not require you to code. You can try Hevo for free by signing up for a 14-day free trial. You can also have a look at the unbeatable pricing that will help you choose the right plan for your business needs.
No-code Data Pipeline For Your Data Warehouse