Understanding RingCentral Salesforce Integration: 4 Easy Steps
You might have come across terms like "Salesforce" and "RingCentral"? You might even know how these two platforms work or what services they provide. But have you ever thought about integrating these two leading platforms? If not, soon you will figure out why you need the RingCentral Salesforce Integration and how you can benefit from it.
Salesforce is the #1 leading Customer Relationship Management (CRM) platform. It provides a seamless interaction between your company and customers along with various Sales and Marketing services. On the other hand, RingCentral is a Cloud-based enterprise communication platform, with which a company can easily connect your office, remote, and mobile employees, regardless of where they live. With RingCentral Salesforce Integration, you can improve the retention of your customers, increase the productivity of agents, and promote your business processes.
This article will walk you through the key features of RingCentral and Salesforce platforms. In addition, you will understand the significance of RingCentral Salesforce Integration. You will also learn the steps to set up this Integration. Moreover, you will explore some of the benefits that RingCentral Salesforce Integration provides. So, put on your reading glasses and gain insights into how RingCentral Salesforce Integration can help your business.
Table of Contents
Prerequisites
To successfully set up RingCentral Salesforce Integration you need to meet the following requirements:
Basic Understanding of Salesforce.
A Salesforce account with Admin rights.
A RingCentral Premium account.
Introduction to RingCentral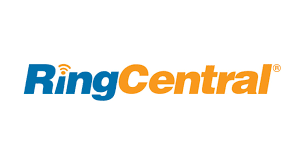 RingCentral is a trusted communication platform that enables users to connect from anywhere to other worldwide customers. It is a powerful tool used by companies to make telephone calls to their clients. RingCentral for Desktop is a comprehensive Voice, Fax, Text, Conference, and Web-based communication solution where you don't need to use separate applications for daily calls, conferences, and online meetings. Not only can RingCentral operate your workplace phone system from one place, but it also combines other applications you use every day, like Microsoft Outlook, Salesforce, Google Drive, and Dropbox.
Key Features of RingCentral
RingCentral eliminates the need for costly equipment, difficult installation, and technical skills. It allows you to effortlessly connect with clients without exorbitant expenses or hardware problems. Some of the key features are listed below:
Click-to-Call / SMS / Schedule Meeting: You may use the hover to show the tooltip, which shows the Click on Call button on all phones, to make calls, send text, plan meetings, save time and enhance call efficiency within CRMs.
Instant Display Pop-Up: Incoming and outgoing calls generate a 360° view of the caller that allows high-quality interactions.
Call/SMS Log Sync: You can sync RingCentral call/SMS Log and get in touch with recording and deal automatically or manually so sellers effectively log name information.
Active Call Management: You can control active calls with different gadgets and also view Contact activities from within the widget.
To explore more about RingCentral, visit here.
Introduction to Salesforce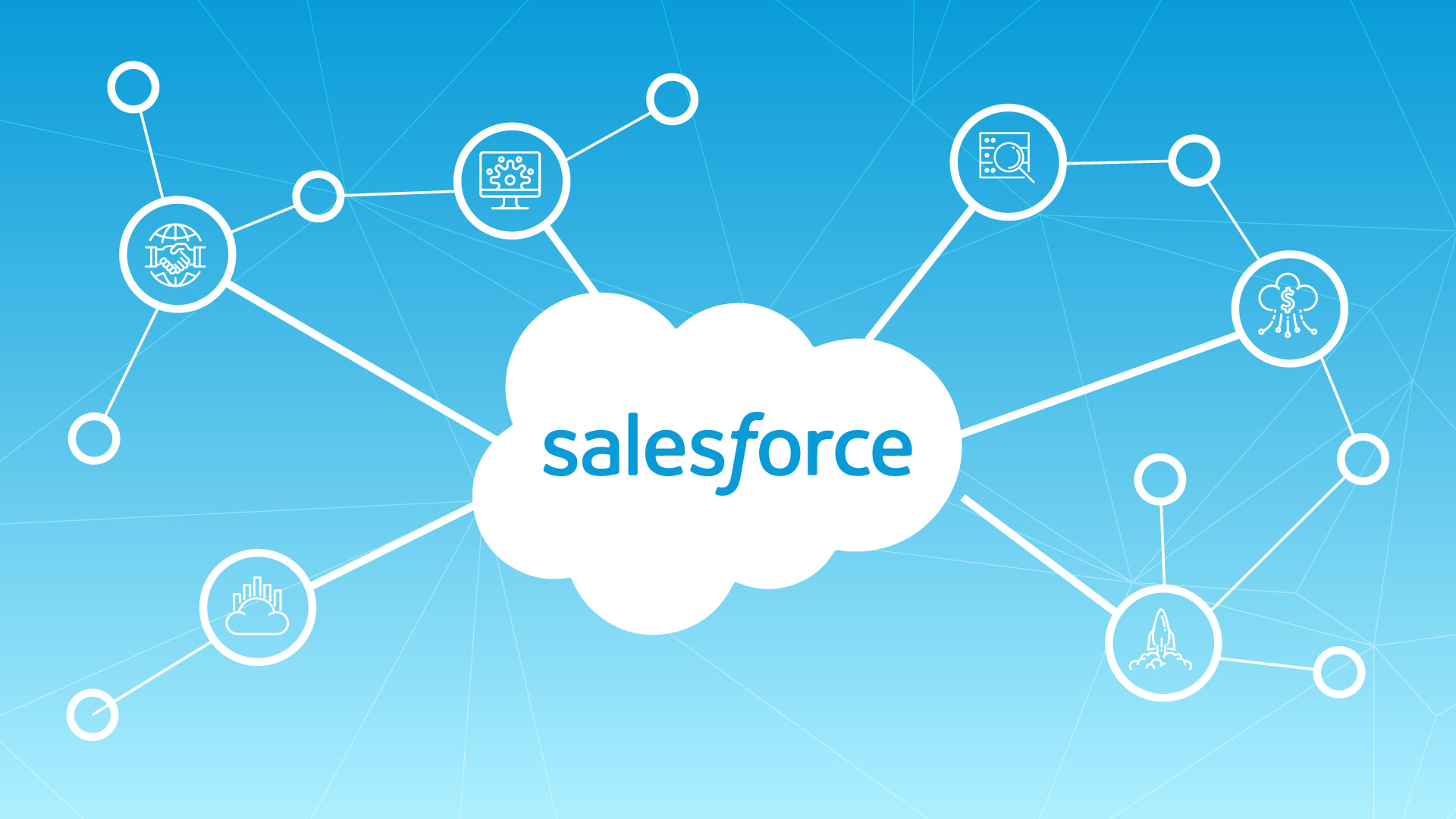 Salesforce is one of the leading CRM solutions on the market with its popularity spurring in recent years. It is a Cloud platform that provides customers with a better experience and robust business apps for communication with other Customers, Prospects, Partners, Sales, and Marketing services around the world. Salesforce also provides for the planning and monitoring of Sales and Marketing, as well as for the management of services utilizing analytical and relevant data.
Salesforce is the best-known and most successful CRM software firm with clients in a broad range of industries. It offers various services like:
Salesforce Sales Cloud: Salesforce Sales Cloud enables companies to automate important Sales transactions. It contains a variety of utilities, including vital metrics and report generators, which allow Sales agents to communicate with customers to efficiently enhance Sales.
Salesforce Einstein: Salesforce Einstein is an Artificial Intelligence tool that can be linked with the Salesforce CRM. In order to produce accurate forecasts of Sales and Customer satisfaction, Salesforce Einstein examines the acquired data which includes the actions taken by Customers and Sales personnel.
Salesforce Commerce Cloud: Salesforce Commerce Cloud is a CRM software tailored to the E-Commerce sector that supports B2C-based companies to easily sell their products online.
Salesforce Open CTI: Salesforce Open CTI is the Javascript API that allows its customers to link the Salesforce CRM platform with a range of telephony integration applications offered by third-party sources.
Key Features of Salesforce
Salesforce has several features which encourage companies to embrace it. The following are some of Salesforce's most essential features:
Nurture Leads: The key to Salesforce's lead nurturing process is to get customers to your website like those who have abandoned carts. This is achieved through delivering automated e-mails and newsletters to customers.
Accounting Management: Salesforce offers its customers a 360-degree perspective of their customers. This means they have immediate access to Activity Logs, Customer Interactions, Contacts, Internal Accounts, and much more.
Dynamic Dashboards: Customers could simply develop dashboards and real-time Salesforce reports. Salesforce Dynamic Dashboards highlight your business success using metrics like Market Trends and Customer Behavior.
Real-Time Analytics: You can view your users' data with Salesforce Analytics to help people organize things effectively and clearly.
To know more about Salesforce, visit this link.
Importance of RingCentral Salesforce Integration
RingCentral for Salesforce may be used by Sales teams to enhance business, automate complex activities and obtain early call history information for more tailored experiences. RingCentral Salesforce Integration improves the productivity and efficiency of the team. The latest in-application calling experience is available supported and featured in the Salesforce App Exchange RingCentral for Salesforce solution. 
You can use RingCentral calling capabilities including call controls, incoming and outbound calls without the need to browse away from the Salesforce window. The RingCentral Salesforce Integration enables Sales agents to make, control and transmit telephone conversations within Salesforce to achieve more efficiency and productivity while enabling Sales representatives to foster stronger contact with customers.
Simplify Data Analysis with Hevo's No-code Data Pipeline
Hevo Data, a No-code Data Pipeline, helps load data from any data source such as Databases, SaaS applications, Cloud Storage, SDK,s, and Streaming Services and simplifies the ETL process. It supports 100+ Data Sources including 30+ Free Sources such as Salesforce. It is a 3-step process by just selecting the data source, providing valid credentials, and choosing the destination. Hevo loads the data onto the desired Data Warehouse/destination and enriches the data and transforms it into an analysis-ready form without having to write a single line of code.
Its completely automated pipeline offers data to be delivered in real-time without any loss from source to destination. Its fault-tolerant and scalable architecture ensure that the data is handled in a secure, consistent manner with zero data loss and supports different forms of data. The solutions provided are consistent and work with different BI tools as well.
GET STARTED WITH HEVO FOR FREE
Check out why Hevo is the Best:
Secure: Hevo has a fault-tolerant architecture that ensures that the data is handled securely and consistently with zero data loss.
Schema Management: Hevo takes away the tedious task of schema management & automatically detects the schema of incoming data and maps it to the destination schema.
Minimal Learning: Hevo, with its simple and interactive UI, is extremely simple for new customers to work on and perform operations.
Hevo Is Built To Scale: As the number of sources and the volume of your data grows, Hevo scales horizontally, handling millions of records per minute with very little latency.
Incremental Data Load: Hevo allows the transfer of data that has been modified in real-time. This ensures efficient utilization of bandwidth on both ends.
Live Support: The Hevo team is available round the clock to extend exceptional support to its customers through chat, email, and support calls.
Live Monitoring: Hevo allows you to monitor the data flow and check where your data is at a particular point in time.
Simplify your Data Analysis with Hevo today!
SIGN UP HERE FOR A 14-DAY FREE TRIAL!
Steps to Set Up RingCentral Salesforce Integration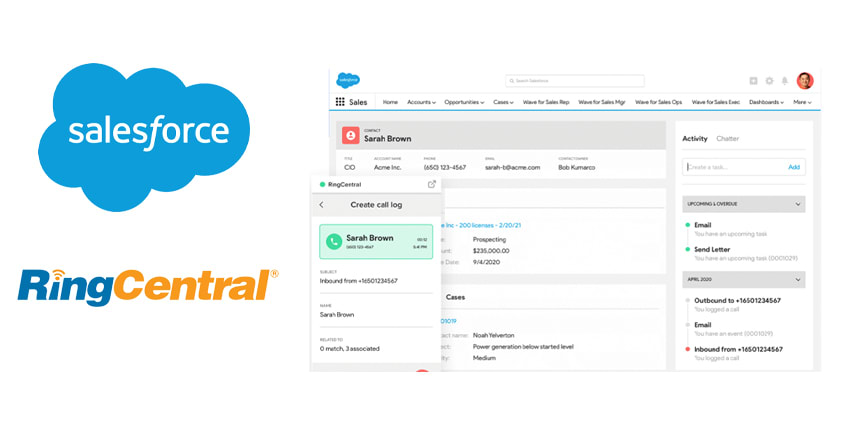 Now that you have understood the significance of RingCentral Salesforce Integration, let's look at the steps to set up this Integration. So, follow the steps below to connect RingCentral with Salesforce:
Step 1: Install RingCentral Salesforce Integration through AppExchange
To begin with, setting up your RingCentral Salesforce Integration, you need to install the packages of RingCentral for Salesforce from the AppExchange. So, follow the steps below:
Go to the Salesforce AppExchange here, and click on the Get It Now button as shown below.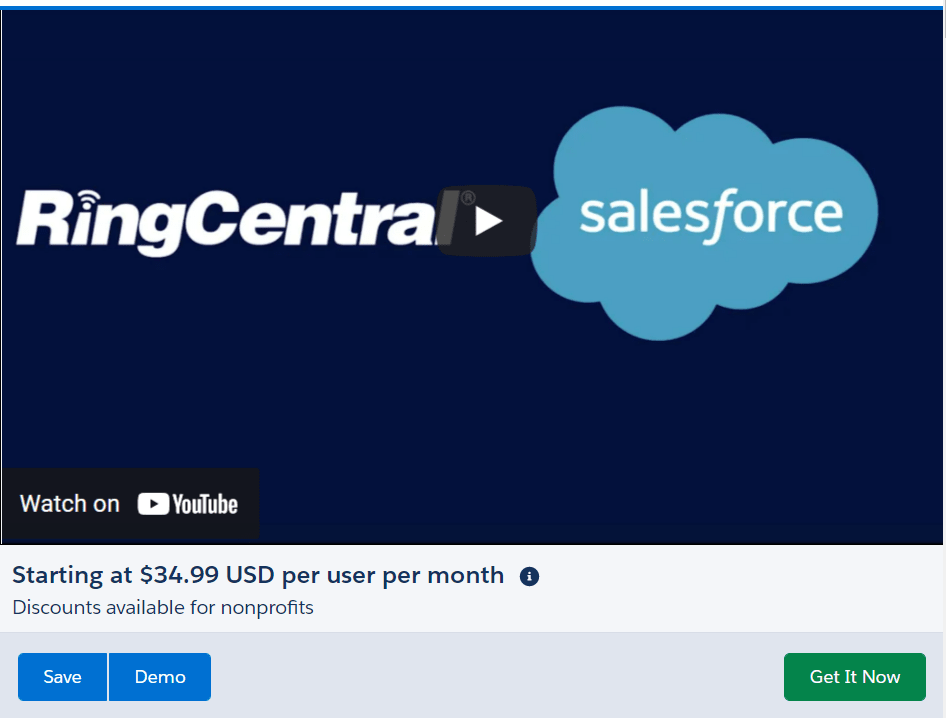 Next, you need to Log In to your Salesforce and install the packages either in Production or Sandbox.
After the above steps, click on Install for All Users and then click Install as shown below.

Step 2: Set Up the RingCentral Salesforce Integration
Now, you need to set up the RingCentral Salesforce Integration, before you can add call centers or other features. Follow the steps below to set up and configure your RingCentral Salesforce integration.
Go to your Salesforce → Salesforce App Launcher → RingCentral Admin For Classic as shown below.

Next, click on RingCentral and you will find the Install Wizard. Follow the Install Wizard carefully. You can set up the following:

Set up Call Center: In this step, you can create the Call Center for your organization by clicking on the Create.
Assign Users to Call Center and Reporting: You can assign the Salesforce users with the RingCentral CTI application, by finding and adding the users and then click on Save.
Add Phone to Apps: In this step, you can understand how you can add RingCentral to Lightning Apps and Utility Bar.
Step 3: Configure the Call Center
In the previous step, you had set up the Call Center. Now, you will learn how to configure it. Follow the steps below:
Go to Setup → Visualforce Pages and click on the preview icon in the Action column as shown below.
Now, a new window/tab will open. Copy the URL and close the window/tab. Next, go to Setup Home → Call Centers and click Continue.
Go to Setup Home → Call Centers and select CloudPhoneApp v2 and click on Edit. Next, paste the copied URL in the CTI Adapter URL field and click Save as shown below.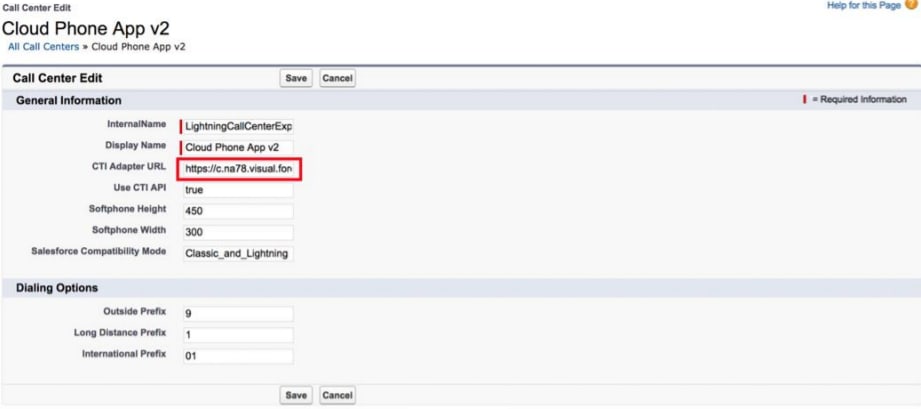 Step 4: Add Users to the Call Center
In this step, you will learn how to add Users to the Call Center. Follow the steps below:
Click on Manage Call Center Users on the Call Center Detail page as shown below.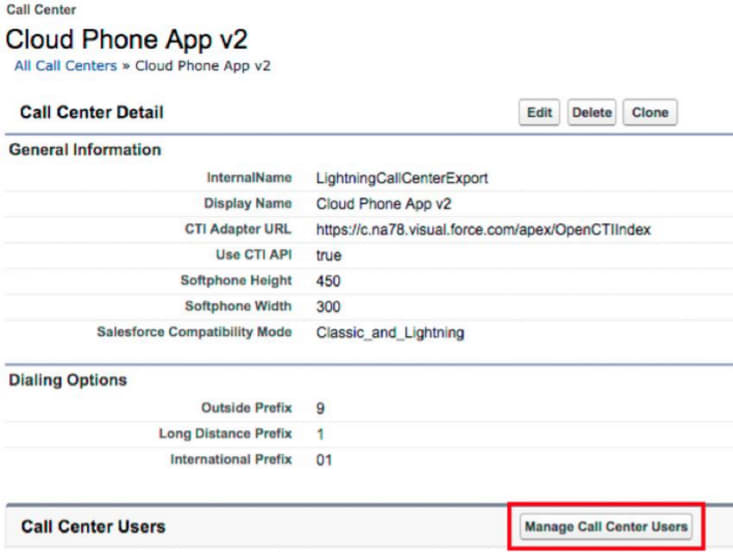 Now, click on Add More Users to Add Users. You can even remove users by clicking on the Remove Users button. You can provide the user's Full Name, Alias, Username, and Role in the contact info.
Hurray!! You have successfully set up and added users to your RingCentral Salesforce Integration.
To customize your RingCentral Salesforce Integration, refer to the official documentation.
Key Features of RingCentral Salesforce Integration
Now, that you have understood the steps to set up and configure RingCentral Salesforce Integration, let's take a look at different features of this Integration.
In-App Calling: Ringcentral's calling functions, such as Call Controls, Incoming and Outbound calls, are now used with WebRTC technology without browsing away from Salesforce.
RingCentral Video and Unified App: RingCentral video works seamlessly with Salesforce. You can easily see your Salesforce calendar for your RingCentral Video meetings. In addition, the RingCentral Unified app allows users to make and receive calls without the need to download the phone app.
Performance Reporting: You can access a complete overview of your team performance, and using Cloud Phone Report you can update and tailor RingCentral Analytics data as a native Salesforce report.
Click-to-call and Call Logs: You can place Salesforce calls simply by clicking on any phone number, thereby, saving time and increasing call efficiency. The 360° perspective of the caller allows for quality interactions when calling is triggered. Moreover, teams can deal with the most critical jobs first with enhanced capabilities such as Offline Call Logging and Multi-Call Log option.
Scheduled Meetings: RingCentral video conferences can be scheduled from Salesforce straight away. In addition, you can phone or SMS customers seamlessly from the Contact, Account, or Lead tabs.
Benefits of RingCentral Salesforce Integration
The RingCentral Salesforce in-app calling reduces the necessity for switching between Apps, as it integrates the customer phone interactions within your browser. Let's discuss some of the benefits offered by RingCentral Salesforce Integration.
Seamless Integration: Integrating your RingCentral service with common applications such as Salesforce enables you to automate tiresome operations, improve workflows and deliver a superior tailored experience to your clients.
Streamlined Workflows: RingCentral Salesforce Integration minimizes agent requirements to access critical business functionality from numerous devices and applications in order to perform their everyday responsibilities.
Personalized Customer Experiences: Access to crucial customer data and call history enable agents to provide a fast and tailored customer experience.
Conclusion
In this article, you learned the key features of RingCentral and Salesforce. Moreover, you understood the significance of RingCentral Salesforce Integration. You also learned the steps to set up this Integration. In addition, you also explored some of the RingCentral Salesforce Integration benefits. RingCentral for Salesforce provides seamless connectivity with RingCentral's services, allowing better client retention, higher efficiency of agents, and sophisticated business processes.
Moreover, extracting complex data from a diverse set of data sources like Salesforce, and other CRMs is quite challenging and may be cumbersome, however, a simpler alternative like Hevo is the right solution for you!
Hevo Data is a No-Code Data Pipeline that offers a faster way to move data from 100+ Data Sources including 30+ Free Sources such as Salesforce, into your Data Warehouse to be visualized in a BI tool. Hevo is fully automated and hence does not require you to code.
VISIT OUR WEBSITE TO EXPLORE HEVO
Want to take Hevo for a spin?
SIGN UP and experience the feature-rich Hevo suite first hand. You can also have a look at the unbeatable pricing that will help you choose the right plan for your business needs.
Share your experience of setting up RingCentral Salesforce Integration in the comments section below!
No-Code Data Pipeline For Your Data Warehouse