What is Salesforce Data Migration and How to Set It Up?
Although Salesforce Data Migration might seem like a copy-paste function, it is challenging to perform correctly in practical situations. For example, imagine a scenario where you're planning to move from one city to another. You've to pack all your important stuff to shift from one place to another.
Similarly, data, an integral part of the business, also needs focused planning and strategies to move from one system to another. Salesforce is a widely used platform. Salesforce Data Migration is moving data from Salesforce to the target system. The movement of data, however, requires an alteration in database and application too.
This article will help you understand how you can Salesforce Data Migration seamlessly.
Table of Contents
What is Salesforce?
Salesforce is a Cloud-based Software-as-a-Service (SaaS) company. It provides a robust Customer Relationship Management (CRM) tool along with a suite of Enterprise applications focused on Marketing Automation, Customer Service, Analytics, Application Development, etc. Salesforce became the preferred tool for a large number of businesses because of the following reasons:
Easy Setup: A traditional Customer Relationship Management (CRM) software can take up to a year to install and deploy. In contrast, Salesforce can be easily set up within a few weeks.
Ease of Use: Salesforce wins in the easy-to-use category. Businesses usually spend more time putting it to use and less time understanding how it works.
Effective: Since the software is easy to use and can be customized by businesses to meet their requirements, customers find the tool very effective.
More information about Salesforce can be found here.
What is Salesforce Data Migration?
Salesforce Data Migration is the process of moving or transferring data from the Salesforce to the destination such as Databases, Data Warehouses, or applications. This process also helps in cleaning the data and optimizing it. Some of the characteristics of data after Salesforce Data Migration are listed below:
Relevant
Accuracy
Accessibility
Uniqueness
Reliability
Key Features of Salesforce
The key features of Salesforce are as follows:
Account Management: Salesforce allows businesses to have a holistic view of their customers. This means that they have access to activity history, customer communications, key contacts, internal account discussions, etc., at all times.
Content Management: Businesses can easily manage all their Social Media or any other content they wish to publish using Salesforce. It also allows them to derive insights from popular Social Media websites such as Twitter, Facebook, LinkedIn, etc.
Opportunity Management: With Salesforce, businesses can get a complete view of their deals with Opportunity Management. It allows businesses to review their products, competition, quotes, etc., along with all necessary information for every sale.
Lead Management: Salesforce gives businesses the ability to track their leads and continually optimize their campaigns across all channels. This allows them to make smarter data-backed decisions about where and how to invest their Marketing budget.
Sales Data and Forecasting: Using Salesforce, businesses get an easy access to the necessary Sales data at the right time, allowing them to connect with potential customers easily, thereby increasing Sales and Marketing productivity with the latest and the most accurate data. It also gives businesses the ability to get a real-time view of your Sales team's forecasts.
Reports and Dashboards: Salesforce dashboards offer a real-time picture of the performance of your business at a glance. It allows businesses to view detailed reports that anyone can create and access those reports and dashboards seamlessly from any location.
Workflow and Approvals: Using Salesforce Visual Workflow, businesses can rapidly design and automate all business processes with the drag-and-drop functionality. This can be used to drive success with flexible approval processes for expenses, customer discounts, trial periods, etc.
Files Sync and Share: Salesforce gives businesses the ability to share files easily, have a discussion about it with the entire team, and track their content in real-time. Users can also find whatever they're looking for with its quick search option, share it securely with other team members, and even subscribe to receive alerts when any changes are made.
Simplify ETL Using Hevo's No-code Data Pipeline
Hevo is a No-code Data Pipeline that offers a fully managed solution to set up data integration from Salesforce and 100+ data sources (including 30+ free data sources) to numerous Data Warehouses such as Amazon Redshift, Snowflake, etc. or a destination of choice for free. It will automate your data flow in minutes without writing any line of code. Its fault-tolerant architecture makes sure that your data is secure and consistent. Hevo provides you with a truly efficient and fully-automated solution to manage data in real-time and always have analysis-ready data.
Get Started with Hevo for Free
Let's look at Some Salient Features of Hevo:
Secure: Hevo has a fault-tolerant architecture that ensures that the data is handled in a secure, consistent manner with zero data loss.
Schema Management: Hevo takes away the tedious task of schema management & automatically detects schema of incoming data and maps it to the destination schema.
Minimal Learning: Hevo, with its simple and interactive UI, is extremely simple for new customers to work on and perform operations.
Hevo Is Built To Scale: As the number of sources and the volume of your data grows, Hevo scales horizontally, handling millions of records per minute with very little latency.
Incremental Data Load: Hevo allows the transfer of data that has been modified in real-time. This ensures efficient utilization of bandwidth on both ends.
Live Support: The Hevo team is available round the clock to extend exceptional support to its customers through chat, email, and support calls.
Live Monitoring: Hevo allows you to monitor the data flow and check where your data is at a particular point in time.
Sign up here for a 14-Day Free Trial!
Need for Salesforce Data Migration
Businesses feel the need to set up Salesforce Data Migration in the following situations:
Replacing old and outdated database systems.
Requirement to include advanced features and specifications.
Demand to use the auxiliary application, database, or storage system along with the present working system.
Need to renovate the conventional system with the advanced functionality and database such as Cloud or IT module.
Merging of one or two systems to improve the performance of complete infrastructure.
Since businesses consider Data Migration as an important milestone, it should be performed with thorough supervision and attention, especially when you're migrating to advanced applications like Salesforce. The reason is you can't migrate data manually with just one click. It is a time-consuming and challenging procedure to lift all your records from traditional systems and then place them over the new platform.
Benefits of Salesforce Data Migration
There are numerous benefits of setting up Salesforce Data Migration. Some of these benefits are as follows:
CRM Tool: Salesforce enables companies to divide technologies across different departments within the organization irrespective of their responsibilities. Salesforce, therefore, helps you to give a 360-degree view of your organization.
Fast & Efficient: By having a complete overview of your organization, your employees can instantly resolve and fix all the customer's problems. In this way, your business can deliver fast and efficient results.
Digital: Salesforce brings digital tools and resources that allow you to connect with your customers at any time and from anywhere.
Constant Growth: This CRM tool is integrated with advanced features and tools that enable you to form personalized interactions and relationships with consumers. You can create a profound roadmap and improve the growth of your business constantly.
Sales process: Salesforce reduces your time by limiting the data entry tasks so that you can interact with more customers. Simply put, you can enforce an explicit & repeatable Sales strategy exclusively.
Steps to Set up Salesforce Data Migration
Businesses can set up Salesforce Data Migration by implementing the following steps:
Salesforce Data Migration Step 1: User Setup
Salesforce database software gives businesses the ability to define roles, grant access, and describe responsibilities to employees across all the departments. All the employees, however, should have an account on Salesforce. The following steps can be implemented to assign roles to employees:
Open the Home tab.
Go to the Administration category.
Expand the Users category by clicking on it.
Click on Users.
Click on New User to assign a role to a new user or modify existing permissions by making changes to the users in the list.
Salesforce Data Migration Step 2: Custom Fields Feature
Before setting up Salesforce Data Migration, you must create custom fields to have control over your data. The addition of custom fields permits you to define standards for your new database. Another benefit you get from this custom fields feature is the compatibility between old and new storage systems. Without custom fields, you can't retain your previous data. Implement the following steps to add fields:
Go to the Setup option by clicking on the Setting icon.
Move your cursor to the platform tools.
Click on Objects and Fields.
Select Object Manager.
Select the required objects under the Object Manager, for example, Account.
Edit the fields and relationships.
Create or add custom fields as shown in the following images.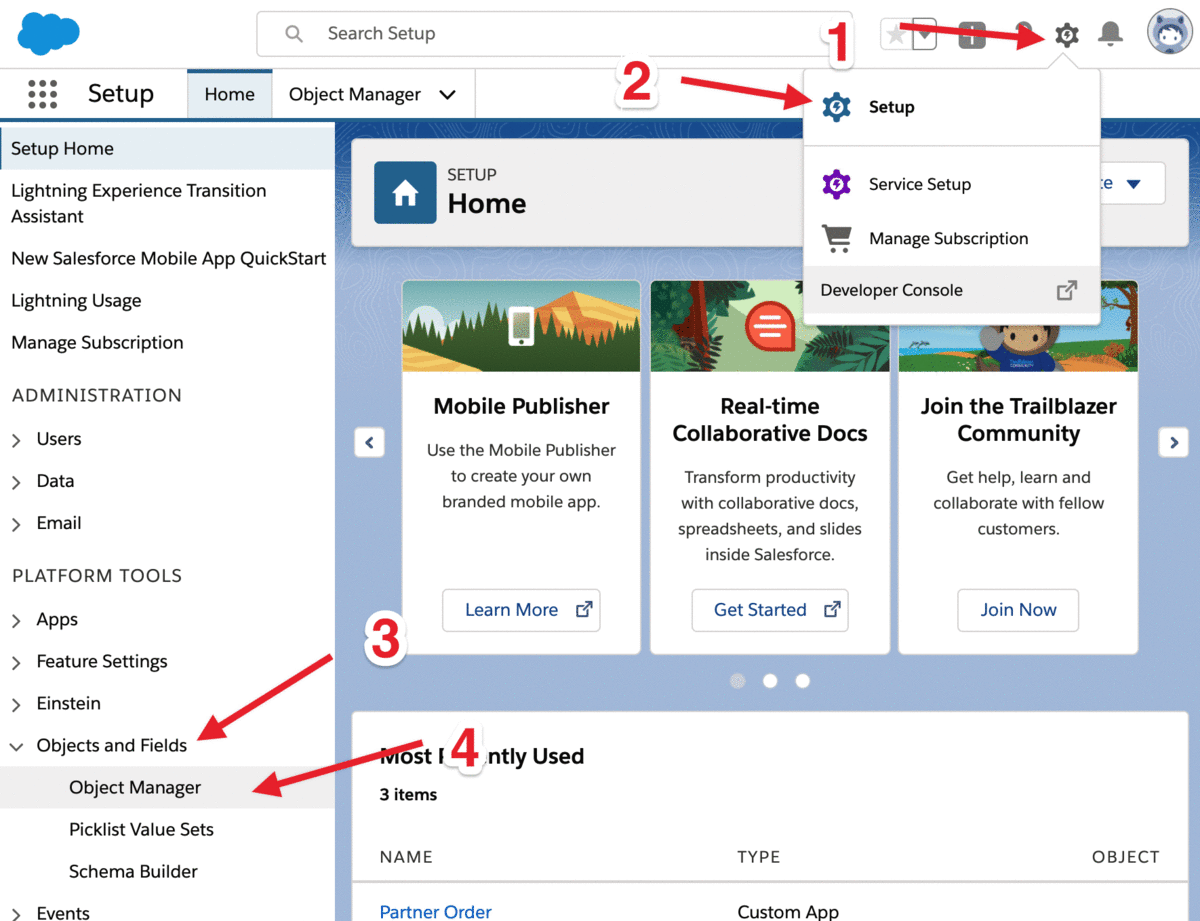 Salesforce Data Migration Step 3: Customization
Salesforce also comes up with the personalization and customization feature. This means that you can add advanced features to the existing database and storage system. The CRM tool provides you with unlimited tools to add, remove, delete, edit and improve the layout of your existing records. Implementing the following steps to do customization:
Go to the Setup option by clicking on the Setting icon.
Move your cursor to the platform tools.
Click on Objects and Fields.
Select Object Manager.
Select the required objects under the Object Manager, for example, Account.
Edit the page layouts.
Create or add new templates as shown in the following images.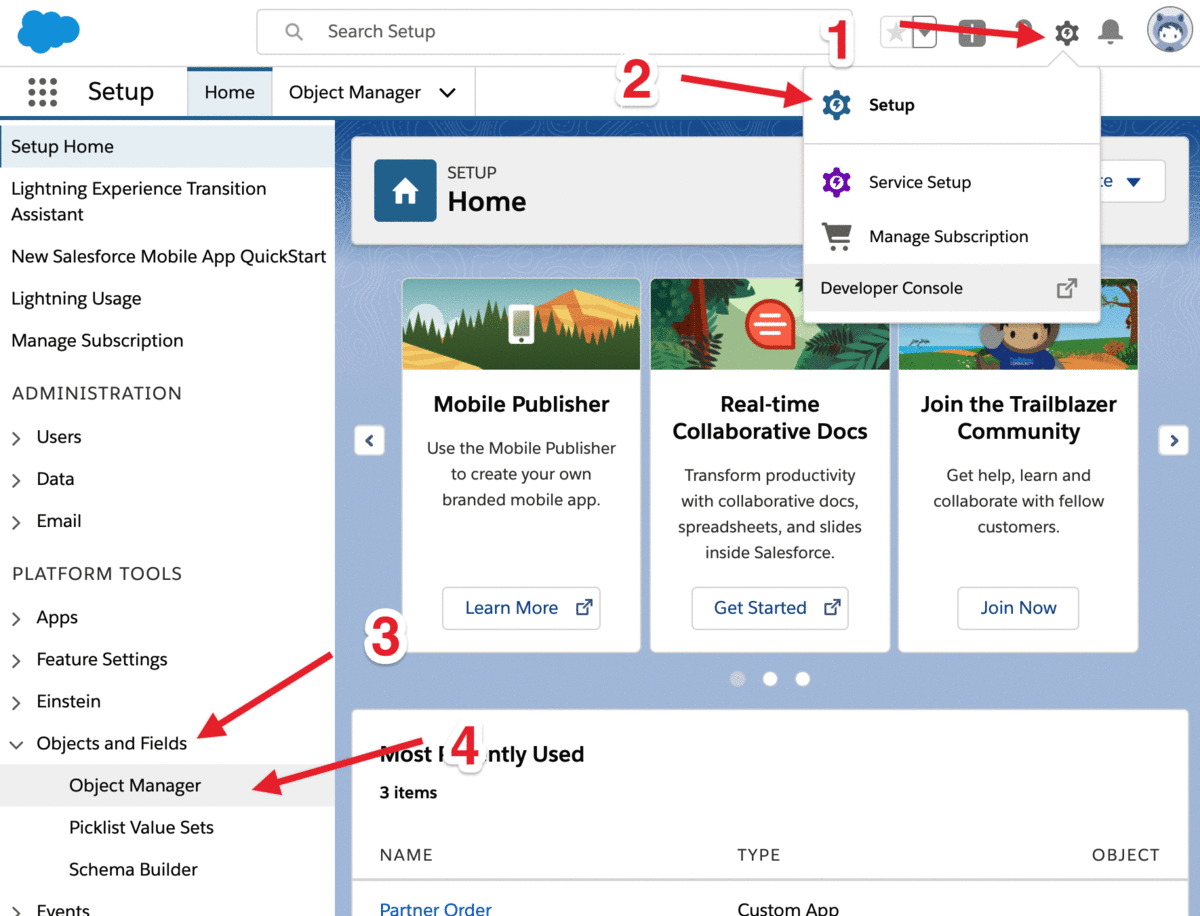 Conclusion
Salesforce is an excellent choice for Data Migration as it has all the advanced features and functionalities to improve the layout of storage systems, records, and databases. This article provided you with a step-by-step tutorial to help you understand how to set up Salesforce Data Migration. It also guided you to set up a user interface, add custom fields and define a template layout.
Most Salesforce Data Migration tasks, if done manually, require immense engineering bandwidth and resources for the development and maintenance of Data Pipelines. Hence, businesses can instead use existing automated No-code platforms like Hevo.
Hevo helps you directly transfer data from a source of your choice like Salesforce to a Data Warehouse such as Snowflake, Amazon Redshift, etc., Business Intelligence tools, or desired destination for free in a fully automated and secure manner without having to write the code. It will make your life easier and make data migration hassle-free. It is User-Friendly, Reliable, and Secure.
Visit our Website to Explore Hevo
Details on Hevo's pricing can be found here. Want to take Hevo for a spin? Sign Up for the 14-day free trial and experience the feature-rich Hevo suite first hand.
No-code Data Pipeline For Salesforce