Salesforce Office 365 Integration: Easy Steps
No matter what type of business you run today, you want to generate new leads, connect with customers, meet their requirements, and so on. If you are seeking ways to enhance your business productivity, Salesforce Office 365 integration is here to help you facilitate the Sales operations of your organization to cater to the needs of your customers.
Salesforce is considered the king of CRM by plenty of Entrepreneurs, Business Owners, and Corporations. Businesses use Salesforce's Cloud-Based Customer Relationship Management (CRM) to manage their customer records and engagement. As companies begin to explore the number of ways in which they use Salesforce, they look for the possibility of integrating it with various third-party apps and services for effortless collaboration between teams.
Office 365 is a Cloud-Based Software-as-a-Service that allows you to collaborate with online versions of Microsoft Word, PowerPoint, Excel, and OneNote. It is a cost-effective way for organizations to facilitate Office Documentation, Content Management, File Sharing, Communication, and Collaboration tasks.
In this article, you'll be shown how to establish the Salesforce Office 365 integration in detail in order to boost your productivity and save more time to spend on value-added Sales activities. Before getting into the details, let's discuss both platforms in brief.
Table of Contents
Introduction to Salesforce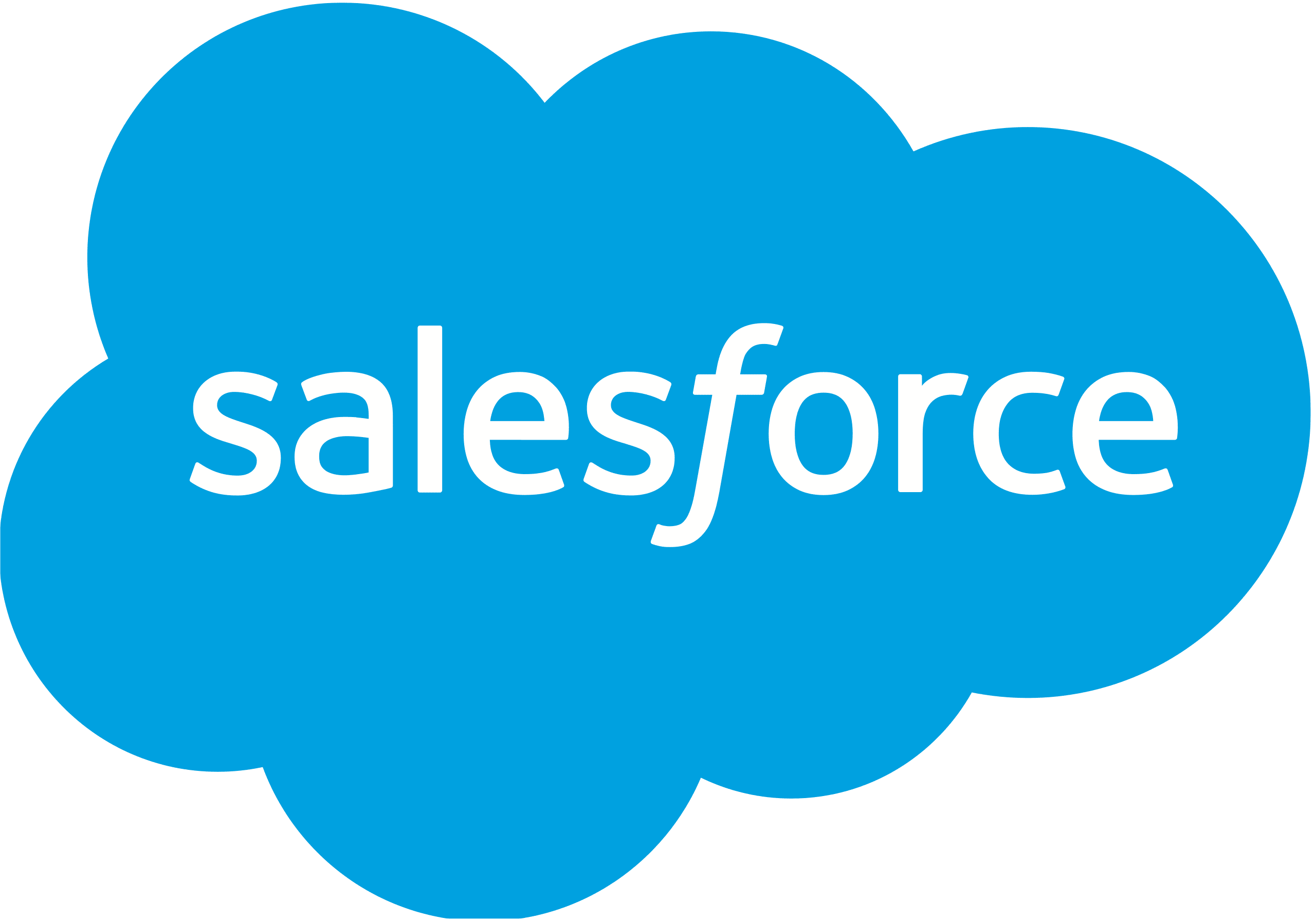 Marc Benioff, together with Parker Harris, Dave Moellenhoff, and Frank Dominguez founded Salesforce.com in 1999, and today, Salesforce is the fastest-growing software company in the world. Salesforce, a Cloud-Based Customer Relationship Management (CRM), provides a full-fledged Customer Relationship Management solution to businesses without spending much effort on building one. Salesforce is the most popular and robust Cloud-Based CRM software designed to support organizations in managing their Sales and Marketing data.
Salesforce, the king of CRM, will help you accomplish several Marketing Goals by storing and keeping track of all your Customer Data, Contact Data, and Marketing Leads. You can also generate Sales Forecast Reports with Salesforce to convert your leads. Salesforce also supports Email integration with applications like Microsoft Outlook, Gmail, etc.
While companies primarily use Salesforce as a CRM tool, Salesforce now offers many more services such as Sales Cloud, Marketing Cloud, Mobile Connectivity, etc. Salesforce's services allow businesses to use Cloud Technology to better connect with clients, customers, and partners. This gives them immense flexibility, infinite scale, and a fully connected workforce.
Also, Salesforce is Cloud-based, implying that it can provide high flexibility and scalability to its users. Salesforce is the ultimate solution for your business as it allows for all the necessary elements for your business on an automation platform with embedded intelligence.
Salesforce follows a subscription-based model and offers a variety of pricing options, ranging from $25 to about $300 per user every month.
You can think of combining your Salesforce data with data coming from various other sources in your Data Warehouse to get valuable insights for your business. You can use automated tools like Hevo Data to integrate data across Salesforce and other sources to a Data Warehouse of your choice.
Also, check out our Ultimate Guide on Salesforce.
Introduction to Office 365

Office 365 is Microsoft's suite of intelligent apps. Launched by Microsoft back in 2011, Office 365 is an essential all-in-one business productivity and communication hub that contains the Cloud-Based versions of core traditional Microsoft Office products, such as Word, Excel, PowerPoint, and Outlook. In addition to these, you also get a suite of other apps and online services for Cloud File Storage, Secure Communication, and Collaboration.
Office 365 empowers users to securely save all their data in the cloud, enabling sharing large files or folders in a matter of few seconds.
In short, Office 365 provides you with everything you need for your business to maximize Productivity, Communication, Project Management, and other key areas of Business Performance.
Apps and features offered by Office 365 include:
Office Suite: Office Suite includes all your Microsoft Office products like Word, Excel, PowerPoint, and Outlook.
Skype for Business: Skype is a Conference Calling tool that helps you connect on a video call and share your screen for presentations.
One Drive: One Drive provides you 1TB of secure Cloud Storage to store, access, and share your files.
One Note: One Note is a Digital Notebook that offers you to ditch the paper and create an organized Digital Notebook.
Teams: Teams is the best collaborative workspace to conduct all the business meetings and presentations at one place and one time.
Planner: As the name suggests, this app by Office 365 is used to plan and manage your project-related tasks. This ensures that your project is completed easily and allows you to share your plan with your peers.
SharePoint: This Cloud-Based Tool allows you to store, share and access any kind of information or documented file on any device at any point in time using the internet.
Office 365 follows a subscription-based model and is paid on either a monthly or annual basis. Office 365 changes how enterprises operate digitally, ensuring a secure and easy way to organize workspace that drives employee productivity and team collaboration from anywhere.
Simplify Salesforce ETL and Data Integration using Hevo's No-code Data Pipeline
Hevo Data is a No-code Data Pipeline that offers a fully managed solution to set up data integration from Salesforce (one of the 30+ Free Data Sources) and 100+ Data Sources and will let you directly load data to a Data Warehouse or the destination of your choice. It will automate your data flow in minutes without writing any line of code. Its fault-tolerant architecture makes sure that your data is secure and consistent. Hevo provides you with a truly efficient and fully automated solution to manage data in real-time and always have analysis-ready data.
Get started with hevo for free
Let's look at some of the salient features of Hevo:
Fully Managed: It requires no management and maintenance as Hevo is a fully automated platform.
Data Transformation: It provides a simple interface to perfect, modify, and enrich the data you want to transfer.
Real-Time: Hevo offers real-time data migration. So, your data is always ready for analysis.
Schema Management: Hevo can automatically detect the schema of the incoming data and map it to the destination schema.
Scalable Infrastructure: Hevo has in-built integrations for 100's of sources that can help you scale your data infrastructure as required.
Live Monitoring: Advanced monitoring gives you a one-stop view to watch all the activities that occur within Data Pipelines.
Live Support: Hevo team is available round the clock to extend exceptional support to its customers through chat, email, and support calls.
Sign up here for a 14-day free trial!
Purpose of Salesforce Office 365 Integration
Being a Salesperson, you know that closing a deal means keeping everyone involved on the same page. The combination of Office and Salesforce will help you make sure your deals go smoothly by keeping your tools and people on the same page. The Salesforce and Office 365 integration lets you keep a complete record of all your communications. With Salesforce Office 365 integration, you can enjoy the following benefits:
Salesforce Office 365 integration permits you to pass your data to and from the internal and external systems.
It allows you to add Salesforce tasks to the Microsoft To-Do list.
You can send an email directly from Office 365 whenever new Salesforce Opportunities are created.
The Salesforce Office 365 integration will keep you notified about activities in a Salesforce Opportunity you want to track.
With Salesforce Office 365 integration, you can host, monitor, and manage all of your content online, as per your business requirements.
Prerequisites
To set up a Salesforce Office 365 integration, you should have:
An Office 365 Account
A Salesforce User Account
A Microsoft Flow Account
Salesforce Office 365 Integration
In this section, Microsoft Flow's ability to integrate Salesforce with Office 365 and other environments is explored. Microsoft Flow is a great option because it allows integration with multiple platforms without the need for a developer. However, you can also explore Salesforce native capabilities to establish the integration. Follow the below-mentioned steps to seamlessly set up a Salesforce Office 365 integration via Microsoft Flow.
Log in to Microsoft Flow with your credentials.
Locate "My Flows" on the top and click on it.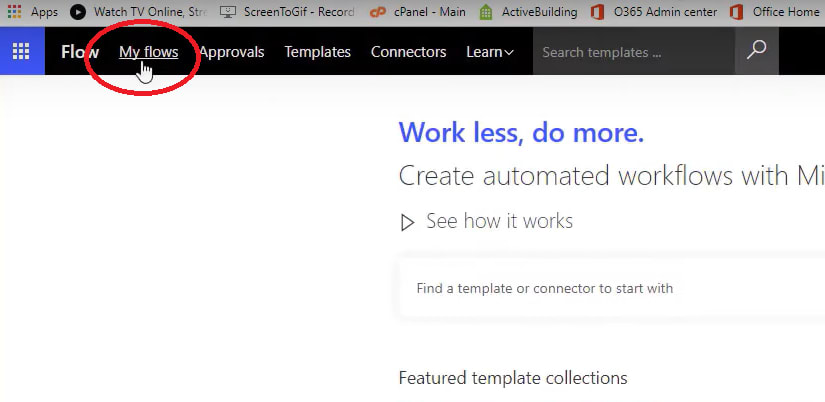 To begin, create a new blank Flow by clicking on "Create a flow from blank".

To start with a trigger, search for "Salesforce".
You'll find two trigger actions, "When a record is created" and "When a record is modified".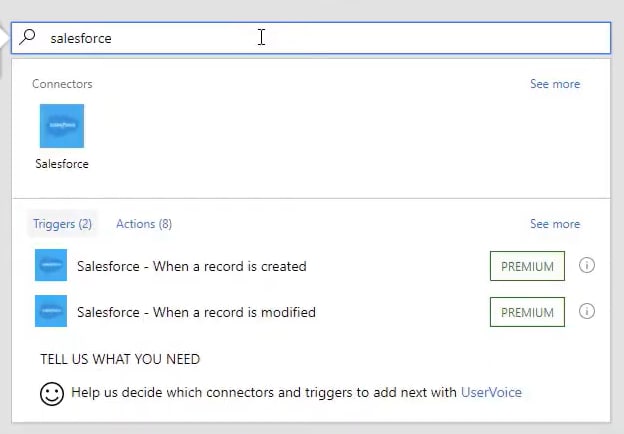 You can choose an action as per your requirements. "When a record is modified" is selected for the purpose of this demonstration.
Select your Salesforce environment (Production or Sandbox) where you'd like to install it.
Select the API version.
You will be prompted to log in to your Salesforce account.
Now, you'll need to select the Salesforce Object that you want to trigger the Flow for. "Opportunities" is selected as the record type for the purpose of this demonstration.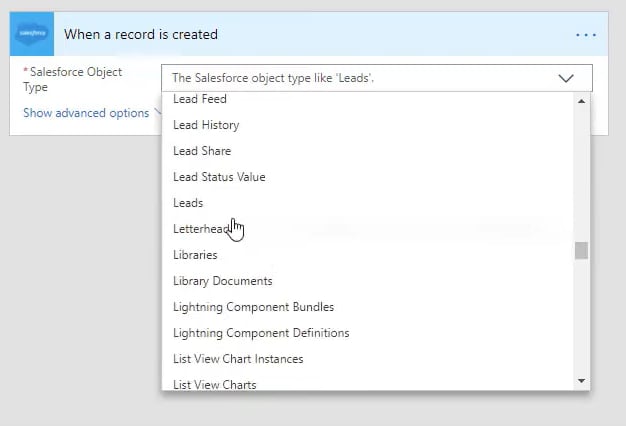 You can use additional filtering options to configure your trigger action by clicking on "Advanced Options".
After configuring the trigger action, you now have access to all of the opportunity's dynamic data such as the Account ID, Amount, Opportunity Name, etc.
Now you can choose from a set of options what you want to do next. For instance, you can post a message on Microsoft Teams about the opportunity, or you can create a new site in SharePoint, etc.
For the purpose of this demonstration, a SharePoint item will be created.
Click on "Next Step" and search for "SharePoint" in the connectors.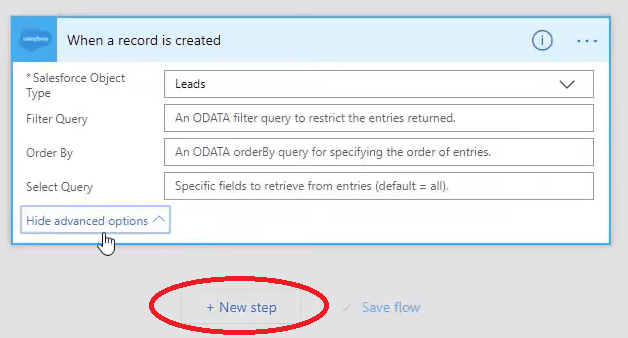 Select the action as "Create item".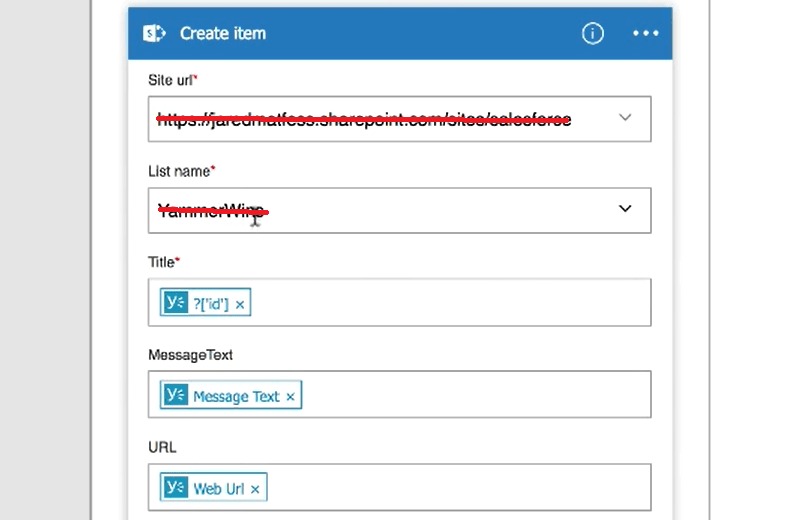 Fill in the required fields (using the Salesforce Fields) as per your requirements.
Save your Flow.
Now, the flow will be triggered whenever an opportunity is modified in Salesforce. You'll be able to observe it in your SharePoint.
Conclusion
As the companies are getting increasingly reliant on Cloud-Based CRMs like Salesforce, it has become essential to leverage third-party integrations to enhance productivity. Salesforce Office 365 integration helps to establish a strong relationship with all your customers without the use of predefined codes. The integration allows users to spend more time building relationships with customers instead of wasting time on manual tasks.
The article introduced you to Salesforce and Office 365. It also provided the importance and need of this integration. Furthermore, it provided a step-by-step guide that you can use to set up Salesforce Office 365 integration manually. Just like SharePoint, you can follow a similar workflow to integrate Salesforce with other Office 365 services via Microsoft Flow. However, working with Salesforce o365 integration can be a little tedious this way. If you want to automate your data flow between Salesforce and Office 365, you can further explore no-code automated integration solutions like Hevo Data.
If you are an advanced user of Salesforce, you are most probably dealing with a lot of data sources, both internally and from other Software-as-a-Service (SaaS) offerings. Having all this data in one place helps in analysis and accelerates the Decision-Making Process. Accomplishing this requires integration to all such third-party apps and services. In such cases, Hevo Data can be a great asset in your ETL tool portfolio.
visit our website to explore hevo
Hevo Data, with its strong integration with 100+ Sources & BI tools such as Salesforce (Free Data Source), allows you to not only export data from sources & load data in the destinations, but also transform & enrich your data, & make it analysis-ready so that you can focus only on your key business needs and perform insightful analysis using BI tools. You can easily extract data from Salesforce using Hevo to track the performance of your business and optimize it further to increase revenue.
Give Hevo Data a try and sign up for a 14-day free trial today. Hevo offers plans & pricing for different use cases and business needs, check them out!
Do you use Salesforce? Share your experience of working with Salesforce Office 365 integration in the comments section below.
No-code Data Pipeline For Your Data Warehouse