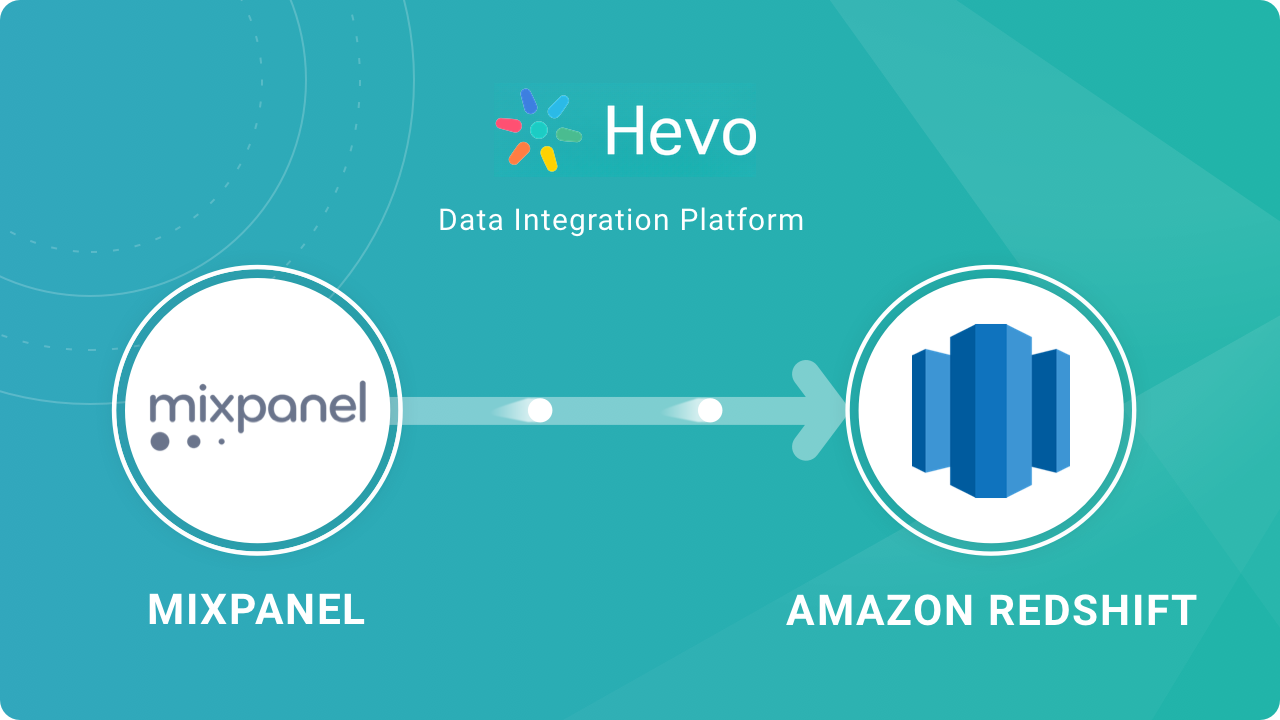 Moving data from Mixpanel to Redshift is a major step in building truly valuable analytics for your business. Mixpanel collects data on all user actions on your app on iOS, Android, and web. Combining this data from other important data within Redshift gives you insight into how clients use your website or product and interact with the same. 
Methods to move data from Mixpanel to Redshift
There are two very different ways of getting your data from Mixpanel into Redshift:
Method 1: Use a fully-managed Data Integration Platform like Hevo Data
Hevo has a visual interface which lets you copy data in a hassle-free fashion from Mixpanel to Redshift in real-time. Your data will be replicated with 100% accuracy in your data warehouse without having to write any code.
Method 2: Write custom ETL scripts to move data
You will need to use engineering resources to write the scripts to get data from Salesforce's API to S3 and then to Redshift. You will also need to maintain the infrastructure for this and monitor the scripts on an ongoing basis.
Let's take a deeper dive into both of these methods of getting your data from Mixpanel to Redshift
Method 1: Copying your data from Mixpanel to Redshift using Hevo
Using Hevo, you can replicate data, with 100% accuracy, from Mixpanel to Redshift in 2 simple steps:
Authenticate and connect your Mixpanel Source using API token

Configure the Redshift warehouse to move data from Mixpanel

Method 2: Copying your data from Mixpanel to Redshift using custom scripts
What follows is a summary of the main steps needed to get your data from Mixpanel to Redshift.  
Use the Mixpanel Export API to extract data about people and events. Check out 

Mixpanel's API Reference

for details and follow the script guidelines to get the datasets you need.

Mixpanel's APIs will return JSON formatted data.

Create the schema for your Redshift database. Make sure you include all the tables you will need.

If you are setting up your first Redshift data warehouse, it might be helpful to go through

Redshift best practices. 

You will also have to ensure each JSON data type is mapped to a data type supported by Redshift.

See the Redshift guide to working with JSON

The next step is to get your data from Mixpanel to Redshift.

You need to know that Redshift is not optimized for inserting data one row at a time.

The recommendation is that you put your data into a bucket in an intermediary such as Amazon S3.

Then use COPY to load data from S3 into Redshift tables.

You will also need a protocol for updating your data in Redshift

We suggest you identify and select key auto-incrementing fields such as 'updated_at' or 'created_at'.

Then set up cron jobs to run the script on a timely basis to fetch data continuously.
Drawbacks and difficulties when copying data from Mixpanel to Redshift using Custom Code
Mixpanel gathers usage data on your app or website. This includes metrics where you can identify the most used features on your app or website. It also counts active user numbers and captures the highs and lows of user engagement. This amounts to a lot of data. By their count, in 2018: "Mixpanel receives over 8 trillion new data points a year. And their query engine processes 20,000 TB of data per day, over millions of queries."
Given the enormous volume of data that Mixpanel generates, both your scripts to extract API and your Redshift data warehouse will need constant monitoring just to make sure everything continues to work correctly and data is being replicated successfully from Mixpanel to S3 and in turn to Redshift.
You will need to devise a strategy to:
Keep an eye out for changes to Mixpanel's APIs and have a plan of action for script updates and maintenance.

Know when S3 and Redshift are not available and have a plan of action for inspecting your data for errors and omissions.

Update or rewrite scripts when analysts need new columns or data points.

And make the required schema changes for these columns and data points.
If this heavy lift is more than what you want to take on, you may want to take a look at automating your data migration process. Hevo's fully automated self-service Data Integration Platform will make sure your data is copied safely to from Mixpanel to Redshift in real-time.
Advantages of using Hevo
Hevo is a code-free, fully managed platform. There is no ETL script maintenance or cron job management. This means you can load data into Redshift in no time.

Data from Mixpanel is copied in real-time to Redshift. This is a very handy feature for fast moving, data-driven teams.

Hevo's AI-driven and fault-tolerant architecture reliably and accurately delivers your data to Redshift.

Your data is always accurate.

Hevo detects Mixpanel schema automatically and maps it to relevant Redshift columns. When the schema changes in Mixpanel, Hevo makes the required changes in Redshift.

Monitoring, Alerts, Version Control, and

Activity Logs – These will keep you apprised of all user actions, data transfer failures, successful events, and more.

24×7 email and Slack support.
While custom coding a pipeline will give you control and flexibility, it also comes at a significant cost in terms of engineering resources and infrastructure maintenance.
Hevo is a fault-tolerant, fully managed data platform. With Hevo you can build a single-source-of-truth Redshift warehouse by bringing data from Mixpanel and 100s of sources other data sources. The full range of applications, databases, and tools supported by Hevo listed here: www.hevodata.com/intergrations.
Hevo takes the hard work out of the process of getting your data from Mixpanel to Redshift. To see this for yourself sign up for a 14-day free trial.