Setting up Asana Time Tracking Simplified: 6 Easy Steps
In recent times, Project Management tools have gained popularity. Asana is one such tool helping organizations manage their goals, but it lacks a Time Tracking feature. There are many apps to integrate with Asana to achieve Asana Time Tracking with some added benefits like attendance and payrolls. With Asana Time Tracking, businesses can understand their daily expenses, schedule work, and provide transparency. Time is the key parameter for any company as it helps in finding required resources for lagging teams. It also gives line-of-sight for teams to progress in challenging work, make strategic plans, and become productive.
This article provides you an overview of Asana Time Tracking. It describes the Asana software and the benefits of Time Tracking for Project Management. Upon a complete walkthrough of this article, you will also learn about some of the best Time Tracking Apps for Asana along with the steps required to set up Asana Time Tracking using Clockify.
Table of Contents
Prerequisites
Understanding of Project Tasks.
An active Asana account.
Introduction to Asana
Asana is a Software-as-a-Service (SaaS) web and mobile-based application designed to ease Project Management in organizations. Moskovitz and Rosenstein in 2008 left Facebook to commercially launch Asana in 2012. Not only does this software assist in managing work but also improves team collaboration and productivity. As the entire data is served on the Cloud, Data Security and permissions are taken care of by Asana. With the ever-increasing expectations of stakeholders, Asana also brings flexibility and integrates with many third-party tools through Asana API.
For further information on Asana, click here to check out their official website
Introduction to Time Tracking
Time tracking in terms of an organization refers to the recording of the performance of employees considering time as a measure. Time Tracking Softwares can be used to track the time spent by employees on tasks or projects. This software is beneficial for companies to bill their customers hourly like lawyers and freelancers. Time-Tracking software can be used as a stand-alone or integrated with other applications, typically as an add-on feature while working on Project Management, Customer Support, or Accounting Software.
Traditionally data was arranged in tabular (spreadsheet) format and printed by an employer to calculate payrolls. Advancements in the IT industry have brought the electronic version of recording time and many features made available with just a click of a mouse. In the later section of this article, you will learn how to set up Asana Time Tracking from scratch and how Asana Time Tracking can be leveraged to optimize the time management for a project/task.
Benefits of Time Tracking
Time Tracking has not only helped organizations in recording the working hours but also encompass other elements like Attendance, Scheduling, and Billable Hours. Time Tracking mainly comprises three main components: Time entry, Approvals, and Reporting.
Time Entry
Over the years, Time Entry was manually performed. This method caused many errors and conflicts within organizations. However, the availability of computer software slowly reduced manual work and is now completely automated with almost null bias among employees. Today, Time Entry is carried out in a blink of an eye to create a timestamp of starting and finishing time of projects.
Approvals
As Time Tracking tools became popular and familiar among many companies, Approval features rolled out to perform precise time entries. Approvals are essential for an organization to audit the departments' performance while avoiding malpractices with project timing. Time Tracking software calculates the total hours worked, along with any overtime hours to ensure accuracy and compliance in compensation.
Reporting
All the Time Tracking tools assist in some form of reporting. For instance, Time Tracking Software can schedule approval and verification requests to managers to process employee salaries. As Time Tracking Software presents a report, having all the necessary information of employees helps organizations identify the discrepancies and become more productive.
Simplify Asana ETL and Analysis using Hevo's No-code Data Pipeline
Hevo Data helps you directly transfer data from Asana, and 100+ data sources (including 30+ free sources) to Business Intelligence tools, Data Warehouses, or a destination of your choice in a completely hassle-free & automated manner. Hevo is fully managed and completely automates the process of not only loading data from your desired source but also enriching the data and transforming it into an analysis-ready form without having to write a single line of code. Its fault-tolerant architecture ensures that the data is handled in a secure, consistent manner with zero data loss.
Get Started with Hevo for Free
Hevo takes care of all your data preprocessing needs required to set up the integration and lets you focus on key business activities and draw a much powerful insight on how to generate more leads, retain customers, and take your business to new heights of profitability. It provides a consistent & reliable solution to manage data in real-time and always have analysis-ready data in your desired destination.
Check out some of the cool features of Hevo:
Real-Time Data Transfer: Hevo with its strong Integration with 100+ Sources (including 30+ Free Sources), allows you to transfer data quickly & efficiently. This ensures efficient utilization of bandwidth on both ends.
Data Transformation: It provides a simple interface to perfect, modify, and enrich the data you want to transfer.
Secure: Hevo has a fault-tolerant architecture that ensures that the data is handled in a secure, consistent manner with zero data loss.
Tremendous Connector Availability: Hevo houses a large variety of connectors and lets you bring in data from numerous Marketing & SaaS applications, databases, etc. such as Asana, Marketo, MongoDB, Oracle, Salesforce, etc. in an integrated and analysis-ready form.
Simplicity: Using Hevo is easy and intuitive, ensuring that your data is exported in just a few clicks.
Completely Managed Platform: Hevo is fully managed. You need not invest time and effort to maintain or monitor the infrastructure involved in executing codes.
Live Support: The Hevo team is available round the clock to extend exceptional support to its customers through chat, email, and support calls.
Sign up here for a 14-Day Free Trial!
5 Best Asana Time Tracking Apps
Asana innately does not provide a Time Tracking feature, and hence users need to integrate an external Time Tracking application with Asana. Below are a few Time Tracking apps available to integrate with Asana:
1) Harvest
For small businesses, Harvest helps in Time-Tracking and invoicing applications. With its integration service, it also provides reporting capabilities to analyze project and employee performance.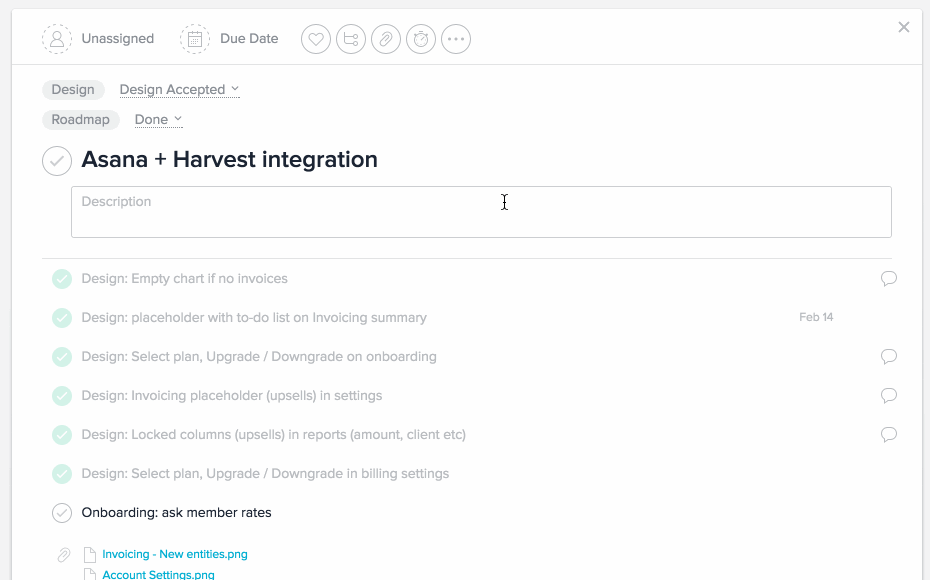 2) Everhour
If the requirements need robust and hassle-free Time Tracking, Everyhour serves accurately for Budgeting, Client Invoicing, and Easy Payroll. It benefits users with quick setup, native integration, and automatic updates. This tool also provides visual planning (Gantt chart), tracks expenses and yield reports.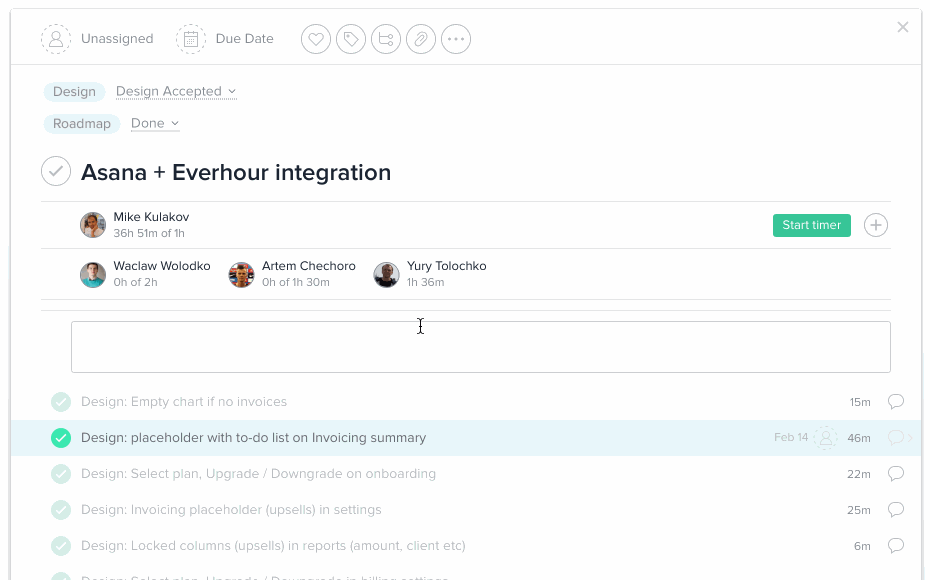 3) Clockify
Be it Time Tracking, Reporting, or Time Management, Clockify suits the requirements being one of the most popular Time Tracking and timesheet apps. As data is synced online, it works across many devices. Compared to other applications, this application provides free basic features for unlimited users, unlimited tracking, and unlimited projects.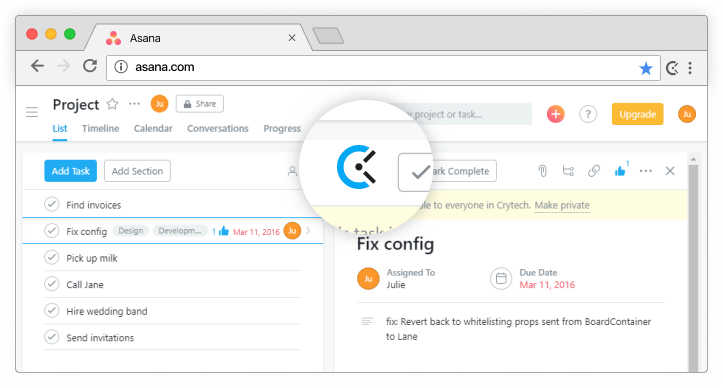 4) Tracking Time
This software measures teams' productivity by comparing the estimated and actual working hours required for a project. Apart from Time Tracking, it also provides Attendance Tracking, Project Management, and Flexible Reporting. To make the best use of the Asana Software, one can also install the TrackingTime button for Firefox and Chrome extension.
5) QuickBooks Time
QuickBooks Time, formerly known as Tsheets, simplifies businesses with Time tracking, Time Kiosk, and Smart Reporting Features. The timesheet tracker come with GPS, enabling remote teams accountable for their work. Employers can access real-time data of the employees to improve coordination.
If mobile crew and teams work at the same location, a time kiosk can serve as a perfect solution. Time kiosk is a portable, tablet-based, digital punching system to centralize the clock-in and -out of many teams. It is secured with a four-digit pin and photo capture to categorize a detailed report.
Steps to Set up Asana Time Tracking using Clockify
Clockify provides a free browser extension to integrate it with over 100 most popular web applications like Asana for better Project Management and productivity. Clockify allows Time Tracking on Asana tasks and projects to analyze time results and generate reports. It starts and stops tracking time in one click, linking the activities of projects, tasks, and tags. Below are the steps to set up Asana Time Tracking using Clockify:
Step 1: Create a Clockify Web Account
The first step to set up Asana Time Tracking begins with free signup to create a Clockify web account, serving as a base for Asana time entries. Install a Browser Extension, and a timer button will automatically appear in Asana tasks.
Step 2: Track Time for Asana Tasks
Time tracking for Asana tasks can be done in a Board or List Layout. If you are working on a Board Layout, open a Card and start the Clockify timer button located next to the 'mark complete' button on the top left corner.
For users working on the Asana List Layout, Time Tracking on individual Tsks in a to-do list can be done using the 'start timer' option next to the 'mark complete' button.
While those users who want to track time in the 'my task' section can add a new task and select 'start timer,' for all the above cases, Clockify picks the name of the assigned Asana task as a description for time entry before the timer ticks in the extension menu. If an activity is completed, click on the 'stop' button to automatically make entry into a list of time entries.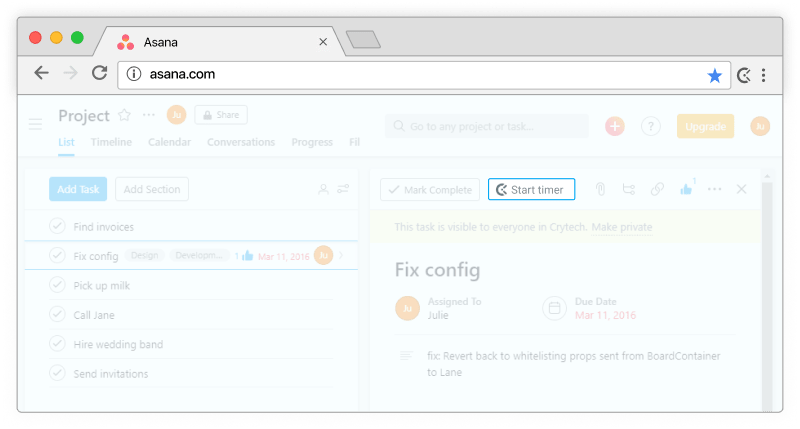 Step 3: Track Time for Sub Tasks
Often a Task is divided into Sub Tasks in Asana, and Asana Time Tracking for Sub Tasks can be created by clicking on the 'sub-tasks notes and comments' dialogue. As you enter the Sub-Tasks menu, click on 'start timer,' and Clockify takes the name of the Sub-Task as a description of an activity.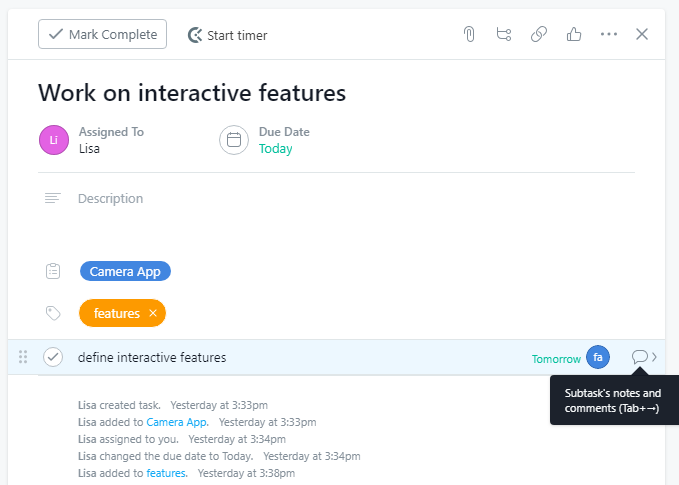 Step 4: Track Time for Group of Tasks
There are conditions where a group of tasks needs to be accomplished for a project phase. In such cases, a separate section can encompass to-do tasks to track time effectively.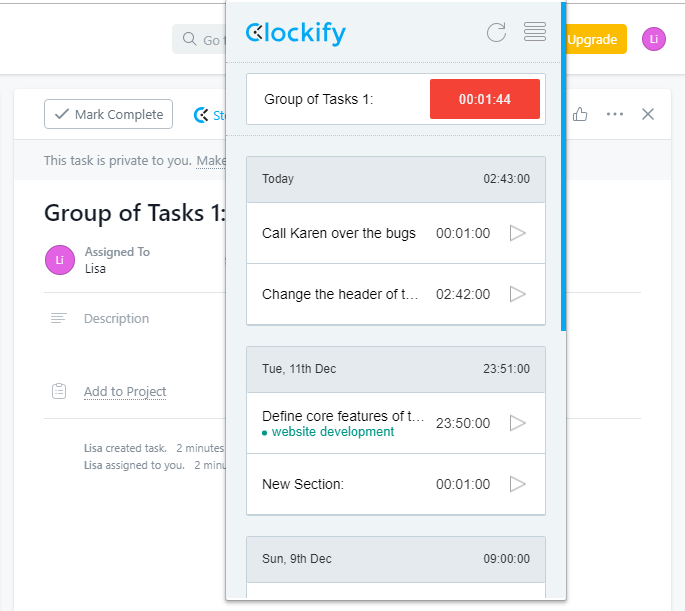 Step 5: Alternate Method for Time Tracking
Clockify Browser Extension comes with yet another alternative Time Tracking method by right-clicking a selected task to track time. This method can track time on Cards, Individual Tasks, and Sub-Tasks by selecting 'start timer' with a description in the drop-down menu.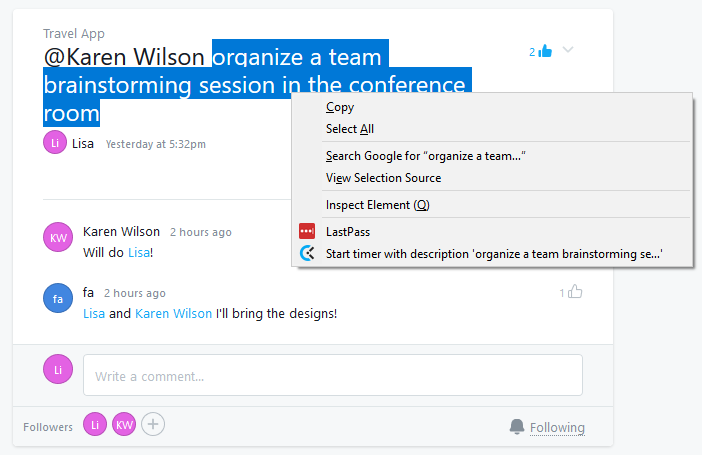 Step 6: Generate Reports
To generate a report, open the Clockify web account and stop the relevant timer for tracking tasks. Select the type of report and filter by project running in Asana. It will give a week-by-week breakdown of the time spent on a particular project. This way, you can generate reports for Asana Time Tracking.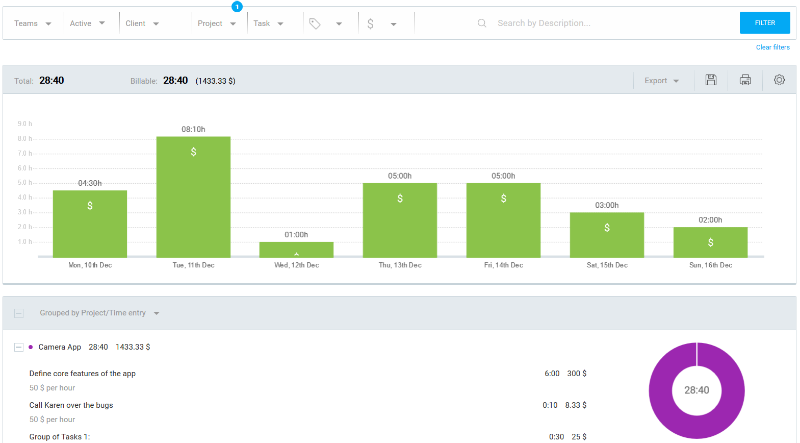 Conclusion
This article provides an extensive overview of Asana Time Tracking and its features. It discusses the importance and benefits of Time Tracking for Project Management. Furthermore, it explicates a few trending Time Tracking apps. Lastly, it explains the procedure to set up Asana Time Tracking using Clockify.
Organizations growing on timely commitments with stakeholders are likely to achieve more remarkable successes. Although Asana helps businesses manage projects, it lacks a Time Tracking feature. Many Time Tracking apps are available to integrate with Asana, helping small or large companies plan strategies and make decisions with greater confidence.
However, to carry out extensive tasks in Asana, you would often need to extract data from multiple sources to have all insights. Integrating and analyzing your data from a diverse set of data sources can be challenging and this is where Hevo Data comes into the picture.
Visit our Website to Explore Hevo
Hevo is a No-code Data Pipeline and has awesome 100+ pre-built integrations that you can choose from. Hevo can help you integrate your data from numerous sources such as Asana and load it into a destination to analyze real-time data with a BI tool and create your Dashboards. It will make your life easier and make data migration hassle-free. It is user-friendly, reliable, and secure.
Want to take Hevo for a spin? Sign Up for a 14-day free trial and experience the feature-rich Hevo suite first hand. You can also have a look at the unbeatable pricing that will help you choose the right plan for your business needs.
Share your experience of learning about Asana Time Tracking. Let us know in the comments below!
No-code Data Pipeline for Asana