Companies of all sizes and all industries have access to an ever-increasing amount of data that is too large for anyone. If you cannot effectively process and analyze all this information, and reveal valuable information based on the data hidden in the noise, then all this information is actually useless.
The ETL (Extract, Transform, Load) process is the most popular method of collecting data from multiple sources and uploading it to a centralized Data Warehouse. The ETL process first extracts information from sources such as Databases, then converts files or tables according to Data Warehouse standards, and finally loads them into the data warehouse.
Does the term Amazon ETL intimidate you? Are you confused about which tool to use for ETL from your AWS account? Don't worry, This blog will discuss the ETL process in detail and also tell you about some of the best AWS ETL Tools out there which make the entire process easy and efficient. Read along to decide which among these AWS ETL Tools is the best one for you!
Table of Contents
What is AWS?
Amazon Web Services (AWS) is an on-demand Cloud-based computing platform for Amazon. AWS provides services on a pay-as-you-go basis. AWS services are widely used around the world because of their instant server availability, increased storage options, effective workloads handling, etc. Some of the popular AWS services are as follows:
AWS Redshift: Amazon Redshift is a petabyte-scaled and fully-managed data warehouse service on the Cloud. AWS Redshift is a column-oriented database that stores the data in a columnar format. AWS Redshift also supports its compute engine to perform computing and get critical insights.
AWS Simple Storage Service (S3): It is an object storage service of Amazon. AWS S3 allows secure and scalable data storage in any data format such as for weblogs, backups, codes, documents, etc. It offers high data availability and durability. AWS S3 works well with almost all ETL tools and programming languages to read, write and transform data.
AWS Elastic Compute Cloud (EC2): It is a web service of Amazon. It provides secured and resizable compute capacity in the Cloud. Its simple interface allows you to configure capacity with almost zero friction. You get complete control of computing resources and lets you run it on Amazon's computing environment.
AWS Relational Database Service (RDS): Amazon RDS is a distributed relational database of AWS. Its includes some of the most popular commercial and open-source engine such as PostgreSQL, MySQL, Microsoft SQL Server, MariaDB, etc. The management layer of RDS around these engines allows the automation of some common tasks.
To learn more about AWS, visit here.
What is ETL?
Before discussing AWS ETL Tools, it is imperative that you understand the ETL process itself. ETL stands for extract, transform, load. It is a data integration process that involves three steps to bring data from multiple sources to a central database or data warehouse. During this process, data is extracted from a data source, transformed into a format to suit your business needs by applying formulae or other changes, and finally loaded into a Data Warehouse or other system.
Let's discuss some of the things to keep in mind while choosing an ETL tool:
Must install and Integrate Easily: A good ETL tool must be user-friendly and should integrate easily with your existing architecture.
Can be easily monitored and managed: ETL tools operate continuously on the data pipeline and need to be monitored closely.
Must have a Wide Range of Data Transformations: An ETL tool should be able to bring data from multiple sources. It should possess the required libraries and functions to perform calculations and transform the data from the different sources.
Should Allow Real-time Streaming: With the amount of data being generated every minute, your ETL tool must enable real-time data transfer.
Should Enforce Data Security Regulations: The ETL tool needs to maintain the security and integrity of your data.
To learn more about ETL, visit here.
Significance of AWS ETL Tools
AWS ETL Tools refer to the ETL Tools offered by AWS. The following reasons signify the importance of AWS ETL Tools in data migration:
When you manually migrate your data, the chances of committing an error due to the dynamism of human nature increase. With the usage of AWS ETL Tools, you will migrate your data with zero data loss.
Manually loading your data can be time-consuming, especially when you are dealing with petabytes of data and want to have real-time analysis. AWS ETL Tools help load data in real-time within minutes.
The manual data migration process involves a high cost of training personnel to meet the basic standard requirements. AWS ETL Tools provide data migration at a low cost without any help from an expert.
AWS ETL Tools ensure data consistency whereas manual methods may lead to inconsistency which can't be avoided.
Top 5 AWS ETL Tools in 2020
Here's the list of the top 5 AWS ETL Tools out there. This comprehensive list will help you decide the perfect tool for you.
Top 5 AWS ETL TOOLS
Choosing an ETL Tool that your business needs can be a daunting task, especially when there are a large number of AWS ETL Tools available on the market. To make your search easier, here is a complete list of the 5 best AWS ETL Tools for you to choose from and easily start setting up your ETL pipeline:
1. Hevo Data
Hevo Data, is a No-code Data Pipeline and is cloud-based. It is designed to be efficient, secure, and reliable. It allows for real-time streaming, providing up-to-date analysis-ready data at your fingertips at all times. By eliminating the need for preparing and moving your data, Hevo enables your business teams to focus on proactive decision-making, not just reactive BI reporting.
Get Started with Hevo for Free
Check out what makes Hevo amazing:
Secure: Hevo has a fault-tolerant architecture that ensures that the data is handled in a secure, consistent manner with zero data loss.
Schema Management: Hevo takes away the tedious task of schema management & automatically detects schema of incoming data and maps it to the destination schema.
Minimal Learning: Hevo with its simple and interactive UI, is extremely simple for new customers to work on and perform operations.
Hevo Is Built To Scale: As the number of sources and the volume of your data grows, Hevo scales horizontally, handling millions of records per minute with very little latency.
Incremental Data Load: Hevo allows the transfer of data that has been modified in real-time. This ensures efficient utilization of bandwidth on both ends.
Live Support: The Hevo team is available round the clock to extend exceptional support to its customers through chat, email, and support calls.
Live Monitoring: Hevo allows you to monitor the data flow and check where your data is at a particular point in time.
Use Case
Hevo provides a seamless data pipeline experience to companies. Hevo supports pre-built integration with 100+ data sources and allows data migration in real-time. With its ETL, ELT, and data transformation capabilities, you will always have analysis-ready data.
Hevo Data is best suited when you want to automate your Amazon ETL process. Its infrastructure requires no maintenance. Moreover, it is simple to use and you do not need any technical knowledge.
Pricing
Hevo Data provides users with three different subscription offerings, namely, Free, Starter, and Business. The free plan houses support for unlimited free data sources, allowing users to load their data to a data warehouse/desired destination for absolutely no cost! The basic Starter plan is available at $249/month and can be scaled up as per your data requirements. You can also opt for the Business plan and get a tailor-made plan devised exclusively for your business.
Hevo Data also provides users with a 14-day free trial. You can learn more about Hevo Data's pricing here.
Sign up here for a 14-Day Free Trial!
2. AWS Glue
AWS Glue is one of the most popular AWS ETL Tools in the current market. It is a completely managed ETL platform that simplifies the process of preparing your data for analysis. It is very easy to use, all you have to do is create and run an ETL job with just a few clicks in the AWS Management Console. You just have to configure AWS Glue to point to your data stored in AWS. It automatically discovers your data and stores the related metadata in the AWS Glue Data Catalog. Once this is done, your data can be searched and queried immediately and is also available for ETL.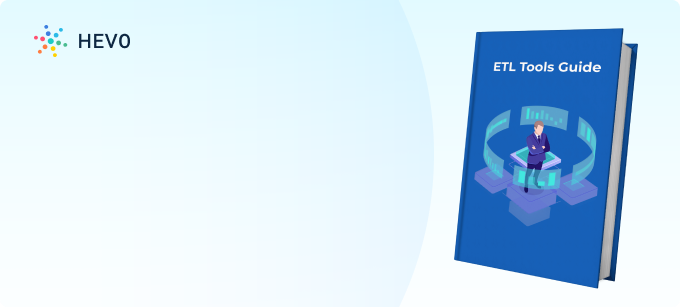 Download the Guide to Evaluate ETL Tools
Learn the 10 key parameters while selecting the right ETL tool for your use case.
To learn more about AWS Glue, visit here.
Use Case
AWS Glue is to be used when your use case is primarily ETL and when you want your jobs to run on a serverless Apache Spark-based platform. It can also be used when your data is semi-structured or has an evolving schema.
Pricing
You pay at an hourly rate when you use AWS Glue, billed by the second, for crawlers and ETL jobs. For this Amazon ETL Tool, you only have to pay a simple monthly fee, according to the AWS Glue Data Catalog. Also, the first million objects and accesses are stored for free.
3. AWS Data Pipeline
AWS Data Pipeline is among the most reliable AWS ETL Tools. It helps to move data between different AWS compute and storage services, as well as on-premises data sources, at specified intervals. It allows you to access your data where it's stored regularly, transform and process it as needed, and also efficiently transfer the resultant data to AWS services such as Amazon RDS, Amazon S3, Amazon DynamoDB, and Amazon EMR.
AWS Data Pipeline is fault-tolerant, repeatable, and highly available and lets you develop complex data processing workloads with great ease. AWS Data Pipeline eliminates the need to take care of resource availability, management of inter-task dependencies, resolving transient failures or timeouts in individual tasks, or even developing a failure notification system. This Amazon ETl Tool helps you claim and process data that was previously locked up in on-premises data silos.
To learn more about AWS Pipeline, visit here.
Use Case
Using AWS Data Pipeline is best suited for daily data operations as it does not require maintenance effort. It also allows you to run and monitor your processing activities on a highly reliable and fault-tolerant infrastructure. It is suitable for copying data between Amazon Amazon S3 and Amazon RDS or running a query against Amazon S3 log data.
Pricing
As part of AWS's Free Usage Tier, you can get started with AWS Data Pipeline for free. For further pricing information, check out this page.

4. Stitch Data
Stitch provides support for Amazon Redshift and S3 destinations. It also integrates with over 90 data sources. It maintains SOC 2, HIPAA, and GDPR compliance while providing businesses the power to replicate data easily and cost-effectively. Stitch, being a Cloud-first, extensible platform, lets you scale your ecosystem reliably and integrate with new data sources
To learn more about Stitch Data, visit here.
Use Case
Stitch Data is recommended when you want better insight into data analytics. It lets you move your AWS data to your data warehouse within minutes. It does not require API maintenance, scripting, cron jobs, or JSON and is very easy to use. It can be used by someone without a technical background. It allows for quick connections to first-party data sources including MySQL, MongoDB, Salesforce, and Zendesk.
Pricing
You can see the entire pricing plan of this Amazon ETL Tool here.
5. Talend
AWS integration strategies may be a daunting task for many but it doesn't have to be. It is important to choose the right integration tool, to simplify the entire process and carry it out quickly and reliably. Talend Cloud Integration Platform supports different types of integrations including on-premise, cloud, and hybrid, with AWS. You will find graphical tools, integration template, and more than 900 components at your disposal to ensure your integration is successful

To learn more about Talend, visit here.
Use Case
Talend is suitable for data preparation, data quality, data integration, application integration, data management, and big data among other things. Talend provides separate products for each solution.
Pricing
Talend provides a free trial. You can view the entire pricing plan here.
Comparing the 5 Best ETL Tools
The following table provides a comparative summary of the 5 best ETL tools:
ETL Tool
Data Sources
Replication
Customer Support
Pricing
Adding New Data Source
Hevo
100+sources
Full Table & Incremental (via timestamp & CDC)
Call Support available for everyone
Events & Paid Sources-based Transparent Pricing
Not allowed
AWS Glue
Limited Sources
(No Saas)
Full Table & Incremental
(via CDC)
Call service only for Enterprise Clients
Hourly based Transparent Pricing
Not allowed
AWS Data Pipeline
Limited Sources
(No Saas)
Full Table & Incremental (via Time
Stamp)
Call service only for Enterprise Clients
Activity-based Transparent Pricing
Not allowed
Stitch
130+ sources
Full Table & Incremental
(via CDC)
Call service only for Enterprise Clients
Volume-based. Transparent Pricing
Allowed
Talend
1000+ connectors
Full Table & Incremental
(via CDC)
Response time depends on the pricing plan
Volume-based. Transparent Pricing
Allowed
Use Cases of AWS ETL Tools
The following are the 5 major uses of AWS ETL Tools:
1) Build Event-driven ETL Pipelines
AWS Glue enables you to prevent any processing delays. It allows you to start your ETL tasks as soon as any new data arrives. So, while you will load new data in your Amazon S3 account, the ETL process will start working in the background.
2) Create a Unified Catalog
The AWS Glue provides a Data Catalog using which you can discover multiple AWS datasets quickly without even shifting any data. Furthermore, Once you successfully catalog the data, you can access it for searching and querying using Amazon Athena, Amazon Redshift Spectrum, etc.
3) Create and Monitor ETL Jobs Without Coding
You can seamlessly create and track ETL jobs using AWS Glue Studio. These ETL jobs use a drag-and-drop editor, to perform data transformations, while AWS Glue automatically builds a code for the same. Moreover, you can monitor the progress of the ETL jobs with the AWS Glue Studio Task Execution Dashboard.
4) Explore Data with Self-Service Visual Data Preparation
Using the AWS Glue DataBrew you can experiment with data by directly accessing it from Data Warehouses or Databases, such as Amazon S3, Amazon Redshift, Amazon Aurora, Amazon RDS, etc. It also allows you to choose from 250+ in-built transformations in AWS Glue DataBrew. This way you can automate various data preparation processes such as anomaly filtering, building formats, and invalid value correction. Once prepared, the data can be used for analytics and machine learning purposes.
5) Build Materialized Views to Combine and Replicate Data
You can create Views using SQL in AWS Glue Elastic Views. These views are beneficial if you wish to combine data stored in multiple data sources and update it regularly. AWS Glue Elastic Views at present supports Amazon DynamoDB as a primary data source, but can also integrate with other Amazon products.
Conclusion
In this blog post, you have learned about what ETL is and the top 5 best AWS ETL Tools out there. You have also seen the factors like use cases, pricing, etc., to take into consideration when choosing among these AWS ETL Tools.
Visit our Website to Explore Hevo
Hevo is a No-code Data Pipeline. It supports prebuilt integration from 100+ data sources. You can easily migrate your data from any source in real-time.
Want to take Hevo for a spin? Sign Up for a 14-day free trial and experience the feature-rich Hevo suite first hand.
Share of experience with AWS ETL Tools in the comments section below!
No-Code Data Pipeline for AWS