6 Best Elasticsearch ETL Tools in 2022
ElasticSearch is a distributed, open-source, real-time search and analysis system that enables you to go beyond simple full-text search and perform complex operations to access, collect, index, and filter data.
Using Elasticsearch as a data source organizations can extract data for analysis on other BI platforms. And, when using Elasticsearch as back-end storage, organizations require a way to inject data from multiple sources into their Elasticsearch data storage.
In this article, we will list out the 6 best Elasticsearch ETL Tools available to analyze your Elasticsearch data. Read along to learn more about them and decide which of these Elasticsearch ETL tools suit you the best.
Table of Contents
What is Elasticsearch?
Elasticsearch is an open-source tool that acts as a distributed engine for search and analytics for all kinds of structured and unstructured data. Elasticsearch can be used to index documents. It is fast, scalable, and it can handle huge quantities of data.
When you load a document to Elasticsearch, it creates a reverse index of all the fields in that document. This data is stored in JSON form and can be queried.
Elasticsearch is frequently used as a part of the ELK (Elasticsearch, Logstash, and Kibana) stack. Logstash provides loading and transformation capabilities. Kibana is used to visualize Elasticsearch data. Elasticsearch has APIs to add documents to the index (Index API), retrieve documents (Get API), query over the index data (Search API), and add additional fields to an index (Get API). Elasticsearch works using a cluster of servers, which can be scaled by adding more servers.
Some important use-cases of Elasticsearch are as follows:
Application search
Website search
Enterprise search
Logging and log analytics
Infrastructure metrics and container monitoring
Application performance monitoring
Geospatial data analysis and visualization
Security analytics
Business analytics
To learn more about Elasticsearch, visit here.
What is ETL?
ETL — Extract, Transform, and Load — simply stands for the transfer and the transformation of data using data pipelines. In general, data is extracted from multiple sources, transformed, and loaded into a data lake or a data warehouse for analytics.
If you are using Elasticsearch then you might need to perform ETL to move the data to a business analytics platform or a Data Warehouse. To achieve this you can select any one of the numerous Elasticsearch ETL Tools available in the market.
To learn more about ETL, visit here.
Limitations of Manual ETL
Manual ETL is labor-intensive and takes a very long time to get right.
Manual ETL also requires heavy technical expertise.
Data security can be an issue if not managed correctly.
But manual ETL for your Elasticsearch data can be completely avoided using some good Elasticsearch ETL Tools.
6 Best Elasticsearch ETL Tools
Here's a list of some of the best Elasticsearch ETL Tools available in the market for you can choose from to simplify ETL processes. Selecting the right tool for your business needs has never been this easy:
6 Best Elasticsearch ETL Tools
Choosing the one ideal tool from the numerous Elasticsearch ETL Tools that perfectly meets your business requirements can be a challenging task, especially when there's a large variety of ETL tools available in the market.
To simplify your search, here is a comprehensive list of the 6 best Elasticsearch ETL Tools that you can choose from and start setting up ETL pipelines with ease:
1) Hevo Data
Hevo Data, a No-code Data Pipeline reliably replicates data from any data source with zero maintenance. You can get started with Hevo's 14-day Free Trial and instantly move data from 150+ pre-built integrations comprising a wide range of SaaS apps and databases. What's more – our 24X7 customer support will help you unblock any pipeline issues in real-time.
Get started for Free with Hevo
With Hevo, fuel your analytics by not just loading data into Warehouse but also enriching it with in-built no-code transformations. Its fault-tolerant architecture ensures that the data is handled in a secure, consistent manner with zero data loss.
Check out what makes Hevo amazing:
Near Real-Time Replication: Get access to near real-time replication on All Plans. Near Real-time via pipeline prioritization for Database Sources. For SaaS Sources, near real-time replication depend on API call limits.
In-built Transformations: Format your data on the fly with Hevo's preload transformations using either the drag-and-drop interface or our nifty python interface. Generate analysis-ready data in your warehouse using Hevo's Postload Transformation.
Monitoring and Observability: Monitor pipeline health with intuitive dashboards that reveal every stat of pipeline and data flow. Bring real-time visibility into your ETL with Alerts and Activity Logs.
Reliability at Scale: With Hevo, you get a world-class fault-tolerant architecture that scales with zero data loss and low latency.
Hevo provides Transparent Pricing to bring complete visibility to your ETL spend.
Pricing
Get Started with Hevo for Free
2) Logstash
Another important choice among the Elasticsearch ETL Tools is Logstash. It is an Elastic company's product built to collect, store, and manage data from logs. It is an open-source tool and it can collect data from multiple sources in real-time. But Logstash is not just about data collection from logs. It can transform data using its output plugins, filters, and native codecs.
Logstash processing pipeline has three stages. Input, filters, and outputs, which generate, modify, and ship them respectively. Logstash although is extremely effective, however unlike other Elasticsearch ETL Tools, it requires a level of technical expertise to handle.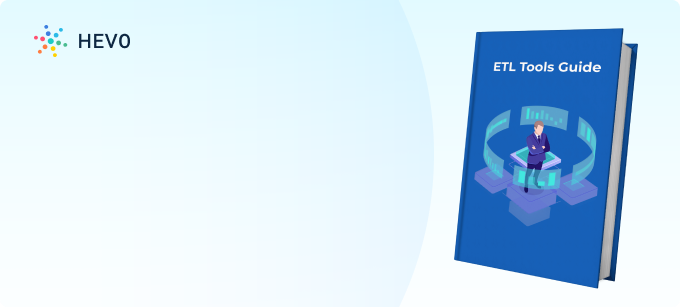 Download the Guide to Evaluate ETL Tools
Learn the 10 key parameters while selecting the right ETL tool for your use case.
3) Apache NiFi
Apache NiFi is an open-source tool used to automate data transfer between software. NiFi has a web-based UI and provides a configuration facility, great design, control, low latency, and dynamic prioritization. NiFi can work on work on several nodes improving processing performance. You can write SQL queries locally in NiFi that process Elasticsearch data. Like Logstash, NiFi is also suitable for programmers with high levels of technical expertise.
4) Apache Spark
Apache Spark is an open-source, large-scale data processing engine. It is one of those Elasticsearch ETL Tools that provides high performance for batch and streaming data. Using Spark, you can transform data, and process it in real-time. Spark supports multiple programming languages and different types of structured or semi-structured data.
5) StreamSets
StreaSets Data Collector is an open-source software using which you can build enhanced data ingestion pipelines for Elasticsearch. These pipelines can adapt automatically to changes in schema, infrastructure, and semantics. It can clean streaming data and handle errors while data is in motion. There can be multiple unwanted changes in data streams called data drifts, which affect the quality of data and StreamSets lets you build reliable pipelines to combat that.
6) CloverDX
You can work with Elasticsearch as a source or as a destination and transform the data using the CData JDBC Driver for Elasticsearch. The JDBC Driver lets you use CloverDX's transformation components. CloverDX is a Java-based tool for automation of data integration, offering a highly scalable and available, distributed environment.
Conclusion
In this blog, you have looked at some of the best Elasticsearch ETL Tools. All of them are great, but some require you to do a lot of coding. And, if you are on the lookout for a tool that can seamlessly handle your organization's ETL needs for Elasticsearch; Hevo is the right choice for you!
You can save a lot of engineering bandwidth and resources by choosing Hevo Data to cater to your business needs. Hevo will not only help to set up a secured data pipeline, but will also simplify the Data Management, Data Analysis, and Data transformation processes.
Hevo comes with a complete feature suite including automatic schema management, real-time monitoring and alerts that will make your Elasticsearch ETL journey easier and hassle-free.
Learn more about Hevo's integration with Elasticsearch
Want to take Hevo for a spin? Sign up for a 14-day free trial and see the difference yourself!
And, don't forget to share your list of the best Elasticsearch ETL Tools in the comments section below!