12 Best Data Management Tools in 2023
One of the biggest stumbling blocks of a business is the expansion of its Database. A few problems one might have to deal with while trying to expand their Database are storage problems, complicated management issues, difficulty in the location, sharing, and checking of isolated data. To steer growth, a company needs to have the right Data Management Strategy and the right Data Management Tools.
This article introduces you to the concept of Data Management, and the importance and key features of Data Management Tools for your business strategy. The article wraps up with a comprehensive list of the best Data Management Tools to look out for this year.
What is Data Management Tools?
Data Management is a process that consists of several tools with different objectives. It deals with receiving, validating, and refining the data, to ensure the reliability of data to the users.
Data Management Tools are capable of carrying out a wide array of functions from rigorous storage, analysis, distribution, and synchronization of data. These Data Management Tools can be specialized across various fields like:
Product Information Management
Customer Databases Management
Multimedia Sources Management
Administrative and Financial Resources Management
The Key Features of Data Management Tools
The key to managing data is automation, which can help reduce redundancies and errors in the Database while saving time and costs. These tools aren't just handy tools for storage but can also provide you with features for analyzing data, monitoring file usage, updating associated platforms and applications, etc. Let's take a look at a few key features of Data Management Tools:
Flexible: Data Management Systems can easily manage unlimited quantities of data and fields, irrespective of how large your Database grows to be.
Global Work Facilitation: Any user that has the required permissions can access the Data Management Tools from any corner of the world at any given time. This Cloud-based functionality is tailored to the needs of those working remotely and to synchronize information across countries for the different teams.
Data Access Optimization: A lot of time will be saved by locating data that's specific and always correct, incorporating it into the central Database, and exporting it into any format to be shared with third parties.
Eliminates Data Redundancies: Automated Data Management Tools have made it easier to detect errors and redundancies in the data and therefore remove them with an accuracy close to 100%.
Secure: A high level of security, privacy, and efficiency is ensured by these tools that also provide backup generation and options for the recovery of historical data.
Types of Data Management Tools
Data Management Tools are a broad concept since they are used for a vast variety of use cases. With the increase in data volume, high-quality tools are essential to achieve the best practices in Data Management. Here are the 4 categories of Data Management Tools:
Cloud Data Management Tools: These tools are built on and for the Cloud, allowing them to connect to and integrate numerous data sources through APIs, Webhooks, or direct Database connections.
ETL and Data Integration Tools: These tools help organizations define the complex and automated transformation of the data, load data from multiple sources, and load data continuously to a target Database or Data Warehouse.
Master Data Management (MDM) Tools: These Data Management Tools help an enterprise visualize complex sets of Master Data across the organization, along with Data Oversight by subject matter experts, who oversee the creation and maintenance of the Reference Data.
Data Visualization and Data Analytics Tools: Data Visualization and Data Analytics tools help organizations visualize, analyze and explore massive datasets, and generate reports and dashboards on top of it to extract insights and guide essential business decisions.
1000+ data teams trust Hevo's robust and reliable platform to replicate data from 150+ plug-and-play connectors.
START A 14-DAY TRIAL!


Top 12 Data Management Tools
Now that you have seen the different categories of Data Management Tools, let's take a gander at a few of the best tools from each category. These tools will serve as a great addition to your enterprise workflow pipeline.
1. ETL and Data Integration Tools
In computing, Extract, Transform and Load is the procedure of copying data from multiple sources into a destination system that represents the data. Data Integration on the other hand refers to the process of combining data from multiple sources into a single destination. Let's talk about the top ETL and Data Integration Tools in the next section.
A) Hevo Data
Hevo allows you to replicate data in near real-time from 150+ sources to the destination of your choice including Snowflake, BigQuery, Redshift, Databricks, and Firebolt. Without writing a single line of code. Finding patterns and opportunities is easier when you don't have to worry about maintaining the pipelines. So, with Hevo as your data pipeline platform, maintenance is one less thing to worry about.
For the rare times things do go wrong, Hevo ensures zero data loss. To find the root cause of an issue, Hevo also lets you monitor your workflow so that you can address the issue before it derails the entire workflow. Add 24*7 customer support to the list, and you get a reliable tool that puts you at the wheel with greater visibility. Check Hevo's in-depth documentation to learn more.
If you don't want SaaS tools with unclear pricing that burn a hole in your pocket, opt for a tool that offers a simple, transparent pricing model. Hevo has 3 usage-based pricing plans starting with a free tier, where you can ingest upto 1 million records.
Hevo was the most mature Extract and Load solution available, along with Fivetran and Stitch but it had better customer service and attractive pricing. Switching to a Modern Data Stack with Hevo as our go-to pipeline solution has allowed us to boost team collaboration and improve data reliability, and with that, the trust of our stakeholders on the data we serve.

– Juan Ramos, Analytics Engineer, Ebury
Check out how Hevo empowered Ebury to build reliable data products here.
Sign up here for a 14-Day Free Trial!
B) Stitch Data
Stitch Data is a Cloud-based ETL (Extract, Transform, Load) platform. It allows you to move data from numerous sources into a Data Warehouse to provide you with data that is analysis-ready. The salient features of Stitch Data are as follows:
Pre-Integrated with multiple data sources and can move data into Amazon Redshift, Amazon S3 (Simple Storage Service), Google BigQuery, PostgreSQL to name a few.
It provides easy scheduling for Data Replication.
Error handling and alerting with the automated resolution are provided.
It is a managed Cloud service with automatic scaling and enterprise-grade Service Level Agreements.
An API and JSON framework that lets you push data into a Data Warehouse.
Stitch Data Pricing
The pricing structure are of two types:
Standard: This in turn has 2 more sub-plans:

Monthly: It ranges from $100/month for 5 million rows/month to $1250/month for 300 million rows/month.
Annual: It ranges from $1000/year for 5 million rows/month to $12500/year for 300 million rows/month.

Enterprise: This plan is a customizable plan tailored to the user's needs.
C) Fivetran
Fivetran is a fully managed Data Pipeline with pre-built connectors that deliver analysis-ready schemas while adapting to source changes automatically. You can also check the best data pipeline tools list. Here are a few salient features of Fivetran:
No data limit is imposed by Fivetran.
The data can be moved from Point A to Point B by the Caching Layer without having to worry about storing a copy on the Application Layer.
A company's data can be centralized by leveraging Fivetran as a part of the workflow. It can also integrate all the sources to determine all the KPIs (Key Performance Indicators) relevant to the company.
The Caching Layer can also be used to send data over a direct secure connection and provide direct integration at the same time.
Fivetran Pricing
Fivetran primarily has 3 pricing plans in place:
Starter: $1.00/credit.
Standard: $1.5/credit.
Enterprise: $2.00/ credit.
Here monthly credits consumed are determined by the number of monthly active rows within each billing account across that billing period.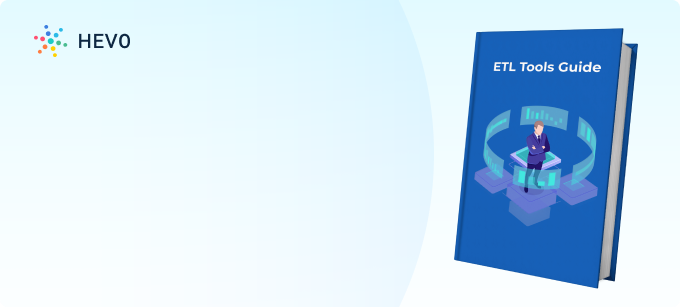 Download the Guide to Evaluate ETL Tools
Learn the 10 key parameters while selecting the right ETL tool for your use case.
2. Cloud Data Management Tools
Ever since storage and bandwidth have become cheaper, the number of Off-premise solutions for Data Warehousing and Management has gone up considerably. Companies that have a large amount of data to store, analyze and sift through have adopted the Cloud-based tools for better efficiency. This has been made possible through the emergence of robust Cloud Data Management Tools in the past 5-10 years. These fields are primarily dominated by giants like Google and Amazon, but with the advent of technology, many smaller companies are now offering tools for customers with data needs of all sizes. Here are three prominent tools in this field.
A) Amazon Web Services
Amazon Web Services offer a plethora of tools that can be put together into a Cloud Data Management track. It is a subsidiary of Amazon that provides on-demand Cloud Computing platforms and APIs on a pay-as-you-go basis. Few salient services offered by Amazon Web Services are as follows:
Amazon Redshift for Data Warehousing.
Amazon Athena for SQL-based Analytics.
Amazon Quicksight for Dashboard Construction and Data Visualization.
Amazon Glacier for long-term backup and storage.
Amazon S3 (Simple Storage Service) for temporary and/or intermediate storage.
Amazon Web Services Pricing
The price for AWS is variable and dependent on the implementation.
B) Microsoft Azure
Microsoft Azure's platform provides several ways to set up a Cloud-based Data Management System. It also provides handy analytic tools that can be used on Microsoft Azure-stored data. Microsoft Azure allows for multiple Database/ Data Warehouse styles with a good set of tools to manage them. Here's a list of salient services provided:
Standard SQL Databases and Virtual Machine-based SQL servers.
Blob Storage.
Private Cloud Deployments.
NoSQL-style table storage options.
Azure Data Explorer (ADX) enables a user to perform real-time analysis of very large streaming data without the need for preprocessing.
Microsoft Azure Pricing
The pricing for Microsoft Azure similar to Amazon Web Services is also variable and depends on the user implementation.
C) Google Cloud Platform
The Google Cloud Platform offers a large set of tools for Cloud-based Data Management. It is handy as it comes along with a workflow manager that ties the different components together. Here's a few key services offered by the Google Cloud Platform:
Google Data Studio for GUI (Graphical User Interface)-based analysis and Dashboard construction.
Cloud Datalab for code-based Data Science.
ML (Machine Learning) Engine for advanced analysis through Machine Learning and Artificial Intelligence.
Google BigQuery for tabular data storage.
Cloud Pub and Cloud Data Transfer for the intake of data.
Cloud BigTable for NoSQL database-style storage.
Connections to BI tools like Tableau, Looker, and Power BI.
Google Cloud Platform Pricing
Google can also connect to a large number of other data sources as well. The pricing for Google Cloud Platform depends on the implementation opted for by the user and hence is flexible.
1000+ data teams trust Hevo's robust and reliable platform to replicate data from 150+ plug-and-play connectors.
START A 14-DAY TRIAL!


3.Master Data Management Tools
Master Data Management Tools allow you to integrate all the business applications of the entire enterprise from different departments into a single file. Here's a couple of Master Data Management Tools that can help you create a central point of reference for your business.
A) Dell Boomi
With over 12,000 customers and deemed pioneers of delivering Pervasive Intelligence, Dell Boomi's Master Data Hub leverages the power of the Cloud, providing flexibility, scalability, high agility, and automatic upgrades among many other things. A few salient features of Dell Boomi are as follows:
It defines models via low-code, visual experience.
Deploys Data Models and identifies the source systems that can interact with these models.
Similar records are automatically merged.
Dell Boomi governs the data with real-time bidirectional process flows across silos.
Dell Boomi enables Data Stewarding. This means that teams are alerted to resolve data entry issues and duplicates.
Dell Boomi Pricing
You can get the pricing for Dell Boomi's Master Data Hub on request.
B) Profisee
Profisee is a Master Data Management Software that builds and delivers trusted and relevant information across the business. The salient features of Profisee's Master Data Management are as follows:
It cleans, matches, and standardizes source data without a single line of code.
Data Stewardship is enabled within the organization to manage Master Data with reliable feedback from analytics.
Events are distributed to subscribing systems by Profisee.
It acts as an integrator, as it federates Master Data for global enterprises.
It also provides real-time bi-directional integration.
Integration of custom applications is enabled.
Profisee Pricing
Profisee pricing happens to be $10.30/hr for a user.
C) Ataccama ONE
Ataccama offers ONE, their automated Database Management Software that can be run in the Cloud, On-premise, or in a hybrid setup. It is a collaborative curation platform that provides solutions not only for Master Data Management but also Data Governance. Here are a few salient features of Ataccama ONE:
ONE is a tool that is GDPR (General Data Protection Regulation) ready.
It provides connectors for a wide range of data types and sources.
ONE provides automated project configuration and metadata discovery.
The data curation, cleaning, and classification carried out are based on Machine Learning.
ONE is typically domain-agnostic but it does come with a set of pre-configured rules for MDM for domains like Customer, Contact, and Product.
Ataccama Pricing
The pricing for Ataccama is also available on request.
1000+ data teams trust Hevo's robust and reliable platform to replicate data from 150+ plug-and-play connectors.
START A 14-DAY TRIAL!


5.Data Visualization and Data Analytics Tools
Data Visualization Tools allow you to view your data in a pictorial format (like graphs and charts), which makes it easier to draw coherent insights from it thus simplifying the analytical process. Here are a few handy Data Visualization and Data Analytics Tools to integrate into your Business Model.
A) Tableau
Tableau is a BI platform that helps people see and understand data with a belief that Data Analysis should focus on asking the right questions to extract meaningful insights with built-in visual practices. Salient features of Tableau are as follows:
It can easily connect to different data sources.
It allows easy access to visualizations for partners, teams, and clients.
It allows you to create interactive maps automatically.
Tableau provides unlimited Data Exploration with interactive and intuitive Dashboards.
Dashboard setup hardly takes a few minutes with data from popular web applications.
Tableau Pricing
There are 3 plans in place for the users opting for Tableau:
Individuals: $70/user/month billed annually.
Teams and Organizations: Based on where Tableau is being deployed, there are 2 plans in place, each having 3 plans under it:

On-Premise

Tableau Creator: $70/user/month.
Tableau Explorer: $35/user/month.
Tableau Viewer: $12/user/month.

Tableau Online

Tableau Creator: $70/user/month.
Tableau Explorer: $42/user/month.
Tableau Viewer: $15/user/month.

Embedded Analytics: This is a plan customized according to the user's needs after getting a quote from Tableau.
B) Looker
Looker is another Cloud-based visualization and analytics platform. It is mainly targeted for Business Intelligence, Data Applications, and Embedded Analytics. This allows you to share actionable insights in real-time. Here are a few salient features of Looker that set it apart:
You can connect directly to the Databases without having to download any software in particular.
Easy-to-read and use dashboards.
Access to the dashboards is provided to everyone, not just the data scientists and analysts.
You can define metrics using LookML that is Looker's Data Modeling language.
Looker Pricing
For Looker, the pricing depends on the scale of deployment and the number of users. For more details on the pricing, you would have to get a quote from Looker.
C) Microsoft Power BI
Microsoft Power BI provides interactive visualizations and Business Intelligence capabilities with a simple interface, designed to be used by analysts and data scientists alike. Here are a few salient features of Microsoft Power BI:
Microsoft Power BI is a no-code data platform, that services both desktop and web clients.
Microsoft Power BI offers a library of pre-built connectors.
A simple drag-and-drop interface is provided by this tool.
Microsoft Power BI pricing
There are two plans offered by Power BI.
Microsoft Power BI Pro: $9.99/user/month.
Microsoft Power BI Premium: $4995/month/dedicated Cloud compute and storage resource with an annual subscription.
Challenges of Data Management
This article so far has given an outlook of some of the best Data Management Tools out there, their features, and pricing. But Data Management is not without its challenges either. The Data Management challenges usually stem from the ever-increasing volume of data. Here's a list of things organizations might face while trying to leverage the Data Management Tools as a part of their workflow:
Unclear Goals and Objectives: A significant challenge with Data Management is the lack of clarity around what it is that an enterprise is looking for from the processed data. In the absence of a clear goal for acquiring the right data, and analyzing it to facilitate data-driven business decisions the true potential of the Data Management Tools cannot be exploited.
Meeting Compliance Requirements: Organizations must review their data and practices regularly to keep up with the constantly changing compliance regulations to ensure that everything is aligned with the new or updated requirements.
Multiple Data Storage Options: Data is stored across multiple platforms making it difficult to analyze since it isn't available in a single format or repository. Data therefore must be transformed into a unified format to allow for easy analysis.
Sparse Utilization of Data Management: With massive amounts of data to account for, companies find it challenging to fully understand the whereabouts of the enterprise's data, the amount of data, how to use it, and where to put it to use.
Extracting Value that Solves a Specific Problem: The main challenge lies in making sense of data collected from numerous sources. This involves understanding that Data Management and Data Analytics go hand-in-hand, to extract maximum value from data in the form of actionable insights.
Conclusion
This article helps you grasp the concept of Data Management and why is it important for enterprises to have a solid Data Management Strategy in place. It then shows you the different types of Data Management Tools available in the market, along with a few key features that set them apart from the rest. In the end, the decision to leverage one or more of these tools lies with you depending on your requirements.
Extracting complex data from a diverse set of data sources can be a challenging task, especially for a beginner. Building an in-house ETL pipeline will consume a significant amount of time and resources.
Visit our Website to Explore Hevo
Hevo Data provides one of the fastest Automated No-code Data Pipelines that empowers you to overcome the above-mentioned limitations. Hevo caters to 150+ data sources and can seamlessly ETL your data in real-time.
Sign up here for a 14-Day Free Trial!
Share your understanding of Data Management Tools in the comments below!
No-code Data Pipeline For Your Data Warehouse