Google Hubspot Integration: 7 Easy Steps
Hubspot provides a large number of tools to help businesses. Google Suite is a benchmark in web applications for business needs. By performing Google Hubspot Integration, you can extract maximum from your business.
Table of Contents
Introduction To HubSpot
Have you ever owned a company or worked in the marketing department? If yes, then you must have heard about HubSpot. But first, understand what marketing is all about. Marketing is the process of analyzing customer wants and satisfying them most profitably. This is what the definition says. Although it seems short and crisp, it entails a variety of functions such as advertising, lead generation, branding, and packaging.
If we consider the lead generation part of marketing, we understand that it comprises of two main broad categories-inbound and outbound. Outbound is all about reaching out to potential customers and getting them interested in your product and services. But any guesses what inbound marketing means? Yes! You have probably guessed it right by conversely changing the definition of outbound marketing.
Inbound marketing is a type of marketing that doesn't require you to run behind your customers. But it makes the customer run behind your company and its value offerings. Sounds interesting, isn't it? But hold on a second. Have you wondered how does that even happens in today's world of choosy customers? How to influence their preference in your favor with inbound marketing? Any idea? No? Let us tell you. Inbound marketing achieves this with the help of content. Content is king, and it attracts when the masses when in need of water, land, and product/service in our case. Inbound marketing may seem easy on paper but, it requires a lot of analysis and strategizing.
This is why we have HubSpot. Now, what is HubSpot? Where did it come from? What does it do? What relation does it have with inbound marketing? Let's not shoot guns! In this blog, we will cover everything related to Google Hubspot Integration. So, without any further due, let's get started!
HubSpot is an inbound marketing software offered by HubSpot. Mind you! Here HubSpot is both the name of the SaaS company and the name of the software as well. HubSpot, the cloud-based CRM is designed by HubSpot (the company) to help companies address sales and marketing, boost ROI, foster sales enablement, and perform inbound marketing strategies to generate more qualified leads. Initially, HubSpot the company offered various tools to perform email marketing, lead generation separately. Now, HubSpot offers all its services under one roof of the HubSpot software that works as a one-stop solution for blogging, social media posting, email marketing, and a lot's others.
Let us understand the key features of HubSpot, the software.
5 Key Features of HubSpot
Free CRM- HubSpot offers a free CRM to its clients to nurture their client relationships. The behavioral tracking feature helps companies to know their audience's mood, thereby making the business profitable. The best part? The HubSpot CRM is free of cost!
List Segmentation- HubSpot allows you to segregate customers into lists. List segregation makes it easier to track the progress of a buyer's journey up till now.
Landing pages- Landing pages exist to convert prospects into paying customers. HubSpot helps you create well-crafted landing pages and get more customers to take out their credit/debit cards and pay.
Workflows- HubSpot extends a helping hand to automate your marketing efforts. It is almost impossible to do every task manually in large organizations, and HubSpot is a blessing in disguise for marketers.
Dashboard- HubSpot helps marketers to view the results of marketing efforts with the well-organized dashboard in place. Moreover, the paid tracking features also attempt to provide a clear picture of the paid ads on Google.
Simplify Data Analysis with Hevo's No-code Data Pipeline
Hevo Data, a No-code Data Pipeline helps to load data from any data source such as Hubspot, GSuite, Databases, SaaS applications, Cloud Storage, SDKs, and Streaming Services and simplifies the ETL process. It supports 100+ data sources (including 30+ free data sources like Hubspot and Gsuite ) and is a 3-step process by just selecting the data source, providing valid credentials, and choosing the destination. Hevo not only loads the data onto the desired Data Warehouse/destination but also enriches the data and transforms it into an analysis-ready form without having to write a single line of code.
GET STARTED WITH HEVO FOR FREE[/hevoButton]
Its completely automated pipeline offers data to be delivered in real-time without any loss from source to destination. Its fault-tolerant and scalable architecture ensure that the data is handled in a secure, consistent manner with zero data loss and supports different forms of data. The solutions provided are consistent and work with different BI tools as well.
Check out why Hevo is the Best:
Secure: Hevo has a fault-tolerant architecture that ensures that the data is handled in a secure, consistent manner with zero data loss.
Schema Management: Hevo takes away the tedious task of schema management & automatically detects the schema of incoming data and maps it to the destination schema.
Minimal Learning: Hevo, with its simple and interactive UI, is extremely simple for new customers to work on and perform operations.
Hevo Is Built To Scale: As the number of sources and the volume of your data grows, Hevo scales horizontally, handling millions of records per minute with very little latency.
Incremental Data Load: Hevo allows the transfer of data that has been modified in real-time. This ensures efficient utilization of bandwidth on both ends.
Live Support: The Hevo team is available round the clock to extend exceptional support to its customers through chat, email, and support calls.
Live Monitoring: Hevo allows you to monitor the data flow and check where your data is at a particular point in time.
SIGN UP HERE FOR A 14-DAY FREE TRIAL
Introduction to G-Suite
Google Workspace, also known as Google apps and G-suite, is a collection of cloud computing, productivity, and collaboration tools offered by Google. Google workspace comprises tools like Gmail, drive, meet, and docs for clear communication and content creation. Earlier the facilities were available to only paying customers, but in June 2021, Google announced that everyone with a Gmail account will have access to Google Workspace.
Now, let us have a look at some amazing features of Google Workspace. We bet you don't know some of them!
5 Key Features of G-Suite aka Google Workspace
Smart Compose- Did you know that Google's AI-powered tool Smart Compose helps you write emails flawlessly with its word suggest, a feature that uses machine learning to detect generic suggested words. Smart Compose not only reduces your time writing emails but also makes content creation a hassle-free task.
Offline mode- Yes, you heard that right! Now you can access your Google workspace from almost anywhere around the world. You don't even need an internet connection to do so. The offline mode gives you access to the latest versions of your documents and files.
Drive- Storage is a problem that everyone from a household to large multinational faces. But Google workspace has got us covered with digital storage. We can now store all our files in one place and make the most use out of our information stored in the drive.
Calendar- How many times, we forget to do things? Many times, right? But google calendar is here to our rescue. The things we plan on Google calendar directly remind us to not miss any opportunity or deadline.
Work insights- The work insights feature lets you analyze all the features with its charts and data. Every organization surely needs to know where all the time is getting invested in the business and on what content.
Importance of Google Hubspot Integration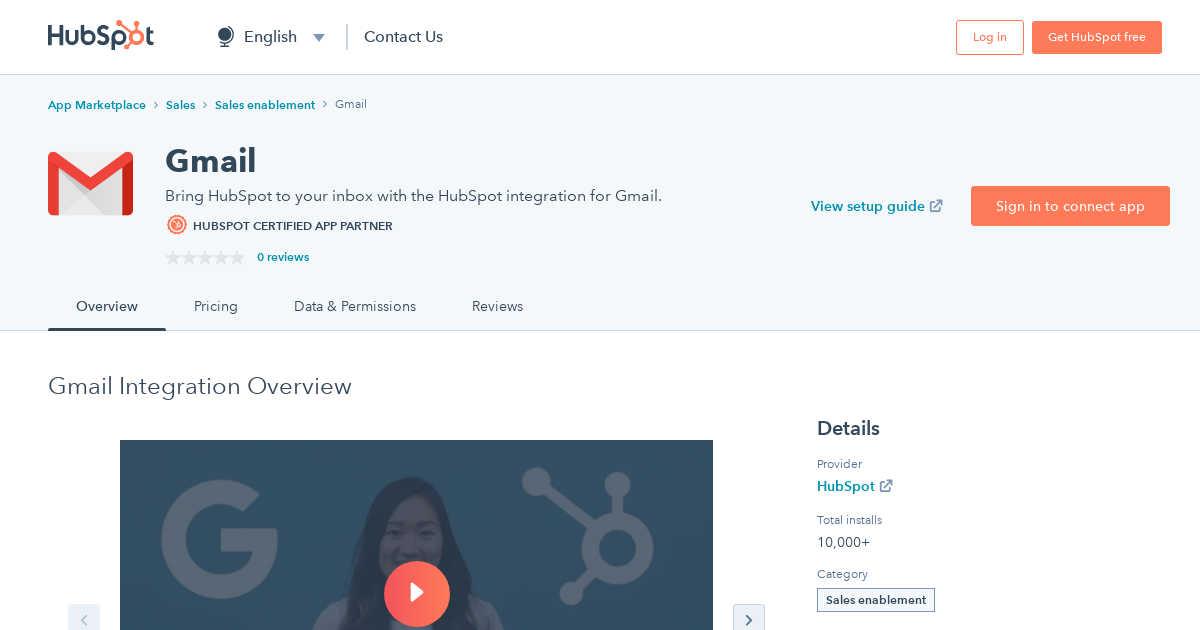 Google Hubspot Integration opens new doors of productivity in the organization. If you are an active user of the HubSpot software, then this is the best thing you can do for your business. The Google Hubspot Integration makes companies reach out to potential clients easily and thereby doesn't let you miss any opportunity. Additionally, Google Hubspot Integration makes the whole marketing process a lot easier and interesting.
Steps for Google Hubspot Integration
Follow the steps given below for Google Hubspot Integration.
First of all, log in to your HubSpot account and click the settings gear from the menu bar.
A new page will be opened and click the "general" option from the side navigation bar.
Click the "email" tab on the new window
A new tab will open with various services that you can connect to and choose the Gmail option.
Next, click the "connect your box" option.
Now, click the "Continue" button then you will be prompted to log in to your google account. Enter the details and google credentials to continue to log in
Lastly, review and allow all the permissions and click "allow".
Finally, you will get a notification from HubSpot stating the success of the Google Hubspot Integration.
Benefits of Google Hubspot Integration
Sales Prospecting- The Google Hubspot Integration helps companies to enhance their productivity levels by giving you access to all the templates and snippets for various prospecting situations.
Excellent email campaigns- You can set up great email campaigns by Google Hubspot Integration. It basically helps you set up a sequence of emails to be sent on specific dates.
Schedule meetings- The Google Hubspot integration makes it easy for you to schedule meetings. You simply have to click the calendar icon on the menu bar and choose from the list of meeting options.
Track communications- Generally, the sales team looks after the communication aspect of the organization manually. The Google Hubspot Integration enables you to keep a good track of your communications. You can log in to and track your emails and messages easily. Moreover, it also helps you know how the prospects are interacting with your communication methods.
Conclusion
In this blog post, you have learned the main features of HubSpot and Google-Suite and a deep understanding of Google Hubspot integration. If you want a good CRM, then you may get started with the HubSpot free plan. But, if you are looking for more advanced features, then you can go for a paid plan or Hevo too to pull B2B customer's data into your systems.
While using the Google Hubspot Integration is insightful, it is a hectic task to Set Up the proper environment. To make things easier, Hevo comes into the picture. Hevo Data is a No-code Data Pipeline and has awesome 100+ pre-built Integrations that you can choose from.
visit our website to explore hevo[/hevoButton]
Hevo can help you Integrate your data from numerous sources like Hubspot, GSuite for free and load them into a destination to Analyze real-time data with a BI tool such as Tableau. It will make your life easier and data migration hassle-free. It is user-friendly, reliable, and secure.
for a 14-day free trial andSIGN UP for a 14-day free trial and see the difference!
Share your experience of learning about the Google Hubspot Integration in the comments section below
No-code Data Pipeline For your Data Warehouse