Google Trends Dropshipping: A Simple 5-Step Guide to Breaking Ground
The digital world has introduced a plethora of ways to start and run a business. An aspiring entrepreneur must follow the latest business trends to survive in this competitive market. One such entrepreneurial venture is Google Trends Dropshipping to create passive income or generate more income streams.
Entrepreneurs can be confident of building a profitable Dropshipping Business at a rapid pace using Google's very supporting resources like Google Trends and insights on the Average Cost-Per-Click (CPC), Click-Through Rate (CTR) and numerous other metrics that are available through Google Ads.
In this blog post, we will discuss Dropshipping in detail, and we will also learn how Google Trends can help you set up your Dropshipping Business.
Here's the outline of the article:
Table of Contents
Introduction to Google Trends
Google Trends is an accessible Data Exploration Tool by Google that allows users to find the trends of any topic across various regions and languages. Google Trends provides graphs and charts to compare the trends over time.
The chart's x-axis represents the "interest over time", and the y-axis represents the topic or "search interest".
Google Trends allows you to see how the topic is trending over time, how people's interests have changed, and even when the topic tends to reach a peak or demolish over time.
Google Trends Dropshipping is an effective tool for Businesses and for E-commerce as you can easily search for the trends and make your products or services available in that area.
Introduction to Dropshipping
Dropshipping is a method of selling a product from a third-party vendor without actually owning the product. For example, Amazon is an E-commerce website that doesn't hold/store any inventory. It sells the product from a third-party vendor and acts as a medium between customer and seller. It receives the order from a customer, passes it to the seller, and ships it to the customer.
Key Features of Dropshipping
Dropshipping is great to start a business with limited downside. The various features of dropshipping are:
Less Capital Requirement: Dropshipping is a method where you don't have to maintain an inventory, making it possible to do business without investing thousands of dollars.
Easy to Get Started: Dropshipping is easy to get started. You only need a couple of sellers who are willing to do business with you. You don't need to manage the inventory, handle shipping and return. All has to be done by the seller, and you'll act as a medium.
Flexibility: Dropshipping doesn't require you to be at a specific location. You can run your business from practically any location as long as you communicate between buyers and sellers.
Sell Wide Range of Products: With no inventory to be maintained, you can practically sell multiple sellers' wide range of products.
Easy to Scale: Dropshipping is easy to scale. You can add more sellers to meet the demand without doing much work on your side.
Simplify your Data Analysis with Hevo's No-code Data Pipeline
Hevo Data, a No-code Data Pipeline, helps load data from any Data Source such as Google Analytics, Google Ads, Google Drive (Free Source Connectors in Hevo) and simplifies the ETL process. It supports 100+ Data Sources including 40+ Free Sources. It is a 3-step process by just selecting the data source, providing valid credentials, and choosing the destination. Hevo loads the data onto the desired Data Warehouse/Destination like Google BigQuery, Snowflake, Amazon Redshift, Firebolt (Integration Coming Soon!) and enriches the data transforming it into an analysis-ready form without having to write a single line of code.
It's a completely Automated Pipeline that offers data to be delivered in real-time without any loss from Source to Destination. Its fault-tolerant and scalable architecture ensure that the data is handled in a secure, consistent manner with zero data loss and supports different forms of data. The solutions provided are consistent and work with different BI Tools as well.
Get Started with Hevo for Free
Check out why Hevo is the best:
Secure: Hevo has a fault-tolerant architecture that ensures that the data is handled securely and consistently with zero data loss.
Schema Management: Hevo takes away the tedious task of schema management & automatically detects the schema of incoming data and maps it to the destination schema.
Minimal Learning: Hevo, with its simple and interactive UI, is extremely simple for new customers to work on and perform operations.
Hevo Is Built To Scale: As the number of sources and the volume of your data grows, Hevo scales horizontally, handling millions of records per minute with very little latency.
Incremental Data Load: Hevo allows the transfer of data that has been modified in real-time. This ensures efficient utilization of bandwidth on both ends.
Live Support: The Hevo team is available round the clock to extend exceptional support to its customers through Chat, Email, and Support Calls.
Live Monitoring: Hevo allows you to monitor the data flow and check where your data is at a particular point in time.
Sign up here for a 14-Day Free Trial!
Disadvantages of Dropshipping
We see Dropshipping as an attractive business model that anyone can start with minimum investment based on the above benefits. However, there is an inevitable downside of Dropshipping method. Let's have a look at some of those:
Low Margins: Dropshipping relatively results in Low Margins. As this method is fairly simple to set up, there is much competition around the market, and they attempt to sell products at rock bottom prices.
Inventory Issues: Managing the In-stock Inventory is a tedious process. The seller might be involved with different dropships, and you may not have real-time inventory information.
Shipping and Return Complexities: Managing shipping and returns are complex affairs. Sometimes it happens that the seller refuses to take the product back, but you're entitled to refund the amount as per the Business Model. Also, managing the shipping cost is tedious if the customers order three products and all the products are available from different sellers.
Branding: The dropshipping items are supplier designed and branded, so there is very little chance of embossing your own brand in the product. Even if you do so, you have to pass the branding information to the sellers, which can incur further costs.
Google Trends Dropshipping: How to Get Started with Google Trends
Google Trends provides the Trends of particular interest terms over time. For example, if you want to start your Dropshipping Business in a Health area that includes Gym equipment, clothes, diet, and even gym services, you can search for Gym-related keywords in Google Trends to see the trends. Let's see how to do so-
From the above figure, we can see that there has been an inclining trend for Keto Diet worldwide over the past five years.
Google Trends allows you to compare over multiple interests and builds a comparative graph –
From the above image, we can see that worldwide, people have been adopting vegan diets for the past five years.
Based on these trends from you can analyze how your Google Trends Dropshipping Services will perform, and you can also monitor the position of your competitors.
Google Trends Dropshipping: How to Use Google Trends for Dropshipping
Google Trends is a relatively simple tool to use. To get started with Google Trends, head out to https://trends.google.com/ and sign in with your Google account.
Search for the term for which you wanted to see the trends. For example – Dropshipping.
Select the period to 'past five years or from '2004 – present'.
Set the filter to worldwide. You can also filter across particular regions if you're looking to see the trends in any specific region.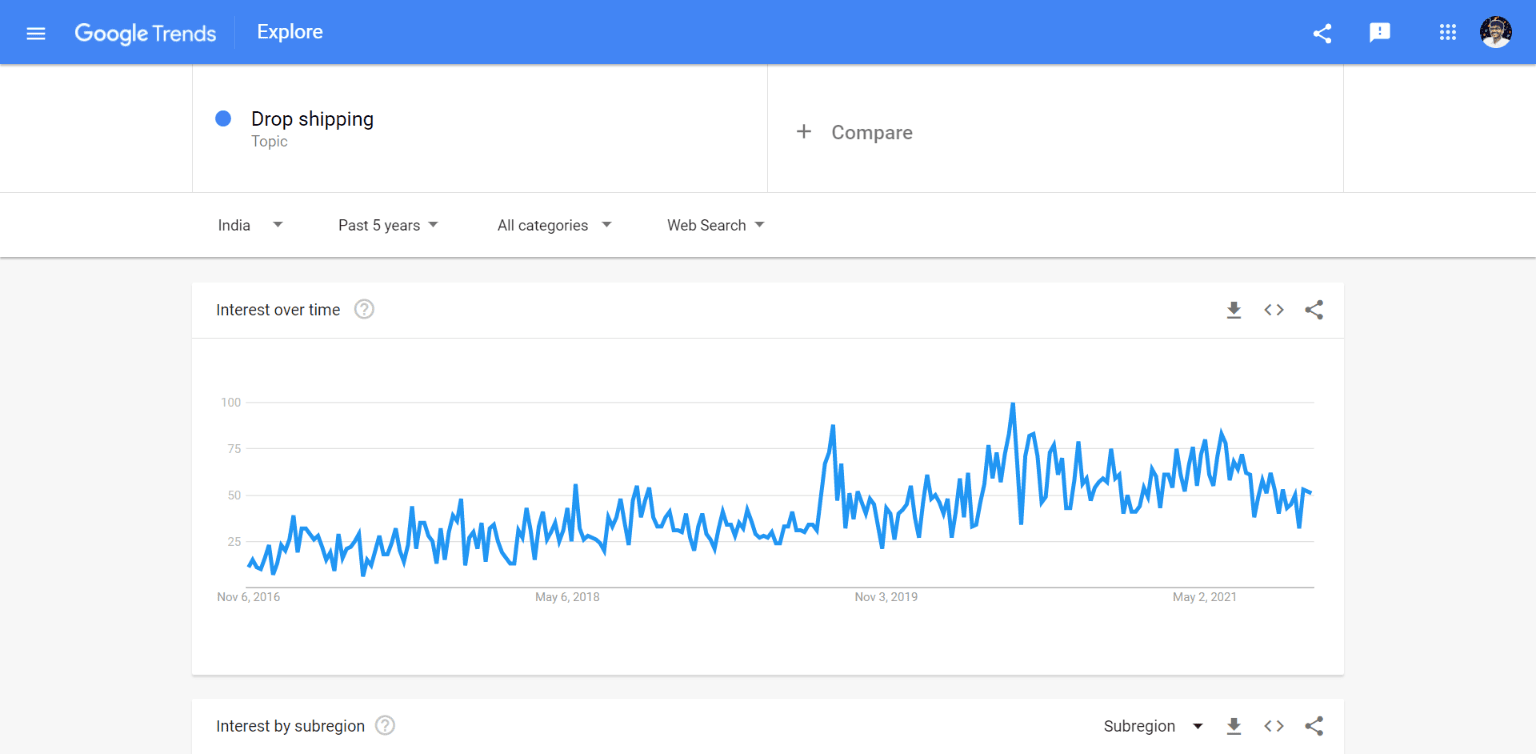 The above image shows that Dropshipping has an inclined growth over five years, along with seasonal spikes.
So from the above graphs, we can clearly say that Dropshipping is gaining popularity worldwide and is great in terms of Business.
If we look across a particular country, let's say the USA, it has an inclined growth –
Google Trends Dropshipping: How Google Trends Can Help Dropshipping
If you're using Google Trends to analyze what people are searching for, you are selling the same via Dropshipping. Surely, your Business will reach the sky. Every Business requires an audience ready to make a purchase. Hence it is necessary to know the trends of what people need before starting any business.
Here's a step by step procedure on getting started with Google Trends Dropshipping:
Step 1: Find the Trends of Products
Google Trends provides great information about the popularity of particular products across the region. As a Dropshipper, you constantly need to monitor the trends of your products to be competitive in the market.
For example, searching for "Javelin Throw", you see a sudden spike in the graph, mainly during the Olympics. As a dropshipper, you must want to monetize this opportunity by supplying sports merchandise. But also, it will help you to understand the cool period where you can drop ship other products.
Step 2: Fine-tune Keyword Research and Find New Keywords
Once you know the trend of your product, you should fine-tune them with more close keywords to understand which product, brand, and region show huge trends.
Keyword Search Volume refers to the number of times the term appeared over the Web within the time frame.
For example, if we talk about Office chairs, we can see a sudden spike in the year 2000. Because of COVID-19, many people have started working from home, and thus there is a sudden spike.
We should also look at the related search and related queries section that will help to understand what exactly people are looking for in the Office Chair category.
Step 3: Find the Best Products to Sell
Once you have enough information about the products, it's time to find the best products in high demand for sale.
For example, let's take the example of 'Hoodie.' We see a seasonal spike, i.e., around winters.
When you further investigate, you will find which kind of hoodie is popular among the customer and decide based on that.
Step 4: Marketing and Connecting with Seller
Once you decide which products you want to sell, you probably need to find a seller with ample stock of that product and market your Dropshipping Business to reach the customer. Marketing the Business can be done in both ways, i.e., Digital Marketing and Offline Marketing.
Step 5: Convert Leads and Make a Sale
As soon as your Ad goes live, customers will start reaching you, and you can close the appropriate deal you get, thereby registering your first sale.
Conclusion
In this article, we explored how to build up a Google Trends Dropshipping Business to generate passive income or revenue streams for your entrepreneurial projects. We looked at a five-step process for setting up Google Trends Dropshipping with the help of Google Trends and Google Ads with lucid explanations.
It's no surprise that Google's tools have a lot of business utility for both Small and Large Companies. For example, using Google Ads and Google Analytics exposes Marketers and Salespeople to new ideas and trends, allowing them to create more effective and personalised Marketing Campaigns that resonate well with their target demographic.
Working with such a large number of tools unavoidably leads to data management issues or communication barriers across Teams. Having a solid and robust integration tool like Hevo solves this problem by integrating all your data from heterogeneous Data Sources to a Single Source of Truth; a Data Warehouse.
Hevo Data with its strong integration with 100+ Sources & BI tools such as Google Analytics, Google Drive and Google Ads (Free Source Connectors with Hevo) allows you to not only export data from Sources & load data in the Destinations, but also transform & enrich your data, & make it analysis-ready so that you can focus only on your key business needs and perform insightful analysis using BI tools.
Visit our Website to Explore Hevo
Hevo lets you migrate all your frequently used Google Tools to any Data Warehouse of your choice like Amazon Redshift, Snowflake, Google BigQuery or Firebolt within minutes with just a few clicks.
Want to take Hevo for a spin? Sign Up here for a 14-day free trial and experience the feature-rich Hevo suite first hand.
Share your opinions on Google Trends Dropshipping with us in the comments below. We'd be interested in hearing your thoughts and ideas.
No-code Data Pipeline for Your Data Warehouse