Connect Salesforce to Power BI: 2 Easy Methods
Do you want to visualize your Salesforce data in Power BI? Are you looking for a simple fix? If yes, you've landed at the right page! This article provides you with a step-by-step solution to help you connect Salesforce to Power BI in a matter of minutes.
This article aims at answering all your queries about connecting Salesforce to Power BI. Follow our easy guide to master the skill of establishing a connection between Salesforce & Power BI and visualizing your data easily.
Table of Contents
Introduction to Salesforce
Salesforce is a cloud-based CRM tool that helps you maintain and manage your organization's interactions with its customer base. Salesforce generates a lot of data from managing these interactions. It also offers cloud-based tools such as data analytics, IoT products. These generate data that provide priceless insights about customers and can be extremely useful for the organization.
Key features of Salesforce:
Contact Management: Salesforce offers smooth contact-management by providing access to critical customer data and interaction history. It provides great insights on how to use customer data to get a better understanding of their behaviour using various trends and metrics and formulate strategies.
Dynamic Dashboards: Salesforce's interactive dashboards provide a complete view of how well the business is performing using key factors such as market trends, customer behaviour, etc. You can easily create dashboards and generate real-time reports for your business.
Opportunity Management: It is one of the best features of Salesforce. It provides you with an in-depth view of the customers' timeline, their buying patterns, metrics, etc and lets you strategise your next move.
Email Integrations: Salesforce supports full integration with applications like Microsoft Outlook, Gmail, etc and lets you synchronise your calendars and schedules. It even provides offline access to important emails and lets you develop personalised templates for potential customers.
For further information on Salesforce, you can check the official site here.
Introduction to Power BI
Power BI is a cloud-based business intelligence tool used to analyze and visualize data in real-time. It converts data from multiple sources into interactive dashboards and reports, managing your business needs. It is available in various versions such as a SaaS application, desktop application, and also has a mobile-based version.
For further information on Power BI, you can check the official website here.
Simplify your data analysis with Hevo's No-code Data Pipelines
Hevo Data, a No-code Data Pipeline helps to transfer data from Salesforce (among 100+ sources) to your desired Data Warehouse and visualize it in Power BI for free. Hevo is fully-managed and completely automates the process of not only exporting data from your desired source but also enriching the data and transforming it into an analysis-ready form without having to write a single line of code. Its fault-tolerant architecture ensures that the data is handled in a secure, consistent manner with zero data loss.
It provides a consistent & reliable solution to manage data in real-time and always have analysis-ready data in your desired destination. It allows you to focus on key business needs and perform insightful analysis using BI tools such as Power BI and many more.
Get Started with Hevo for Free
Check out some amazing features of Hevo:
Completely Managed Platform: Hevo is fully managed. You need not invest time and effort to maintain or monitor the infrastructure involved in executing codes.
Live Monitoring: Hevo allows you to monitor the data flow and check where your data is at a particular point in time.
Data Transformation: It provides a simple interface to perfect, modify, and enrich the data you want to export.
Secure: Hevo has a fault-tolerant architecture that ensures that the data is handled in a secure, consistent manner with zero data loss.
Schema Management: Hevo takes away the tedious task of schema management & automatically detects schema of incoming data and maps it to the destination schema.
Minimal Learning: Hevo with its simple and interactive UI, is extremely simple for new customers to work on and perform operations.
Sign up here for a 14-Day Free Trial!
Prerequisites
Working knowledge of Salesforce.
Working knowledge of Power BI.
Power BI installed on the host workstation.
A Power BI service account.
A Salesforce account.
Methods to connect Salesforce to Power BI
There are multiple methods that can be used to connect Salesforce to Power BI: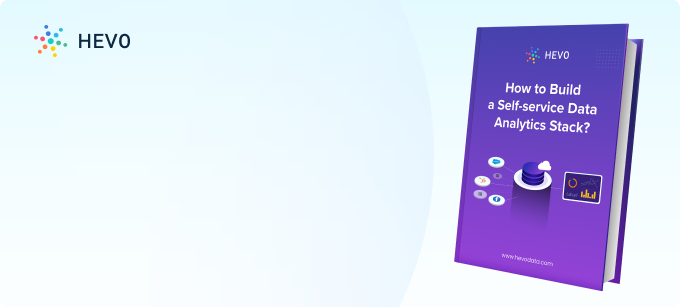 Download the Guide on How to Set Up a Data Analytics Stack
Learn how to build a self-service data analytics stack for your use case.
Method 1: Using Power BI's in-built connector
Power BI's in-built Salesforce connector conveniently establishes a connection with Salesforce. You can easily set up a data source and use Power BI to visualize your data to perform a fruitful analysis for your business.
This can be implemented using the following steps:
Step 1: Configuring Power BI
Launch Power BI on your workstation and click on the get data button found in the navigation panel. Select "analytics for salesforce" option.
A new dialogue box will now open up, where you need to provide your credentials to sign in to your Salesforce account. Provide access to your Salesforce data by clicking on the authorise button.
Step 2: Configuring the data source
Select the data that you want to import from Salesforce. You can select the dashboard in two ways, either as a sales manager or as a sales rep. Choose the options carefully as per your business needs, since these dashboards may contain different types of objects.
You can import custom or pre-defined reports from Salesforce using the reports tab. This feature provides you with more control over the data being imported from Salesforce. Click on connect to successfully establish a connection and start importing your data.
This is how you can connect Salesforce to Power BI using the in-built connector.
Limitations of this method
Import is a one time process. So anytime your Salesforce data changes, you will need to import the data again. This can be handled to an extent by using scheduled data imports, however, it doesn't perform like a real-time connection.
This method requires you to use predefined dashboards and reports to import objects, which means not all Salesforce data is imported in most cases and you miss the flexibility of getting the complete data and custom fields into PowerBI.
Method 2: Using Salesforce APIs to connect Salesforce to Power BI
Salesforce APIs can be used to establish a real-time connection with Power BI and perform an insightful analysis. Using the following APIs is one of the best ways to connect and interact with Salesforce data:
Salesforce REST APIs: Salesforce REST APIs are a set of web services that help to insert/delete, update and query Salesforce objects. To implement a custom application using Salesforce in mobile or web ecosystem, REST APIs are the preferred method.
Salesforce SOAP APIs: These can establish formal contracts of API behaviour through the use of WSDL. Typically Salesforce SOAP APIs are used when there is a requirement for stateful APS or in case of strict transactional reliability requirement. SOAP APIs are also sometimes used when the organization's legacy applications mandate the protocol to be SOAP.
Salesforce BULK APIs: These are optimized for dealing with a large amount of data ranging up to GBs. These APIs can run in a batch mode and can work asynchronously. They provide facilities for checking the status of batch runs and retrieving the results as large text files. BULK APIs can insert, update, delete or query records just like the other two types of APIs.
Salesforce Data Loader: It is a Salesforce utility that can be installed on the desktop. It has functionalities to query and export the data to CSV files. Internally this is accomplished using the bulk APIs.
This method requires you to load data from Salesforce into a database that supports a live connection with Power BI such as PostgreSQL, MySQL, etc to generate your business reports easily. Check out Hevo's easy step-by-step guide to help you transfer data from Salesforce to databases such as PostgreSQL.
Once you have transferred your data from Salesforce to PostgreSQL, connect PostgreSQL database to Power BI to visualize data and generate informative business reports.
Click on the get data dialogue box from power query or the data tab from the excel ribbon. A list of databases will now show up, select the database option as PostgreSQL.
Select the connectivity mode as the direct query mode, to always have up-to-date data from PostgreSQL for analysing and generating reports. The key part of this method is to ensure that data is refreshed continuously in the PostgreSQL database.
This is how you can connect Salesforce to Power BI using the Salesforce APIs.
Limitations of this method
This method requires users to parse API responses from the Salesforce APIs using manual codes. This is a very challenging and tedious process, especially for beginners as it requires a deep understanding of APIs and their implementation.
Continuous updating of data requires a lot of data pre-processing to be done such as transforming data into an analysis-ready form, removal of duplicates to ensure that data can be used to perform analysis and generate reports using dashboards.
Conclusion
This article introduces you to the various methods that can be used to connect Salesforce to Power BI. It also provides in-depth knowledge about the concepts behind every step to help you understand and implement them efficiently. These methods, however, can be challenging especially for a beginner & this is where Hevo saves the day. Hevo Data, a No-code Data Pipeline helps you transfer data from a source of your choice in a fully-automated and secure manner without having to write the code repeatedly. Hevo with its strong integration with 100+ sources(Including 30+ Free Sources like Salesforce) & BI tools, allows you to not only export & load data but also transform & enrich your data & make it analysis-ready in a jiffy.
Visit our Website to Explore Hevo
Want to take Hevo for a spin? Sign Up for the 14-day free trial! and experience the feature-rich Hevo suite first hand.
Tell us about your preferred way to connect Salesforce to Power BI! Share your thoughts with us in the comments section below.
Visualize Your Salesforce Data In Power BI Easily