Firebase SQL Server Integration: 2 Easy Methods
When it comes to the field of Web & Application Development, having the right strategy in place is pivotal to the success of the application or website. By designing innovative websites and applications, companies can showcase the services they offer and attract a wide variety of customers. One such platform developed by Google that is designed for creating web and mobile applications is Firebase. By using Firebase, companies can leverage Google's application platform to develop high-quality, enterprise-grade applications for their customers.
An important factor that links multiple applications with each other is databases. One of the most popular traditional databases/RDBMS is SQL Server. SQL Server is owned by Microsoft whose fundamental aim is to provide a platform to create, manage and manipulate databases. Firebase SQL Server Integration is a process that helps you quickly transfer data between Firebase and SQL Server. It plays a vital role when you are designing applications or websites on Firebase and are using SQL Server as your database.
In this article, you will learn how to set up Firebase SQL Server Integration. You will also get an overview of Firebase and SQL Server to better understand these technologies individually. Read along to gain insights and understand the Firebase SQL Server Integration.
Table of Contents
Prerequisites
A Firebase account.
A JSON-CSV online converter.
An SQL Server account.
Working knowledge of SQL Server.
Working knowledge of Databases and Data Warehouses.
Introduction to Firebase
Firebase is a platform developed by Google for creating mobile and web applications. It was developed by Envolve, a startup founded by James Tamplin and Andrew Lee in 2011. It was acquired by Google in 2014 for supporting mobile and web app development along with its other technologies. Originally, Envolve provided developers an API (Application Programming Interface) that enabled the incorporation of an online chat functionality onto their websites but later they found that some application data was also being sent along with the chat messages on the online chat platform. Hence, they decided to separate the chat system and the application platform. This application platform later became Firebase.
After being acquired by Google, the first product of Firebase was the Firebase Realtime Database, an API that synchronizes application data across iOS, Android, and Web devices, and stores it on Firebase's Cloud. It assists software developers in building real-time, collaborative applications.
Key Features of Firebase
Firebase houses a wide range of features which makes it a better choice as compared to other web and mobile application development platforms. Some of these features are:
Firebase has one of the best built-in Analytics dashboards. This dashboard offers unlimited reporting capabilities, efficient audience segmentation, and seamless integration with other services.
Firebase allows you to build high-quality applications with ease. It combines techniques like Cloud Messaging, Authentication, Hosting, Remote Configuration, Crash Reporting, and many more onto a common platform. Its UI is relatively simple to understand and work on.
Firebase maintains a constant interaction with all its users and this way it enhances their growth simultaneously.
It also helps increase your revenue with the websites/applications you create.
The features of Firebase are depicted in the below figure.
With Firebase SQL Server Integration, you can use the flexible, powerful, and simple UI of Firebase with a powerful database like SQL Server, all in one package.
To learn more about Firebase, click this link.
Introduction to SQL Server
SQL Server is a robust RDBMS designed by Microsoft in 1989. Similar to other traditional RDBMSs like MySQL, PostgreSQL, etc., SQL Server also leverages SQL to interact with and manipulate data in its database. SQL is a declarative query processing language that allows all types of users to easily and efficiently access data present on SQL Server.
Currently, Microsoft offers SQL Server under two different licenses determined by the customer's organizational and personal needs. They are the Client Access Level (CAL) model and Per-Core model.
SQL Server supports Microsoft Windows and Linux operating systems. With its programming language drivers, you can easily connect with any code. It is available in multiple languages including French, English, Japanese, Chinese, Spanish, and more.
Key Features of SQL Server
SQL Server has some unique features that make it a popular database in the market. Some of those features are:
It offers support for different tools such as SQL Server Management Studio, Database Tuning Advisor, SQL Server Profiler, and BI tools.
It offers 24×7 online help and support capabilities.
SQL Server supports high-level programming languages like Java and Python.
It is helpful for the backend development of applications that use SQL.
It has intelligent query processing enhancements built into it to improve the query optimizer output and make them more efficient.
To learn more about SQL Server, click this link.
Ways to Set up Firebase SQL Server Integration
Methods to Set up Firebase SQL Server Integration
There are 2 methods you can use to set up Firebase SQL Server Integration: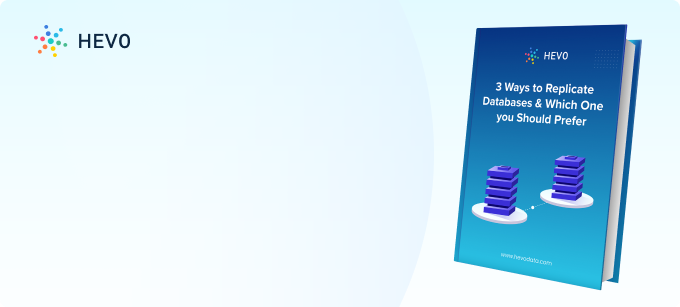 Download the Ultimate Guide on Database Replication
Learn the 3 ways to replicate databases & which one you should prefer.
Method 1: Manual Firebase SQL Server Integration
In this method, you'll need to access your Firebase account to export your Firebase node data into a JSON format. Next, you'll have to convert that JSON file into a CSV file through an online converter. Finally, you import the CSV file onto the SQL Server database.
To do this, you need to have both a Firebase and SQL Server account. You will also need to have access to an online converter to convert the JSON file into a CSV file. Once you have done this, follow the steps given below:
Step 1: Exporting your Firebase data into a JSON File
The first step in Firebase SQL Server Integration is to access your Firebase account and export the data as a JSON file. To do this, select the node you wish to export, click on the vertical 3 dots icon and click on Export JSON. Once you do this, your browser will begin downloading a ".json" file for your database data.
This is shown below.
Step 2: Converting the JSON file into a CSV file
The next step is to convert the JSON file into a CSV file. In case you do not have a pre-built converter in place, you can use any online converter to convert your files. You can use this online converter to accomplish this task.
Step 3: Importing the CSV File into your SQL Server Database
To import the CSV file, create a table in your SQL Server database. After the table is created follow the below steps:
Log in to your database using the SQL Server Management Studio, and right-click the database, and select Tasks-> Import Data.
Click the Next button.
To configure your Data Source and establish the connection, select the Flat File Source and then use the Browse button to select the CSV file you want to import.
For the Destination, select the correct database provider (in this case that would be any version of SQL Server) and enter the Server Name.
Check the authentication of the SQL Server database connection by entering the Username and Password before clicking on the Next button.
Next, go to the Select Source Tables and Views window, where you can Edit Data Mappings before clicking the Next > button.
Click on Run immediately and click the Next > button.
Click the Finish button to run the package and start the transfer of data from the CSV file to your SQL Server Database.
That's it! You have successfully set up Firebase SQL Server Integration using a JSON and CSV export/import process!
Some of the limitations of this method include:
You must have access to an online converter to use this method. This can be a security threat as well for your confidential data.
As users will have to export and convert JSON data, this method is very complex, time-consuming, and highly error-prone.
This method will require having strong technical SQL knowledge.
To overcome these limitations and integrate Firebase and SQL Server quickly and efficiently, you can use Hevo's No-code Data Pipelines. Check out the next method to understand how Hevo can help you integrate them within minutes.
Method 2: Using Hevo to Set Up Firebase SQL Server Integration
Hevo, a No-code Data Pipeline, helps you directly transfer data from Firebase and 150+ other data sources to databases such as SQL Server, Data Warehouses, BI tools, or a destination of your choice in a completely hassle-free & automated manner. Hevo is fully managed and completely automates the process of not only loading data from your desired source but also enriching the data and transforming it into an analysis-ready form without having to write a single line of code. Its fault-tolerant architecture ensures that the data is handled in a secure, consistent manner with zero data loss.
Hevo takes care of all your data preprocessing needs and lets you focus on key business activities and draw a much powerful insight on how to generate more leads, retain customers, and take your business to new heights of profitability. It provides a consistent & reliable solution to manage data in real-time and always have analysis-ready data in your desired destination.
Check out what makes Hevo amazing
Secure: Hevo has a fault-tolerant architecture that ensures that the data is handled in a secure, consistent manner with zero data loss.
Schema Management: Hevo takes away the tedious task of schema management & automatically detects the schema of incoming data and maps it to the destination schema.
Minimal Learning: Hevo, with its simple and interactive UI, is extremely simple for new customers to work on and perform operations.
Hevo Is Built To Scale: As the number of sources and the volume of your data grows, Hevo scales horizontally, handling millions of records per minute with very little latency.
Incremental Data Load: Hevo allows the transfer of data that has been modified in real-time. This ensures efficient utilization of bandwidth on both ends.
Live Support: The Hevo team is available round the clock to extend exceptional support to its customers through chat, email, and support calls.
Live Monitoring: Hevo allows you to monitor the data flow and check where your data is at a particular point in time.
Conclusion
This article gave you a step-by-step guide on setting up Firebase SQL Server Integration. It also gave you an overview of both Firebase and SQL Server along with their features. Overall, Firebase SQL Server Integration can be set up using either using the manual method or by using Hevo, but if time, ease of use, and minimal engineering requirements are parameters for you, using automated data platforms like Hevo can help you to set up Firebase SQL Server Integration seamlessly!
VISIT OUR WEBSITE TO EXPLORE HEVO
In case you want to integrate data from data sources into your desired Database/destination like SQL Server, then Hevo is the right choice for you! It will help simplify the ETL and management process of both the data sources (including 40+ free sources like Firebase Analytics) and destinations.
Want to take Hevo for a spin?
SIGN UP and experience the feature-rich Hevo suite first hand.
Share your experience of setting up Firebase SQL Server Integration in the comments section below.
No-code Data Pipeline For SQL Server