Fivetran vs Stitch vs Hevo: 5 Differences
Are you trying to choose an efficient solution for your data transfer needs? Are you confused about which tool to pick? Don't worry, this blog on Fivetran vs Stitch vs Hevo will stack up the 3 most powerful cloud-based ETL solutions against each other, to help you make this decision.
You may opt to choose one of the open-source tools available out there, however, these may have limited features. With paid solutions like the ones discussed here, you are investing in your business, in your future, in yourself.
Read along to learn more about these 3 platforms and decide which one suits you the best!
Table of Contents
Introduction to Fivetran
Fivetran is a cloud-based ETL tool that helps you transfer your data seamlessly. It supports many integrations to different SaaS applications, databases, and data warehouses. It was founded in 2012 by George Fraser and Taylor Brown. With Fivetran, you will be able to build data pipelines but will not have to maintain or configure them.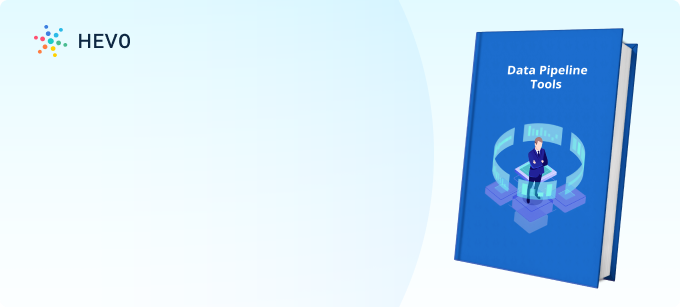 Download the Guide to Evaluate Data Pipeline Tools
Learn to consider the 10 key parameters while selecting the right data pipeline tool for your use case.
Key Features of Fivetran
The following features make Fivetran a popular name in the current market:
Scalability: Fivetran is a highly scalable platform capable of growing your business. Also, it allows you to handle large amounts of data with ease.
Integration: Powerful support for Fivetran integration allows users to connect to over 90 data sources to integrate their data.
Customer Service: Fivetran offers timely customer support to its users and allows them to contact support teams during business hours via email and in-app messages only.
Secure: Fivetran is a highly secure data integration platform that ensures your data is always secure.
Introduction to Stitch
Stitch Data Loader is a cloud-based platform that satisfies your ETL needs. Many companies rely on Stitch to move large amounts of data daily from multiple SaaS applications and databases into data warehouses and lakes, where it can be analyzed using BI tools. Stitch is a part of the Talend.
Key Features of Stitch
Stitch Data offers the following key features to its users:
Transparency: Stitch orchestration functions provide visibility into the data pipeline. The transparency of data movement gives users more control and provides them a visual representation of scheduling, error handling, logging, and monitoring. Stitch gives the user control when deciding whether to replicate data.
Integrations: Stitch has been expanded to allow users to connect to the entire ecosystem of data sources. This removes any data limitations, and now data can come from all sources.
Availability: Stitch puts user data where and when it needs it. Stitch also has features for displaying, sorting, adding, combining, and enriching the data.
Introduction to Hevo
Hevo Data, a No-code Data Pipeline, helps you transfer data from 150+ sources to BigQuery.
Hevo is fully managed and completely automates the process of loading data from your desired source, enriching it, and transforming it into an analysis-ready form without having to write a single line of code.
Its fault-tolerant architecture ensures that the data is handled securely and consistently with zero data loss.
Get Started with Hevo for Free
Key Features of Hevo
Completely Automated: The Hevo platform can be set up in just a few minutes and requires minimal maintenance.
Transformations: Hevo provides preload transformations through Python code. It also allows you to run transformation code for each event in the Data Pipelines you set up. You need to edit the event object's properties received in the transform method as a parameter to carry out the transformation. Hevo also offers drag and drop transformations like Date and Control Functions, JSON, and Event Manipulation to name a few. These can be configured and tested before putting them to use.
Connectors: Hevo supports 150+ Integrations (including 40+ Free Sources) to SaaS platforms, files, databases, and analytics. It supports various destinations including Amazon Redshift, Firebolt, Snowflake Data Warehouses; Amazon S3 Data Lakes; and MySQL, SQL Server, TokuDB, DynamoDB, PostgreSQL databases to name a few.
Real-time Data Transfer: Hevo provides real-time data migration, so you can have analysis-ready data always.
100% Complete & Accurate Data Transfer: Hevo's robust infrastructure ensures reliable data transfer with zero data loss.
24/7 Live Support: The Hevo team is available round the clock to extend exceptional support to you through chat, email, and support calls.
Schema Management: Hevo takes away the tedious task of schema management & automatically detects the schema of incoming data and maps it to the destination schema.
Live Monitoring: Hevo allows you to monitor the data flow so you can check where your data is at a particular point in time.
Sign up here for a 14-Day Free Trial!
Fivetran vs Stitch Data vs Hevo Data
Following are some of the most important factors you must remember while comparing data integration platforms such as Fivetran, Stitch, and Hevo Data. Selecting the right tool for your business needs has never been this easy:
1) Fivetran vs Stitch vs Hevo: Integrations
Fivetran:
Fivetran supports close to 150 integrations to multiple cloud platforms, SaaS applications, and databases. It supports a number of data warehouse destinations but does not support data lakes. You may request Fivetran to build a new data source, but only the Fivetran team can build new data sources or make other changes.
Stitch:
Stitch provides support for a large number of data sources and destinations. It allows customers to build new sources, according to the standards laid out in Singer (an open-source toolkit for writing scripts). However, the customer must have good programming knowledge to accomplish this feat.
Hevo:
Hevo also provides support for 150+ data sources (including 40+ Free Data Sources), with new sources being added to its repository. This includes not only different SaaS applications but also payment gateways, advertising platforms, and analytics tools. Even in the case of Hevo, customers can make requests for providing new data sources.
2) Fivetran vs Stitch vs Hevo: Transformations
Fivetran:
Fivetran is an ELT tool which means that it does not transform data before it has been loaded to the required destination. It does provide support for post-load transformations through copy-and-paste SQL.
Stitch:
Stitch is an ELT product like Fivetran. So, Stitch does not perform transformations prior to loading the data. It may make some changes to the data to ensure that it is compatible with the destination, such as translating data types.
Hevo:
Hevo supports both ETL and ELT. You can easily transform your data before loading so your data is analysis-ready when it reaches your data warehouse. Hevo lets you execute transformation code for every event in the pipelines that you set up.
Users can either opt for automatic schema mapping by enabling the auto-mapping feature while creating their data pipelines or write a single Python-based data transformation method with the event as the parameter. Hevo Data then applies this transformation code to all incoming data events, automating the tedious process completely.
With Hevo Data, you will always have high-level control over how your data undergo any transformation, as it provides users with full freedom to make changes to their data. Hevo Data also handles all exceptions gracefully and allows users to test their code multiple times before they deploy to the data pipeline. Apart from this, Hevo also supports Drag and Drop transformations that are easy to carry out and with no code.
For further information on how Hevo Data handles data transformation, you can check the official website here.
3) Fivetran vs Stitch vs Hevo: Support, Training, and Documentation
These tools can be difficult to use, especially for first-time users. Users may also run into unexpected errors or issues. Thus, businesses selling these products always have support systems in place to guide their customers. One of the most important resources in this regard for any software is official documentation. Moreover, customer support teams are also in place to help the users in any way possible. Let's look at the support provided by these 3 tools.
Fivetran:
Although Fivetran does not have any training service in place, its product documentation is comprehensive and thorough. Moreover, it also provides in-app support.
Fivetran's customers support functionalities allow users to interact with the support team with the help of an in-app form. They can also interact with the team via email or by contacting them via a support call only during the business hours of 8 am – 3 pm for US & Canada & 9 am to 5 pm, for the rest of the world. Fivetran lacks the functionality of 24/7 live support.
Stitch:
Stitch delivers the facility of in-app chat support to its customers. However, the phone support option is available only to Enterprise customers. Documentation is comprehensive and is open source. Stitch does not provide training services.
Hevo:
Hevo provides 24×7 live support for its users across the globe. It also provides Intercom online chat and email support options available. Issues are resolved in a quick and urgent fashion. The documentation is comprehensive and is updated regularly with version changes, etc.
It helps users get answers to various queries related to basic ETL concepts, setting up pipelines, jobs, transformation operations, data sources, destinations, workflows, and much more. With Hevo's impeccable customer support service backed by the minimal response time, you will always have someone by your side to help you out whenever you're stuck.
Hevo Data helps users get started with the platform with the help of various online service demos, which a user can request, by contacting the support team. Apart from the demos, it also runs a YouTube channel where it hosts various short demo videos on multiple platform functionalities and numerous webinars to keep you on track with modern-day data analytics.
Hevo makes up for a great Fivetran Alternative.
4) Fivetran vs Stitch vs Hevo: Pricing
Fivetran:
Fivetran employs a consumption-based pricing model with 3 pricing tiers- starter, standard, and enterprise. It also provides a 14-day free trial.
Stitch:
Stitch provides 2 pricing plans based on facilities each one contains standard and enterprise. These plans are available on a monthly as well as annual subscription basis. Stitch also provides users with a free trial.
Hevo:
Hevo follows a pricing model that charges users depending upon the number of events/records created by them either on a monthly/ annum basis. It provides users with three different subscription offerings, namely Free, Starter, and a Business plan, with the "Free" subscription plan that supports up to 1 million events, available for free. The Starter Plan starts at $249/month and the Business Plan offers custom pricing.
With Starter and the Business plan, you can also increase the upper limit of your events, and scale your subscription as per your business needs, for a minimal extra charge. You can scale up the Starter plan to 300 million events ($1399/month) & the Business plan to 1 billion events.
Hevo Data also offers a 14-day free trial to users, irrespective of the subscription plan they choose! You can see the different benefits provided by each of the plans here.
5) Fivetran vs Stitch vs Hevo: Security
Fivetran:
Fivetran adheres to standard industry standards in regards to data security. It follows the HIPAA, SOC II, and GDPR standards. Fivetran uses an SSL connection to secure all Databases, while the data connections made with SaaS applications have HTTPS encryption. Moreover, it employs multi-factor authentication to ensure that its production infrastructure is protected.
Stitch:
Stitch encrypts your data in transit and at rest within its environment. For data pulled from an HTTP API or submitted directly to Stitch's Import API, Stitch uses an SSL/TLS-based encryption. It is SOC 2 compliant and also adheres to HIPPA standards as part of its Enterprise plan.
Hevo:
Hevo is known for its fault-tolerant architecture, and hence it provides users with robust enterprise-grade data security, ensuring data security at all times. Hevo Data implements the most secure industry standards, namely SOC II, GDPR, and HIPAA. It further makes use of multiple/two-factor authentication for all user accounts and hence requires users to enter an OTP while logging in to their accounts.
All Database connectors supported by Hevo Data, always establish an SSL connection, whereas it makes use of HTTPS encryption to keep all SaaS connections safe. Hevo Data's robust architecture ensures that all data connections made to the Hevo UI, all API service calls have HTTPS encryption in place. In case, a user tries to make a non-encrypted connection, Hevo Data automatically redirects it to HTTPS.
A Summarised Comparison of Fivetran, Stitch & Hevo
Platform Focus
Data Ingestion & ELT
Data Ingestion, ELT, ETL
Data Ingestion, ELT, ETL
SaaS Data Sources
About 100
About 100
About 150
Ability to develop new/modify existing data sources supported by the Platform
Yes
Yes
No
Support for Data lakes
Yes
Yes
Yes
Data Transformation
ELT
Both ETL & ELT
Both ETL & ELT
Reverse ETL Support
No
No
Yes, Native Reverse ETL solution called Hevo Activate
Data Security Certifications/ Compliance
GDPR & SOC I/II
HIPAA, GDPR & SOC II
HIPAA, GDPR & SOC II
SLA Support
Yes
Yes
Yes
Pricing
Credit/Consumption-based. Transparent Pricing
Volume-based. Transparent Pricing
Events & Paid Sources-based. Transparent Pricing
Purchase Process
Self Service or By Contacting Sales Team
Self Service or By Contacting Sales Team
Self Service or By Contacting Sales Team
Free Trial
Yes, 14-day free trial
Yes, 14-day free trial
Yes, 14-day free trial
Vendor Lock-in
Monthly or Annual Contracts Only
Monthly or Annual Contracts Only
No Lock-in – Flexible subscription plans
Developer Tools
REST APIs only for Enterprise Subscription
Import API, Stitch Connect API, and Singer Open-Source Project
REST APIs
Platform Training
No
No
Users can request a Platform Demo by contacting support,
Demo Videos on YouTube and
Implementation & Setup-based Documentation
Frequently Asked Questions (FAQs)
What makes Hevo different from the competitors?
Hevo allows you to automatically map Event Types and fields from your Source to the Destination's associated tables and columns, eliminating the need for human intervention.
Auto Mapping can be enabled at the Pipeline or Event Type level. You can, for example, disable Auto Mapping for the entire Pipeline while enabling it for a single Event Type, or vice versa.
How many connectors does Hevo have?
You can extract and aggregate data from 150+ Data Sources (including 40+ Free Sources) directly into your Data Warehouse, Database, or any destination using Hevo's out-of-the-box connectors and lightning-fast Data Pipelines.
Hevo also supports data integration from non-native sources via its built-in REST API and Webhooks Connector.
What are the pricing models of Hevo Data?
Hevo Data's pricing is based on the Number of Events and Paid Sources. It offers 3 transparent and flexible pricing plans:
Free (Upto 1 Million Events/Month)
Starter (Upto 300 Million Events/Month)
Business (Custom)
These subscription plans are offered on a monthly as well as annual basis.
Conclusion
In this blog post, you have seen the features of Fivetran, Hevo Data, and Stitch Data. Each one of these tools is excellent in providing automated data pipelines. Though these tools are quite similar, some key differences exist which make the decision of choosing one of them tricky. While Fivetran and Stitch are ELT tools, Hevo is an ETL tool, thus, if your data needs to be transformed before loading, Hevo is the obvious choice. Since each of these tools provides a free trial option, you can actually see for yourself which one you will be most comfortable using. Take your pick today!
Visit our Website to Explore Hevo
Hevo Data will automate your data transfer process, hence allowing you to focus on other aspects of your business like Analytics, Customer Management, etc. This platform allows you to transfer data from 150+ multiple sources to Cloud-based Data Warehouses like Snowflake, Google BigQuery, Amazon Redshift, etc. It will provide you a hassle-free experience and make your work life much easier.
Want to take Hevo for a spin? Sign Up for a 14-day free trial and experience the feature-rich Hevo suite first hand. You can also have a look at our unbeatable pricing that will help you choose the right plan for your business needs!
Share your understanding of the Fivetran vs Stitch Data vs Hevo Data discussion in the comments section below!

No-Code Data Pipeline for your Data Warehouse