Working With HubSpot Export: Made Easy
Every business should reach its customers where they are located. Today, the best place to reach your customers is online, on websites, social media platforms, etc. Businesses need tools that can help them reach out to their customers over the internet. HubSpot is one of the tools. It's an inbound sales and marketing software that helps businesses attract visitors, convert leads, and retain customers. 
While using HubSpot, you will be handling a lot of data. This data can be processed to extract insights that can be helpful to the business. Such insights help businesses to make sound decisions that can help them grow and generate more revenue. So, you need to export your data to create a backup and analyze it using data analysis tools.
This article aims at providing you with a comprehensive guide on how to export data from HubSpot with ease. Upon a complete walkthrough of the content, you'll be able to set up and leverage the HubSpot Export functionality to export a diverse set of data with ease!
Table of Contents
Introduction to HubSpot

HubSpot is a software tool that helps businesses to communicate with their customers, leads, and evangelists. It comes with a suite of tools that businesses can use for sales, marketing, and service. You can also use these tools to host your website and landing pages, create email sequences and blogs, and manage your interaction with leads and customers. At the same time, you can analyze the success of your marketing campaigns and track user behavior. 
With HubSpot, you can build a website for your business using the drag and drop functionality. It means that you don't need a designer or IT support to have a working website for your business. The HubSpot's website builder makes it possible for you to personalize and publish optimized content for each visitor. It has a tool that can help you discover, track, and organize keywords that drive your organic search results.
If you are running ads on social media platforms, HubSpot can help you to measure the impressions, clicks, and ROI (Return On Investment) of your ad campaigns. You can also create personalized HubSpot Marketing campaigns and track their performance. All these activities performed in HubSpot generate a lot of data. This data is a rich source of knowledge that can help businesses to make sound decisions such as how to design and run user-targeted ad campaigns, where to make improvements to attract and retain customers, etc. The overall result of this will make the business grow and generate more revenue. There are many features that HubSpot provides to optimize the workflow.
Hevo Data: Export your HubSpot Data Conveniently
Hevo Data, a No-code Data Pipeline, helps to transfer data from HubSpot (among 100+ sources) to your desired data warehouse/ destination and visualize it in a BI Tool. It helps transfer data from HubSpot to a destination of your choice for free. Hevo is fully managed and completely automates the process of not only loading data from your desired source but also enriching the data and transforming it into an analysis-ready form without having to write a single line of code. Its fault-tolerant architecture ensures that the data is handled in a secure, consistent manner with zero data loss.
It provides a consistent & reliable solution to manage data in real-time and always have analysis-ready data in your desired destination. It allows you to focus on key business needs and perform insightful analysis using various BI tools such as Power BI, Tableau, etc.
Get Started with Hevo for free
Let's look at some unbeatable features of Hevo:
Simple: Hevo offers a simple and intuitive user interface. It has a minimal learning curve.
Fully Automated: Hevo can be set up in a few minutes and requires zero maintenance.
Real-Time: Hevo offers real-time data migration. So, your data is always ready for analysis.
Schema Management: Hevo takes away the tedious task of schema management and automatically detects the schema of incoming data and maps it to the destination schema.
Live Monitoring: Hevo allows you to monitor the data flow and check where your data is at a particular point in time.
Live Support: Hevo team is available round the clock to extend exceptional support to its customers through chat, email, and support calls.
Sign up here for a 14-day Free Trial!
Prerequisites
Working knowledge of HubSpot.
A HubSpot account.
Understanding How HubSpot Works
The first step of using HubSpot is getting a HubSpot account. You can access HubSpot on your web browser from here. Click the "Get HubSpot free" button located on the top right corner of the screen. You will be taken through an on-screen process to set up a HubSpot account. You can use your Google account to sign up.
The HubSpot's navigation bar is made up of 7 elements, namely Contacts, Conversions, Marketing, Sales, Service, Automation and Reports. You can learn more about these menus from the following sections:
Contacts Menu
To add and manage your contacts and companies, use the "Contacts" menu.
Conversions Menu
The "Conversions" menu can help you see the chats that you had with your visitors. You can also create bots, that can engage your customers even in your absence.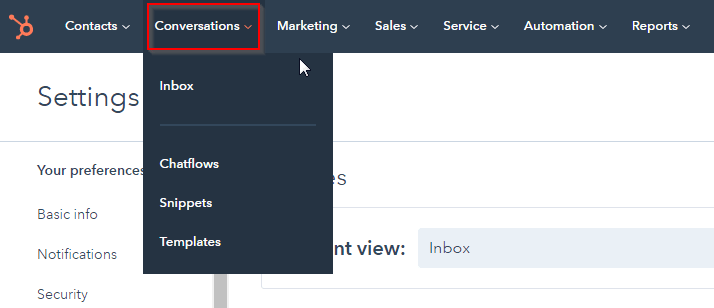 Marketing Menu
All your marketing stuff can be found under the "Marketing" menu. Here, you have an all-in-one place that can help you access all your ad campaigns. If you are running ad campaigns on different social media platforms like Facebook, Twitter, LinkedIn, etc., then the Marketing menu will make it easy for you to manage it.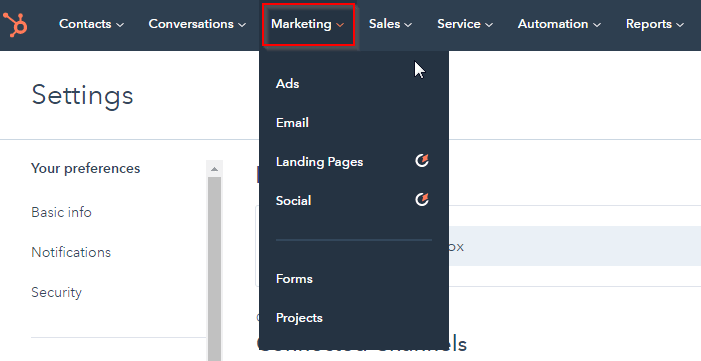 Sales Menu
The "Sales" menu can help you know how you are turning prospects into customers and the amount of revenue that you are making from sales. It can help you build a winning sales process. It is where you can create reminders/tasks to remind you to send follow-up emails, make discovery calls, or anything that should be done.
Service Menu
The "Service" menu allows you to create tickets and assign them to your team members to provide customers with the right services at the right time.

Automation Menu
The "Automation" menu is where you can automate most of your marketing tasks. It has the "Sequences" tool that you can use to automate your customer follow-up process. You only have to create a series of emails and tasks to keep your contact engaged. It also has the "Workflows" tool that marketers use to automate repeated things.

Reports Menu
The "Reports" menu has tools that marketers can use to perform analytics tasks. It is the menu that you can use to track the pages, sources, campaigns, and topics that are driving traffic to your website. You can also get more information about your contacts like lifecycle stage, country, and how they found your website. It is the same menu that you can use to create a sales, marketing, or service dashboard. You can also generate and view your reports.

Understanding How to Export Data from HubSpot
HubSpot allows users to export their marketing, sales and numerous other types of data from their HubSpot account using its in-built export functionality in their desired file format such as CSV, etc. You can learn more about how to export data from HubSpot from the following sections:
Retrieving Analytics Data using HubSpot Export
HubSpot allows you to export your campaign analytics, traffic analytics, and events data. Follow these steps to export analytics data from HubSpot:
Step 1: Log into your HubSpot account.
Step 2: Click "Reports" from the navigation bar, then choose "Analytics Tools".

Step 3: Choose the data that you want to export, whether Traffic Analytics, Campaign Analytics, or Events.
Step 4: For the Traffic Analytics tool, click "Sources", "Topic clusters", "Pages", or "UTM parameters" tab to download specific traffic data. 
Step 5: Use the Date range filter to specify the range of data that you need.
Step 6: Click the "Export" button on the top right corner of the window.
Step 7: Enter a name for the export in the "Name" field. Also, choose the format for the exported data from the "File format" dropdown. Click the "Export" button.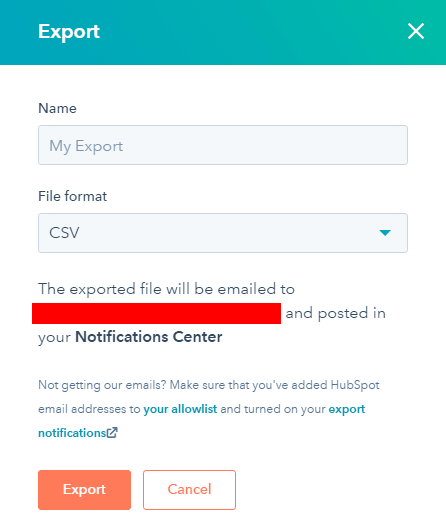 You will then receive a notification on your email with a link that you can use to download the export data.

Read about the best Hubspot Analytics Tools here.
Retrieving Company, Contacts Deals, or Tickets Records using HubSpot Export
Execute the following steps to carry out HubSpot Export Contacts, Companies, Deals or Tickets and retrieve your desired data from HubSpot:
Step 1: Log into your HubSpot account and navigate to Contacts, Companies, Deals or Records from the menu bar.
Step 2: If you intend to export all the records, ensure that you have selected the "All …" from the provided dropdown menu.

Step 3: Choose "Export view" from the "Table actions" drop-down.
Step 4: Select the file format and choose whether to include all properties or all properties in columns. Click the "Export" button.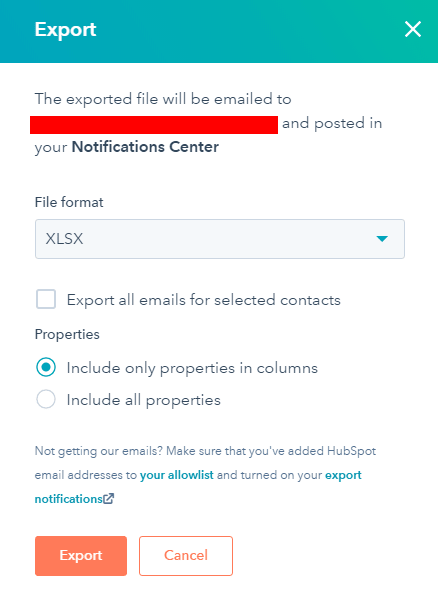 This completes your step-by-step tutorial on how to export Companies from HubSpot. You can also use the same steps to retrieve Contacts, Deals and Ticket-based data from HubSpot.
Retrieving Prospects Data using HubSpot Export
Follow the steps to export Prospects Data:
Step 1: Log into your HubSpot account.
Step 2: Click "Reports", then choose "Analytics Tools".

Step 3: Click "Prospects' from the bottom of the page.
Step 4: Click the "Options" dropdown from the left sidebar menu and then choose "Export".
Step 5: Select the "File format" from the drop-down and then click the "Export" button.
Retrieving Custom Reports using HubSpot Export
To export your reports, follow the steps given below:
Step 1: Log into your HubSpot account.
Step 2: Click "Reports" from the menu bar and then choose "Reports".
Step 3: Identify the report that you need to export, hover over it, click the "Actions" dropdown menu and select "Export".
Step 4: Type the name of the report in the "Name" field, choose the file type and click the "Export" button.
You will receive a notification email with the download link.
This completes your step-by-step tutorial on how to export data from HubSpot.
Exporting Contact Data from Hubspot CRM
In this section, you will learn the steps to HubSpot Export of Contacts Lists. If you need to access the HubSpot contacts outside the HubSpot CRM then you can export an active or static list of your contacts and their property values. The steps to HubSpot Export are listed below:
Log in to your HubSpot account here.
Navigate to Contacts Lists.
Then, hover over the list that you want to export.
Now, click on the More dropdown menu and select Export.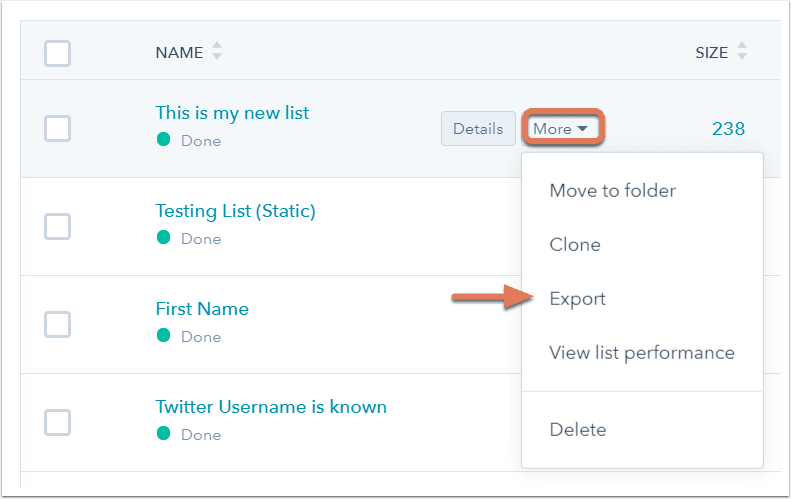 A new window will open and select the checkbox available next to the property to add for HubSpot export. 
Also, you can click on the Select all properties located at the top to add all the properties to export. 
If you want to remove any of the properties from the export list then click on the X button next to the property.
Then, click on the Next button.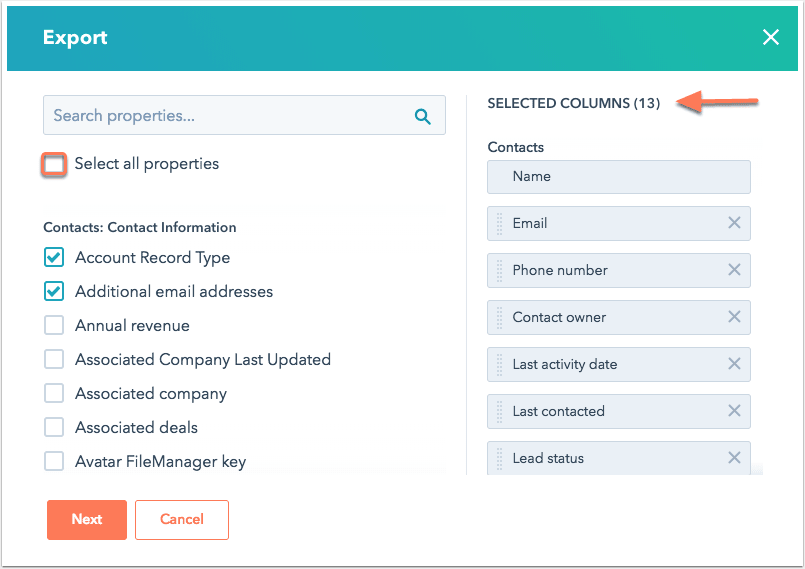 Now, select the File Format in which you want to export the contacts using the dropdown menu.
Click on the Export button. You will receive an E-Mail in your inbox that you provided.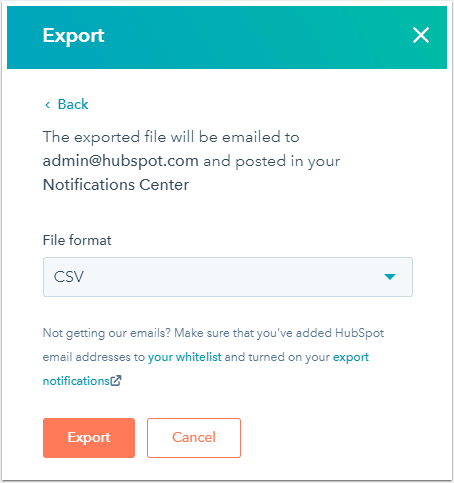 Open the E-Mail and click on the download link.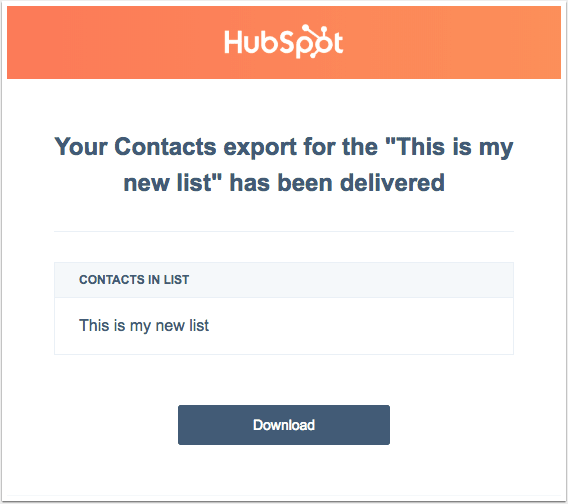 Limitation of Exporting Data from HubSpot Natively
Although HubSpot allows its users to export data from their accounts, it has a limitation:
HubSpot doesn't provide a way for users to export all data from their account at a go. The user must repeat the same steps when exporting different types of data, may it be contacts, tickets, prospects, companies, etc. 
Automating HubSpot Export
Using the manual process to HubSpot Export contacts to Google Sheets is tedious. Automating HubSpot Export saves a lot of time and keeps the data up-to-date. Manual HubSpot Export can lead to catastrophic outcomes, such as processing incorrect data, spending thousands of dollars because of wrong information, and also potentially ruining your client relationships.
Hevo Data is a reliable tool that you can use to pull this off. This app lets you automate pulling data from HubSpot into Google Sheets, automate the process to ensure you always work with updated and correct data. Hevo lets you seamlessly export data from HubSpot to Data Warehouse.
Conclusion
This article teaches you how to set up HubSpot Export. It also provides in-depth knowledge about the concepts behind every step to help you understand and implement them efficiently. These methods, however, can be challenging especially for a beginner & this is where Hevo saves the day. Hevo Data, a No-code Data Pipeline, helps you transfer data from a source of your choice in a fully automated and secure manner without having to write the code repeatedly. Hevo, with its strong integration with 100+ sources & BI tools, allows you to not only export & load data but also transform & enrich your data & make it analysis-ready in a jiff.
Visit our Website to Explore Hevo
Want to take Hevo for a spin? Sign Up for the 14-day free trial! and experience the feature-rich Hevo suite first hand. It helps transfer data from HubSpot to a destination of your choice for free. You can also have a look at our unbeatable pricing that will help you choose the right plan for your business needs!
Tell us about your experience of working with HubSpot Export! Share your thoughts with us in the comments section below.
No-code Data Pipeline for for HubSpot