Connecting MySQL to Power BI: A Comprehensive Guide
Introduction
Are you looking for a way to connect your MySQL database to Power BI? You are in luck. This blog post will take you through the different methods to move data from MySQL to Power BI. We will also be looking at why this migration is important and how to make it efficient.
Table of Contents
Why Move Data to Power BI?
Power BI is Microsoft's popular Business Intelligence platform, available both on-premise (Power BI Desktop) and on the cloud (Power BI Online). Moving your data to Power BI helps bring all your data to a single place and perform holistic analysis. This will help you make educated decisions for your business. Power BI will not only enable data integration but also help in data exploration. You can choose from a selection of graphs and charts to gain fresh insights into your data. It also facilitates data visualization by providing a drag and drop interface. You can conveniently create reports too. Moreover, you and your colleagues can interact seamlessly with these reports.
Download Power BI today.
Hevo: Load your MySQL Data in Minutes
Hevo will help you connect your data from MySQL and from 100+ different sources, including SaaS applications, cloud storage, etc. to be visualized easily in Power BI. This helps in getting analysis-ready, consolidated data in the BI tool within minutes.
GET STARTED WITH HEVO FOR FREE
Check out what makes Hevo amazing:
Minimal Learning: Hevo with its simple and interactive UI, is effortless for new customers to work on and perform operations.
Completely Managed Platform: Hevo is fully-managed. You need not invest time and effort to maintain or monitor the infrastructure involved in executing codes.
Data Transformation: It provides a simple interface to perfect, modify, and enrich the data you want to export.
Secure: Hevo has a fault-tolerant architecture that ensures that the data is handled in a secure, consistent manner with zero data loss.
Hevo Is Built To Scale: As the number of sources and the volume of your data grows, Hevo scales horizontally, handling millions of records per minute with very little latency.
Live Support: The Hevo team is available round the clock to extend exceptional customer support through chat, email and support call.
SIGN UP HERE FOR A 14-DAY FREE TRIAL
How to Perform MySQL-Power BI Integration
Power BI integrates out of the box with MySQL. MySQL is one of the most popular open-source relational databases and is employed by a large number of companies. An in-built connector allows for easy integration, visualization and analysis of MySQL data. However, it works with the desktop version of Power BI only.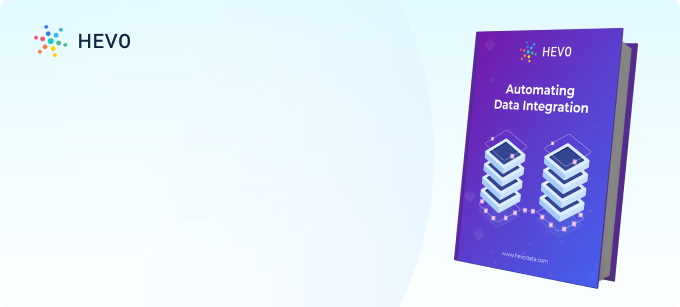 Download the Whitepaper on Automating Data Integration
Learn the key benefits of automating Data Integration
You can download the connector here.
If you want to create reports and perform scheduled data updates on Power BI Online, you should do the following:
Through Power BI Desktop, connect to your MySQL database (it should either be deployed locally or present in a location which is accessible from the desktop computer).
Export your selected table into a PBIX file.
You can readily analyze the data within the Power BI Desktop.
Now, sign in to your Power BI Online account and pull the previously saved PBIX file from your local desktop instance.
Create a report based on the data from MySQL and add it to the Power BI dashboard.
Schedule regular data to refresh and update the report from the PBIX file.
Note: It is necessary to maintain the desktop instance and its connection to the local MySQL database to enable ongoing data refreshes.
Steps to Connect MySQL to Power BI
Follow the given steps to connect MySQL and Power BI:
Install Power BI Desktop on a system that can access your MySQL database.
Once installed open Power BI Desktop and browse to Get Data > Database > MySQL Database.
Enter the network hostname on which your MySQL database is running, the database name and your credentials in the given fields.
The Power BI Navigator will then display a list of all tables in the database, click on the checkboxes adjacent to the tables that you want to load into Power BI.
You can now create reports in Power BI using your MySQL data. Save the report with a meaningful name. It will generate a PBIX file. You can publish this file from Power BI Desktop to make it more easily accessible from Power BI Online.
Schedule a refresh.
Congratulations! You have successfully pulled data from your MySQL database to Power BI. This data is now available in Power BI Online and will automatically be refreshed from the MySQL database after specified intervals.
Limitations of Using In-Built Connector
Although extremely useful, the MySQL-Power BI connector has certain limitations:
Power BI Desktop is necessary for integration with MySQL: MySQL database can only be accessed via Power BI Desktop, which has system requirements that can be restrictive. E.g. It only runs on Windows 7 or 2008, .NET 4.5 and Internet Explorer 9.
Poor stability of the data connection: Any malfunction in the Power BI Desktop (or gateway), a disrupted connection between the local software and local data source or even a disrupted connection between the Power BI Desktop and Power BI Online may lead to the data not being refreshed.
MySQL data on the cloud cannot be accessed directly: Power BI can only access data from those sources which are directly accessible from the desktop machine on which it is running. Microsoft also offers an on-premise gateway which allows remote access to a local machine. However, to access data stored on the cloud, the local machine must connect remotely to a cloud service like Amazon RDS or Aurora and pull data over the network. This method is inefficient and not feasible.
Power BI Desktop and Gateway may be unreliable: Some users have reported difficulty in installing the software or have incurred errors while connecting to MySQL data sets.
Conclusion
Now that it has been established that it is important to move your data to a Business Intelligence tool like Power BI, what remains is to choose the best way to do it. Using the in-built connector may fall short in certain use-cases where fully managed services like Hevo will give you an edge.
visit our website to explore hevo
SIGN UP for a 14-day free trial and see the difference!
Have any queries? Get in touch in the comments section below.
No-Code Data Pipeline for MySQL