How to Connect Quickbooks to BigQuery?: 2 Easy Methods
All of your bookkeeping can be automated by QuickBooks Accounting Software, allowing you to easily keep track of your income and outgoings. You may see a graphic picture of your sales, expenses, profit, and loss among other things using QuickBooks Reports.
A fully managed Cloud data warehousing platform called BigQuery is provided by Google. It is constructed using Google's well-known Dremel Engine. BigQuery offers a high level of abstraction due to its serverless architecture.
In this article, you will learn how to transfer data from Quickbooks to BigQuery using CSV Files. But, if you prefer an automated no-code solution, you can opt for Hevo.
Table of Contents
What is Quickbooks?
QuickBooks is an excellent Accounting Software that can be used by small and medium-sized firms to monitor their financial situation and control their revenue and expenses. It can also be used to monitor cash flow, control invoices, settle accounts, produce reports, and file taxes. You can utilize this tool to keep track of your clients, vendors, consumers, inventory, and finances.
With the Report Center, you can keep tabs on aspects of your company like Sales, Income, Costs, and Overall Company Growth. Among the business management tasks that QuickBooks automates are Sales Tax Calculation, Product Tracking, and automatically updating transactions in your Customer/vendor, Item, and Report sections. Both the On-Premises and Cloud-based editions of Quickbooks are accessible.
What is Google BigQuery?
Google offers BigQuery, a fully managed Cloud data warehousing platform. It is built on Google's renowned Dremel Engine. Since it is built on a serverless model, BigQuery provides a high level of abstraction. It is a fully managed warehouse, so businesses do not need to maintain any form of physical infrastructure or database administrators. Users of BigQuery can choose to only pay for the queries they run thanks to its pay-as-you-go pricing model. It is also quite affordable because you only pay for the queries you run.
You may concentrate all of your labor and effort on significant business objectives because there is no physical infrastructure to manage and maintain, unlike conventional server rooms. Traditional SQL allows you to perform complicated queries from several users simultaneously while precisely inspecting your data.
Reliably integrate data with Hevo's Fully Automated No Code Data Pipeline
If yours anything like the 1000+ data-driven companies that use Hevo, more than 70% of the business apps you use are SaaS applications Integrating the data from these sources in a timely way is crucial to fuel analytics and the decisions that are taken from it. But given how fast API endpoints etc can change, creating and managing these pipelines can be a soul-sucking exercise.

Hevo's no-code data pipeline platform lets you connect over 150+ sources in a matter of minutes to deliver data in near real-time to your warehouse. What's more, the in-built transformation capabilities and the intuitive UI means even non-engineers can set up pipelines and achieve analytics-ready data in minutes.
All of this combined with transparent pricing and 24×7 support makes us the most loved data pipeline software in terms of user reviews.
Take our 14-day free trial to experience a better way to manage data pipelines.
Get started for Free with Hevo!
Methods to Connect Quickbooks to BigQuery
Method 1: Using Hevo to Connect Quickbooks to BigQuery
Hevo helps you directly transfer data from 150+ sources such as Quickbooks, Database, Data Warehouses, or a destination of your choice like BigQuery in a completely seamless & automated manner. Hevo is fully managed and completely automates the process of loading, enriching, and transforming data into an analysis-ready form without having to write a single line of code. Its fault-tolerant architecture ensures that the data is handled in a secure, consistent manner with zero data loss.
Sign up here for a 14-Day Free Trial!
The following steps can be implemented to connect Quickbooks to BigQuery using Hevo:
Step 1: Configure Quickbooks as a Source
Perform the following steps to configure QuickBooks Online as the Source in your Pipeline:
Step 1.1: Click PIPELINES in the Asset Palette.
Step 1.2: Click + CREATE in the Pipelines List View.
Step 1.3: In the Select Source Type page, select QuickBooks Online.
Step 1.4: In the Configure your Quickbooks Online account page, click + ADD QUICKBOOKS ONLINE ACCOUNT.

Step 1.5: In the Sign In page, log in to your account using the registered email or user ID.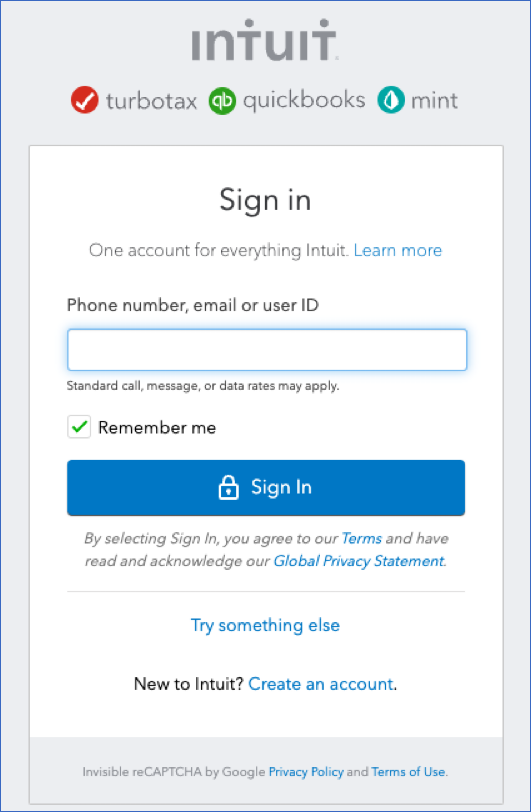 Step 1.6: In the QuickBooks App Store page, do the following:
From the drop-down, select the company that you want to ingest data from, and click Next. This is applicable when multiple companies are associated with your account.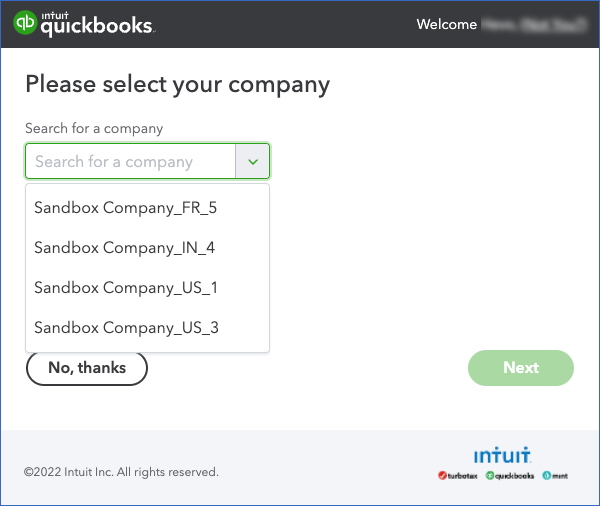 Click Connect to grant Hevo access to the selected company's data.
Step 1.7: In the Configure your QuickBooks Online Source page, specify the following: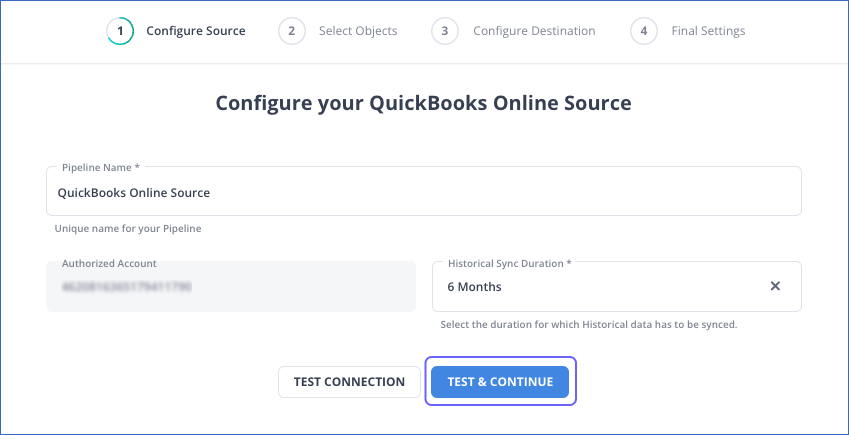 Pipeline Name: A unique name for your Pipeline, not exceeding 255 characters.
Authorized Account (Non-editable): This field is pre-filled with the unique ID of the company that you selected earlier when connecting your QuickBooks Online account.
Historical Sync Duration: The duration for which the historical data must be ingested. Default value: 6 Months.
Note: If you select All Available Data, Hevo fetches the data created since 1 January 2000 for your company till the current date.
Step 1.8: Click TEST & CONTINUE.
Step 1.9: Proceed to configuring the data ingestion and setting up the Destination.
Step 2: Configure BigQuery as a Destination
To set up Google BigQuery as a destination in Hevo, follow these steps:
Step 2.1: In the Asset Palette, select DESTINATIONS.
Step 2.2: In the Destinations List View, click + CREATE.
Step 2.3: Select Google BigQuery from the Add Destination page.
Step 2.4: Choose the BigQuery connection authentication method on the Configure your Google BigQuery Account page.
Step 2.5: Choose one of these:

Using a Service Account to connect:

Service Account Key file, please attach.
Note that Hevo only accepts key files in JSON format.
Go to CONFIGURE GOOGLE BIGQUERY ACCOUNT and click it.

Using a user account to connect:

To add a Google BigQuery account, click +.
Become a user with BigQuery Admin and Storage Admin permissions by logging in.
To grant Hevo access to your data, click Allow.
Step 2.6: Set the following parameters on the Configure your Google BigQuery page:

Destination Name: A unique name for your Destination.
Project ID: The BigQuery Project ID that you were able to retrieve in Step 2 above and for which you had permitted the previous steps.
Dataset ID: Name of the dataset that you want to sync your data to, as retrieved in Step 3 above.
GCS Bucket: To upload files to BigQuery, they must first be staged in the cloud storage bucket that was retrieved in Step 4 above.
Enable Streaming Inserts: Enable this option to load data via a job according to a defined Pipeline schedule rather than streaming it to your BigQuery Destination as it comes in from the Source. To learn more, go to Near Real-time Data Loading Using Streaming. The setting cannot be changed later.
Sanitize Table/Column Names: Activate this option to replace the spaces and non-alphanumeric characters in between the table and column names with underscores ( ). Name Sanitization is written.
Step 2.5: Click Test Connection to test connectivity with the Amazon Redshift warehouse.
Step 2.6: Once the test is successful, click SAVE DESTINATION.
Here are more reasons to try Hevo:
Smooth Schema Management: Hevo takes away the tedious task of schema management & automatically detects the schema of incoming data and maps it to your schema in the desired Data Warehouse.
Exceptional Data Transformations: Best-in-class & Native Support for Complex Data Transformation at fingertips. Code & No-code Flexibility is designed for everyone.
Quick Setup: Hevo with its automated features, can be set up in minimal time. Moreover, with its simple and interactive UI, it is extremely easy for new customers to work on and perform operations.
Built To Scale: As the number of sources and the volume of your data grows, Hevo scales horizontally, handling millions of records per minute with very little latency.
Live Support: The Hevo team is available round the clock to extend exceptional support to its customers through chat, email, and support calls.
Get Started with Hevo for Free
Method 2: Connect Quickbooks to BigQuery Manually using CSV Files
You cannot directly export the data from Quickbooks to BigQuery. To export data from Quickbooks to BigQuery, first you will have to export data from Quickbooks as CSV files and then load the CSV files into BigQuery.
Step 1: Export Data from Quickbooks as CSV
The first step in exporting data from Quickbooks to BigQuery is exporting data from Quickbooks as CSV files. In Quickbooks you can have CSV files for Customers/Vendors, Item and Report.
Customers/Vendors
Activate the Customer/Vendor Center.
Choose the Excel drop-down and then select:

If you want to export customer/vendor data, including name, balances, and contact details, select Export Customer/Vendor List.
If you want to export transactions, select Export Transactions (either by name or transaction type).

Select Create a comma separated values (.csv) file from the Export window.
Choose Export and then choose the location where you wish to save the file after giving it a name.
Item
Item List can be found under the Lists menu.
Export all Items is available after using the Excel drop-down.
Select Create a comma separated values (.csv) file from the Export window.
Choose Export and then choose the location where you wish to save the file after giving it a name.
Report
Check out the report and choose Excel from the drop-down menu at the report's top and select Create a New Worksheet.
Create a comma separated values (.csv) file by selecting it on the Send Report to Excel window.
Choose Export and then choose the location where you wish to save the file after giving it a name.
Now you have your CSV Data with you. The first step in exporting data from Quickbooks to BigQuery is complete now.
Step 2: Load CSV Data into BigQuery
The second step in exporting data from Quickbooks to BigQuery is importing CSV data into BigQuery. The following steps can be used to load CSV data into BigQuery's basic Web UI:
You can click "Create table" and then "Create table from" on your Web console.
The CSV file that will serve as the source for your new table can then be specified.
You can choose from a wide range of sources, including cloud storage, using the "Source" selection.
Choose CSV under "File format."
Give your table a name, then choose a database.
To specify the schema, you may either provide a sample JSON or select "auto-detect" in the schema specification.
Field delimiter, skipping header rows, the amount of permissible errors, jagged rows, and other variables are additional adjustable settings.
By selecting "Create Table," you may now retrieve your CSV, choose the table's schema, build the table, and add CSV data to it.
You have successfully replicated Quickbooks to BigQuery data transfer.
Limitations of Connecting Quickbooks to BigQuery Manually
Data can only be moved from Quickbooks to BigQuery in one direction. To maintain and keep both tools up to date, two-way sync is required.
The manual process takes time because the records need to be updated often. This is a waste of time and resources that could be used for more crucial company duties.
Some users may find the amount of engineering bandwidth needed to maintain workflows across numerous platforms and update current data bothersome.
No transformation is possible during data transport. This could be a big problem for businesses who wish to edit their data before moving it from Quickbooks to BigQuery.
Conclusion
In this article, you got a glimpse of how to connect Quickbooks to BigQuery after a brief introduction to the salient features, and use cases. The methods talked about in this article are using an automated solution such as Hevo and CSV files. The second process can be a bit difficult for beginners. Moreover, you will have to update the data each and every time it is updated and this is where Hevo saves the day!
Visit our Website to Explore Hevo
Hevo Data provides its users with a simpler platform for integrating data from 150+ sources for Analysis. It is a No-code Data Pipeline that can help you combine data from multiple sources like Quickbooks into your Data Warehouses, Database, or a destination of your choice such as BigQuery. It provides you with a consistent and reliable solution to manage data in real-time, ensuring that you always have analysis-ready data in your desired destination.
Want to take Hevo for a spin? Sign Up for a 14-day free trial and experience the feature-rich Hevo suite first hand. You can also have a look at the unbeatable pricing that will help you choose the right plan for your business needs.
Share your experience of learning about Quickbooks to BigQuery! Let us know in the comments section below!
No-Code Data Pipeline for Google BigQuery