GA4 BigQuery Integration: 2 Easy Methods
Do you really heavily on GA4 data for analyzing the metrics of your website engagement? If yes, then you would face problems while collecting all the GA4 data and performing advanced analytics on it.
If you want to gain business-critical insights from your GA4 data, then you can't simply manipulate it. You need to have access to all your marketing and website data in a centralized repository. With this data, you can build stories with the help of Click Through Rates, website engagement, distribution of leads across geographies, website rankings, etc.
To achieve this universality, you got to replicate your raw GA4 data to a robust and unified repository — BigQuery, being one of the best choices.
This article throws light on two methods for implementing GA4 BigQuery Integration. However, to increase your time to value you can definitely go through the simple two-step process for replicating data from GA4 to BigQuery.
Table of Contents
Prerequisites
A Google Analytics 4 (GA4) account.
Working Knowledge of Google Analytics 4.
A Google Cloud Platform account.
A BigQuery account.
Working Knowledge of BigQuery projects.
Working knowledge of Google Cloud Console.
Working knowledge of SQL.
How to set up GA4 BigQuery Integration?
Method 1: Using Google Cloud Platform to Implement GA4 BigQuery Integration
The steps to set up GA4 Bigquery Integration are as follows:
Step 1: Create a Project in Google BigQuery
Log in to your Google BigQuery account.
On the menu bar, click on the arrow beside the name of the project getting displayed.
A pop-up window will appear with a list of existing BigQuery projects. In the top-left section of the pop-up window, click on the "New Project" option.
The New Project window appears. Now, you can set the name and the location of the project.
Then click on the "Create" button and the project will be created.
Step 2: Enable GA4 BigQuery Linking
Log in to your Google Analytics account. For further information about Google Analytics 4, you can follow the Official Documentation.
Click on Google Analytics 4 Admin option, found in the bottom-left corner of the window.
Now, after going to the GA4 Admin panel, click on "BigQuery Linking".
BigQuery Linking window appears. Now, click on the "Link" button beside the search bar.
"Create a link with BigQuery" window appears. Now, click on the learn more link.
In the next window, scroll down and copy the Service Account Id of the service account given in point 5 of step 1 (firebase-measurement@system.gserviceaccount.com).
Now, go back to the "Create a link with BigQuery" window. Then click on the "Choose a BigQuery project" option.
Then select the name of the BigQuery project that you want to link with Google Analytics 4.
Now, select the Data Location from the drop-down menu.
Click on the "Next" button.
Now, select the type of Data streams. If you have a mobile app and want to export the user ids to Google BigQuery, you may additionally choose "Include advertising Identifiers for mobile app streams."
Select the frequency of data movement accordingly i.e, either Daily (once a day) or Streaming (continuous export).
Now, click on the "Next" button and then review your choices and click on the "Submit" button.
Now, the link for the GA4 BigQuery is created.
Until now, just the GA4 BigQuery linking is accomplished. But they are still not connected. So, you need to create an API.
Step 3: Enable Google Cloud API
Go to the Google Cloud Console.
Then in the left navigation pane, go to API & Services and select "Library".
The API Library page appears.
Now, if you have not selected the project, then click on the current project name at the top. A separate window with the list of projects appears. Select the project you want to link.
Now, in the search bar, search for BigQuery API and click on it.
Now, make sure the BigQuery API is enabled and click on the "Manage" button.
Step 4: Add a Service Account
From the sidebar menu, select "Credentials".
Go to "Create Credentials" and then select the "Service account" option.
In the Service account name, type firebase-measurement@system.gserviceaccount.com, i.e., the Id already copied in step 2. Then in the Service account ID, write the ID where you want to give access to that account and click on "Create".
Now, grant the editor access to the Service account. And then click on "Continue" and select "Done".
Step 5: Use Google BigQuery with GA4 Data
After all the procedures, wait for 24 hours for the data set to export to your BigQuery project.
You'll find 2 tables with each dataset. One for continuous export of raw events throughout the day and another for full daily export of events.
Now, you can run SQL queries on the tables according to your requirements.
For further information about manual GA4 to BigQuery Integration, visit here.
Method 2: Using Hevo Data to Set up GA4 BigQuery Integration
Hevo Data helps you directly transfer data from Google Analytics 4 and 150+ other sources to a Data Warehouse such as Google BigQuery, or a destination of your choice in a completely hassle-free & automated manner. Hevo is fully managed and completely automates the process of not only loading data from your desired source but also enriching the data and transforming it into an analysis-ready form without having to write a single line of code. Its fault-tolerant architecture ensures that the data is handled in a secure, consistent manner with zero data loss.
Sign up here for a 14-Day Free Trial!
Hevo takes care of all your data preprocessing to set up GA4 BigQuery Integration and lets you focus on key business activities and draw a much more powerful insight on how to generate more leads, retain customers, and take your business to new heights of profitability. It provides a consistent & reliable solution to manage data in real-time and always has analysis-ready data in your desired destination.
Hevo Data focuses on two simple steps to set up GA4 BigQuery Integration:
Step 1: Configure Google Analytics 4 as a Source
Connect Hevo Data with a data source of your choice such as Google Analytics 4 or GA4 by providing your credentials such as Pipeline Name, Account Name, Property Name, Historical Sync Duration, Report Name, Dimensions, Metrics, and Pivot Report choice.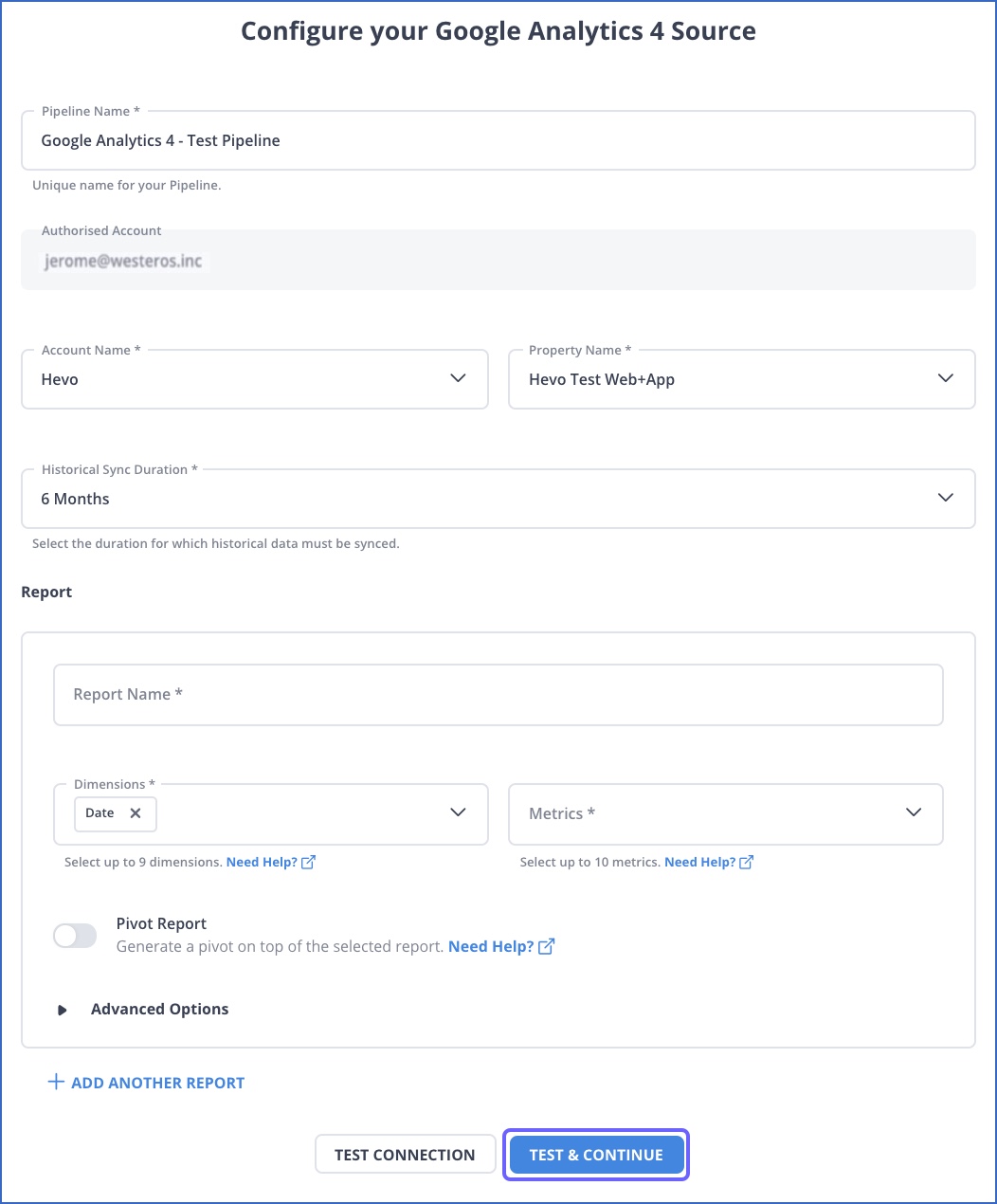 Step 2: Integrate Data into Google BigQuery
Load data from GA4 to BigQuery by providing your Google BigQuery database credentials such as your authorized Google BigQuery account along with a name for your database, destination, and project ID, Dataset ID.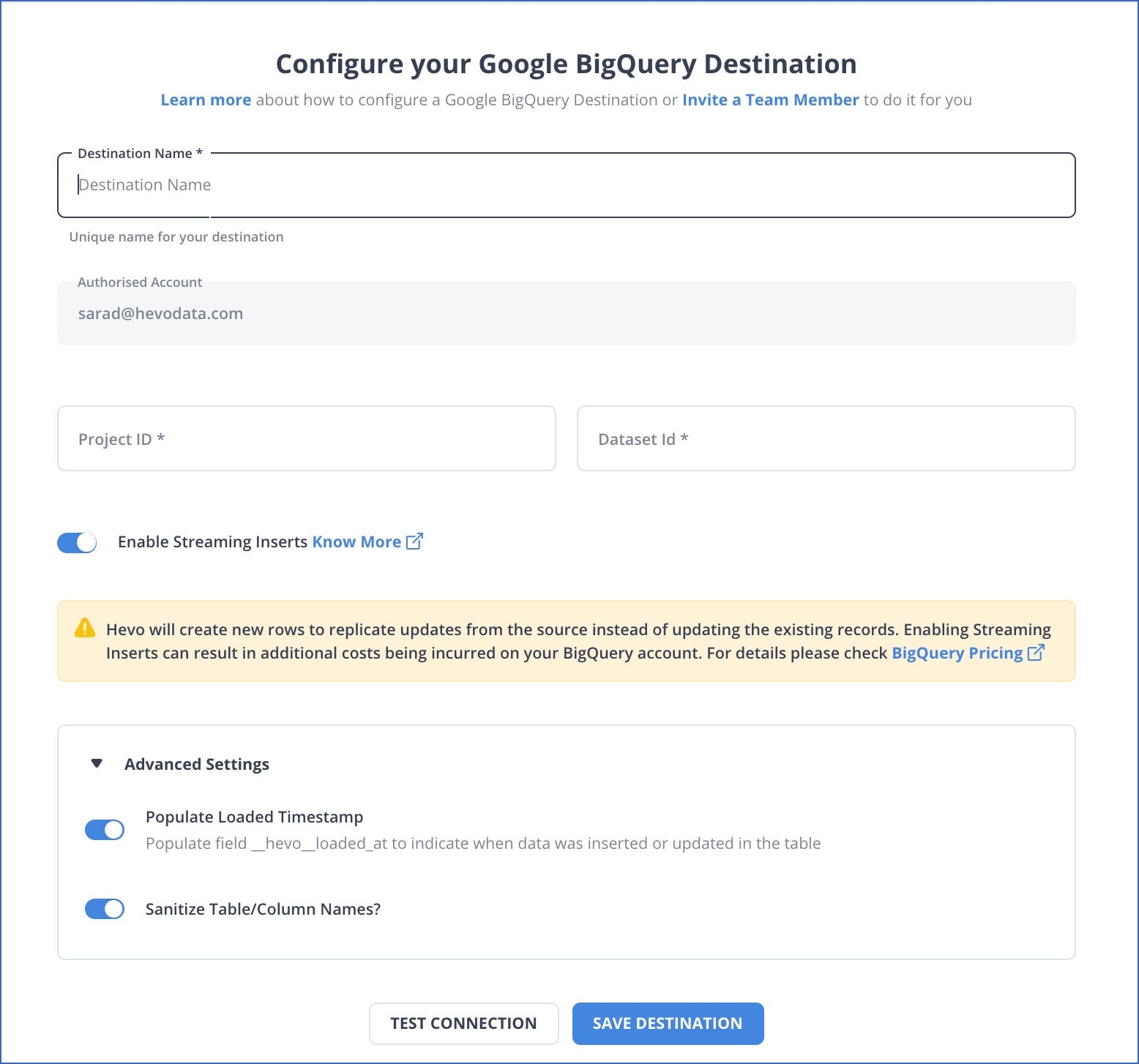 As can be seen, you are simply required to enter the corresponding credentials to implement this fully automated data pipeline without using any code.
Check out what makes Hevo amazing.
Deliver smarter, faster insights with your unified data -:
Using manual scripts and custom code to move data into the warehouse is cumbersome. Changing API endpoints and limits, ad-hoc data preparation, and inconsistent schema make maintaining such a system a nightmare. Hevo's reliable no-code data pipeline platform enables you to set up zero-maintenance data pipelines that just work.
Wide Range of Connectors – Instantly connect and read data from 150+ sources including SaaS apps and databases, and precisely control pipeline schedules down to the minute.
In-built Transformations – Format your data on the fly with Hevo's preload transformations using either the drag-and-drop interface or our nifty python interface. Generate analysis-ready data in your warehouse using Hevo's Postload Transformation
Near Real-Time Replication – Get access to near real-time replication for all database sources with log-based replication. For SaaS applications, near real-time replication is subject to API limits.
Auto-Schema Management – Correcting improper schema after the data is loaded into your warehouse is challenging. Hevo automatically maps source schema with the destination warehouse so that you don't face the pain of schema errors.
Transparent Pricing – Say goodbye to complex and hidden pricing models. Hevo's Transparent Pricing brings complete visibility to your ELT spending. Choose a plan based on your business needs. Stay in control with spend alerts and configurable credit limits for unforeseen spikes in the data flow.
24×7 Customer Support – With Hevo you get more than just a platform, you get a partner for your pipelines. Discover peace with round-the-clock "Live Chat" within the platform. What's more, you get 24×7 support even during the 14-days free trial.
Security – Discover peace with end-to-end encryption and compliance with all major security certifications including HIPAA, GDPR, and SOC-2.
Get started for Free with Hevo!
What can you achieve by integrating data from GA4 to BigQuery?
By migrating your data from GA4 to BigQuery, you will be able to help your business stakeholders find the answers to these questions:
Which Demographic contributes to the highest fraction of users of a particular Product Feature?
How are Paid Sessions and Goal Conversion Rate varying with Marketing Spend and Cash in-flow?
How to identify your most valuable customer segments?
Frequently Asked Questions (FAQs)
1) Is BigQuery free with GA4?
Everyone who owns a GA4 property i.e. Premium or Standard has access to BigQuery. So, unlike earlier versions of Google Analytics, with GA4, users don't need to pay an extra fee to connect their GA4 property to their BigQuery project.
2) How to query GA4 data in BigQuery?
After setting up GA4 BigQuery integration, you can easily query your raw events data in BigQuery. You need to go to Google Data Studio and select BigQuery. You can see the list of all the Google Cloud Projects to which you have access. From there you can navigate to the tables and columns. For queries, click on SQL Workspace, and type your queries to filter and display the GA4 data according to your requirements.
Conclusion
Although GA4 provides actionable insights about digital information yet, you would need a better understanding and analysis of your data at a granular level. And also, sometimes that would be required for you to connect the data with third-party applications. This is where you can set up a GA4 BigQuery connection.
This article has touched down 2 methods for setting up GA4 BigQuery Integration. You can carry forward with the manual method if you can take all the responsibility for implementing this integration. However, to have a more seamless integration that is fully automated and completely managed then definitely you can give Hevo a try.
Hevo Data, a No-code Data Pipeline provides you with a consistent and reliable solution to manage data transfer between a variety of sources such as Google Analytics 4, and a wide variety of Desired Destinations such as Google BigQuery with a few clicks.
Visit our Website to Explore Hevo
Hevo Data with its strong integration with 150+ sources such as Google Analytics 4 allows you to not only export data from your desired data sources & load it to the destination of your choice, but also transform & enrich your data to make it analysis-ready so that you can focus on your key business needs and perform insightful analysis using BI tools.
Sign Up for a 14-day free trial and experience the feature-rich Hevo suite firsthand. You may also have a look at the amazing price, which will assist you in selecting the best plan for your requirements.
Share your experience of understanding the various methods of setting up GA4 BigQuery Integration in the comment section below!
No-code Data Pipeline for Google BigQuery