GA4 BigQuery Integration: 2 Easy Methods
Digital Marketing techniques have increased and improved manifold over the years. These techniques have made the work of Marketers easier and more efficient. One of the most popular platforms in the Marketing domain is Google Analytics. Google Analytics is a Web Analytics Service that tracks and reports website traffic with the help of statistics. It also provides basic analytical tools for SEO (Search Engine Optimisation) associated with websites and Marketing purposes.
However, with the recent version of Google Analytics, Google Analytics 4 there has been a significant change in Data Structure and Data Collection logic, which has made GA4 far better than the earlier versions. Even Google Analytics 4 focuses on individual users and events, rather than on sessions, thus making it more flexible and allowing it to better predict users' behaviour.
However, integrating the GA4 data with data from other sources is extremely important since it will help better predict users' trends and make business decisions. Hence, the data needs to be stored in a data warehouse such as Google BigQuery. Establishing GA4 BigQuery Integration is an important step to strengthen your Marketing Strategies by making them more data-driven which translates to greater efficiency.
In this article, you will be introduced to the concept of GA4 BigQuery Integration. You will also gain a holistic understanding of Google Analytics 4, Google BigQuery, their key features, the benefits of GA4 BigQuery Integration, and the different ways of setting up the GA4 BigQuery Integration. Read along to gain more insights and learn about GA4 BigQuery Integration.
Table of Contents
Introduction to Google Analytics 4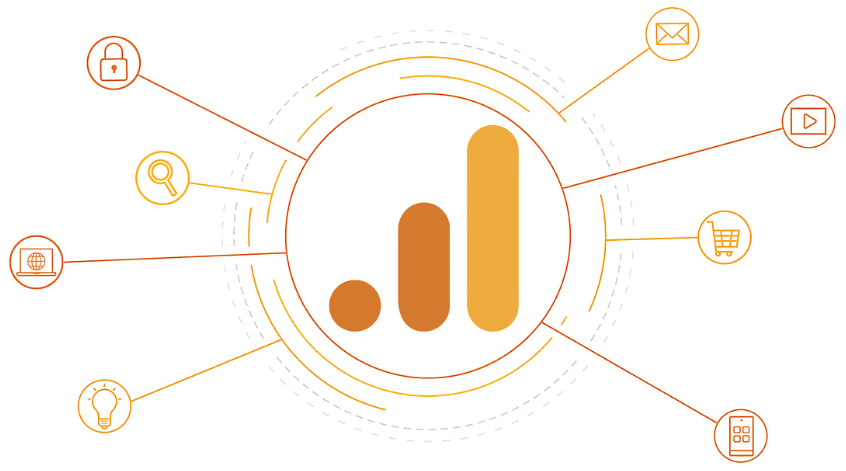 Google describes the primary purpose of Google Analytics 4 as a next-generation approach to X-channel Measurement, "Privacy-first" Tracking, and AI-based Predictive Data all at once. Google Analytics 4 uses Google's advanced Machine Learning models to capture user behavior and website traffic data. It can do so without having to rely on "Hits" from each page.
It is built on the same platform for the "App+Web" system released by Google previously. It allows users/marketers to track website and applications data in one property thus allowing them to have a full picture of the buyer's journey The data accuracy has also increased because GA4 has incorporated Machine Learning in its platform to give better insights into the data to the users.
For further information about Google Analytics 4, you can follow the Official Documentation.
Key Features of Google Analytics 4
Google Analytics 4 is focused on giving Marketers a more holistic understanding of the Customer Journey. It emphasizes measuring an End-to-end Shopper Journey instead of individual metrics across pages, segments, or devices. It does this with the usage of multiple identity spaces.
It has been designed to work without the need for identifying data or cookies. It aims to cover the gap using Machine Learning thereby helping customers customize their campaigns accordingly.
The Data Import functionality in Google Analytics 4 can now include a wide range of data from non-website sources within one property.
It also allows Cross-domain Tracking that does not rely on code adjustments. Cross-domain tracking in Google Analytics 4 can be done within the User Interface itself.
It also provides "Data Streams" instead of the segments and views used by old Universal Analytics properties.
It houses deeper integration with Google Ads. Through GA4, you can build custom audiences regardless of how they interact with your business.
Introduction to Google BigQuery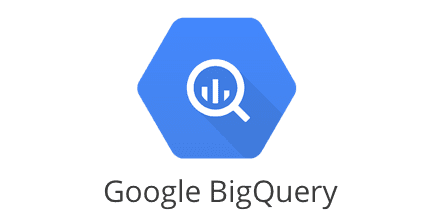 Google BigQuery is a Cloud-based Data Warehouse that provides a Big Data Analytic Web Service for processing petabytes of data. It is intended for analyzing data on a large scale. It consists of two distinct components: Storage and Query Processing. It employs the Dremel Query Engine to process queries and is built on the Colossus File System for storage. These two components are decoupled and can be scaled independently and on-demand.
Google BigQuery is fully managed by Cloud service providers. We don't need to deploy any resources, such as discs or virtual machines. It is designed to process read-only data. Dremel and Google BigQuery use Columnar Storage for quick data scanning, as well as a tree architecture for executing queries using ANSI SQL and aggregating results across massive computer clusters. Furthermore, owing to its short deployment cycle and on-demand pricing, Google BigQuery is serverless and designed to be extremely scalable.
For further information about Google Bigquery, follow the Official Documentation.
Key Features of Google BigQuery
Performance: Partitioning is supported by BigQuery, which improves query performance. The data may be readily queried using SQL or Open Database Connectivity (ODBC).
Scalability: Being quite elastic, BigQuery separates computation and storage, allowing customers to scale processing and memory resources according to their needs. The tool has significant vertical and horizontal scalability and runs real-time queries on petabytes of data in a very short period.
Security: When a third-party authorization exists, users can utilize OAuth as a standard approach to get the cluster. By default, all data is encrypted and in transit. Cloud Identity and Access Management (IAM) allows for fine-tuning administration.
Usability: Google BigQuery is a highly user-friendly platform that requires a basic understanding of SQL commands, ETL tools, etc.
Data Types: It supports JSON and XML file formats.
Data Loading: It employs the conventional ELT/ETL Batch Data Loading techniques by employing standard SQL dialect, as well as Data Streaming to load data row by row using Streaming APIs.
Integrations: In addition to operational databases, the system supports integration with a wide range of data integration tools, business intelligence (BI), and artificial intelligence (AI) solutions. It also works with Google Workspace and Cloud Platform.
Data Recovery: Data backup and disaster recovery are among the services provided by Google BigQuery. Users can query point-in-time snapshots of data changes from the last seven days.
Pricing Models: The Google BigQuery platform is available in both on-demand and flat-rate subscription models. Although data storage and querying will be charged, exporting, loading, and copying data is free. It has separated computational resources from storage resources. You are only charged when you run queries. The quantity of data processed during searches is billed.
Understanding the Benefits of GA4 BigQuery Integration
GA4 BigQuery Integration allows you to gain a better understanding of your digital information and data. With an increase in available data, direct access to granular information is imperative. Google Analytics 4 helps Data Scientists and Analysts make better business decisions through actionable insights. Google BigQuery allows businesses to conduct interactive analyses cost-effectively. Google Cloud offers a plethora of tools and functionalities. Because BigQuery is part of the Google Cloud, you can combine it with other G-cloud technologies directly. Here are a couple of benefits of GA4 BigQuery Integration:
Understanding of Complex Queries: You can combine GA4 data with the point-of-sale data available in Google BigQuery to gain a better view of your checkout process. For instance, you can look at the impact of your voucher codes on your Sales Funnel. This allows you to see how many customers found your brand through a voucher code site and how many of them researched voucher codes on external sites while checking out.
Data Warehouse Integration: GA4 BigQuery Integration allows you to automatically join the activity on your website or application that was tracked through Google Analytics 4 to the CRM systems tracked in Google BigQuery.
Collaboration with External Sources: You might want to analyze how well your website is performing based on data procured through third-party Analytics tools. You can say, use an external database containing metadata about your articles to compare bounce and conversion rates filtered by topic, author, and date.
Selection of Storage Locations: Through GA4 BigQuery linking, You may now simply pick your data storage locations, including choices like EU, US, or country-specific (Sydney, Taiwan, Frankfurt, and many more) to assist conform with specific data governance frameworks.
Accessibility: With Google Analytics 4, every user can link their data with BigQuery without having any GA360 (Enterprise) account.
Machine Learning Algorithms: You can apply Machine Learning to your dataset and make accurate predictions.
Sampling Issue: Sampling in Google Analytics was always an issue, especially when there were many distinct values for one dimension in a huge dataset. There will be no sampling required within Google BigQuery.
Ways to Set up GA4 BigQuery Integration
Method 1: Using Google Cloud Platform to Implement GA4 BigQuery Integration
You can use the Google Marketing Platform to establish a GA4 BigQuery connection. This is a lengthy multiple-step process where you start by creating a BigQuery project, then enable the BigQuery Linking in GA4. Ensure that the API is enabled with the creation of a service account. Then the data can be prepared for working in BigQuery.
Method 2: Using Hevo Data, a No-code Data Pipeline to Set up GA4 BigQuery Integration
A fully managed, No-code Data Pipeline platform like Hevo Data, helps you load data from numerous Data Sources such as Google Analytics 4 (among 100+ Sources) to Google BigQuery in real-time, in an effortless manner.
Get Started with Hevo for Free
Hevo, with its minimal learning curve, can be set up in a matter of minutes, making the users ready to load data without compromising performance. Its strong integration with various sources such as databases, files, analytics engines, etc. gives users the flexibility to bring in data of all different kinds in a way that's as smooth as possible, without having to write a single line of code.
Prerequisites
A Google Analytics account.
Working Knowledge of Google Analytics 4.
A Google Cloud Platform account.
A BigQuery account.
Working Knowledge of BigQuery projects.
Working knowledge of Google Cloud Console.
Methods to Set up GA4 BigQuery Integration
Method 1: Using Google Cloud Platform to Implement GA4 BigQuery Integration
The steps to set up GA4 Bigquery Integration are as follows:
Step 1: Create a Project in Google BigQuery
Log in to your Google BigQuery account.
On the menu bar, click on the arrow beside the name of the project getting displayed.

A pop-up window will appear with a list of existing BigQuery projects. In the top-left section of the pop-up window, click on the "New Project" option.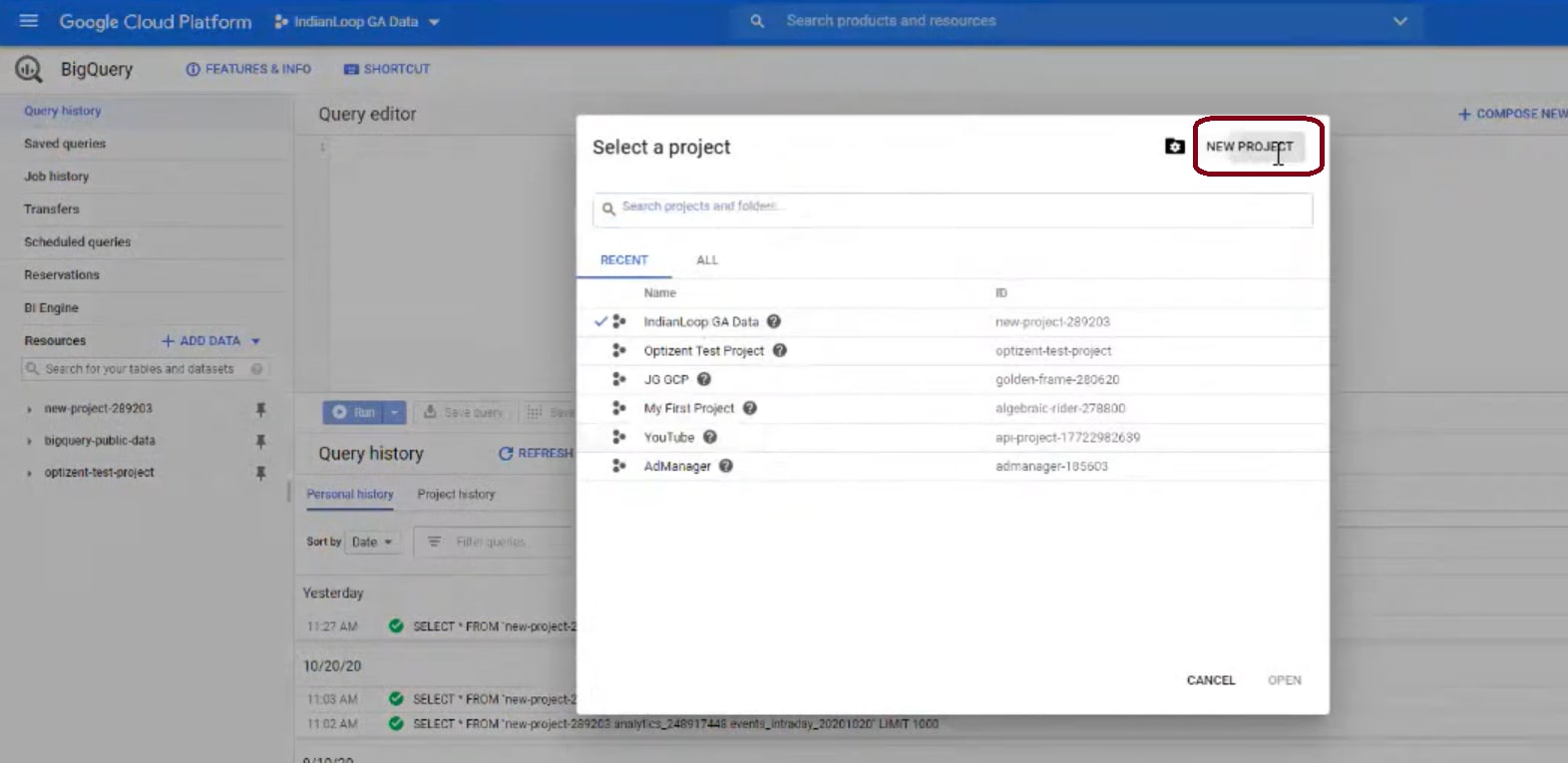 The New Project window appears. Now, you can set the name and the location of the project.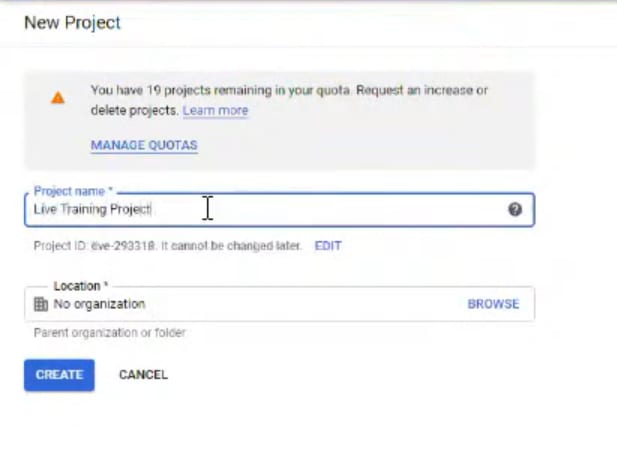 Then click on the "Create" button and the project will be created.
Step 2: Enable GA4 BigQuery Linking
Log in to your Google Analytics account.
Click on Google Analytics 4 Admin option, found in the bottom-left corner of the window.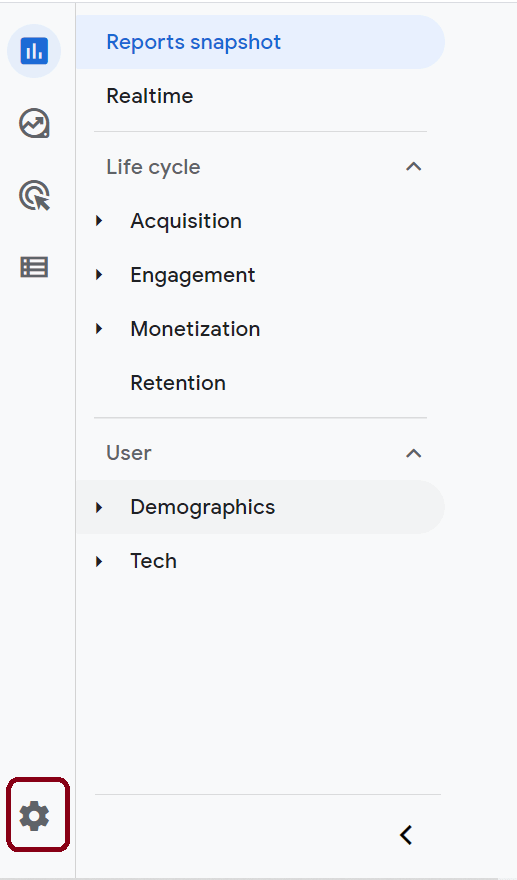 Now, after going to the GA4 Admin panel, click on "BigQuery Linking".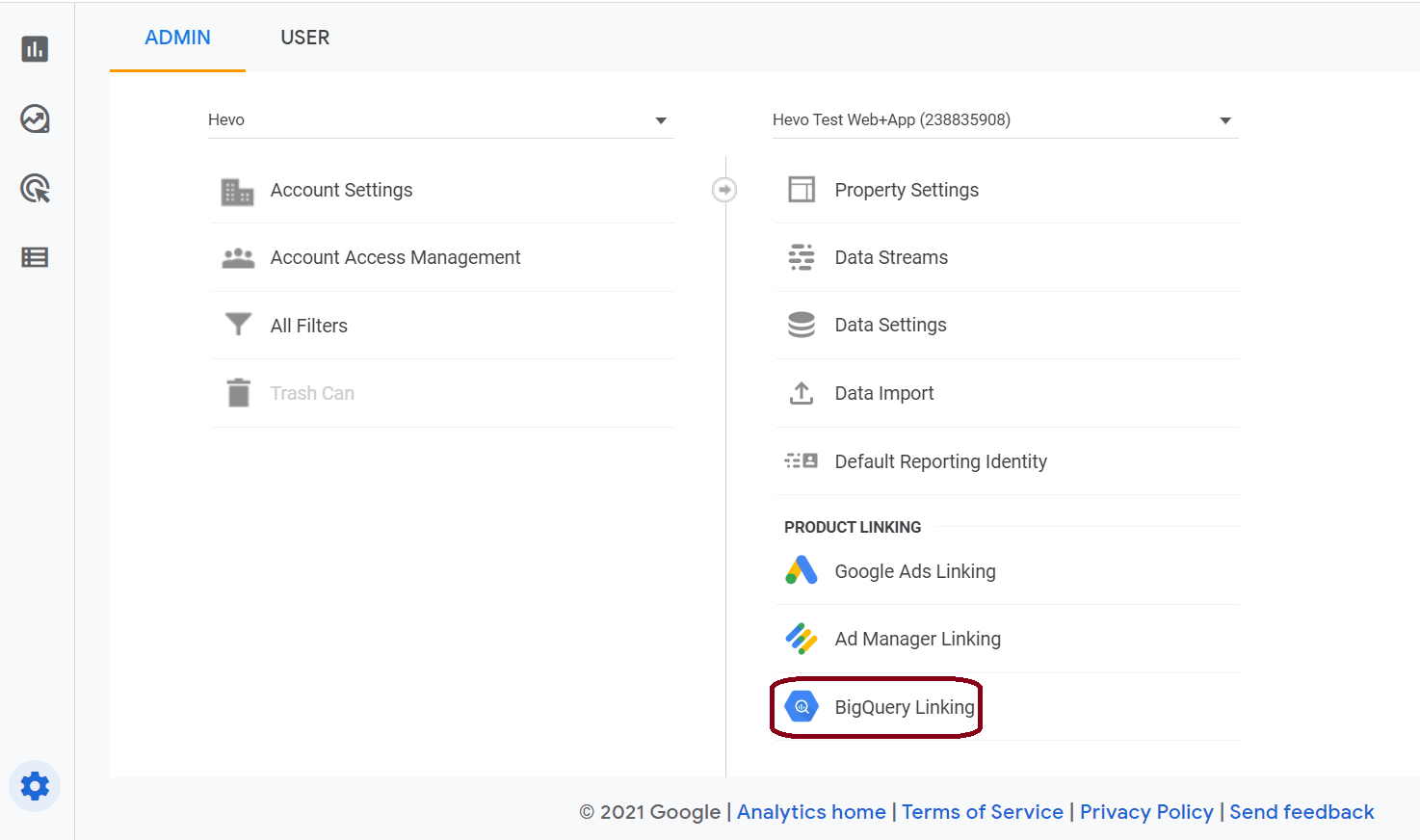 BigQuery Linking window appears. Now, click on the "Link" button beside the search bar.

"Create a link with BigQuery" window appears. Now, click on the learn more link.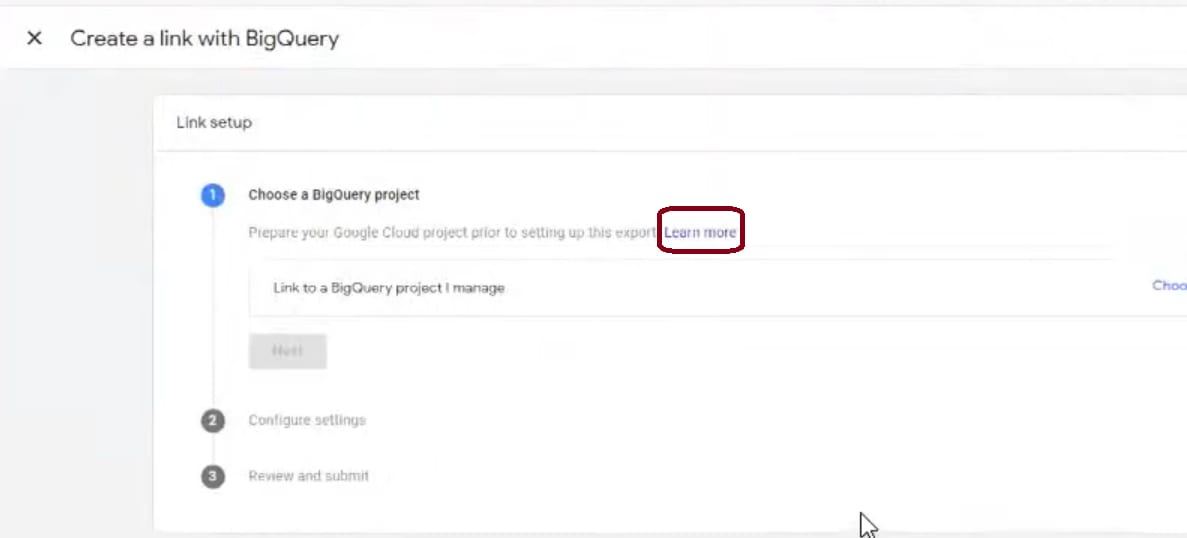 In the next window, scroll down and copy the Service Account Id of the service account given in point 5 of step 1 (firebase-measurement@system.gserviceaccount.com).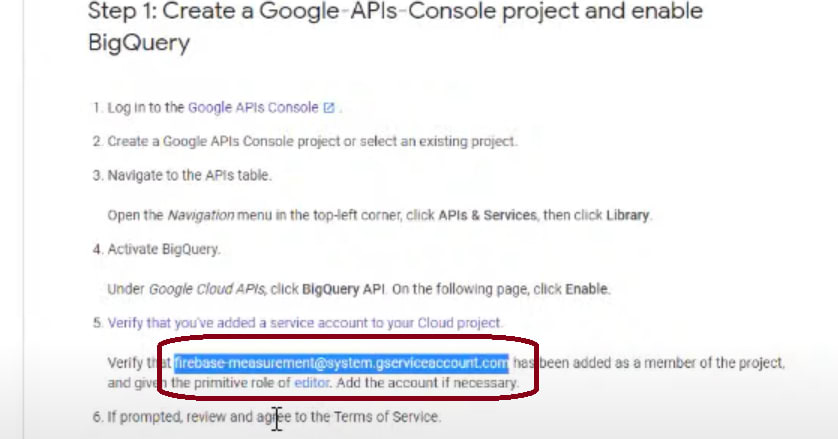 Now, go back to the "Create a link with BigQuery" window. Then click on the "Choose a BigQuery project" option.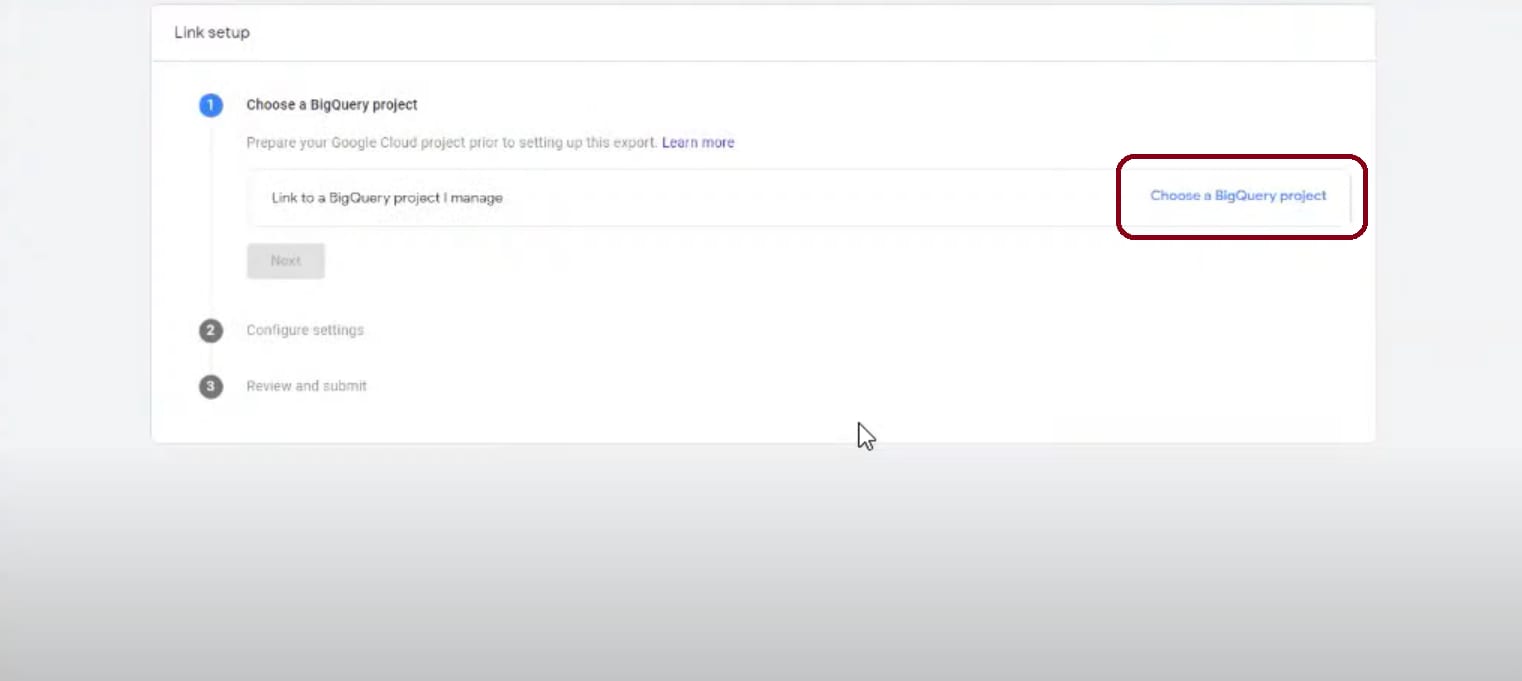 Then select the name of the BigQuery project that you want to link with Google Analytics 4.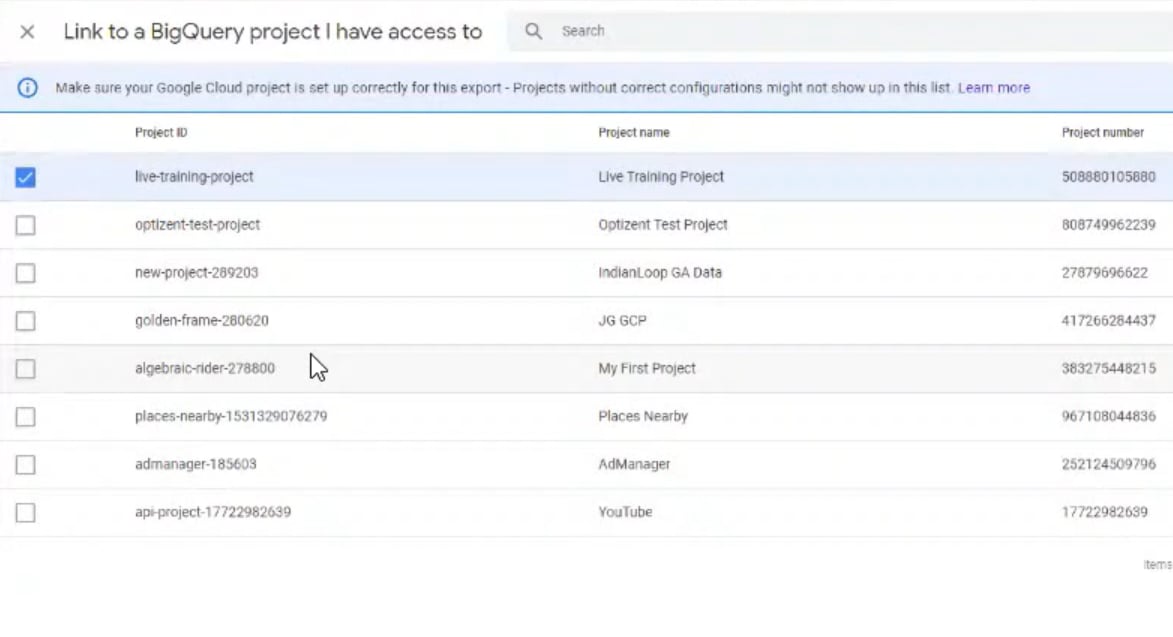 Now, select the Data Location from the drop-down menu.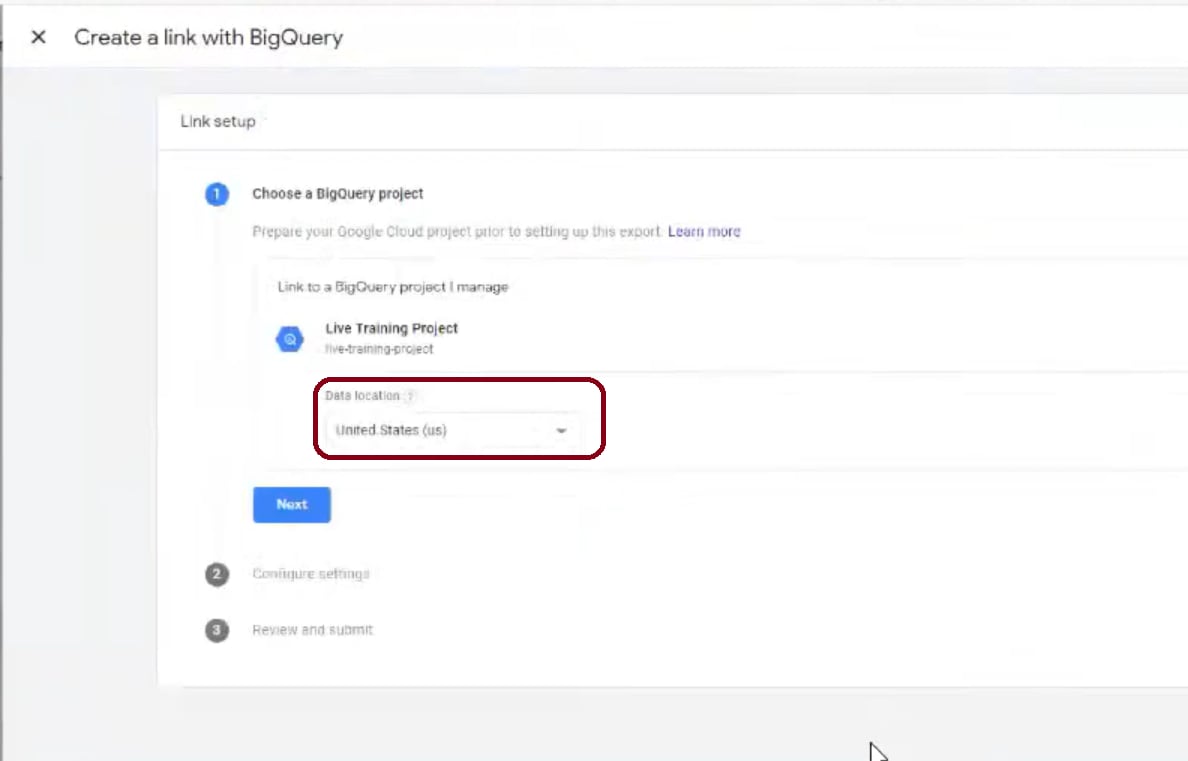 Click on the "Next" button.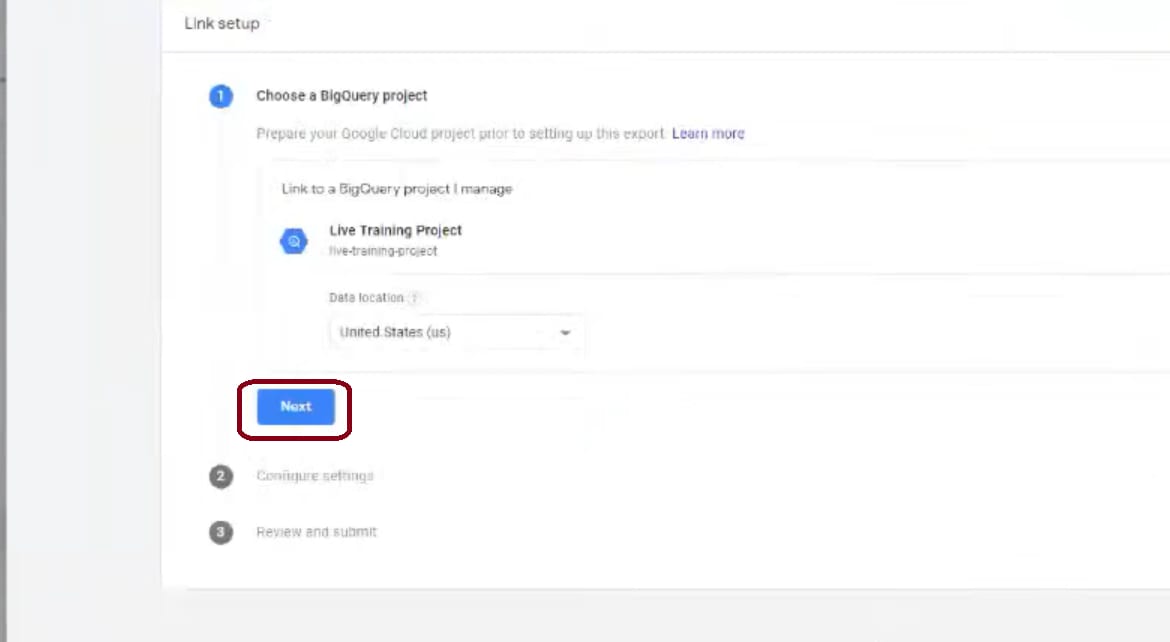 Now, select the type of Data streams. If you have a mobile app and want to export the user ids to Google BigQuery, you may additionally choose "Include advertising Identifiers for mobile app streams."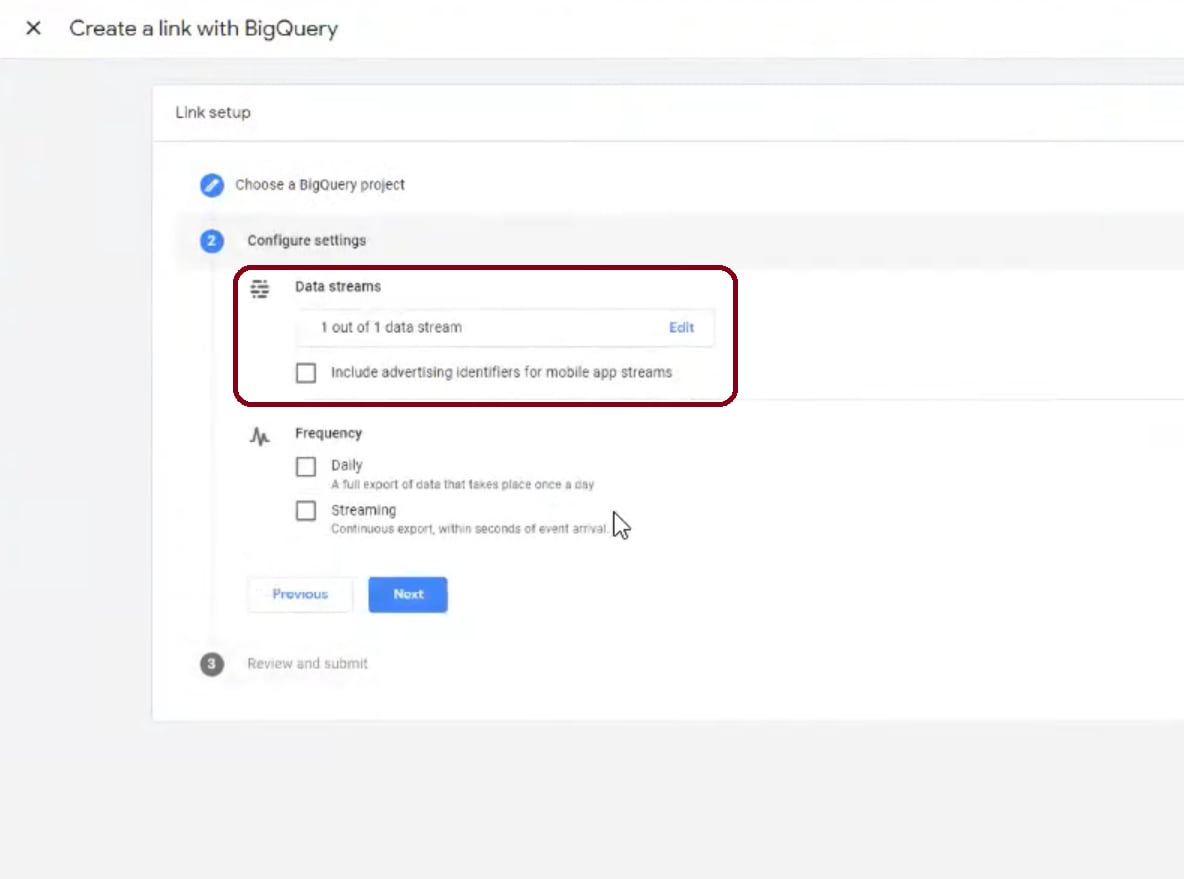 Select the frequency of data movement accordingly i.e, either Daily (once a day) or Streaming (continuous export).
Now, click on the "Next" button and then review your choices and click on the "Submit" button.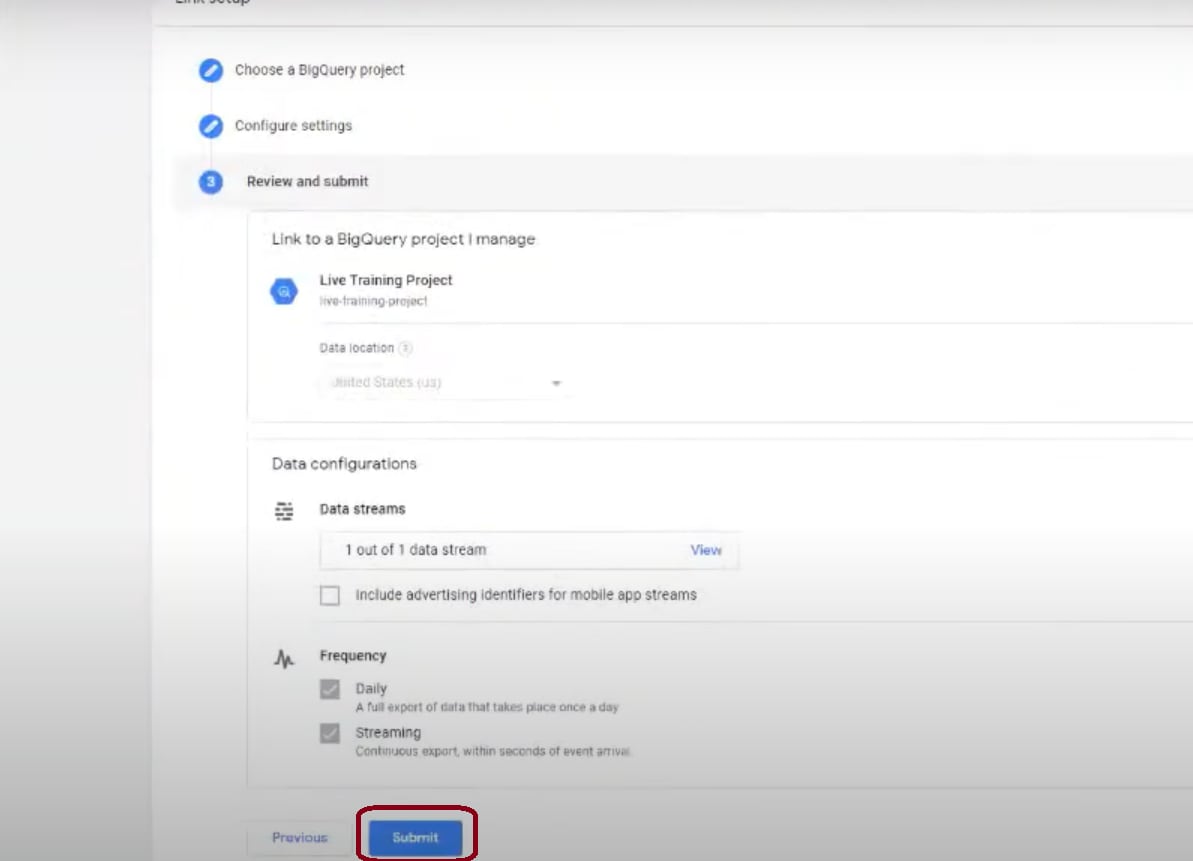 Now, the link for the GA4 BigQuery is created.

Until now, just the GA4 BigQuery linking is accomplished. But they are still not connected. So, you need to create an API.
Step 3: Enable Google Cloud API
Go to the Google Cloud Console.
Then in the left navigation pane, go to API & Services and select "Library".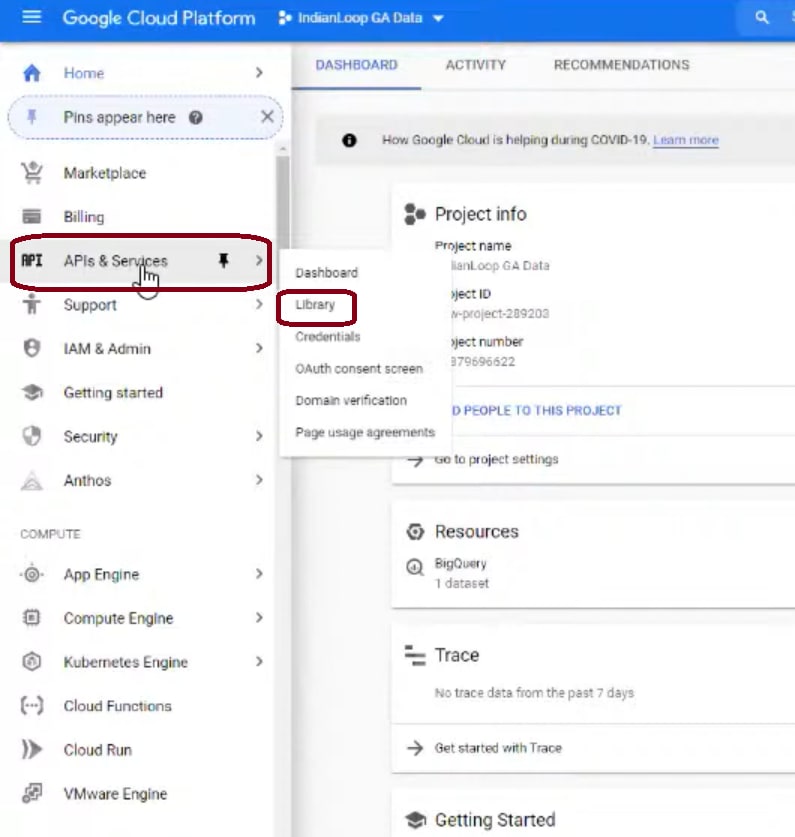 The API Library page appears.

Now, if you have not selected the project, then click on the current project name at the top. A separate window with the list of projects appears. Select the project you want to link.
Now, in the search bar, search for BigQuery API and click on it.
Now, make sure the BigQuery API is enabled and click on the "Manage" button.
Step 4: Add a Service Account
From the sidebar menu, select "Credentials".
Go to "Create Credentials" and then select the "Service account" option.
In the Service account name, type firebase-measurement@system.gserviceaccount.com, i.e., the Id already copied in step 2. Then in the Service account ID, write the ID where you want to give access to that account and click on "Create".
Now, grant the editor access to the Service account. And then click on "Continue" and select "Done".
Step 5: Use Google BigQuery with GA4 Data
After all the procedures, wait for 24 hours for the data set to export to your BigQuery project.
You'll find 2 tables with each dataset. One for continuous export of raw events throughout the day and another for full daily export of events.
Now, you can run SQL queries on the tables according to your requirements.
For further information about manual GA4 BigQuery Integration, visit here.
Method 2: Using Hevo Data to Set up GA4 BigQuery Integration

Hevo Data helps you directly transfer data from Google Analytics 4 and 100+ other sources to a Data Warehouse such as Google BigQuery, or a destination of your choice in a completely hassle-free & automated manner. Hevo is fully managed and completely automates the process of not only loading data from your desired source but also enriching the data and transforming it into an analysis-ready form without having to write a single line of code. Its fault-tolerant architecture ensures that the data is handled in a secure, consistent manner with zero data loss.
Sign up here for a 14-Day Free Trial!
Hevo takes care of all your data preprocessing to set up GA4 BigQuery Integration and lets you focus on key business activities and draw a much powerful insight on how to generate more leads, retain customers, and take your business to new heights of profitability. It provides a consistent & reliable solution to manage data in real-time and always have analysis-ready data in your desired destination.
Hevo Data focuses on two simple steps to set up GA4 BigQuery Integration:
Step 1: Configure Google Analytics 4 as a Source
Connect Hevo Data with a data source of your choice such as Google Analytics 4 or GA4 by providing your credentials such as Pipeline Name, Account Name, Property Name, Historical Sync Duration, Report Name, Dimensions, Metrics, Pivot Report choice.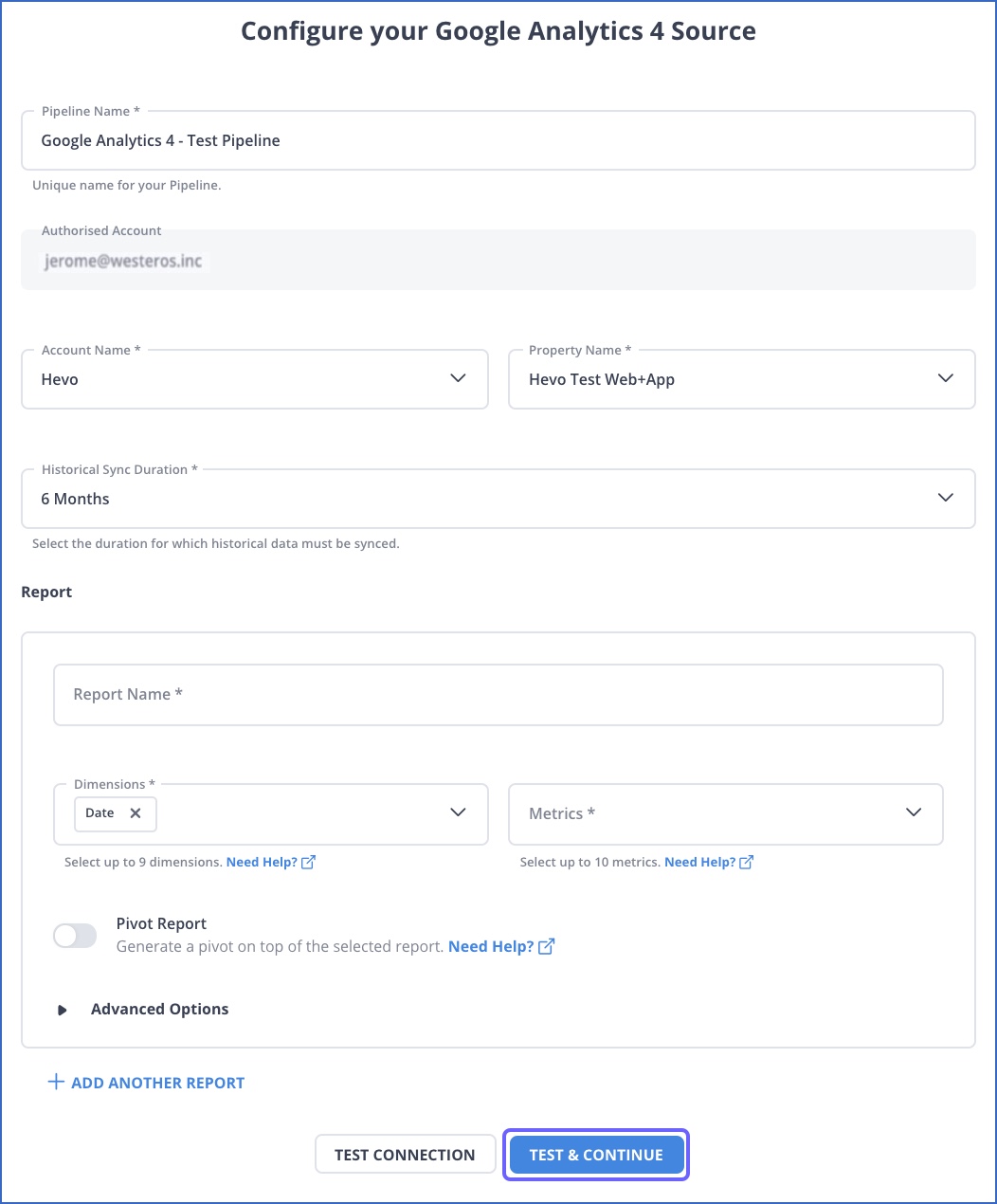 Step 2: Integrate Data into Google BigQuery
Load data from GA4 to BigQuery by providing your Google BigQuery database credentials such as your authorized Google BigQuery account along with a name for your database, destination, and project ID, Dataset ID.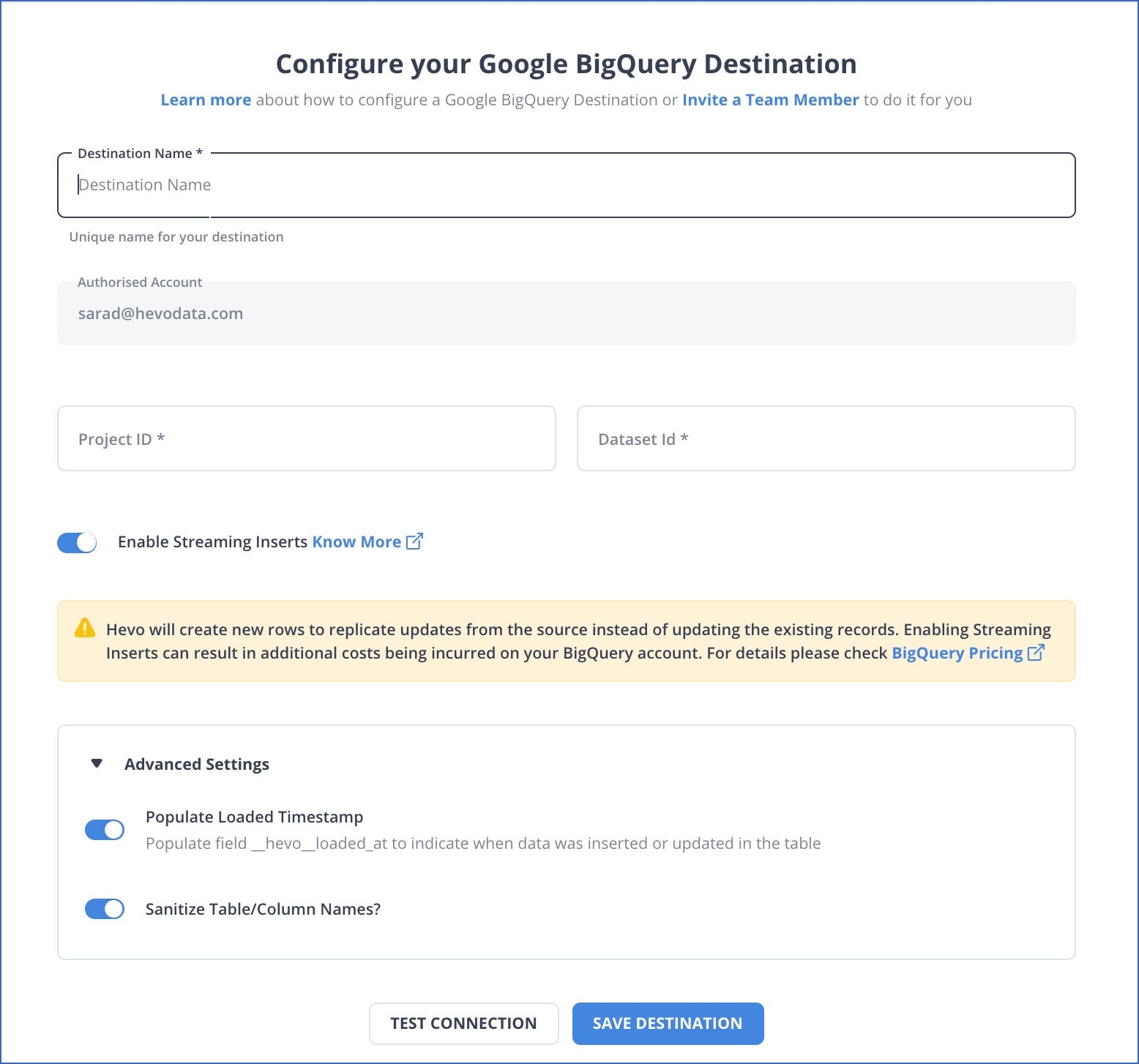 As can be seen, you are simply required to enter the corresponding credentials to implement this fully automated data pipeline without using any code.
Check out what makes Hevo amazing:
Completely Automated: The Hevo platform can be set up in just a few minutes and requires minimal maintenance.
Transformations: Hevo provides preload transformations through Python code. It also allows you to run transformation code for each event in the Data Pipelines you set up. You need to edit the event object's properties received in the transform method as a parameter to carry out the transformation. Hevo also offers drag and drop transformations like Date and Control Functions, JSON, and Event Manipulation to name a few. These can be configured and tested before putting them to use.
Connectors: Hevo supports 100+ integrations to SaaS platforms such as Google Analytics 4, files, Databases, analytics, and BI tools. It supports various destinations including Google BigQuery, Amazon Redshift, Snowflake Data Warehouses; Amazon S3 Data Lakes; and MySQL, SQL Server, TokuDB, DynamoDB, PostgreSQL Databases to name a few.
Real-Time Data Transfer: Hevo provides real-time data migration, so you can have analysis-ready data always.
100% Complete & Accurate Data Transfer: Hevo's robust infrastructure ensures reliable data transfer with zero data loss.
Scalable Infrastructure: Hevo has in-built integrations for 100+ sources (including 30+ free sources) that can help you scale your data infrastructure as required.
24/7 Live Support: The Hevo team is available round the clock to extend exceptional support to you through chat, email, and support calls.
Schema Management: Hevo takes away the tedious task of schema management & automatically detects the schema of incoming data and maps it to the destination schema.
Live Monitoring: Hevo allows you to monitor the data flow so you can check where your data is at a particular point in time.
Conclusion
In this article, you have learned about the methods involved in setting up GA4 BigQuery Integration. This article also provided in-depth knowledge about Google Analytics 4, Google BigQuery, their key features, and the benefits of setting up GA4 BigQuery integration.
Hevo Data, a No-code Data Pipeline provides you with a consistent and reliable solution to manage data transfer between a variety of sources such as Google Analytics 4, and a wide variety of Desired Destinations such as Google BigQuery with a few clicks.
Visit our Website to Explore Hevo
Hevo Data with its strong integration with 100+ sources & BI tools such as Google Analytics 4 allows you to not only export data from your desired data sources & load it to the destination of your choice, but also transform & enrich your data to make it analysis-ready so that you can focus on your key business needs and perform insightful analysis using BI tools.
Sign Up for a 14-day free trial and experience the feature-rich Hevo suite first hand. You may also have a look at the amazing price, which will assist you in selecting the best plan for your requirements.
Share your experience of understanding the various methods of setting up GA4 BigQuery Integration in the comment section below!
No-code Data Pipeline for Google BigQuery