YouTube Analytics Data: A Comprehensive Guide
Do you want to optimise your YouTube content preparation & promotion strategies? Are you looking for a simple yet in-depth guide that will help you analyse YouTube Analytics Data and draw informative & data-driven insights about your channel's performance & viewers? Well, look no further! This article will provide you with in-depth knowledge about YouTube Analytics & will help you master the skill of efficiently using YouTube Analytics Data to refine your channel's performance and viewer engagement.
Upon a complete walkthrough of the content, you will be able to use YouTube Analytics and its numerous functionalities to optimise and refine your content, promotion and viewer engagements strategies. You will also be able to draw crucial viewer-driven insights about your audience by keeping track of metrics such as audience retention, real-time activities, etc.
Table of Contents
Introduction to YouTube
YouTube is one of the most popular and premier video sharing platforms by Google that allows content creators, be it individuals or companies to create a channel and upload videos of all different kinds. With YouTube in place, you can create content and share it with the world for entertainment, business or welfare purpose as well.
Any user that has a channel & uploads videos on YouTube is known as a YouTuber. YouTubers can have numerous roles such as video creator, producer, voice-over artists, translator, gamer, vlogger, editor, etc. that they play to keep their channel up and profitable. YouTube further provides all the creators with the YouTube Analytics functionality, allowing them to keep track of crucial metrics & statistics to help manage their channels better.
For further information on YouTube, you can check the official website here.
Simplify your Data Analysis with Hevo's No-code Data Pipelines
Hevo Data, a No-code Data Pipeline, helps to transfer data from YouTube Analytics (among 100+ sources) to a data warehouse/ destination of your choice & lets you visualize it using a BI tool. Hevo is fully-managed and completely automates the process of not only loading data from your desired source but also enriching the data and transforming it into an analysis-ready form without having to write a single line of code. Its fault-tolerant architecture ensures that the data is handled in a secure, consistent manner with zero data loss.
It provides a consistent & reliable solution to manage data in real-time and always have analysis-ready data in your desired destination. It allows you to focus on key business needs and perform insightful analysis using various BI tools such as Power BI, Tableau, etc.
Check out what makes Hevo amazing:
Secure: Hevo has a fault-tolerant architecture that ensures that the data is handled in a secure, consistent manner with zero data loss.
Schema Management: Hevo takes away the tedious task of schema management & automatically detects schema of incoming data and maps it to the destination schema.
Minimal Learning: Hevo, with its simple and interactive UI, is extremely simple for new customers to work on and perform operations.
Hevo Is Built To Scale: As the number of sources and the volume of your data grows, Hevo scales horizontally, handling millions of records per minute with very little latency.
Incremental Data Load: Hevo, allows the transfer of data that has been modified in real-time. This ensures efficient utilization of bandwidth on both ends.
Live Support: The Hevo team is available round the clock to extend exceptional support to its customers through chat, email, and support calls.
Live Monitoring: Hevo allows you to monitor the data flow and check where your data is at a particular point in time.
Simplify your data analysis with Hevo today! Sign up here for a 14-day free trial!
Working with YouTube Analytics Data
To manage & keep track of such large volumes of videos and creator channels, YouTube records a lot of information/data about how viewers interact with the channel, and its videos by keeping track of metrics such as shares, likes, subscribers, playlists, etc.
You can learn more about how you can use YouTube's Analytics functionality to analyse this data from the following sections:
Using YouTube Dashboard for YouTube Analytics Data
To use the YouTube Dashboard to analyse YouTube Analytics Data, go to the official website of YouTube Studio and log in with the Google account associated with your creator channel.
Once you've logged in, click on your account name and select the dashboard option found in the panel on the left.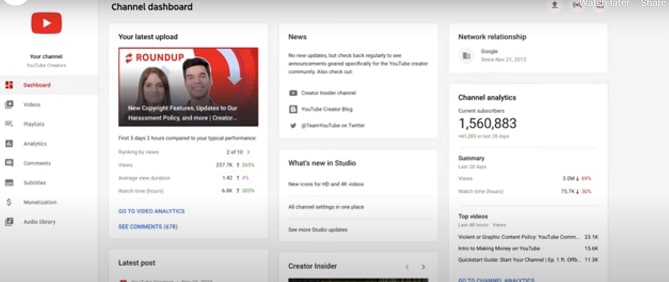 You can now use your channel's dashboard to keep track of YouTube Analytics Data such as the performance of your latest video using metrics such as the number of likes, views, view duration, watch time, etc. With the dashboard in place, you can also keep track of the overall channel analytics data such as subscribers, most popular videos, total views in the last 28 days, watch time, etc.
This is how you can use your channel's dashboard to keep track of YouTube Analytics Data.
Using YouTube's Analytics Functionality
Analysing Data using the Overview Tab
The overview tab acts as the starting point of YouTube Analytics, and, allows you to keep track of numerous channel-based metrics such as views, watch time, estimated revenue, subscribers, etc.
It divides the YouTube Analytics Data across three different sections:
Views: It shows the total number of channel & videos-based views.
Watch Time: It represents the watch time of your channel.
Subscribers: It shows the total number of subscribers across all your channels.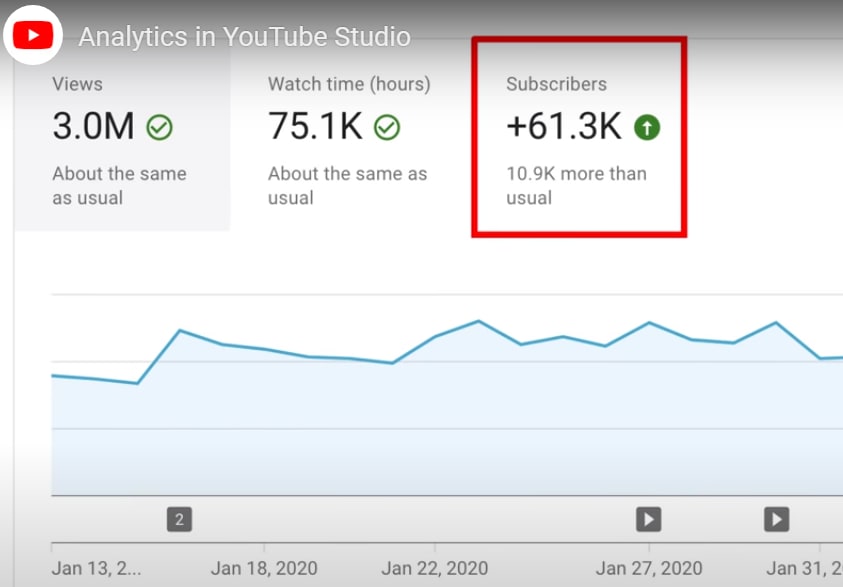 It makes use of green/red arrows to display whether the performance metric is improving or not. You can also set a dedicated time range for which you want to keep track of the performance.
In case you want to draw more details about how your channel is performing, you can click on either of these three metrics and make use of visualisations such as line graphs to analyse your data.
For example, if you to figure out the types of days when you get more views such as weekends or weekdays, you can do so with a "viewership vs time" line graph as follows:
Analysing Data using the Show More Option
YouTube Analytics allows creators to draw crucial & fine-grained data about your channel's viewers and their source, with the help of the show more option.
Using the show more option, you can draw demographics-based insights about your audience, such as age, gender, geography, etc. It also helps creators get technical insights such as payment methods, device types, operating system, the language in use, etc.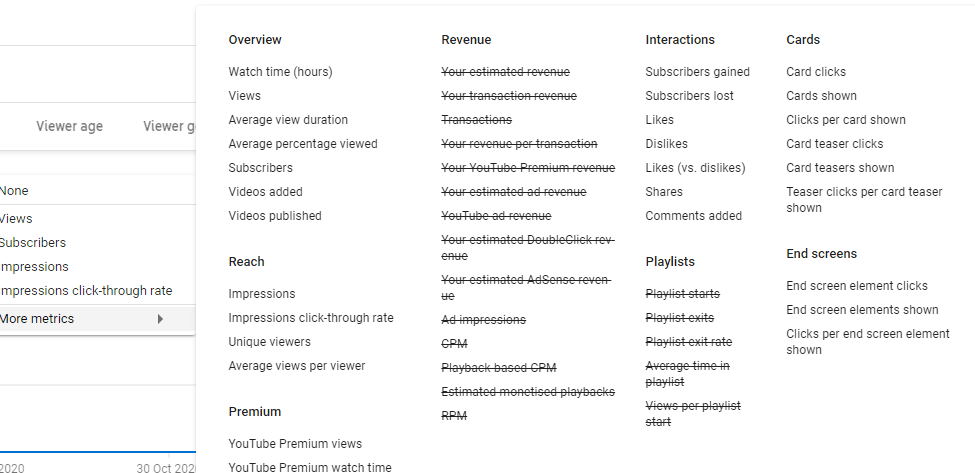 You can also use it to compare your primary metrics, such as watch time, impressions, subscribers, etc. with your secondary metrics such as subscribers gained or lost, shares, comments, etc. based on specific periods or years.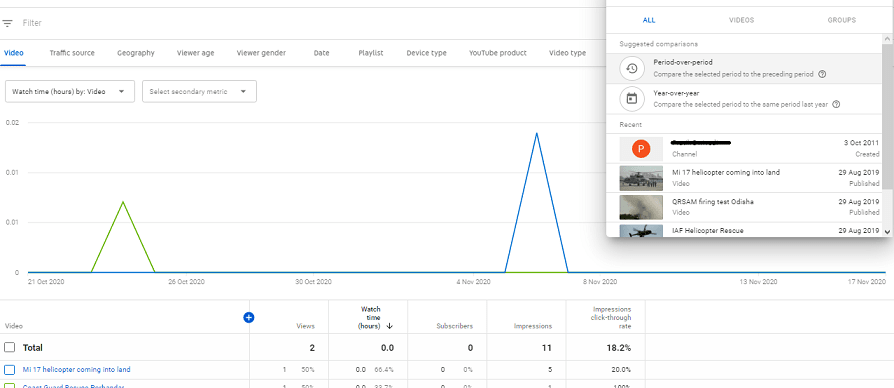 Tracking Crucial Metrics using YouTube Analytics Data
Tracking Traffic Source using YouTube Analytics
With YouTube's Analytics functionality, you can also determine the source of your viewer traffic, that's coming via webpages, YouTube searches, etc. You can also make use of filters such as translation use, device type, etc., allowing you to draw insights about whether your viewers often use the translation, the kind of device they use, etc.
It will help you target the viewers better with measures such as providing the subtitles or audio for a popular language, thereby making your channel more appealing and intuitive. YouTube also lets you assign colours to each of these metrics such as traffic source(browse features/youtube search/channel), device types(mobile/computer/tab), etc. & create impeccably informative reports.

Tracking Audience Retention using YouTube Analytics
YouTube Analytics also allows you to monitor the audience retention metric for a particular video, that will help you understand whether the count of viewers is increasing or decreasing, the rate of increase/decrease, etc.
For example, if the number of likes on your videos is increasing, but the audience retention is decreasing, it indicates that your audience is getting confined to a niche having specific likes and dislikes.
Having such crucial insights in hand will help you fine-tune your content and strategies, helping you create content that your audience loves.
Tracking Real-Time Activity using YouTube Analytics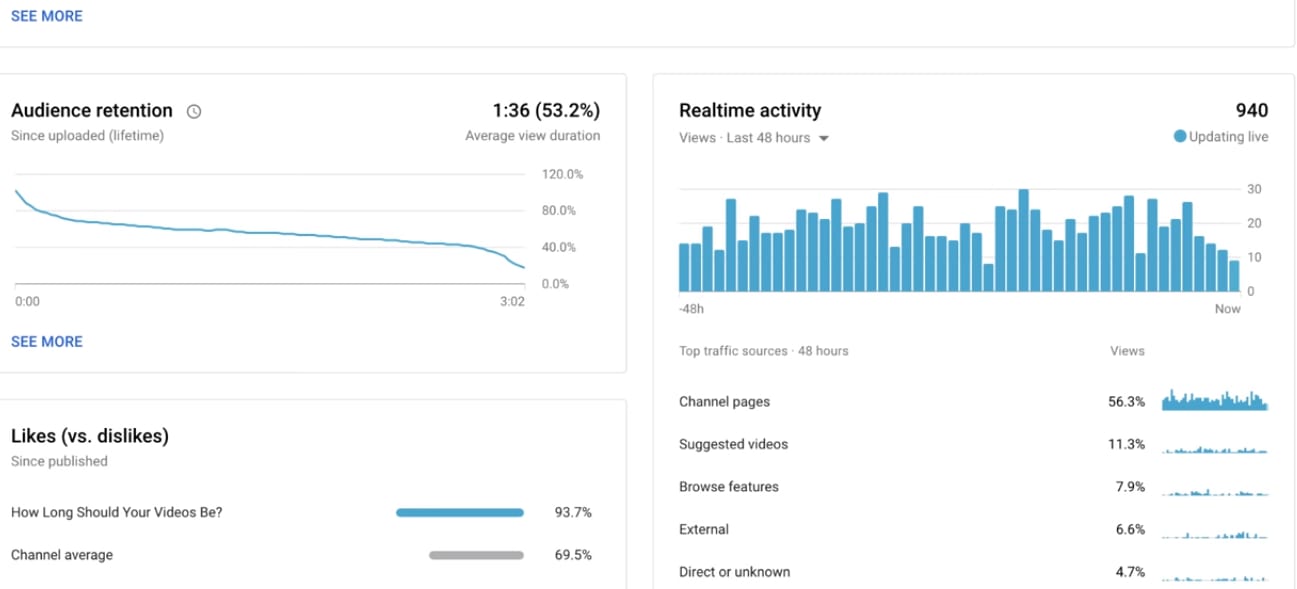 Real-time activity is one such crucial metric that allows you to focus on the most recent videos and draw insights that can help improve your promotion strategies. For example, if the viewership for your most recent video is decreasing, you can have a look at your comments and start answering them. It will not only help boost the chances of your video appearing in the suggestions but also help increase your viewership.
You can use YouTube Analytics real-time activities metric not only for the most recent videos but also for the entire channel bouquet.
Some other important metrics that you can track are:
Average View Duration: It represents the average number of minutes a particular video was playing for a specific date range.
Impressions: It represents the number of times thumbnails associated with your channel were shown to YouTube viewers.
Impressions CTR: How often viewers watched a video after seeing a thumbnail associated with your channel
These are some of the metrics that you can track using the YouTube Analytics Data.
Understanding the Viewership Funnel
YouTube Analytics viewership funnel, helps creators draw crucial insights about the process of viewership, right from the very start of serving impressions from views to watch time.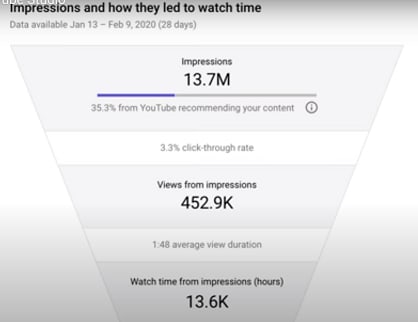 By leveraging the viewership funnel, you can improve upon your watch time and click-through rate, resulting in YouTube suggesting your video to more viewers.
Conclusion
This article teaches you how to leverage the power of YouTube Analytics Data and draw crucial insights into the performance of your YouTube channel. It also provides in-depth knowledge about metrics such as audience retention, real-time activities, traffic, etc. that you keep track of, to refine and optimise your content and strategies using the YouTube Analytics functionality.
Carrying out an in-depth analysis of your viewers requires you to integrate data from a diverse set of data sources. Integrating such diverse data can be challenging and tiresome, especially for a beginner & this is where Hevo saves the day. Hevo Data, a No-code Data Pipeline, helps you transfer data from a source of your choice in a fully-automated and secure manner without having to write the code repeatedly. Hevo, with its strong integration with 100+ sources & BI tools, allows you to not only export & load data but also transform & enrich your data & make it analysis-ready in a jiff.
Want to take Hevo for a spin? Sign up here for the 14-day free trial and experience the feature-rich Hevo suite first hand. You can also have a look at our unbeatable pricing that will help you choose the right plan for your business needs!
Tell us about your experience of working with YouTube Analytics Data. Let us know in the comments section below!
No-code Data Pipeline For YouTube Analytics