Campaign Monitor Salesforce Integration: Easy Steps 101
Manually tracking Sales-Based Leads and Collecting data from Customer Interactions, Social Media, Emails, etc. can be a tedious task, especially if your customer base is growing exponentially. To overcome this hurdle, you can use Automated CRM Platforms like Salesforce. Campaign Monitor is an Email Marketing software and on implementing Campaign Monitor Salesforce Integration, users can manage their customer data, as well as send and assess the performance of email campaigns, all from within their Salesforce Organisation.
Marc Benioff founded Salesforce.com in 1999, and today, Salesforce is one of the most dominant software on the planet. Salesforce is a Cloud-Based "Customer Relationship Management" (CRM) software. It provides a full-fledged Customer Relationship Management solution to businesses without spending much effort on building one. Salesforce's services allow businesses to use Cloud Technology to better connect with clients, customers, and partners.
In this article, you will gain information about Campaign Monitor Salesforce Integration. You will also gain a holistic understanding of Salesforce, Campaign Monitor, their key features, and the importance and steps involved in setting up Campaign Monitor Salesforce Integration. Read along to find out in-depth information about Campaign Monitor Salesforce Integration.
Table of Contents
Introduction to Salesforce
Salesforce is a Cloud-based Customer Relationship Management Platform that offers easy-to-use business applications that can help build an amazing customer experience. Salesforce is a tool that you can use to stay connected with Customers, Prospects, Partners, Sales, and Market Services worldwide. Salesforce Cloud CRM software and applications are used for Sales, Services, Finance, Marketing, Business Development, Supply Chain Management, and other business verticals that involve external and internal relationships.
It allows the user to store information of existing customers and prospects under a single platform. In addition, it enables the user to monitor Sales and Marketing Campaigns using the valuable insights available. It is a complete solution for companies that want to easily manage customer data from various platforms such as Email, Chat, and Social Media.
For further information on Salesforce, you can follow the Official Documentation.
Key Features of Salesforce
Some of the key features of Salesforce are as follows:
1) Simplified Account Management
Salesforce enables companies to have a holistic view of their customers. It allows you to always have access to the Activity History, Customer Communication, Important Contacts, Internal Account Discussions, etc.
2) Lead Management
Salesforce enables companies to track their Leads and continuously optimize their Campaigns across all channels so that they can make data-driven decisions.
3) Sales Data
With Salesforce, companies can get easy access to the Sales Data in real-time which can be used to connect with Leads and increase Marketing productivity.
4) Reports and Dashboards
Salesforce Dashboards provide a real-time and intuitive view of your business performance. It enables companies to view detailed reports that can be seamlessly accessed by any of the team members.
5) File Sync and Sharing
Salesforce gives companies the ability to easily share files, discuss them with the entire team, and track its content in real-time. Users can also use the Quick Search option to search a specific section of the content.
6) Workflow and Approvals
With Salesforce Visual Workflow, companies can quickly design and automate all business processes by leveraging the drag-and-drop functionality that can be used to drive success with flexible approval processes for Expenses, Customer Discounts, Trial Periods, and more.
Introduction to Campaign Monitor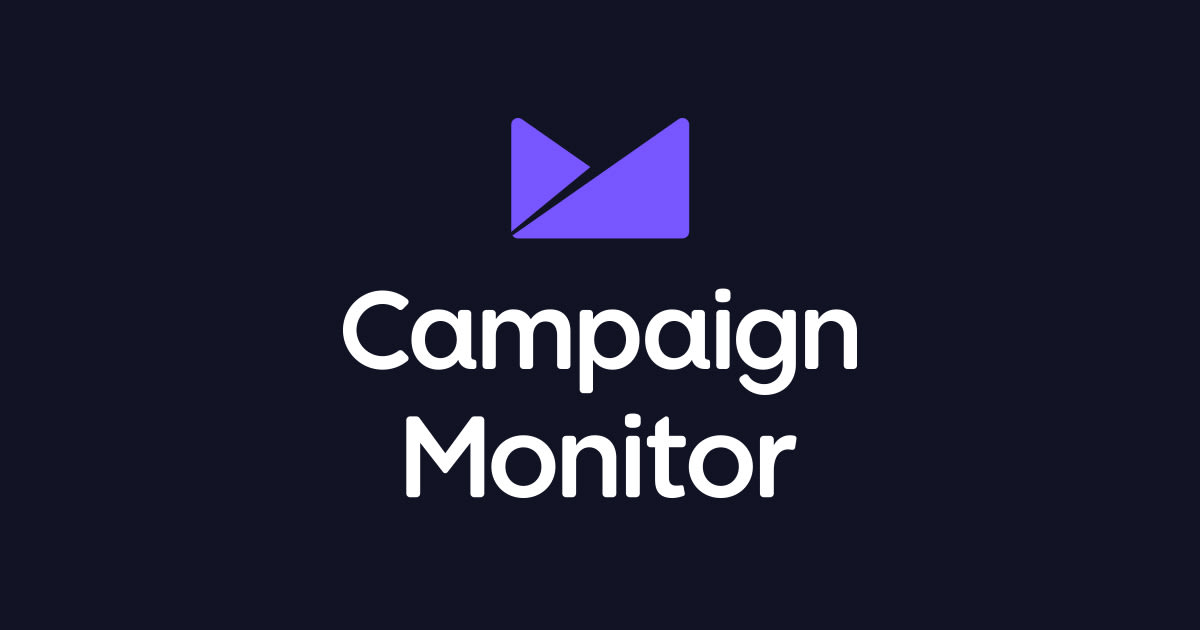 Campaign Monitor is a simple Email Marketing Solution that enables businesses to send compelling and personalized emails, establishing a reliable route to increase subscriber engagement and drive loyal readership and conversions. Stylish templates, a drag-and-drop builder, and engagement-based segmentation enable marketers to send targeted content to huge lists of subscribers while requiring no technical expertise.
Campaign Monitor distinguishes itself as an email marketing platform largely via its ease-of-use and features designed to get you emailing rapidly. The platform excels at both tracking and automating the customer journey. What will most likely benefit small- to medium-sized businesses (SMBs) is a well-rounded set of campaign monitoring analytics, which are available at all pricing tiers. On the design side, features include drag-and-drop graphic elements and one-click access to a stock image library.
Key Features of Campaign Monitor
Some of the key features of Campaign Monitor are as follows:
1) Template Designer
Email builder templates make it easy to create visually appealing emails. You can create one using the easy drag-and-drop tools, which include features like predefined content sections and the flexibility to customize text, image, and button styles as needed. They are extensively customizable and mobile-friendly for all major email clients.
2) Dynamic Content
With Dynamic Content, you can deliver tailored messages to different subscriber groups in a single send.
3) A/B Testing
An A/B test involves creating two versions of a single campaign and sending them to a small percentage of your total recipients. Version A is sent to half of the test group, while Version B is sent to the other half. The winning version is determined by the number of openings or clicks. This is then sent to the remaining subscribers.
4) Marketing Automation
Use the easy-to-use visual journey designer to create more timely emails that keep your audience engaged, drive revenue automatically, and cut the time you spend creating and sending campaigns.
5) Segmentation and Personalization Tools
Increase email engagement by leveraging existing customer data to build hyper-targeted segments and send highly personalized emails tailored to their specific interests. It's the simplest approach to boost conversions today while also laying the groundwork for long-term relationships.
6) Apps and Integrations
Campaign Monitor connects to hundreds of pre-built applications and integrations, allowing you to connect your e-commerce platform, CRM, or website with ease. Because when all of your customer data is integrated, you win.
7) Analytics Insights
It's a comprehensive analytics suite that provides a holistic view of the overall performance of your emails, including geography, acquisition, and engagement per campaign. You'll get actionable insights to help you enhance your strategy and demonstrate the return on your email investment.
8) Link Review
Users can keep their subscribers on track using Link Review. The  Link Review tool analyses the emails automatically and flags any broken or outdated URLs for your attention.
Simplify Salesforce ETL and Analysis with Hevo's No-code Data Pipeline
A fully managed No-code Data Pipeline platform like Hevo Data helps you integrate and load data from 100+ different sources (including 30+ free sources such as Salesforce) to a Data Warehouse or Destination of your choice in real-time in an effortless manner. Hevo with its minimal learning curve can be set up in just a few minutes allowing the users to load data without having to compromise performance. Its strong integration with umpteenth sources allows users to bring in data of different kinds in a smooth fashion without having to code a single line. 
Get Started with Hevo for Free
Check out some of the cool features of Hevo:
Completely Automated: The Hevo platform can be set up in just a few minutes and requires minimal maintenance.
Transformations: Hevo provides preload transformations through Python code. It also allows you to run transformation code for each event in the Data Pipelines you set up. You need to edit the event object's properties received in the transform method as a parameter to carry out the transformation. Hevo also offers drag and drop transformations like Date and Control Functions, JSON, and Event Manipulation to name a few. These can be configured and tested before putting them to use.
Connectors: Hevo supports 100+ integrations to SaaS platforms, files, Databases, analytics, and BI tools. It supports various destinations including Google BigQuery, Amazon Redshift, Snowflake Data Warehouses; Amazon S3 Data Lakes; and MySQL, SQL Server, TokuDB, DynamoDB, PostgreSQL Databases to name a few.  
Real-Time Data Transfer: Hevo provides real-time data migration, so you can have analysis-ready data always.
100% Complete & Accurate Data Transfer: Hevo's robust infrastructure ensures reliable data transfer with zero data loss.
Scalable Infrastructure: Hevo has in-built integrations for 100+ sources (including 30+ free sources such as Salesforce) that can help you scale your data infrastructure as required.
24/7 Live Support: The Hevo team is available round the clock to extend exceptional support to you through chat, email, and support calls.
Schema Management: Hevo takes away the tedious task of schema management & automatically detects the schema of incoming data and maps it to the destination schema.
Live Monitoring: Hevo allows you to monitor the data flow so you can check where your data is at a particular point in time.
Sign up here for a 14-Day Free Trial!
Importance of Campaign Monitor Salesforce Integration

Campaign Monitor is one of the widely used Salesforce integrated Applications. With Campaign Monitor Salesforce integration, users no longer require a dedicated Technical team to manually extract a list or gather data before creating hyper-targeted emails for their subscribers.
Campaign Monitor Salesforce Integration makes it incredibly simple to conduct attractive, professional Email marketing campaigns to achieve your goals without ever leaving Salesforce. You'll get access to all of the tools you need to test and optimize your emails for the greatest results, as well as 24/7 support to ensure your success.
Some of the benefits of implementing Campaign Monitor Salesforce Integration are as follows:
Within Salesforce, you can view email statistics.
Map Campaign Monitor email fields with Salesforce.
Subscribers will be added automatically.
You'll never have to leave Salesforce again.
Through Campaign Monitor Salesforce Integration, users can combine the capabilities of Campaign Monitor and Salesforce for seamless email marketing to their contacts in Salesforce. Users can also leverage synced data between Campaign Monitor and Salesforce to gain a better and clear overview of their customers in both applications and send hyper-targeted emails. Users can also create reports and dashboards to provide visibility to both sales and marketing on how your emails are performing and driving revenue for your business by deploying Campaign Monitor Salesforce Integration.
Prerequisites for Campaign Monitor Salesforce Integration
The requirements for implementing Campaign Monitor Salesforce Integration are as follows:
Installation and setup are quick, easy, and largely wizard-driven.
A separate Campaign Monitor account is required.
Campaign Monitor account
A Salesforce Professional Edition or above account i.e., the integration works with all Campaign Monitor plans and the following Salesforce editions:

Professional
Enterprise
Performance
Unlimited
Implementing Campaign Monitor Salesforce Integration
There are 2 parts involved in setting up Campaign Monitor Salesforce Integrations. These are as follows:
1) Installation
All Salesforce applications are installed via a standard wizard using the steps below:
Step 1: Log in to your Salesforce Account.
Step 2: Go to the Salesforce AppExchange website.
Step 3: Go to our Salesforce AppExchange listing of supported Apps or search for Campaign Monitor in the search bar.
Step 4: Now, select the "Campaign Monitor" Option on the App Listing Page.
Step 5: Click the "Get it now" button on the right side of the Campaign Monitor page.
Step 6: Now, choose whether to install Campaign Monitor in Production or a Sandbox.
Step 7: Select the "I have read and agree to the terms and conditions" option. Now, click on the "Confirm"  option and then the "Install" option.
Step 8: Choose whether to install for admins only, all users, or specific profiles. It is recommended to select "Admins only" and once installed you can give users access via the permission sets.
Step 9: Click the "Install" option.
Step 10: Select the "Yes, grant access to these third-party websites" option then click "Continue".
For further information on the installation of Campaign Monitor to set up Campaign Monitor Salesforce Integration, follow the Official Documentation.
2) Setup
After installing Campaign Monitor for Salesforce, in order to implement Campaign Monitor Salesforce Integration, the accounts need to be connected.
The following steps are to be followed to set up and connect your Campaign Monitor account:
Step 1: Make sure you're logged into your Salesforce account.
Step 2: In Salesforce, click the "App menu/Launcher" button and then select "Campaign Monitor admin".
Step 3: Click the "General settings" tab to start the connection wizard.
Step 4: Select the "Connect to Campaign Monitor" option. And, enter your Campaign Monitor login details and follow the on-screen prompts to access your account.
Step 5: Click on the "Allow access" button when all the processes are completed.
Step 6: If you are using Campaign Monitor sub-clients you will be asked which client you want to connect.
Step 7: When the connection is made you will get an on-screen confirmation.
For further information on setting up of Campaign Monitor account to implement Campaign Monitor Salesforce Integration, follow the Official Documentation.
Conclusion
In this article, you have learned about implementing Campaign Monitor Salesforce Integration. This article also provided information on Salesforce, Campaign Monitor, their key features, and the importance of implementing Campaign Monitor Salesforce Integration.
Hevo Data, a No-code Data Pipeline provides you with a consistent and reliable solution to manage data transfer between a variety of sources and a wide variety of Desired Destinations with a few clicks.
Visit our Website to Explore Hevo
Hevo Data with its strong integration with 100+ data sources (including 30+ free sources such as Salesforce) allows you to not only export data from your desired data sources & load it to the destination of your choice but also transform & enrich your data to make it analysis-ready so that you can focus on your key business needs and perform insightful analysis using BI tools. 
Want to give Hevo a try?
Sign Up for a 14-day free trial and experience the feature-rich Hevo suite first hand. You may also have a look at the amazing price, which will assist you in selecting the best plan for your requirements.
Share your experience of understanding Campaign Monitor Salesforce Integration in the comment section below! We would love to hear your thoughts.
No-code Data Pipeline for Salesforce