Conversion Funnel Analysis: Everything You Need to Know
A conversion funnel helps today's marketers identify various stages in a buyer's journey leading to a purchase. The goal is to ask 'Why' and 'How' the potential buyer will discover your product and 'What' it will take to convert most, if not all the sightseers, into actual paying ones.
Now, try applying the funnel doctrine to customer acquisition.
A conversion funnel is divided into four parts. First, you create awareness (top of the funnel). Then, through knowledge sharing, interest is cultivated in your product (middle of the funnel) — mostly through content. And, if the explanation is persuasive enough, a buyer shows some desire to purchase (bottom of the funnel). Now, if the product truly solves the pain point, the potential buyer converts into an actual paying one.
This is a classic example of an AIDA(R) model — Awareness, Interest, Desire, Action, and Re-Engage — a Conversion Funnel Analysis technique.
That said, the crux is supreme: Customers will drop off as they progress down the funnel and will not all make it to the finish. Salespeople and marketers should always think of new methods to test and optimize the funnel. They must educate customers on the benefits of a product and make the transition from the top to the bottom of the funnel as easy as possible.
Table of Contents
What is a Conversion Funnel?
A conversion funnel (also known as a sales funnel or marketing funnel) is an e-commerce marketing metaphor that describes the consumer path prior to purchasing a product or service. Businesses often categorize the funnel stages as follows, from the top (biggest group) to the bottom (smallest group): the awareness stage, the interest stage, the want stage, and the action stage. The funnel gets narrower and smaller as a group of potential consumers goes through it. The ultimate aim of improving your conversion funnel is to move more of your target audience through the action step.
What is Conversion Funnel Analysis?
Conversion Funnel Analysis assists product and marketing teams to understand user behaviors and the challenges they face along the customer journey. Users will very certainly encounter situations that hinder them from achieving the desired goal as they traverse this digital journey.
So, analysis done by zooming in on each stage, to reduce areas of friction and encourage consumers to move farther down the funnel is known as Conversion Funnel Analysis.
Replicate Data in Minutes Using Hevo's No-Code Data Pipeline
Hevo Data, a Fully-managed Data Pipeline platform, can help you automate, simplify & enrich your data replication process in a few clicks. With Hevo's wide variety of connectors and blazing-fast Data Pipelines, you can extract & load data from 100+ Data Sources straight into your Data Warehouse or any Databases. To further streamline and prepare your data for analysis, you can process and enrich raw granular data using Hevo's robust & built-in Transformation Layer without writing a single line of code!
GET STARTED WITH HEVO FOR FREE
Hevo is the fastest, easiest, and most reliable data replication platform that will save your engineering bandwidth and time multifold. Try our 14-day full access free trial today to experience an entirely automated hassle-free Data Replication!
Benefits of Conversion Funnel Analysis
At its foundation, Conversion Funnel Analysis is useful because it enables you to track user activities and behaviors. This is crucial since those activities disclose your consumers' intentions and motivation. Funnels are vital not just in sales and marketing to generate leads, but also in client retention. You can infuse value into each phase of the customer journey if you know what your consumers desire.
Although each organization has its own set of objectives, Conversion Funnel analysis can be used to:
Improve Leads to Conversion Ratio
Conversion funnel analysis can help with a wide range of results or specific aims. A user's final step can be to click a "Sign Up" button or download a PDF. You can utilize your Conversion Funnel Analysis to determine what is keeping consumers from reaching their desired destination. Each level of the funnel presents the opportunity for a more seamless, tailored path to the funnel's end.
Improve Funnel Conversion by Analyzing & Optimizing Funnel Metrics
Your organization most likely provides several digital engagement points, such as websites, mobile applications, email, or dashboards. Each has its own funnel, yet they all constitute one overarching consumer journey funnel. Conversion Funnel Analysis offers a macro view of how each of those funnels connects.
Sync Marketing & Product Efforts
Marketing teams are frequently concerned with turning prospects into customers, but product teams are primarily concerned with maintaining those customers. Both teams will benefit from Conversion Funnel Analysis since it allows them to share data and ideas. Prospects who respond strongly to a particular area of the marketing funnel stay if they find the same value in the product funnel.
5 Elements of Conversion Funnel Analysis
We've included five major parts in our sample funnel. Because this is such a visual notion. Let's add a comparison case to keep things interesting and to help you see how you want to capture and draw new buyers.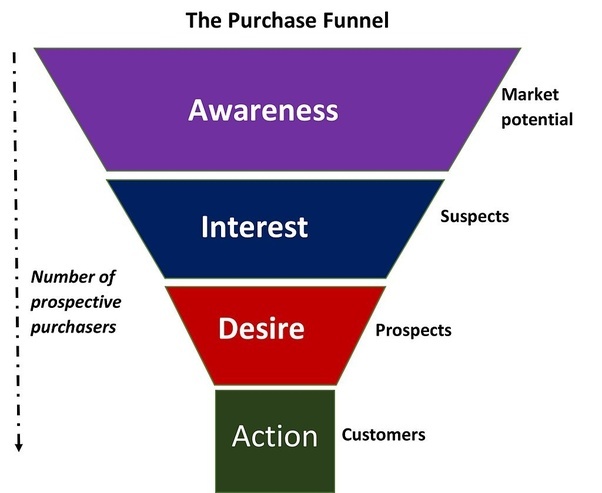 Awareness (The Most Prevalent Metric)
This is the stage of the funnel when you focus on bringing potential buyers to your website.
At the start of the process, a huge proportion of users choose to visit a site via various marketing methods. Consider where they are coming from. What was your click-through rate (CTR) if you came through an ad? If it's through content, which material is reaching the most people? How many people visited your website after finding it through an organic search to learn more about your product or service? Use your data to determine which targeting approaches are effective and which are not—this will save you money in the long run.
Interest (Keep the Buyer Engaged)
To keep buyers moving down your marketing funnel, make sure the layout, text, and pictures all make sense and look great. In short, the content is key here. You want to build a stronger relationship with clients during the interest phase, and one of the best ways to do so is to get their email addresses. Newsletters and opt-in forms are excellent methods to accomplish this. To effectively raise your opt-in rate, concentrate your efforts on improving attention-grabbing elements such as headlines, carousel pictures, and banners. Create interesting text and a well-executed layout for entrance points such as blog posts, your site's homepage, and product pages.
Desire (The Buyer Has Some Desire to Commit)
Once visitors have reached this phase, it is critical to nurture and educate them, as well as ease any other pain points they might experience. One method is to create a series of nurturing emails with informative and valuable information that not only displays your capabilities but also reframes the customer's perspective so that they can benefit from those capabilities. Using marketing automation software, you can construct a nurture stream to retouch new prospects while engaging and educating existing leads.
Action (Congrats… You Got A Buyer!)
At this stage, you want the buyers in your funnel to convert on the initial event you put up. Only a tiny fraction of prospects will reach this point, and not all of them will act. The more leads you can steer and nurture to this stage, the more likely you are to close a transaction. If the consumer does not act here, not everything is lost.
Now It's Time to Retain — AKA, Re-Engage
Because you generate money from consumers you retain, retention is an important component of building an online shop. A few other reasons also exist:
Do not have to pay to acquire, and;
Have already shown a strong interest in your brand.
One method to win customers (back to back) is to create tailored remarketing efforts or call out directly to find out why they were turned off (if they turned off). Learn as much as you can about those who take action against those who do not. This will help you to learn how to encourage prospects in this last stage, eliminate obstacles, and improve your conversion funnel so that it performs at its best.
How to Build a Conversion Funnel for Better Analysis
Make The SEO Your Leads Gen. Engine
Content and SEO are full-funnel techniques that are critical in locating, attracting, and converting your target audience. And few data sets give a more thorough picture of what your audience wants at every step – their requirements, interests, pain spots, concerns, motivations, values, and desires – than your SEO keyword data. The most often searched for queries and subjects are solid indicators of where your consumers' minds are as they progress along the route to buying. When you generate the material that addresses each question, you are laying the groundwork for your complete content strategy.
Holistic Approach Gets You Best Out of Everything
The conversion funnel is indeed a spectacular technique to study how people's requirements and goals change as they become more informed or purchase-ready. However, it is unwise to believe that everyone flows through the funnel in a straight path. Within the customer journey conversion funnel, there are several instances of client touch points. As a result, attempt to meet potential purchasers with a variety of materials and responses. Make their trip as easy as possible for them, and your funnel success rate will rise.
Track Your Progress
Defining your audience by funnel stage simplifies conversion funnel tracking. Segment data may give crucial information such as where your most frequent visitors leave or which pages have the best click-through rates (CTR). Create filters in Google Analytics to view your content by funnel step. Also, utilize Google Search Console to identify pages with a large number of impressions but few clicks. This allows you to assess your content based on the KPIs that are most relevant at each stage. For the top of the funnel, you should prioritize rankings, exposure, and high-quality visitors over money.
Optimize. Optimize. Optimize
Fill the leaks now that you know how to make a conversion funnel and have recognized them. Improve your CTAs and forms. Conduct A/B testing. You can test what generates the highest funnel conversion rates at each level of the sales funnel with conversion rate optimization technologies.
Equally essential, you can recognize what does not result in action. Then, evaluate your results and run fresh experiments. Conversion funnel optimization is a continual experiment that cannot be "perfected" the first time. Every change to your data will bring you closer to your ultimate goal: more satisfied consumers.
What Makes Hevo's ETL Process Best-In-Class?
Providing a high-quality ETL solution can be a difficult task if you have a large volume of data. Hevo's automated, No-code platform empowers you with everything you need to have for a smooth data replication experience.
Check out what makes Hevo amazing:
Fully Managed: Hevo requires no management and maintenance as it is a fully automated platform.
Data Transformation: Hevo provides a simple interface to perfect, modify, and enrich the data you want to transfer.
Faster Insight Generation: Hevo offers near real-time data replication so you have access to real-time insight generation and faster decision making.
Schema Management: Hevo can automatically detect the schema of the incoming data and map it to the destination schema.
Scalable Infrastructure: Hevo has in-built integrations for 100+ sources (with 40+ free sources) that can help you scale your data infrastructure as required.
Live Support: Hevo team is available round the clock to extend exceptional support to its customers through chat, email, and support calls.
Sign up here for a 14-day free trial!
Top 3 Tools for Customer Funnel Analysis
HubSpot
HubSpot is a CRM platform that offers a wide range of goods. It enables marketers to follow client lifecycles from the time of awareness to the point of conversion, providing information on behavioral trends to help you better understand your prospects. HubSpot also assists you in analyzing your traffic on a website and page-by-page level. This makes it simple to discover your top-performing sites, as well as the traffic sources that consistently deliver the most website sessions, leads, and conversions.
Improvado
Improvado is a Revenue Data Platform that manages the whole marketing and sales data cycle. The platform collects and normalizes marketing data from hundreds of channels and sources before delivering it to visualization platforms such as Tableau, Google Data Studio, and Power BI. Its extensive functionality cuts reporting time by up to 90% and enables marketers to gain a better knowledge of their funnels.
Google Analytics
Google Analytics assists you in identifying patterns and forecasting behavior throughout your marketing funnels. The platform provides real-time analytics, allowing you to gain proactive insights into how prospects enter your funnel, where they drop off, which pages engage them the most, and much more.
Conclusion
In this blog post, we learned about the Conversion Funnel Analysis and the model which provides a solid foundation for directing your audience through the buyer's journey and motivating them to act. On the other hand, if you apply it to your content marketing, you'll be using a tried-and-true formula for engaging, persuading, and converting an audience into buyers.
That said, Conversion Funnel Analysis is also extremely helpful when determining which aspects of the product experience have the most room for improvement. You can examine the reason why your customers are dropping off proving itself to be an excellent starting point for you to focus your investigations on the areas with the most potent effect.
And, to begin with, having a steady and accurate analysis routine, with a centralized data repository like a cloud data warehouse and infrastructure to support seamless data migration is a prerequisite. That's where Hevo comes into the picture. Hevo is a no/low-code platform that helps you transfer data from a source of your choice in a fully-automated and secure manner. Hevo with its strong integration with 100+ sources, allows you to not only export & load data but also transform & enrich your data & make it analysis-ready in a jiffy.
VISIT OUR WEBSITE TO EXPLORE HEVO
Want to take Hevo for a spin?
SIGN UP and experience the feature-rich Hevo suite first hand. You can also have a look at the unbeatable pricing that will help you choose the right plan for your business needs.
Feel free to share your experience of learning about Conversion Funnel Analysis in the comments section below!
No-code Data Pipeline for Your Data Warehouse