Evergage Salesforce Integration Simplified 101
While businesses primarily use Salesforce's Cloud-Based Customer Relationship Management (CRM) to manage their customer records and engagement, Salesforce now offers many more services such as Sales Cloud, Marketing Cloud, Mobile Connectivity, etc. Salesforce's services allow businesses to use Cloud Technology to better connect with clients, customers, and partners. This gives them immense flexibility, infinite scale, and a fully connected workforce.
As companies begin to explore the number of ways in which they use Salesforce, they look for the possibility of offering real-time enhanced personalization solutions to their customers. That's where Evergage Salesforce integration comes in.
Evergage is a Cloud-Based Web Personalization software that allows you to create personalized offers and web experiences for your customers based on their click behavior. Evergage, a Customer Data Platform (CDP), provides you a single platform to help you develop a comprehensive view of each customer required to deliver relevant and personalized experiences at various touchpoints across the entire customer journey.
Using Salesforce to manage your Marketing Activities and Customer Information is helpful, but for businesses looking for real-time and cross-channel personalization, Evergage Salesforce integration is the best way forward. In this article, you'll learn how to use Evergage Salesforce integration to minimize the product gap around website personalization. Before getting into the details, let's discuss Evergage and Salesforce in brief.
Table of Contents
Introduction to Salesforce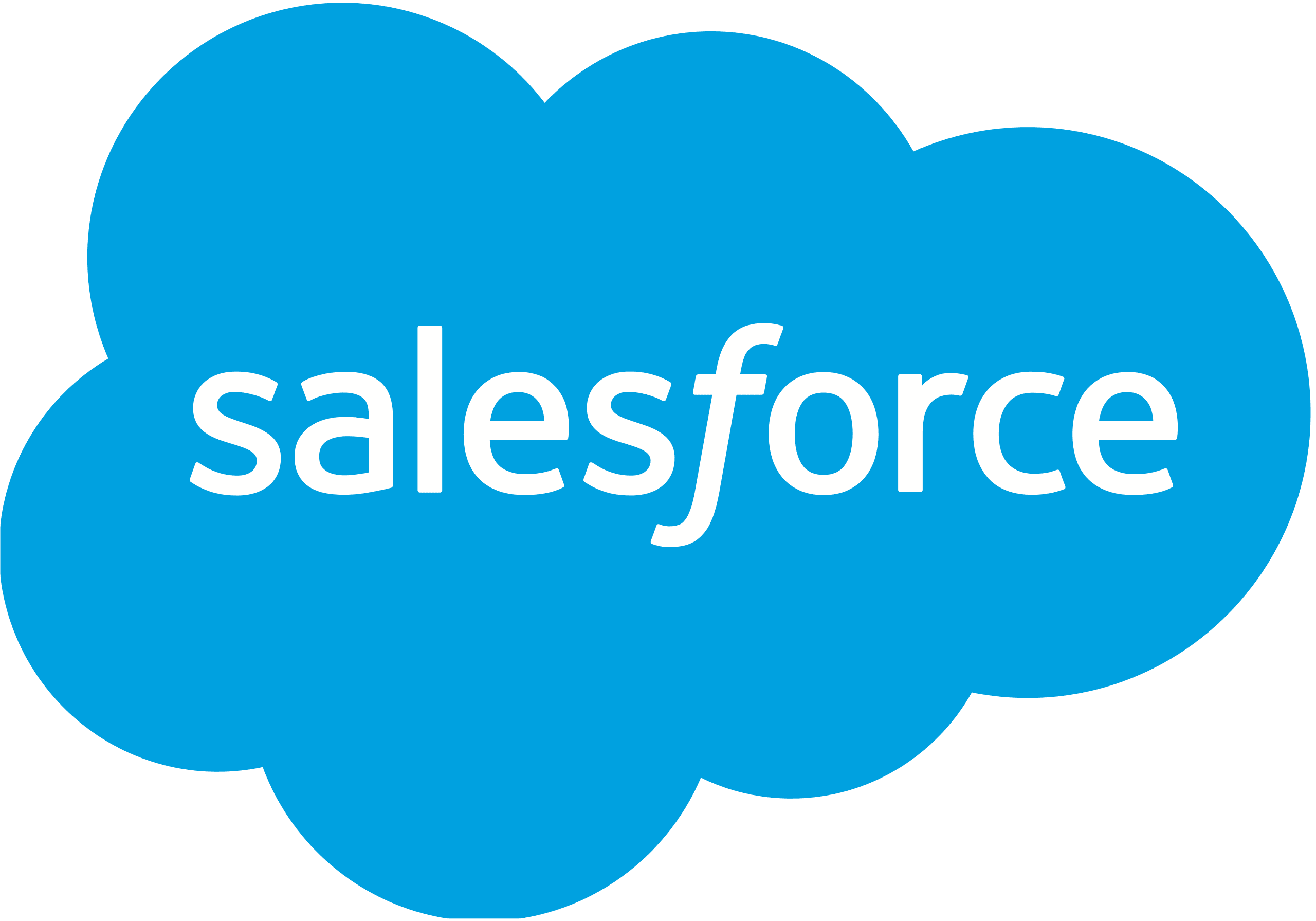 Marc Benioff, together with Parker Harris, Dave Moellenhoff, and Frank Dominguez founded Salesforce.com in 1999, and today, Salesforce is the fastest-growing software company in the world. Salesforce, a Cloud-Based Customer Relationship Management (CRM), provides a full-fledged Customer Relationship Management solution to businesses without spending much effort on building one. Salesforce is the most popular and robust Cloud-Based CRM software designed to support organizations in managing their Sales and Marketing data.
Considered the king of CRM by plenty of Entrepreneurs, Business Owners, and Corporations, Salesforce will help you accomplish several Marketing Goals by storing and keeping track of all your Customer Data, Contact Data, and Marketing Leads. You can also generate Sales Forecast Reports with Salesforce to convert your leads. Salesforce also supports Email integration with applications like Microsoft Outlook, Gmail, etc.
Also, Salesforce is Cloud-based, implying that it can provide high flexibility and scalability to its users. Salesforce is the ultimate solution for your business as it allows for all the necessary elements for your business on an automation platform with embedded intelligence.
Salesforce follows a subscription-based model and offers a variety of pricing options, ranging from $25 to about $300 per user every month.
You can think of combining your Salesforce data with data coming from various other sources in your Data Warehouse to get valuable insights for your business. You can use automated tools like Hevo Data to integrate data across Salesforce and other sources to a Data Warehouse of your choice.
Also, check out our Ultimate Guide on Salesforce.
Introduction to Evergage
Evergage is a real-time web personalization engine that allows users to unify customer data to gain an in-depth understanding of customer behavior on their websites and web applications in real-time. The information is used to deliver one-to-one personalization across various channels. Evergage provides a single platform you need to systematically understand and interact with your customers one at a time and at scale to deliver a maximally relevant personalized experience.
Evergage's strength lies in web personalization, their Machine Learning based analytics dig deep into customer data to create personalized offers and web experiences for customers based on click behavior.
Key Features of Evergage
Evergage is trusted and used by the biggest brands and most popular sites like Citrix and Lenovo for real-time personalization and delivers unique experiences to millions every day. The following features are responsible for its immense popularity:
Evergage's customer data platform allows you to unify customer data from multiple sources, and manage customer profiles in a single place.
It allows you to create customer segments in real-time using multiple data sources.
With Evergage, you can deliver multi-channel campaigns based on your targeted customer segments and facilitate data management.
Evergage leverages Machine Learning algorithms for recommendations.
Evergage allows integrations with various third-party tools like Google Analytics to help you analyze campaign results across different channels.
So, if you are interested in driving better engagement, more conversions, and greater customer loyalty, switching to Evergage is the best thing you can do for your business.
Simplify Salesforce ETL and Data Integration using Hevo's No-code Data Pipeline
Hevo Data is a No-code Data Pipeline that offers a fully managed solution to set up data integration from Salesforce (one of the 30+ Free Data Sources) and 100+ Data Sources and will let you directly load data to a Data Warehouse or the destination of your choice. It will automate your data flow in minutes without writing any line of code. Its fault-tolerant architecture makes sure that your data is secure and consistent. Hevo provides you with a truly efficient and fully automated solution to manage data in real-time and always have analysis-ready data.
Get started with hevo for free
Let's look at some of the salient features of Hevo:
Fully Managed: It requires no management and maintenance as Hevo is a fully automated platform.
Data Transformation: It provides a simple interface to perfect, modify, and enrich the data you want to transfer.
Real-Time: Hevo offers real-time data migration. So, your data is always ready for analysis.
Schema Management: Hevo can automatically detect the schema of the incoming data and map it to the destination schema.
Scalable Infrastructure: Hevo has in-built integrations for 100's of sources that can help you scale your data infrastructure as required.
Live Monitoring: Advanced monitoring gives you a one-stop view to watch all the activities that occur within Data Pipelines.
Live Support: Hevo team is available round the clock to extend exceptional support to its customers through chat, email, and support calls.
Sign up here for a 14-day free trial!
Purpose of Evergage Salesforce Integration
Customer Data Platforms now target a wide variety of use cases and you may need more than one platform to meet your requirements. Your company uses Salesforce's Cloud CRM to track leads, forecast, and manage accounts with authority. But they have a product gap when it comes to website personalization, something that Evergage does well. Evergage, in 2020, announced its acquisition by Salesforce intended to minimize the website personalization gap.
Evergage CEO and co-founder Karl Wirth believes that the real-time, cross-channel personalization and Machine Learning capabilities of Evergage complement Salesforce Marketing Cloud's robust customer data, audience segmentation, and engagement platform. Adding Evergage's tech to Salesforce's Marketing Cloud application suite will enable companies to deliver more relevant experiences at various touchpoints across the entire customer journey.
In addition to that, Evergage Salesforce integration enables companies to combine in-depth customer analytics with advanced Machine Learning. Evergage's Machine Learning based analytics will complement Salesforce Einstein analytics.
Evergage has been rebranded as Interaction Studio within the Salesforce Marketing Cloud. Being the latest addition to Salesforce's already extensive list of acquired businesses, Evergage will fill in a major gap in Salesforce's current offering.
Introducing Salesforce Interaction Studio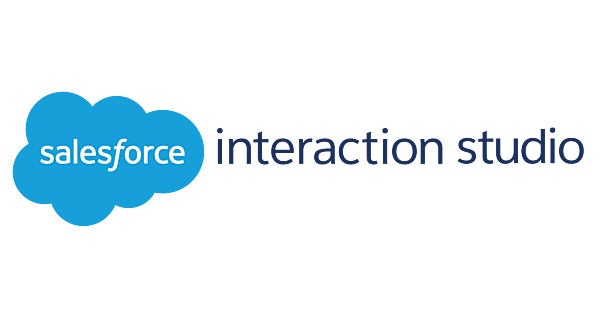 Salesforce Interaction Studio, formerly Evergage, is a CDP (Customer Data Platform) that enables real-time personalization and allows companies to have a comprehensive view of every one of their customers and prospects.
Salesforce Interaction Studio lets you easily deliver personalized experiences across channels in real-time. It's the one-stop solution for companies to improve engagement, conversion rates, and customer loyalty. Evergage Salesforce integration interprets the customer's engagement trends and patterns to understand their true affinities and anticipate their intent, storing all that information in an actionable, unified profile. You can further combine the in-depth customer analytics with Einstein, for one-to-one personalization at scale.
Key Features of Salesforce Interaction Studio
Here are the main features of Salesforce Interaction Studio responsible for its immense popularity.
Interaction Studio allows you to create a Unified Customer Profile (UCP) for your customers from many sources.
With Interaction Studio, you can create targeted Marketing Campaigns to deliver a relevant and personalized customer experience.
You can combine multiple messages and inline content changes together into an "experience". With the A/B test, you can measure the performance of one experience against the other.
The most important aspect of Evergage, Machine-Learning based analytics, is used to examine your customer's journey data. This allows companies to find and deliver the most relevant content or experience automatically across various channels.
Interaction Studio further allows you to engage with each of your customers on the channel they prefer, transforming the dream of one-to-one engagement into reality.
Interaction Studio is helping Salesforce accelerate its efforts to offer enhanced personalization solutions to its thousands of customers. Now that you're aware of the benefits your organization can reap with the Evergage Salesforce integration, it's time to work around the same.
Prerequisites
To set up an Evergage Salesforce integration, you should have:
An Interaction Studio Account
A Salesforce User Account
Evergage Salesforce Integration: Salesforce's Interaction Studio
With Salesforce's acquisition of Evergage, Interaction studio is now powered by Einstein. To connect Interaction Studio with Salesforce CRM, follow the below-mentioned steps.
Log in to Interaction Studio account with your credentials.
From your Interaction Studio homepage, navigate to the sidebar.
Locate and click on "Third-Party".
From the Third-Party list, locate "Salesforce CRM" and click on it.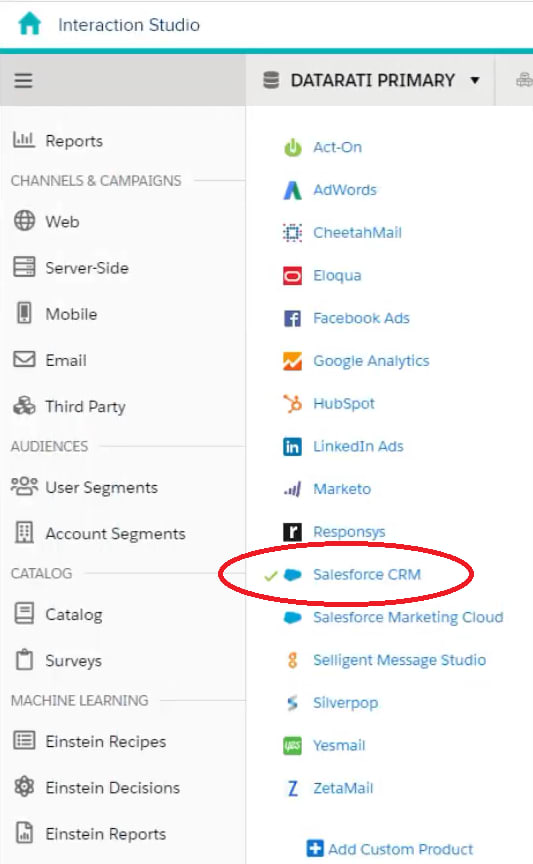 Click on the "Establish Connection" button. Also, make sure the "Enable Salesforce Synchronization" box is checked.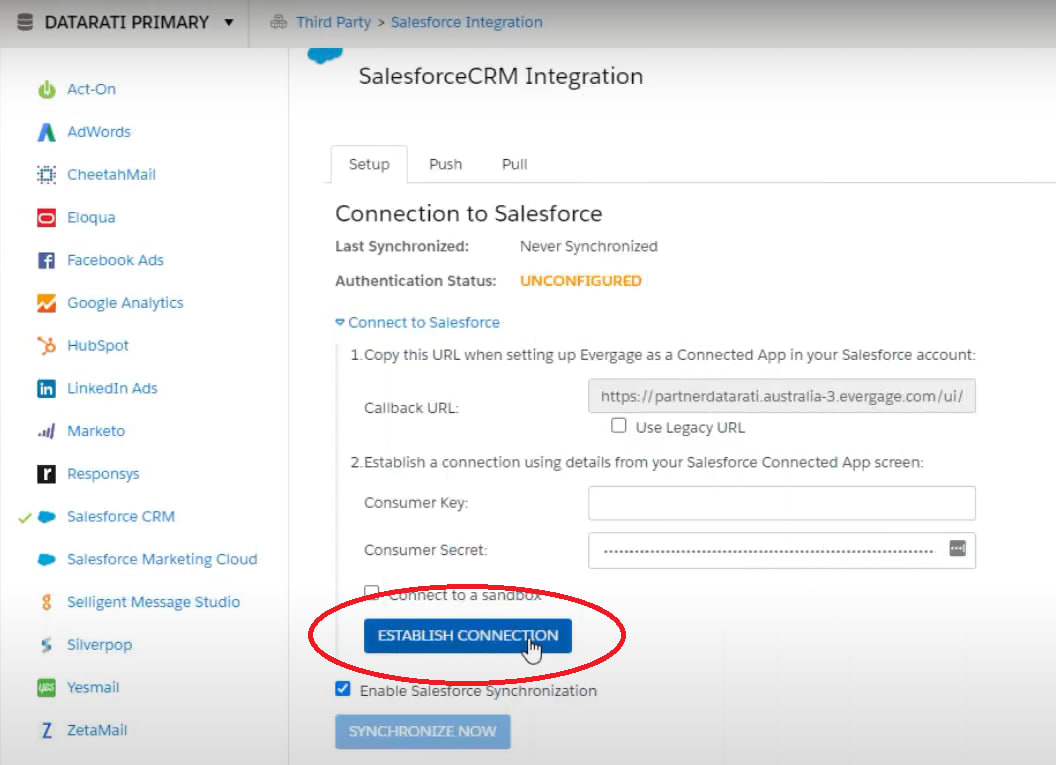 It will now prompt you to allow Interaction Studio to access Salesforce. Click on "Allow".
A "Salesforce Connection Established" message will be displayed on your screen.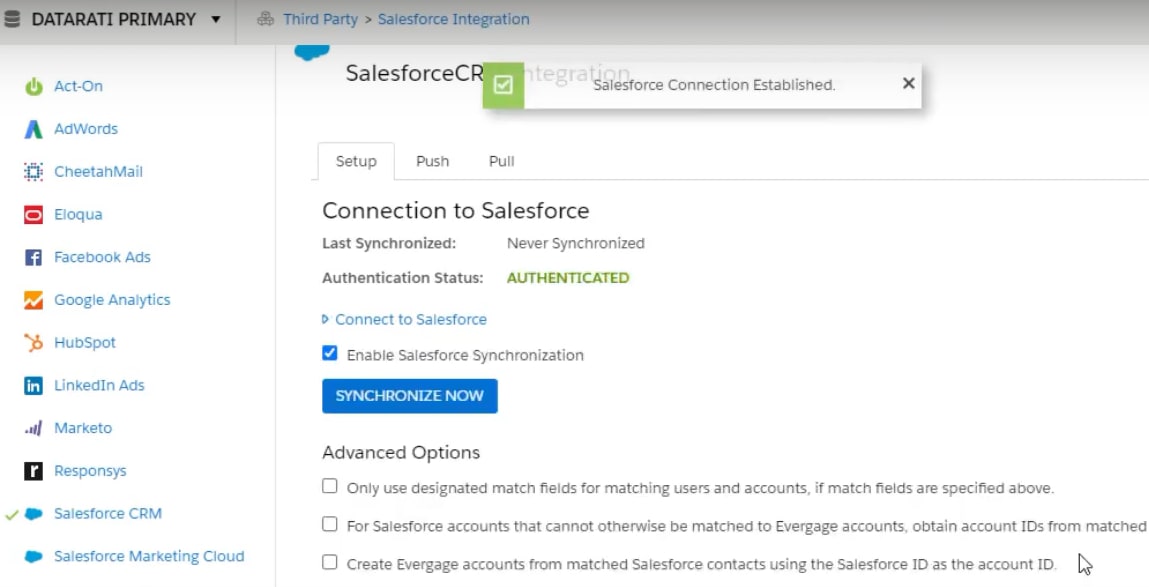 Evergage Salesforce integration is now up and running.
Conclusion
As companies are getting increasingly reliant on Cloud-Based CRMs like Salesforce, it has become essential to deliver real-time personalized experiences to thousands of its customers. Salesforce announced its acquisition of a leading real-time personalization engine, Evergage, in 2020. Ever since Evergage Salesforce integration has redefined the relationship between businesses and customers by making one-to-one engagement a reality. Having everything under one roof can give you unique insights into the customer's journey. Salesforce Interaction Studio, formerly Evergage, lets you do just that with its web personalization service and Machine Learning-based analytics.
In this blog, you have learned about Evergage, Salesforce, Interaction Studio, and their benefits. You further learned how to connect Interaction Studio with Salesforce CRM. However, working with Evergage Salesforce integration can be a little tedious. If you want to automate your data flow between Interaction Studio and Salesforce, you can further explore no-code automated integration solutions like Hevo Data.
If you are an advanced user of Salesforce, you are most probably dealing with a lot of data sources, both internally and from other Software-as-a-Service (SaaS) offerings. Having all this data in one place helps in analysis and accelerates the Decision-Making Process. Accomplishing this requires integration to all such third-party apps and services. In such cases, Hevo Data can be a great asset in your ETL tool portfolio.
visit our website to explore hevo
Hevo Data, with its strong integration with 100+ Sources & BI tools such as Salesforce (Free Data Source), allows you to not only export data from sources & load data in the destinations, but also transform & enrich your data, & make it analysis-ready so that you can focus only on your key business needs and perform insightful analysis using BI tools. You can easily extract data from Salesforce using Hevo to track the performance of your business and optimize it further to increase revenue.
Give Hevo Data a try and sign up for a 14-day free trial today. Hevo offers plans & pricing for different use cases and business needs, check them out!
Do you use Salesforce? Share your experience of working with Evergage Salesforce integration in the comments section below.
No-code Data Pipeline For Your Data Warehouse