Experience Cloud Salesforce Simplified: 4 Critical Solutions
Even in the technology-driven world, marketing is still about building relationships and improving person-to-person interactions with the target audience. Building relationships is not only for potential customers but also for employees and partners who will be a part of the process.
Salesforce, a Customer Relationship Management (CRM) platform, helps businesses build strong connections with their clients and customers. In 2020, Salesforce announced Experience Cloud Salesforce, a digital experience platform built on Customer360. Experience Cloud Salesforce is a great digital product that allows companies to collaborate with their Employees, Partners, and Customers. Upon a complete walkthrough of this article, you will learn about the key features and solutions offered by Experience Cloud Salesforce.
Table of Contents
Prerequisites
Basic Understanding of the SaaS Model.
Introduction to Salesforce Customer 360
Salesforce unites Teams and Data from Sales, Commerce, Marketing, Service, and IT with Customer360, an Integrated CRM platform that powers this entire suite of connected cloud apps. With Customer360, businesses can focus on providing a better experience to their customers and improving collaboration for their employees. With connected cloud apps, companies can focus on delivering exceptional customer experiences.
If you're looking to Engage with your Customers, Connect with your Community, and Deliver personalized experiences, Experience Cloud Salesforce can help transform your digital journey.
For further information on Salesforce Customer 360, click here to check out their official website.
Salesforce Cloud Solutions
Every Salesforce Solution has been designed on the Cloud so companies can create better and personalized journeys for clients and customers. Salesforce has been creating a Cloud experience for Sales, Marketing, Support, and others for B2B and B2C business models, accessible through a single CRM. Some of the major Salesforce Cloud Solutions are listed below:
Salesforce Sales Cloud is for companies to grow their accounts by generating more Leads and closing them faster.
Salesforce Service Cloud enables businesses to offer impeccable customer services like Live Conversations, a Knowledge Base, a Call Center, and Product Assistance.
Salesforce Marketing Cloud provides businesses to deliver the right message across social channels at the right time for both Mobile and Web applications. Einstein, another Salesforce solution, aids Marketing Cloud with intelligent Social Media Insights.
Salesforce Commerce Cloud is for designing a unique and efficient shopping experience for customers.
Salesforce Health Cloud aims to create better relationships between Health Care Providers, Patients, and Hospital Administration.
Salesforce Analytics Cloud is useful for implementing iterative and rapid exploration of data where results are displayed via layers of Dynamic Visualization.
Financial Service Cloud helps create custom communities to suit business needs like connecting with independent investors and/or sharing customer data with them for making better Marketing Strategies.
Introduction to Experience Cloud Salesforce
Salesforce Experience Cloud helps brands build Hotels Websites, Mobile Apps, and other digital touchpoints to improve customer engagement and move faster in the digital online first world. Experience cloud, formally Community Cloud, is built on Customer360 and combines the power of Experience Builder, Mobile Publisher, Salesforce CMS, and Web Apps so that companies can power the entire customer journey from a single platform.
Companies that use Experience Cloud Salesforce can launch the digital platforms faster, connect every experience to data, and tie all the data points to create a seamless customer journey.
Key Features of Experience Cloud Salesforce
Business Cloud Salesforce: With all your data in one place, businesses can deliver relevant experiences and respond intelligently to escalated support cases. Partners can update opportunities and qualify leads. Employees can Share Files, Sales Opportunities, Contacts, Campaigns, Custom Objects, and Support Cases.
Templates: Experience Cloud Salesforce has a vast library of customizable and mobile-responsive templates. In the Experience Builder's theme panel, you can ensure your space looks perfect on every device, upload your logo to automatically generate a custom color scheme. Create branding sets to change color and style for audience targeting and experience needs. Companies can also build a custom asset library with drafts, archive states, header images, logo, content editor, and other components. You can also import preexisting CMS content and reuse CSS, HTML, and JavaScript components from your current system.
Personalization: Businesses can create a relevant Content Base and intelligent recommendations so customers can find what they need faster. You can also connect anyone to experts and offer a personalized content feed with an AI-powered website builder. All users' profile pages show their Interests, Needs, Behaviors, and Endorsements received for their expertise.
Topics: The Topics feature automatically collects the most up-to-date content that helps businesses by automatically generating Topic pages for new subjects.
Mobile: Your Content, Services, and Management are no longer limited to Web Browsers. With Salesforce Experience Cloud, you can create responsive digital experiences across mobile devices with the mobile application builder. You will have easy access to multiple experiences from any device compatible with Salesforce mobile app or a mobile browser. Companies can also use the Salesforce mobile software development kit to create customized mobile collaboration apps.
Lighting Bolt: The Lightning Bolt feature lets you build mobile-optimized, fully-branded communities that are easily integrated with your business process. It has a drag-and-drop design that enables companies to customize every aspect of the customer experience and add a partner-built lightning component from AppExchange.
Groups: Groups give structure to Project/Event discussions and activities. You can create a group for an upcoming event, a new account, your team, or a campaign. In Groups, members can share files and even integrate video. Users can create private groups, so their topic discussions aren't visible to the entire community. There is also an option to create unlisted groups that aren't even visible to the community.
Simplify Data Analysis using Hevo's No-code Data Pipeline
Hevo Data, a No-code Data Pipeline helps to load data from any data source such as Databases, SaaS applications, Cloud Storage, SDKs, and Streaming Services and simplifies the ETL process. It supports 100+ data sources (including 40+ free sources) and is a 3-step process by just selecting the data source, providing valid credentials, and choosing the destination. Hevo loads the data onto the desired Data Warehouse, enriches the data, and transforms it into an analysis-ready form without writing a single line of code. It helps transfer data from Salesforce to a destination of your choice for free.
Its completely automated pipeline offers data to be delivered in real-time without any loss from source to destination. Its fault-tolerant and scalable architecture ensures that the data is handled in a secure, consistent manner with zero data loss and supports different forms of data. The solutions provided are consistent and work with different Business Intelligence (BI) tools as well.
Get Started with Hevo for Free
Check out why Hevo is the Best:
Secure: Hevo has a fault-tolerant architecture that ensures that the data is handled in a secure, consistent manner with zero data loss.
Schema Management: Hevo takes away the tedious task of schema management & automatically detects the schema of incoming data and maps it to the destination schema.
Connectors: Hevo supports 100+ data sources and integrations to SaaS platforms such as Salesforce, files, databases, analytics, and BI tools. It supports various destinations including Google BigQuery, Amazon Redshift, Snowflake, and Firebolt Data Warehouses; Amazon S3 Data Lakes; and MySQL, MongoDB, TokuDB, DynamoDB, PostgreSQL databases to name a few.
Minimal Learning: Hevo, with its simple and interactive UI, is extremely simple for new customers to work on and perform operations.
Hevo Is Built To Scale: As the number of sources and the volume of your data grows, Hevo scales horizontally, handling millions of records per minute with very little latency.
Incremental Data Load: Hevo allows the transfer of data that has been modified in real-time. This ensures efficient utilization of bandwidth on both ends.
Live Support: The Hevo team is available round the clock to extend exceptional support to its customers through chat, email, and support calls.
Live Monitoring: Hevo allows you to monitor the data flow and check where your data is at a particular point in time.
Sign up here for a 14-Day Free Trial!
4 Key Experience Cloud Salesforce Solutions
1) Partner Relationship Management
Partner Relationship Management or PRM software by Salesforce helps businesses in driving their Sales channel with personalized touchpoints. It's a one-stop solution for managing your Affiliates, Resellers, Distributors, and more. With PRM, businesses can simplify the entire Sales process from Onboarding, Marketing to Selling.
It also improves partner engagement and experience by Reducing Onboarding time with Automation, Guides them from Lead to Cash, Provides real-time Visibility and Support, and Customization with a click. A business can quickly set up the PRM software with guided steps, connect their existing CMS, and automate channel marketing with AI-Powered content recommendations. PRM is also a part of Salesforce Sales Cloud.
2) Content Management
Experience Cloud Salesforce is built on Salesforce CRM, which allows companies to develop and scale their content across multiple platforms so your target audience can make informed decisions based on consistent and meaningful content. It is an excellent tool with templates and tools for creating and managing content across channels, making every customer interaction seamless, personalized, and connected.
For Content Management, your control room is Salesforce CMS. You can Collaborate, Tailor Variations, and Manage Approvals across every Customer Segment. With Content Management, you can build Blogs, Social Posts, Emails, News Articles, and much more with a single click. Users can also Draft, Edit, Publish and Update Social Banners, Promotional Emails, and Blog posts in seconds.
3) Customer Service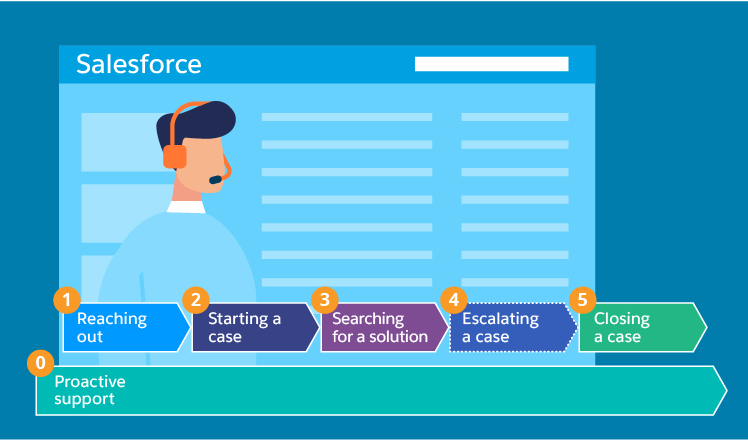 Customer Service helps businesses to connect with customers and set up a self-service help center. The self-service help center will free your agents from handling FAQs or requests and replace them with Helpful Articles, Guides, and Essential Data Points. You can quickly launch knowledgeable, mobile responsive portals and communities with Lightning Community Builder. It is a low-code and drag-and-drop platform that will have you running in no time.
With Salesforce Service Cloud Integration, customers can reach out to agents via chat. And your customer care team will have a 360-degree view of every customer's activity that'll help them deliver a personalized customer experience.
4) B2B Commerce
With Experience Cloud, you can capture the B2B opportunities by adapting to changing market and client requirements. You can launch custom storefronts with connected ecosystems and seamlessly integrate your data and apps to get a 360-degree view of your client's journey.
With B2B commerce, you can deliver a personalized shopping experience along with Faster Reorders, Contract Pricing, Custom Catalogs, Account Hierarchies, and much more. With Guided Experience and Self-Service tools, businesses lower their cost and allocate money to other growth verticals. Companies can also unify every customer journey through Salesforce CRM, connect every data point from Sales, Service, and Marketing, and Tailor purchasing recommendations to each customer in real-time.
Conclusion
Experience Cloud Salesforce helps companies improve the experience for customers and collaboration between employees and partners. Businesses can build communities and portals with Experience Cloud Salesforce to provide a personalized experience to the target audience and track engagement. Experience Cloud Salesforce offers a comprehensive library of Pre-Built Templates, Accessible drag-and-drop components, Multiple Customizations, and Features (topics and audiences) so every business can provide the best experience for its customers.
However, to carry out an in-depth analysis of your Campaigns, Customer, and Other Marketing Initiatives, you would often need to extract data from multiple sources to have all insights. Integrating your customer data from a diverse set of sources can be challenging and this is where Hevo data saves the day.
Visit our Website to Explore Hevo
Hevo Data provides its users with a simpler platform for integrating data from 100+ sources such as Salesforce for Analysis. It is a No-code Data Pipeline that can help you combine data from multiple sources. You can use it to transfer data from multiple data sources into your Data Warehouse, Database, or a destination of your choice. It also helps transfer data from Salesforce to a destination of your choice for free. It provides you with a consistent and reliable solution to managing data in real-time, ensuring that you always have Analysis-ready data in your desired destination.
Want to take Hevo for a spin? Sign Up for a 14-day free trial and experience the feature-rich Hevo suite first hand. You can also have a look at our unbeatable pricing that will help you choose the right plan for your business needs!
Share your experience of learning about Experience Cloud Salesforce. Tell us in the comments below!
No-Code Data Pipeline for Salesforce