Funnel Visualizations in Google Analytics: 4 Easy Steps
With businesses immensely relying on effective data-driven decision-making for chalking out future strategies, Data Analysis has become an integral part of every growth strategy for them. In order to perform an in-depth analysis, businesses have to ensure that they collect as much data as possible, allowing them to ensure that their analysis would not lead to incorrect or partial insights.
One of the key analysis techniques implemented by many businesses is Funnel Analysis, which allows them to analyze users across various stages in the buyer/customer journey. This article will provide you with a comprehensive understanding of what Funnel Visualizations are and how you can seamlessly set up Goal Funnel Visualizations in Google Analytics.
Table of Contents
Introduction to Google Analytics

Google Analytics is a Cloud-based Analytical tool by Google that gives users the ability to analyze website traffic and report customer behavior. It houses numerous functionalities that allow users to integrate different platforms and extract the website traffic data. It helps users segregate their campaigns across various metrics to understand how their campaigns perform and make data-driven decisions to improve performance. It is the most popular choice for industries due to its extensive reporting capability.
Some of the most well-known features of Google Analytics are as follows:
Google Analytics tracks websites and collects all necessary data across metrics like Region, User, Clicks, Products, Time Spent, Conversion, etc., for all visitors. With the information collected, it generates an extensive report allowing businesses to analyze their campaigning effort.
Google Analytics dashboard helps understand customer behavior by analyzing the Sources, Organic Traffic, Keywords, Sentiments, etc.
Google Analytics offers easy integration with other Google products such as Google Search Console, Google Ads, Google Data Studio, etc., allowing users to perform an in-depth and accurate analysis.
Functionality to keep track of various metrics such as page speed, mobile-friendliness, etc., that can help businesses measure the performance of their websites is also provided by Google Analytics.
It also helps businesses study the competition and drive strategic decisions based on the customer segment and engagement.
More information about Google Analytics can be found here.
Simplify Google Analytics ETL Using Hevo's No-code Data Pipeline
Hevo is a No-code Data Pipeline that offers a fully managed solution to set up data integration from Google Analytics and 100+ data sources (including 30+ free data sources) to numerous Data Warehouses or a destination of choice. It will automate your data flow in minutes without writing any line of code. Its fault-tolerant architecture makes sure that your data is secure and consistent. Hevo provides you with a truly efficient and fully-automated solution to manage data in real-time and always have analysis-ready data.
Get Started with Hevo for Free
Let's look at Some Salient Features of Hevo:
Secure: Hevo has a fault-tolerant architecture that ensures that the data is handled in a secure, consistent manner with zero data loss.
Schema Management: Hevo takes away the tedious task of schema management & automatically detects schema of incoming data and maps it to the destination schema.
Minimal Learning: Hevo, with its simple and interactive UI, is extremely simple for new customers to work on and perform operations.
Hevo Is Built To Scale: As the number of sources and the volume of your data grows, Hevo scales horizontally, handling millions of records per minute with very little latency.
Incremental Data Load: Hevo allows the transfer of data that has been modified in real-time. This ensures efficient utilization of bandwidth on both ends.
Live Support: The Hevo team is available round the clock to extend exceptional support to its customers through chat, email, and support calls.
Live Monitoring: Hevo allows you to monitor the data flow and check where your data is at a particular point in time.
Sign up here for a 14-Day Free Trial!
Introduction to Funnel Visualizations
A Funnel Visualization is typically used by businesses to monitor and analyze user interactions leading towards a particular goal on their website or application. To understand the users' interactions with the product, businesses must define goals and basic conversions in their Funnel Visualization tool like Google Analytics. Funnel visualization can be leveraged to classify the steps that users take to achieve the desired goals.
The following image shows what a Funnel Visualization looks like: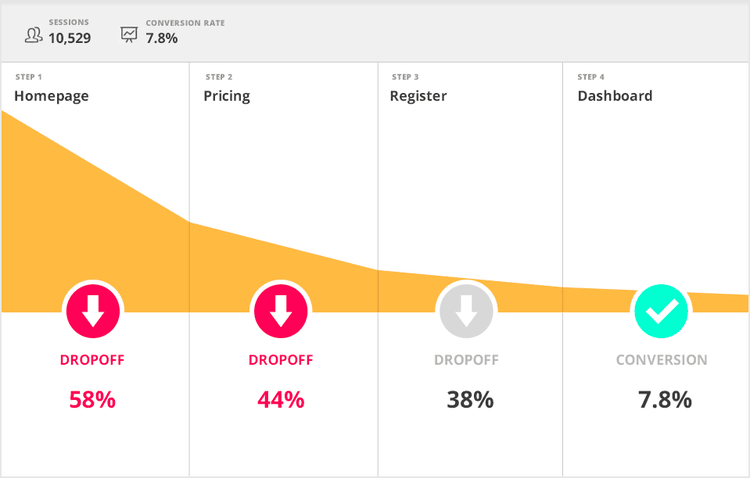 The above Funnel visualization shows the stream of visitors who follow a specific path on the website and thus interact with it to finally reach a website goal, i.e., conversion to a paying customer.
However, it is vital to understand that this theoretical pattern of an order process is only one of the options that are available to the visitors. Different users will obviously interact differently with the product. For example, in the above image, some users might not go from the Home page to the Pricing page but visit the Product/Services Catalogue instead to get an understanding of the offerings by the business. There is also a possibility that the users exit at any given point and not convert to paying customers. Hence, businesses usually define different Funnel Visualizations and destinations to understand and analyze the stream of visitors on the website or the product and their journey.
Introduction to Goal Funnel Visualization in Google Analytics
Goal Funnel Visualisation is an advanced feature offered by Google Analytics within the Goals functionality. This allows businesses to seamlessly and visually analyze the users' journey towards a predefined goal or conversion.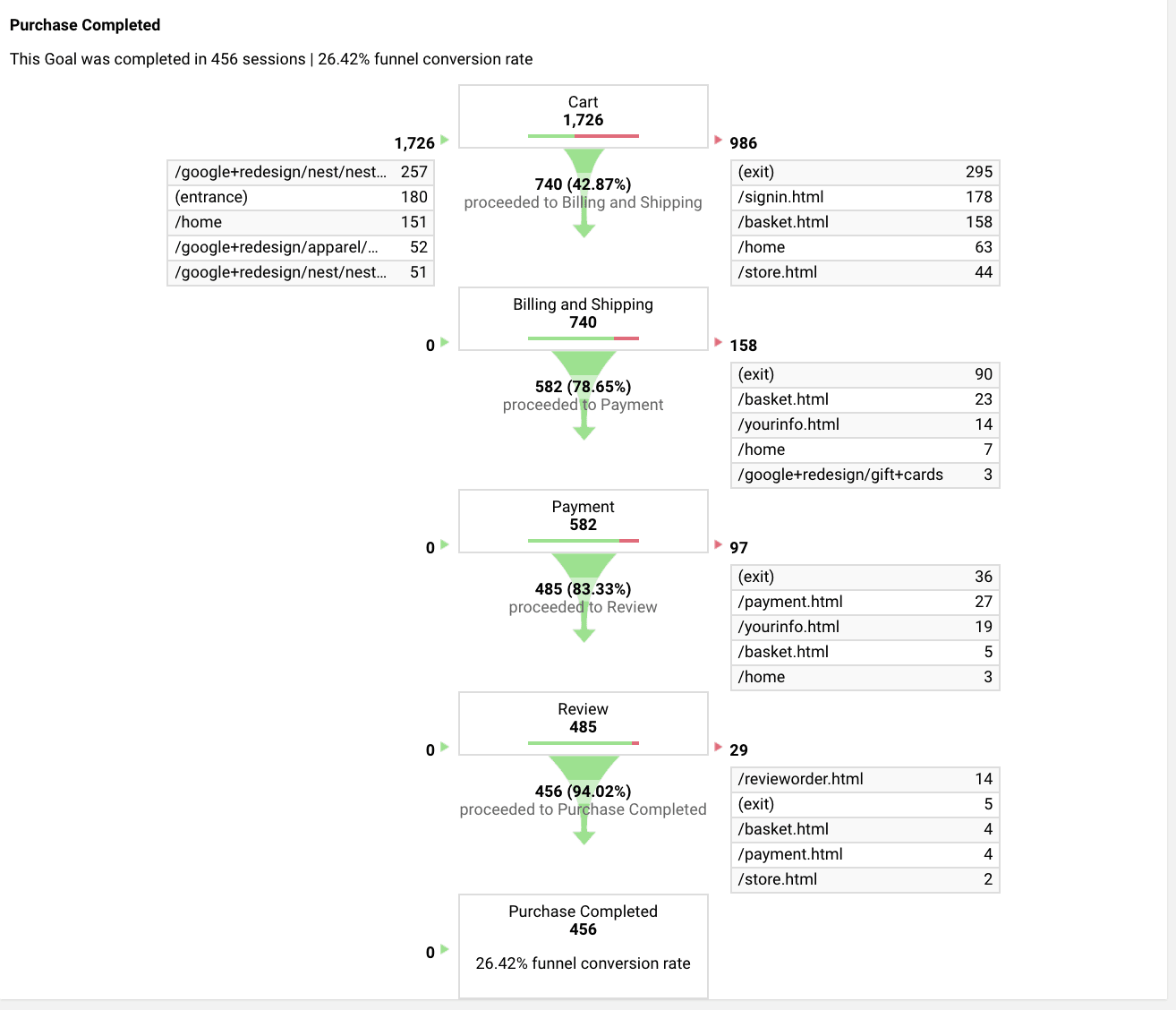 The visualization above shows the pages that were visited by the user before taking action or converting. The list of URLs can be seen on the right side of the Funnel. The red arrow indicates the number of users that dropped off from the journey at any given stage. The green arrow that points to the end of the Funnel indicates the number of users who have successfully progressed to the next stage.
The key benefit of analyzing the Goal Funnel Visualizations report is that it gives businesses insights into the User Experience and helps them understand and clearly identify other elemental issues that a given page in the Funnel may be facing. These issues could include complex design, confusing or incorrect component placement, etc. It also provides businesses with enough evidence to make all necessary changes by digging deeper into each stage of the user journey.
Analyzing Funnel Visualizations is often seen as the first step in improving the overall conversion rate of a website, product, or page. Optimizing the conversion funnel can help businesses uncover significant issues such as Category Issues, Overall Site Usability Issues, etc.
Steps to Set up Funnel Visualization in Google Analytics
Users can easily set up Goal Funnel Visualization in Google Analytics by implementing the following steps:
Step 1: Creating a Goal
In order to create a Goal Funnel Visualisation in Google Analytics, you can start by first creating a simple goal and then adding layers of advanced features based on your business use case and data requirements. Users can create goals by clicking the Gear icon on the bottom left corner of the Google Analytics dashboard, clicking on the View section on the right end of the dashboard, and selecting Goals.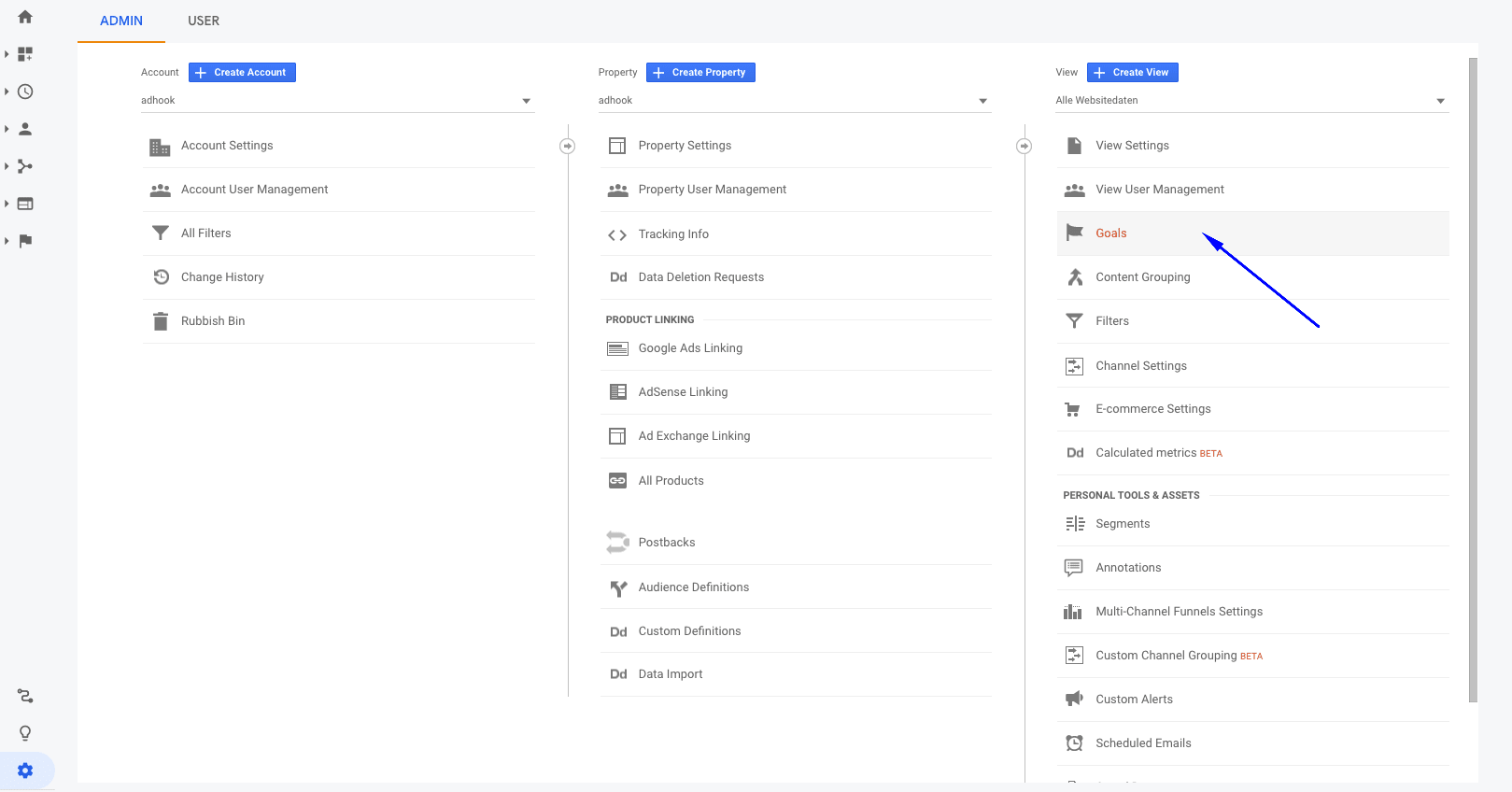 Step 2: Adding a New Funnel Goal
Click on the New Goal button.

Select Custom under the Goal set-up section and click Continue.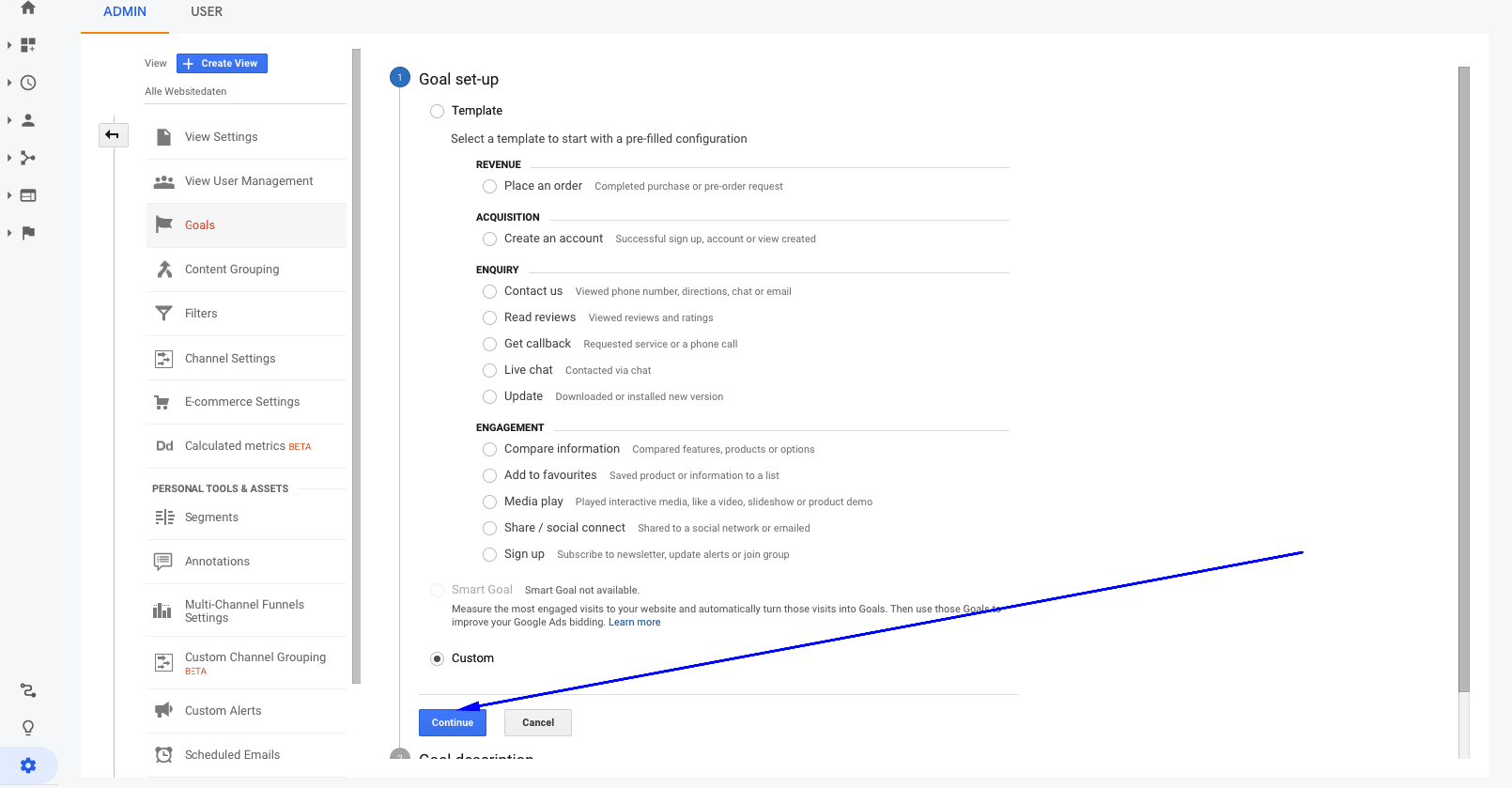 Step 3: Adding a Goal Description
You now need to enter the following information about your Funnel Goal in this section:
Name: A unique identifier that is used to identify the goal in the Google Analytics account.
Goal-ID: This ID serves as the storage location for all data regarding the defined goal.
Type: This is the type of goal which can be selected based on the business use case and data requirements.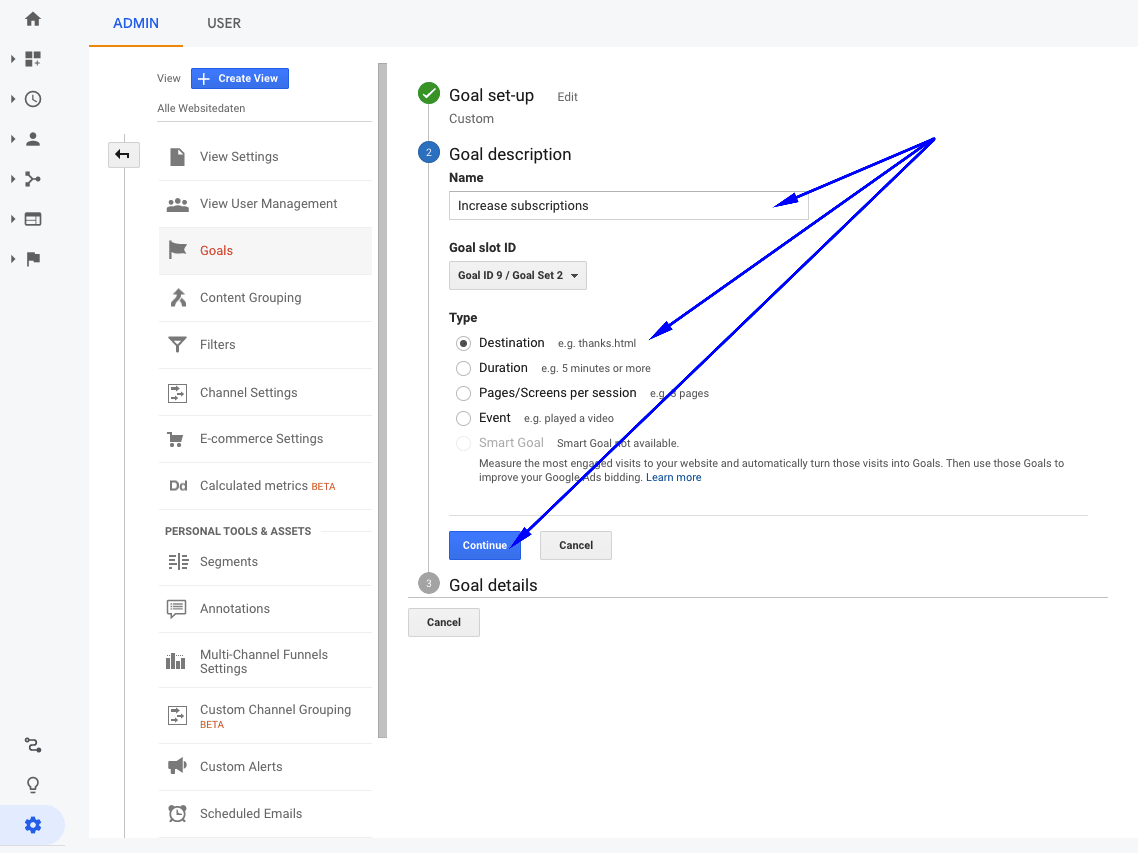 Once all the required details have been entered, click on Continue.
Step 4: Defining Goal Details
Once you've provided the goal description, you can now define the goal. A goal definition will require the following parameters:
Destination: This is the definition of the target page. For users who do not have an understanding of the conversion-relevant pages correctly, they can discover pages that deliver conversions in the Website Content section under Behavior.
Funnel: This has to be turned on since you wish to set up a Goal Funnel Visualization.
Under the Funnel section, you will now have to add the various stages for the Funnel in which user interaction will be recorded. The Name and Screen/Page value has to be specified for each stage. Users can add more steps to the stages based on the requirements.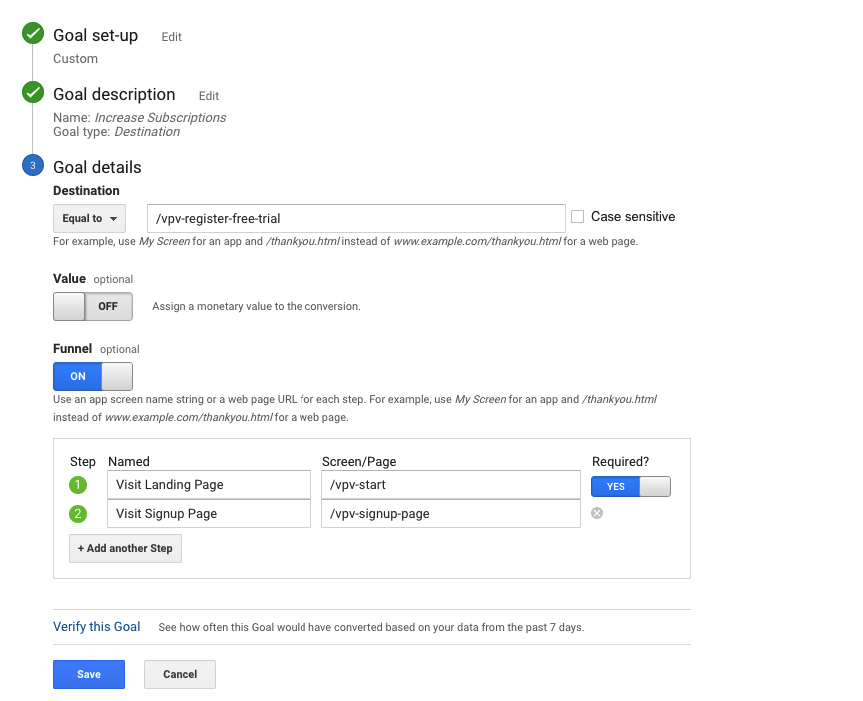 Once all required information about the Goal Funnel Visualization has been entered, you can click Save. The goal will immediately be receptive to user interaction on the defined pages.
Conclusion
Goal Funnel Visualization in Google Analytics allows businesses to take a step beyond simply looking at overall Conversion Rate and Total Conversions as a part of Website Performance Analysis. This article helped you understand what Funnel Visualizations are and how you can set them up for your website using Google Analytics.
Although tracking website performance is an easy task when all data is already present in Google Analytics, importing data into Google Analytics from some sources that are not directly supported by it can be a complicated task. If Google Analytics does not support a source, the data must be imported using the product API, which would require immense engineering bandwidth and resources. Businesses can instead integrate data from all their sources and Google Analytics in a Data Warehouse using existing automated No-code platforms like Hevo.
Visit our Website to Explore Hevo
Hevo helps you directly transfer data from a source such as Google Analytics for free to a Data Warehouse, Business Intelligence tools, or desired destination in a fully automated and secure manner without having to write the code. It will make your life easier and make data migration hassle-free. It is User-Friendly, Reliable, and Secure.
Want to take Hevo for a spin? Sign Up for a 14-day free trial and experience the feature-rich Hevo suite first hand. You can also have a look at our unbeatable pricing that will help you choose the right plan for your business needs!
Share your experience of learning about the Top 10 resources for Learning QuickBooks! Let us know in the comments section below!
No-code Data Pipeline For Google Analytics