Best Google Analytics Ecommerce Reports For 2022
Google Analytics helps you see Website Traffic, Goal Conversion, User Experience, and other real-time Metrics on a single screen. By tracking Website Traffic, you can increase the ROI (Return on Investment) of your website and businesses. Analysis with Google Analytics helps you visualize how your target audience is interacting with your platform to make decisions for business growth. Using various Analytics Features, users can also create a dashboard in Google Analytics to ensure teams are not overwhelmed with all the data at their disposal. Creating a dashboard will allow marketers to present data from Google Analytics or other Web Reporting tools in an easy-to-understand format.
If you also want to learn more about Creating Custom Google Analytics Ecommerce Reports, keep reading.
Table of Contents
Prerequisites
Working knowledge of Google Analytics
Introduction to Google Analytics Dashboard
Dashboards in Google Analytics Ecommerce Reports allow teams to Visualize unique data points into Charts and Tables. They are a collection of various widgets for quick data visualization. A dashboard can give insight into what is happening on a website and find pages or products with the Highest Engagement.
Introduction to Google Analytics for Ecommerce
Google Analytics allows brands to understand how their customers are engaging with their Ecommerce site and mobile app. Google Analytics Ecommerce Reports can also provide real-time data and visualization on your site's Traffic Trends, User Personas, User Behavior, Best-Performing pages, and Conversion Rates.
Google Analytics Ecommerce Reports provide Spike Graphs. Analyzing spikes in engagement and conversion rates at any given point in time can help you understand the user experience better. Brands can map user experiences and compare them with preset goals for achieving better Conversions and Acquiring new customers.
Benefits of Google Analytics Ecommerce Reports
Google Analytics Ecommerce Reports provides a plethora of benefits when utilized efficiently can provide valuable insights. Some of them are mentioned below:
1) Audience Targeting
With Google Analytics Ecommerce Report you can group the audience based on their Behavior and Demographics. For example, visitors who did window shopping only or added items to shopping carts but did not complete the transaction. Finding out your target audience's interests, age, location, etc., will help to refine your Marketing strategy. It'll help you understand the reasoning behind their purchase decisions. Being aware of their online methods of communication will help you create the right message in the right setting.
2) Customer Acquisition
Another advantage for Google Analytics Ecommerce Reports is that you can visualize data about traffic sources such as Paid Search Results, Organic Results, Social Networks, Direct Visitors, or Referrals from other websites. This data can help you track campaigns that resonate the most with your target audience.
3) Decreased Bounce Rate
Landing pages are supposed to Convince Potential Customers to take the intended action. However, you can find pages that are driving users away from your website with bounce rate tracking. It can help you in assessing weak areas in your Ecommerce platform. You can also improve the user experience in these pages by split testing various versions of the page.
4) Long-Term Performance Comparison
As Historical data from Google Analytics Ecommerce Reports can be used for forecasting results, you can carry out Performance Comparisons for better decision-making. If you're testing new versions or launching a holiday campaign, Google Analytics Ecommerce Reports can help in comparing performance between any period in your journey. You can use this comparison to determine both Positive and Negative changes in various Metrics.
5) Competitor Analysis
Google Analytics Ecommerce Reports has a Benchmarking tool in the Audience Report Section, which is an excellent opportunity for Competitors' Analysis. It works by benchmarking your Ecommerce website against local competitors, which are chosen manually based on their traffic metrics.
Simplify your Data Analysis with Hevo's No-code Data Pipeline
A fully managed No-code Data Pipeline platform like Hevo Data helps you integrate data from 100+ data sources like Google Analytics, etc., to a destination of your choice in real-time in an effortless manner for free. Hevo with its minimal learning curve can be set up in just a few minutes allowing the users to load data without having to compromise performance. Its strong integration with umpteenth sources allows users to bring in data of different kinds in a smooth fashion without having to code a single line.
Get Started with Hevo for free
Check out some of the cool features of Hevo:
Completely Automated: The Hevo platform can be set up in just a few minutes and requires minimal maintenance.
Transformations: Hevo provides preload transformations through Python code. It also allows you to run transformation code for each event in the pipelines you set up. You need to edit the properties of the event object received in the transform method as a parameter to carry out the transformation. Hevo also offers drag and drop transformations like Date and Control Functions, JSON, and Event Manipulation to name a few. These can be configured and tested before putting them to use.
Connectors: Hevo supports 100+ integrations to SaaS platforms, files, databases, analytics, and BI tools. It supports various destinations including Google BigQuery, Amazon Redshift, Snowflake Data Warehouses; Amazon S3 Data Lakes; and MySQL, MongoDB, TokuDB, DynamoDB, PostgreSQL databases to name a few.
Real-Time Data Transfer: Hevo provides real-time data migration, so you can have analysis-ready data always.
100% Complete & Accurate Data Transfer: Hevo's robust infrastructure ensures reliable data transfer with zero data loss.
Scalable Infrastructure: Hevo has in-built integrations for 100+ sources that can help you scale your data infrastructure as required.
24/7 Live Support: The Hevo team is available round the clock to extend exceptional support to you through chat, email, and support calls.
Schema Management: Hevo takes away the tedious task of schema management & automatically detects the schema of incoming data and maps it to the destination schema.
Live Monitoring: Hevo allows you to monitor the data flow so you can check where your data is at a particular point in time.
Sign up here for a 14-day Free Trial!
Types of Widgets in Google Analytics Ecommerce Reports
Google Analytics Ecommerce Reports provide many different types of Widgets to aid the insights Some of them are mentioned below:
1) Timeline Widget

It shows the growth or progression of chosen metrics over time. You can see the progression over days, weeks, and months.
2) Metrics Widget

The Metric Widget shows data as a single number along with a small timeline without any axis. You can see single values of monthly/daily active users, daily/monthly unique users, etc.
3) Geomap Widget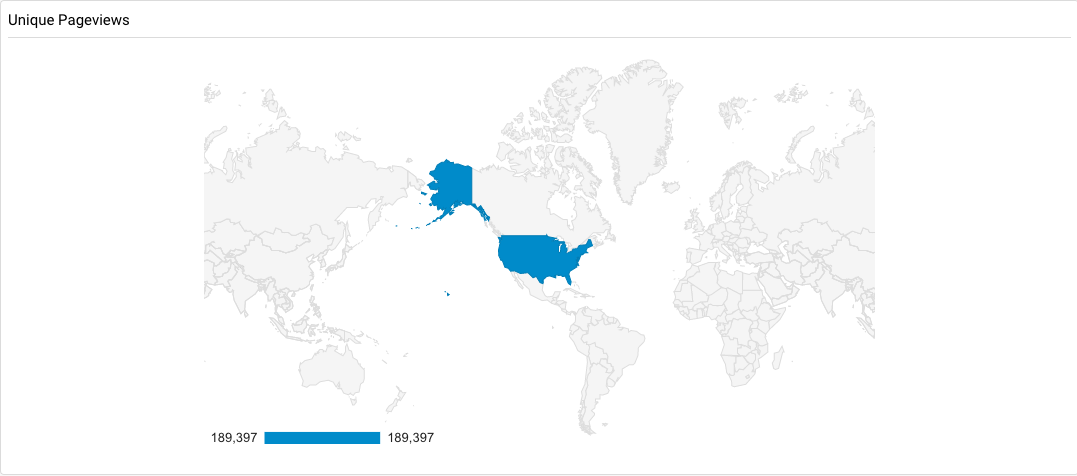 A Geomap provides visualization of demographic data from Google Analytics across the selected regions or on a map.
4) Bar Widget

Bar widgets are used to visualize comparison or depict relationships between a part(s) to its whole. For example, you can use it to show website traffic from multiple sources.
5) Tables Widget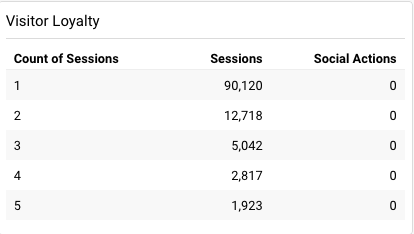 Tables arrange data in rows and columns or a more complex structure like in a pivot table. It's the most feasible option for organizing data that is too complex. Teams can use tables to highlight trends or patterns in the data. Also, they make texts like case studies and research papers more readable by separately presenting numerical data.
6) Pie Widget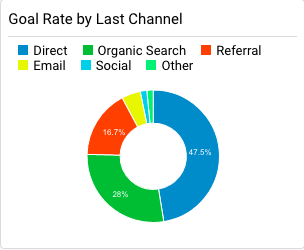 Pie charts are used to visualize data as a percentage of a whole in the circular graph. The circular diagram can be a donut chart like the example below or an entire circle where the pie slices show the relative size of the data.
Google Analytics Ecommerce Reports
There are multiple types of Google Analytics Ecommerce reports. A few of them are mentioned below:
1) SEO Dashboard
Search Engine Optimization Dashboards provide details about page views, goal completion, search queries, etc. Using an SEO Dashboard, managers can draw insight about pages generating maximum traffic and pages that exceed Bounce Rates. You can find information about Landing Pages generating the most organic users and keywords, bringing maximum traffic and unique visitors.
An SEO Dashboard tracks the following metrics:
Unique Visitors.
Top Keywords.
Local SEO.
Search Engine Traffic Source.
Top View Pages.
2) Social Media Dashboard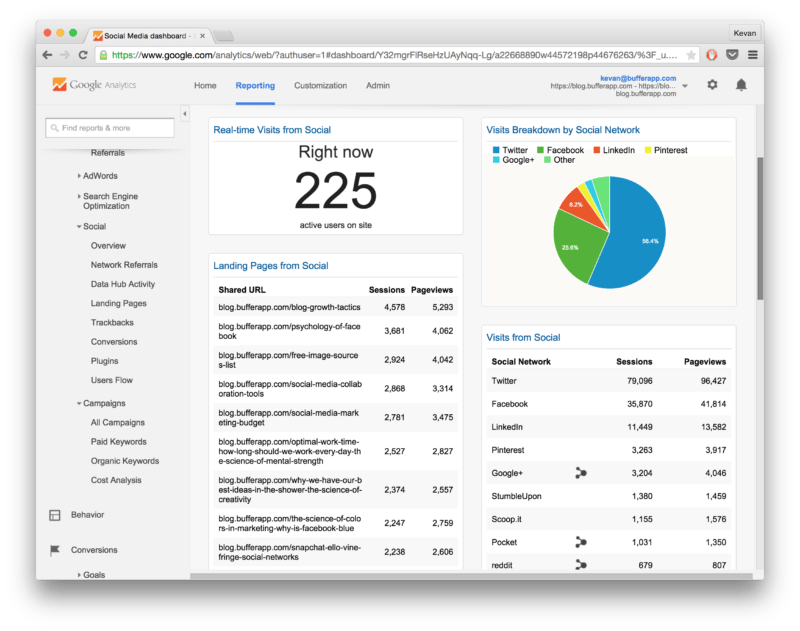 Tracking metrics manually from multiple Social Media accounts can be a lot of work. Pulling information from them into a single easy-to-understand dashboard will make it easy to apply changes that generate more ROI. The Google Analytics Ecommerce Reports provide Social Media Integration as well.
A Social Media Dashboard will assist you in assimilating Social Media platforms that drive traffic, along with other valuable Social Data. You can also have various Widgets for ad performance on every Social Network. In addition, you can even track Facebook ads in a Google Analytics dashboard along with data from other platforms to have an overview of your brand's Social Media presence.
A Social Media Dashboard includes widgets for the following metrics and KPIs:
Likes and Followers (new lines, total likes, follower growth, etc.).
Most Socially Shared Content.
Engagement (Shares, Comments, Clicks, etc.).
Top "Socially Referred" pages.
Impression and Reach (Number of people viewing your content and how often).
Location of Social Media Visitors.
3) Email Marketing Dashboard
Email Marketing is an effective way of Communicating offers and Marketing Campaigns. They allow companies to reach a larger audience. However, getting a good ROI from Email Marketing requires teams to analyze data from previous campaigns. Google Analytics Ecommerce Reports provide with Email Marketing dashboard.
An Email Marketing Dashboard tracks the growth of Email Campaigns, landing pages, engagement, and subscribers from blog posts and landing pages. It tracks the following Metrics:
Total Sessions.
Unique Visitors from Email.
Open Rate & Click Rate.
Average Time Spent on-site from Email Subscribers.
Comparison of Email Subscriber Visitors against other channels (organic, social, direct, referral, etc.).
Popular Content among Email Subscribers.
Subscribers Demographics.
Device for Accessing the Website (mobile, laptop, tablets).
Unsubscribers.
4) Revenue Analysis Dashboard
Executives and CFOs often use Revenue Analysis Dashboards to track trends and variances in the company's income. Some common KPIs are total revenue, major revenue categories, an actual budget, last year's figures, variances, etc.
It must have the following metrics:
Total Revenue
Total Transactions
Total Unique Paying Users
ARPPU: Average Revenue Per Paying User is generated.
AOV: Average Order Value or Transaction Value.
Goal Target Marker
5) Event Tracking Dashboard
Holiday and season-end sales are two Standard Marketing Campaigns for Ecommerce platforms. Creating a dashboard for them can be deal-breaking. You can forecast trends based on previous data and see how much revenue the company might generate this season.
Using Google Analytics Ecommerce Reports, you can also track various ongoing deals, their results, and the number of current users at each stage of the funnel.
Attendance Rate
Total Revenue
Unique Page Views
Coupon and Discounts Performance
Spike in Sales during the event
Top Events by Sales
Cancelations and Refunds
6) Mobile Analytics Dashboard
You've dedicated significant resources to deliver an excellent user experience for mobile devices as well. A Mobile Analytics Dashboard helps track if mobile users are taking actions on your app and which pages/products are popular among that audience. You can track the following metrics in a Mobile Analytics Dashboard:
Percent of Visitors use tablet or mobile to access your website
Mobile Devices they're using
Top Mobile Content
Top iPad Content
Top Android Content
Top iPhone Content
Average Time on-site for Mobile Visitors
Bounce Rate on the Mobile Device
Mobile Site Speed
7) Client/user Acquisition Dashboard
A Client/User Acquisition Dashboard entails various widgets and tracks essential metrics. You can add or remove widgets based on the latest funnels and sales campaigns the team is currently working on. It can also include a revenue trend graph to track whether their campaigns lead to conversions.
A Client/User Acquisition Dashboard must track the following metrics:
Opportunities Count
Leads Grouped by Sources
Income By-Products
Clients/customers in Each Stage of the Sales Funnel
Clients/customers by Location
Number of Opportunities that turn into paying customers
Steps to Create Google Analytics Ecommerce Reports
Google Analytics Ecommerce Reports tracks and stores abundant data about your campaigns and website activity. You can harness the power of data by creating a customized dashboard for tracking the metrics that matter most to you in one view.
Create your Google Analytics Ecommerce Reports by following these steps: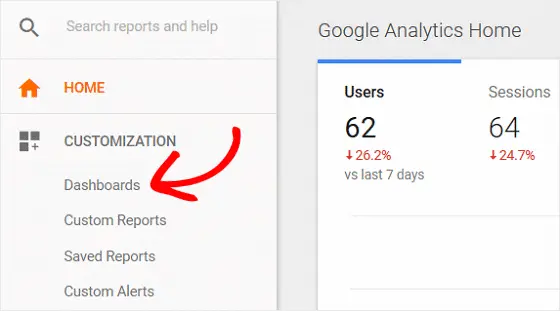 Step 1: Sign in to your Google Analytics account and click on Dashboards from the 'CUSTOMISATION' drop down on the left-hand side as shown above.

Step 2: Click on the 'CREATE' button on the top left corner of the screen. If you already have dashboards, you will see them in this section. If you don't have any dashboards, this section will be empty as shown above.

Step 3: A pop-up 'Create Dashboard' will appear. You'll see two options: Blank Canvas or Starter Dashboard. Click on Blank Canvas to create a custom dashboard from scratch. You can also name your dashboard in this section as shown above.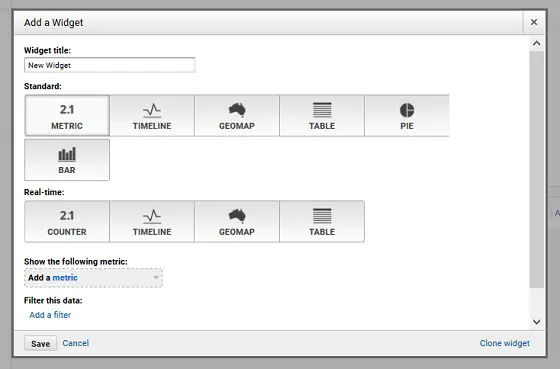 Step 4: An 'Add a Widget' box will appear, prompting you to add widgets like GeoMap, table, pie chart, bar, timelines, metrics, and counter. Select the widgets for your custom dashboard as shown above.
Step 5: You can add multiple widgets to track various metrics of your website. For example, on choosing a Pie Chart for traffic sources, you can select Unique Pageviews, grouped by drop-down choose Source/Medium. Once you save the widget, it'll appear on your custom dashboard.
Conclusion
This article gives a brief overview of Google Analytics and using it for Ecommerce Analytics. The article also provides a step-by-step guide on configuring Google Analytics Ecommerce Reports for gaining valuable Insights.
Extracting complex data from a diverse set of data sources to carry out an insightful analysis can be a challenging task and this is where Hevo saves the day! Hevo offers a faster way to move data from Databases, SaaS applications such as Google Analytics, etc., into your Data Warehouse to be visualized in a BI tool for free. Hevo Data is fully automated and hence does not require you to code.
Visit our Website to Explore Hevo
Want to take Hevo for a spin? Sign Up for a 14-day free trial and experience the feature-rich Hevo suite first hand. You can also have a look at the unbeatable pricing that will help you choose the right plan for your business needs.
Share your learnings about Google Analytics Ecommerce Integration in the comments section below.
No-code Data Pipeline For Google Analytics