Google Data Studio Update: Amazing New Features 2023
Introduction
This is an article on the latest Google Data Studio Update in August 2020. Data Studio is Google's free tool to create dashboards and reports with visualizations in the form of tables, graphs, maps, etc. Google Data Studio update shows integrations with multiple connectors- some free and some paid.
Google Data Studio reports are interactive and customizable. They let you focus on the right area and present it to your clients and colleagues.
Google Data Studio was released as free software to all in 2018. But Google Data Studio is constantly improved and revised. In this article let us take a look at the latest Google Data Studio update in August 2020. Check out to learn interesting details about Google Data Studio.
Here is an outline of this blog with a list of some of the new features introduced in the latest Google Data Studio update.
Table of Contents
What is Google Data Studio?
Google Data Studio is a free reporting and dashboard application from Google that includes a variety of connectors for integrating Google products with third-party technologies. By converting the data, Data Studio allows you to create an appealing dashboard. These reports will assist firms in gaining a better understanding of their product's market performance and in generating quarterly reports on overall performance and sales. Data studio can aid with the tracking of a client's performance as well as the visualisation of sales and trends over time. It's a more sophisticated version of Google Analytics.
Key Features
A Smart Dashboard: Data Studio's dashboard and user interface are similar to those of Google Drive. As a result, you have a thorough understanding of the tool's user interface.
Interactive Data Visualization: The Data Studio report's display mode is particularly responsive thanks to advanced programming capabilities such as chart interaction controls, drill-downs, and cross-chart interactions. As a result, a reader can change practically anything in your reports, including filters and analytics, to acquire fresh insights.
Real-Time Collaboration: Just like with other Google productivity products, you and your collaborators can work on the same Data Studio report in real-time.
Use HevoIQ: Get Analytics-ready Marketing Data in Minutes
One of the key components of a modern marketing stack is a data integration platform. A tool that brings data from different marketing applications together and ensures they are analysis-ready. We present to you HevoIQ. HevoIQ is a managed warehouse offering that simplifies your marketing efforts. Say goodbye to tedious spreadsheets, macros and scripts. HevoIQ will handle all your marketing data for you.
Don't have a data warehouse to store your consolidated data? That's okay too, HevoIQ provides a fully-managed data storage. Now easily analyse and visualize your data within minutes in your preferred BI tool.
Check out some of the cool features of HevoIQ:
Completely Automated: The HevoIQ platform can be set up in just a few minutes and requires minimal maintenance.
Real-time Data Transfer: HevoIQ provides real-time data migration, so you can have analysis-ready data always.
100% Complete & Accurate Data Transfer: HevoIQ's robust infrastructure ensures reliable data transfer with zero data loss.
Scalable Infrastructure: HevoIQ has in-built integrations for 100+ sources that can help you scale your data infrastructure as required.
24/7 Live Support: The HevoIQ team is available round the clock to extend exceptional support to its customers through chat, email, and support call.
You can try HevoIQ by signing up for the 14-day free trial.
2022 Release Notes
26th of May, 2022
Updates to the documentation and a troubleshooting guide
This troubleshooting guide was created to assist you in resolving issues with charts, reports, and data sources.
12th of May, 2022
Updates on products
Optional metrics for pivot tables
Optional metrics can now be used in pivot tables.
More Cache Customization Options
For the following connectors, you may now schedule data freshness to update minutely every 1 to 50 minutes, or hourly every 1 to 12 hours:
MS SQL Server is a database management system.
Redshift is a service provided by Amazon.
CloudSQL is a MySQL database management system.
Google Cloud Storage is a service provided by Google.
Spanner of the Clouds
Learn more about database platforms and how to connect to them.
Embedded Data Sources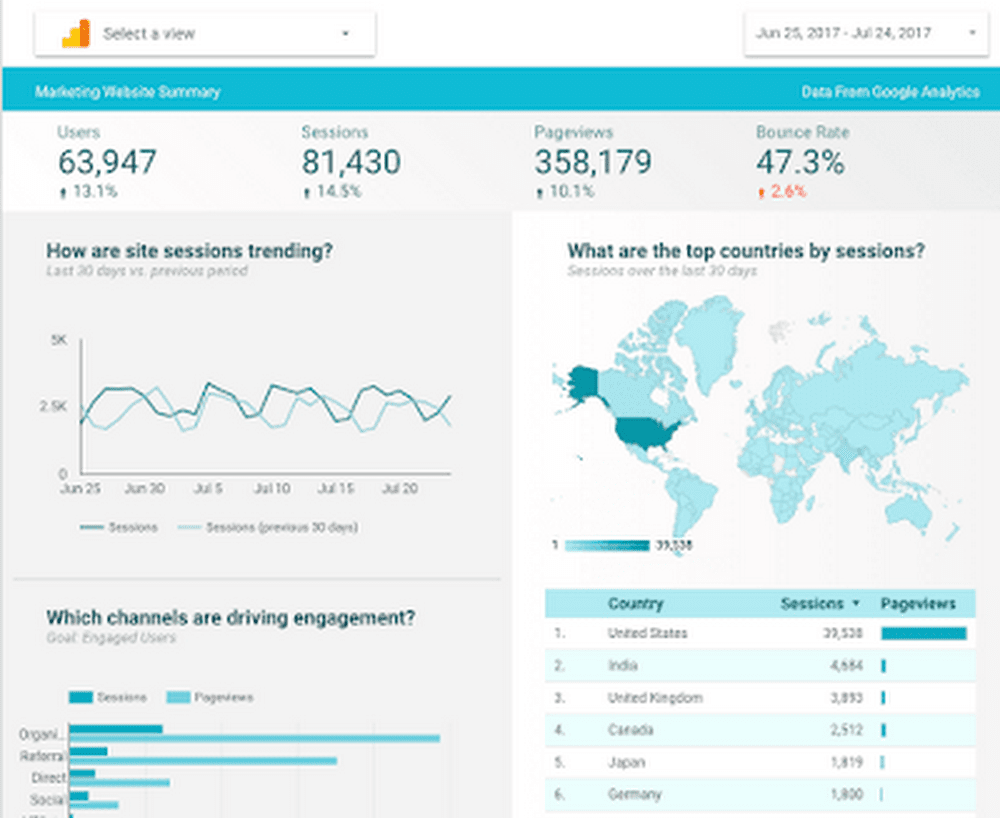 Before the 24th of August 2020, data sources were independent of reports. That is, you have to copy or share them separately. Now, they are embedded in the report you create. This feature applies to any new reports you create after the 24th of August 2020.
The older data sources are just referred to as Reusable.
Why do I want this Feature?
If there are multiple editors of a report, you don't have to share the report and the data sources separately. When you share your report, the data sources embedded in the report are also shared with it.
Check if a Data Source is Embedded
Go to Resources > Manage added data sources. Under the Type column, you will find whether the data source is Embedded or Reusable.
You can also convert an embedded data source into a reusable one by clicking Make reusable.
Read more on Embedded Data Source here.
Filled Areas in Google Maps
There are two types of Google Maps now: Bubble map and a new map called the filled map.
The filled maps show data as shaded polygons like this.
Conditional Formatting
You can add single colors to your table charts and pivot tables to highlight elements by creating conditions.
Here is how.
Go to the STYLE section of the table and select Add under Conditional formatting.
Depending on the data source, you get to select Single color or Color scale in the Create rules tab.
This will let you present your data in a more meaningful way.
Improved Controls and Parameters
There are new and improved controls in your Data Studio reports. Check out the Add a control in the menu. Input box, Slider, and Checkbox are the 3 new ones added.
When the editor creates an input box, the viewer gets to enter a value. This creates a filter that the user can control resulting in a more dynamic report.
Slider allows the viewer to filter by a range of values if the dimension is numeric and a single value from a numeric parameter.
Checkbox is another control that lets the viewers filter by a Boolean dimension.
Connect to Google Surveys
Google Surveys are widely used in marketing research to conduct online surveys. Businesses use it to get more insights into customer interests and outlook. This is an invaluable resource and Google Data Studio lets you create compelling reports out of Google Surveys data. You can directly connect to Google Surveys from Google Data Studio and share survey results easily with people who don't have direct access to this data.
It is very easy to connect to Google Surveys.
In your report, click Add Data.
Search for 'Google Surveys' in Connect to data and select Google Surveys.
AUTHORIZE Data Studio to access your Google Surveys data.
Now you can select the survey from the list and click Add.
General Availability of Data Studio API
Now developers can use Google Data Studio API to search for user-accessible assets in their domain and manage permissions.
To call the API, first, enable the API, and then create and authorize OAuth client. Check out the steps in detail here if you are interested.
BigQuery 15 Minute Data Freshness
You can update Google BigQuery data every 15 minutes. This will of course affect your speed and cost, but you get fresh data.
You can modify your Data freshness settings by following these steps.
Select Resource in the menu and click on Manage added data.
Click Edit for the relevant data source and click Data freshness on top.
You can adjust the refresh rate according to your requirements.
Sending reports via PDF on a schedule
Not everyone on your team will open Data Studio and use the reports you've created.
Some people (such as clients) prefer to receive an old-school PDF report in their inbox.
Google Data Studio update now enables this — you can schedule email delivery via PDF to your team from the 'Share' menu, and select which pages are included in the PDF.
The 'Get report link' view, which allows you to send a report with your filters and date range pre-set for the person you're sending to, is another new sharing option we're utilising very frequently.
This saves us a lot of time on Slack when we're discussing what we're seeing in reports.
Conclusion
Google Data Studio is growing quickly to be a very important and versatile BI tool. If you want to reap the benefits of any BI tool fully, you need to be equipped with all your data in the correct format and unified in a single source. Else you will fall prey to incomplete data leading you to conflicting results. This defeats the purpose of analysis and leaves you frustrated.
If you want to integrate data from multiple disparate sources without dealing with complex code, please try out HevoIQ. Since HevoIQ has pre-built integrations with 100+ data sources you can simply connect any source to your BI tool in minutes.
You can try HevoIQ for free by signing up for the 14-day free trial.
Share your thoughts on the latest Google Data Studio update in the comments below!
Easily visualize your data in Google Data Studio