Gravity Forms Stripe Integration: 2 Easy Steps
Integrating Stripe and Gravity Forms allows you to set up excellent forms for your E-Commerce store and accept payments with ease. By leveraging Gravity Forms, one of the best WordPress Form Plugins, in tandem with Stripe, you can not only capture payments via the Stripe processor but also offer additional offerings such as Discounts, Coupons, etc., create order summaries and more! Hence, setting up the Gravity Forms Stripe Integration empowers you to streamline the payment capturing process and deliver a good experience to your customers.
In this article, you'll understand the step by step procedure to set up the Gravity Form Stripe Integration. You'll also gain an in-depth understanding of both of these platforms and the features they offer. Finally, you'll get to know how Gravity Form Stripe Integration can be beneficial for your business. Read along to find out more!
Table of Contents
Prerequisites
An installed and configured SSL Certificate.
A Stripe Account.
Gravity Forms Stripe Add-on installed.
Administrator/Owner access for the Stripe account.
What is Gravity Forms?
Gravity Forms is a well-known platform for producing online forms, quizzes, digital signatures, and a lot more. It is a WordPress plugin-based program that allows website owners, administrators, and developers to create simple and complicated forms for collecting pertinent data from WordPress-based websites.
Gravity Forms, which is written in the PHP Programming Language, allows you to work with a variety of fields and features that are present in its Form Builder. It uses a similar MySQL Database System like WordPress, however, it uses tables to store all forms and entities. Gravity Forms' Native Add-Ons enable you to combine your forms with a variety of third-party services such as HubSpot, PayPal, MailChimp, Stripe, and others.
What is Stripe?
Stripe is a platform for accepting payments. It lets you leverage a credit or debit card transaction to move money from a customer's bank account to your business's account.
Stripe allows you to develop and customize a mobile-friendly checkout experience for your customers. Charges, fees, refunds, and transfers are all updated in real-time for both the vendor and the customer. By putting a short JavaScript Snippet into your web page, it assists businesses in integrating payments. The user-friendly Stripe Dashboard allows you to keep track of all transactions made using various payment methods all over the world.
Stripe further allows businesses to take payments through Mobile Wallets and Buy Now Pay Later Services. It accepts payments in a number of different currencies. Stripe provides an extra layer of protection by requiring the user to complete an Additional Verification Step before proceeding with the payment.
Key Features of Stripe
Consider the following features, which are just a few of the many benefits of using Stripe's Payment System:
Minimal Screening for Merchants: Stripe does not require a significant screening procedure to approve a full-service merchant account as it is a Payment Service Provider (PSP). You can apply online and get approved in a matter of minutes.
Integrated Processing Service: It now offers a single, integrated system that completely supports both retail and eCommerce Sales Channels, thanks to the support for countertop credit card terminals and POS systems.
Plethora of Developer Tools & APIs: Stripe supports a variety of Developer-friendly tools, all of which come with detailed documentation. These can appeal to anyone who is tired of having only a restricted range of customization possibilities for their site.
Comprehensive Security Features: While no provider can guarantee payment security 100 per cent of the time, Stripe, comes as near as feasible. The majority of Stripe's Basic Security features, such as TLS (SSL) and Encryption, are free with every account.
Simplify Stripe ETL with Hevo's No-code Data Pipeline
Hevo Data, a No-code Data Pipeline helps to load data from any data source such as Databases, SaaS applications, Cloud Storage, SDKs, and Streaming Services and simplifies the ETL process. It supports 100+ Data Sources (including 40+ free data sources) like Stripe and is a 3-step process by just selecting the data source, providing valid credentials, and choosing the destination. Hevo not only loads the data onto the desired Data Warehouse/destination but also enriches the data and transforms it into an analysis-ready form without having to write a single line of code.
GET STARTED WITH HEVO FOR FREE[/hevoButton]
Its completely automated pipeline offers data to be delivered in real-time without any loss from source to destination. Its fault-tolerant and scalable architecture ensure that the data is handled in a secure, consistent manner with zero data loss and supports different forms of data. The solutions provided are consistent and work with different BI tools as well.
Check out why Hevo is the Best:
Secure: Hevo has a fault-tolerant architecture that ensures that the data is handled in a secure, consistent manner with zero data loss.
Schema Management: Hevo takes away the tedious task of schema management & automatically detects the schema of incoming data and maps it to the destination schema.
Minimal Learning: Hevo, with its simple and interactive UI, is extremely simple for new customers to work on and perform operations.
Hevo Is Built To Scale: As the number of sources and the volume of your data grows, Hevo scales horizontally, handling millions of records per minute with very little latency.
Incremental Data Load: Hevo allows the transfer of data that has been modified in real-time. This ensures efficient utilization of bandwidth on both ends.
Live Support: The Hevo team is available round the clock to extend exceptional support to its customers through chat, email, and support calls.
Live Monitoring: Hevo allows you to monitor the data flow and check where your data is at a particular point in time.
SIGN UP HERE FOR A 14-DAY FREE TRIAL
How to Set up Gravity Forms Stripe Integration?
There are 2 simple steps to get started with Gravity Forms Stripe Integration:
Gravity Forms Stripe Integration Step 1: Configuring Stripe Options
You may connect and authenticate your Stripe account via the Stripe Settings, and you can choose how you collect payment information. It will also enable you to configure Webhooks, which will let you send Stripe Events straight to your Gravity Forms Environment:
You can begin by navigating to the settings page for your Stripe Add-on.
Once you've reached the Stripe Add-on page, you now need to log in to your WordPress Admin Dashboard.
Next, hover over the Forms section and select Settings. You can locate these in the left-hand navigation menu.
Now, toggle the Stripe tab to open the same.
As a next step, while configuring the Add-on options for your Gravity Forms Stripe Integration, you now need to select the Mode of operation. In case, you want the submissions to be real transactions, you can choose the Live mode. But, if you want to review or check on how the transactions are occurring, you can select the Test Mode.
Gravity Forms Stripe Integration Step 2: Configuring Webhooks
You can click here to access the management page for Stripe Webhooks.

To get started with Webhooks, you first need to add an endpoint. You can click the Add Endpoint button in the top right corner, above the list of active Webhooks.
Note: Each Stripe account is limited to a maximum of 16 WebHook Endpoints.
Paste the URL provided under "View Instructions" on the Gravity Forms Stripe Settings page into the Endpoint URL box.
Click Receive All Events option found under the Events section.
To save the Webhook, click the Add Endpoint button.

Click the "Click to Reveal" button under Signing Secret.
Note the Mode (Test or Live) at the top of the screen and copy the Signing Secret accordingly.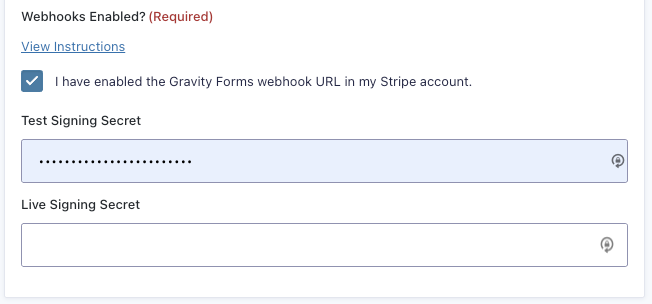 In Stripe settings, paste the Signing Secret from the Stripe Webhooks page. As required, you can use the Test Signing Secret or Live Signing Secret fields.
In your Stripe account, check the "I've enabled" option in the Gravity Forms Webhook URL box.
At the bottom of the page, click on Save Settings to complete the Gravity Forms Stripe Integration process.
This concludes your Gravity Forms Stripe Integration!
How to Receive Payments in Stripe?
To get to the Payment Collection section, scroll down.
To define how payment information will be collected on your form, select the desired Payment Collection Method. You can also click here to check all the Payment Collection options available.
Conclusion
This article provided you with an easy step-by-step guide to help you set up Gravity Forms Stripe Integration in no time! In addition, it introduced you to the fantastic benefits of integrating Gravity Forms with Stripe. It also provided you with an in-depth understanding of both platforms, along with a detailed list of features these platforms have in store for you.
You might wish to take your business growth a step further after learning about the Gravity Forms Stripe Integration by employing Data Analytics techniques on your Stripe data. This will necessitate the deployment of different complex ETL techniques to transfer data from Stripe to a Data Warehouse.
Extracting complex data from Stripe, and numerous other platforms can be challenging & require immense engineering bandwidth, and this is where Hevo saves the day!
visit our website to explore hevo[/hevoButton]
Hevo Data, a No-code Data Pipeline, provides you with a consistent and reliable solution to manage data transfer between a variety of sources such as Stripe, and a wide variety of Desired Destinations with a few clicks.
If your business uses Stripe as a payment processing solution and you're looking for a stress-free alternative to manual data integration, Hevo can easily automate it for you. Hevo with its strong integration with 100+ sources & BI tools (Including 40+ Free Sources like Stripe), allows you to not only export & load data but also transform & enrich your Data & make it analysis-ready.
Want to Take Hevo for a ride? Sign Up for a 14-day free trial and simplify your Data Integration process. Check out the pricing details to get a better understanding of which plan suits you the most.
Share your experience of learning about Gravity Forms Stripe Integration in the comments section below.
No-code Data Pipeline For Stripe