HubSpot Crunchbase Integration: 2 Easy Steps
Data is a necessity for salespeople, entrepreneurs, investors, and market researchers to run their businesses. Companies and individuals need high-quality and reliable data to analyze investments, partnerships, acquisitions, Sales opportunities, etc. But where can one get trusted data on new startups, companies, their stakeholders, and decision-makers? 
Crunchbase is a platform where one can find all the details on public and private companies, new startups, and all data that can be helpful to evaluate the overall company. Many companies and individuals use Crunchbase as a data source for high-quality business data. After accessing all the data it needs to be analyzed to make decisions.
HubSpot is a CRM platform that can be used to analyze all the Crunchbase data and help you make better use of it. Every day, Crunchbase delivers a wealth of new data on innovative companies. You can get access to Crunchbase data directly into HubSpot. In this post, you will learn the steps to set up HubSpot Crunchbase Integration and how it benefits customers make data-driven decisions.
Table of Contents
Prerequisites
An active Crunchbase account.
An active HubSpot CRM account.
Introduction to HubSpot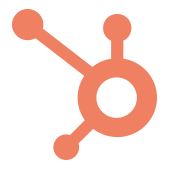 HubSpot is a Cloud-based Marketing and Customer Relationship Management (CRM) platform. The main reason companies use HubSpot is to help align their Sales and Marketing teams, foster Sales enablement, boost ROI (Return on Investment), and optimize their Inbound Marketing strategies to generate more qualified leads.
HubSpot's CRM module is completely free, and there are paid subscriptions for its Marketing module. The services offered in the Marketing module help its customers capture and convert leads to prospects through Inbound Marketing activities such as blog creation, social media posts, Search Engine Optimization, and Marketing Automation. The generated inbound leads feed directly into the CRM.
Key Features of HubSpot
HubSpot offers many modules and offers several features that attract companies. It helps businesses to make better data-driven decisions and organize their workflows in one place. A few features of HubSpot are listed below:
List Segmentation: HubSpot allows users to segment the list of contacts based on demographics, age, gender, and other comparison factors. This makes it easier for users to deal with every segment of the audience with a different strategy.
Ads Retargetting: HubSpot helps users to focus more on retargeting customers who abandoned the cart or conversion process in between because these customers are more likely to complete the sales.
VOIP Calling: HubSpot features a VOIP calling option to increase customer interaction and provide support. These calls are then recorded and tagged along with the customer for future reference.
To learn more about HubSpot, click here.
Introduction to Crunchbase

Crunchbase is a Data as a Service (DaaS) platform for finding business information about private and public companies. Crunchbase was initially created to track startups. Today, the Crunchbase database contains information on businesses — especially startups, people profiles, investments and funding information, mergers and acquisitions, news, and industry trends.
Key Features of Crunchbase
Crunchbase makes high-quality data available for individuals and companies. Crunchbase provides more features for a better user experience. Some of the features are listed below:
Multi-Joint Searches: Crunchbase offers a flexible searching option that allows users to search for specific results rather than generic ones. One can use up to 9 joints and 25 filters for search.
Custom Lists: Crunchbase allows users to create a custom list of companies they want to track and get notified of any news like IPO announcements, new partnerships, etc.
Integrations: Crunchbase supports integration with many 3rd party apps and services to deliver a better user experience.
To learn more about Crunchbase, click here.
Simplify Data Analysis with Hevo's No-code Data Pipeline
Hevo Data, a No-code Data Pipeline helps to load data from any data source such as HubSpot, Databases, SaaS applications, Cloud Storage, SDK,s, and Streaming Services and simplifies the ETL process. It supports 100+ data sources including 30+ data sources and HubSpot for free and is a 3-step process by just selecting the data source, providing valid credentials, and choosing the destination. Hevo not only loads the data onto the desired Data Warehouse/destination but also enriches the data and transforms it into an analysis-ready form without having to write a single line of code.
Get Started with Hevo for Free
Its completely automated pipeline offers data to be delivered in real-time without any loss from source to destination. Its fault-tolerant and scalable architecture ensures that the data is handled in a secure, consistent manner with zero data loss and supports different forms of data. The solutions provided are consistent and work with different BI tools as well.
Check out why Hevo is the Best:
Secure: Hevo has a fault-tolerant architecture that ensures that the data is handled in a secure, consistent manner with zero data loss.
Schema Management: Hevo takes away the tedious task of schema management & automatically detects the schema of incoming data and maps it to the destination schema.
Minimal Learning: Hevo, with its simple and interactive UI, is extremely simple for new customers to work on and perform operations.
Hevo Is Built To Scale: As the number of sources and the volume of your data grows, Hevo scales horizontally, handling millions of records per minute with very little latency.
Incremental Data Load: Hevo allows the transfer of data that has been modified in real-time. This ensures efficient utilization of bandwidth on both ends.
Live Support: The Hevo team is available round the clock to extend exceptional support to its customers through chat, E-Mail, and support calls.
Live Monitoring: Hevo allows you to monitor the data flow and check where your data is at a particular point in time.
Sign up here for a 14-Day Free Trial!
Need For HubSpot Crunchbase Integration 
The main reason why most businesses are looking to integrate HubSpot Crunchbase is that they want to visualize the Crunchbase dataset on investment trends and business ecosystems outside of the Crunchbase environment. By storing Crunchbase data in your HubSpot database, you can optimize the research phase in your Sales workflow by enabling salespeople to proactively perform their own Ad Hoc analysis on prospects that fit the right customer profile at scale. 
For example, you could be an Account Executive at a high-growth SaaS (Software as a Service) company and your ideal customer is a Series B or greater with over 100 employees in the healthcare industry. You can use the HubSpot Crunchbase Integration to perform Analytics queries on companies that fit this company profile as well as on the key decision-makers within these companies.
This is the actionable market insight that can be leveraged to maximize the effectiveness of your outreach since you can connect with the right decision-makers that can move deals forward. Business Intelligence and Analytics queries, such as setting up and following investment trends, identifying and tracking growth industries, and identifying similar companies to your own are other examples of how you can use Crunchbase data to gain an edge toward beating the market.
Steps to Set Up HubSpot Crunchbase Integration
Now that you read about Crunchbase and HubSpot. In this section, you will learn about the steps to set up HubSpot Crunchbase Integration. But first, let's understand the structure of the HubSpot dataset. In the HubSpot CRM, data is stored on objects. An object refers to a record that stores a certain category of information. For example, a contact or a company. 
Inside the object, data is stored in properties that hold information about the specific characteristics of their containing object. For example, a contact can have the following properties; first name, last name, phone number, and email address. HubSpot CRM is centered around four basic objects: Contacts, Companies, Deals, and Tickets. You can also create custom objects with custom properties so that your data matches the type of information in your HubSpot Crunchbase dataset.
Getting your HubSpot Crunchbase Integration is simple, and you can do it with just a few clicks. HubSpot will deduplicate the records once they are imported. The following steps to HubSpot Crunchbase Integration are listed below:
Step 1: Exporting Crunchbase Data in CSV File
Log in to your Crunchbase account here.
Search for the results you want to export.
To export your results, click the "Export" icon at the top right of your search.
Now, select the "Export To CSV" icon on the right-hand side above your search results, shown in the image below. 

The Crunchbase CSV Export feature will extract the following data from the Crunchbase dataset, listed below:

Organization profiles
Active investors
Investment partners
All investments made by investors
Details of investors' investment funds
List of all acquisitions available on Crunchbase
List of all job and advisory roles
and much more.
Step 2: Importing the CSV File into HubSpot
If you want to create bulk objects, then navigate to your records, and for each object, the navigations are listed below:

For creating the Contacts object navigate to "Contacts > Contacts".
To create a Companies object, go to "Contacts > Companies".
For creating the Deals object, navigate to "Sales > Deals".
For updating Tickets, navigate to "Service > Tickets".
You can also create custom objects by clicking on the "Custom Objects", and then click the dropdown menu in the top left and select the "Name" of the custom object.

Now, Click on the Import button located on the top right.
Then, click the "Start an import" button.
Select the "File from Computer" option and upload the CSV file that you downloaded from Crunchbase then. Then click the "Next" button.
Then, you will be prompted to select one or multiple files. Select "One File", then click "Next". 
Now, select the One Object option, and then click "Next".
Select the "Object" in your import file.
Click "choose a file", and in the dialog box, then select your CSV file, shown in the image below.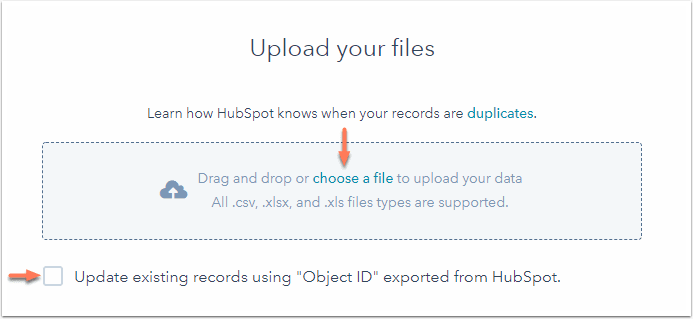 In the bottom right, click "Next".
In the Map columns in the HubSpot Crunchbase file, go to [object] properties screen, map the column to an existing property, shown in the image below.
Once all columns are mapped to a property, click "Next".
On the details screen, enter an "Import Name".

If you're importing contacts:

Check the "Create a list of contacts from this import" option. This will automatically create a list of imported records.

Once you've set the options for your import, click "Finish Import" in the bottom right.
That's it! You have completed HubSpot Crunchbase Integration.
Benefits of HubSpot Crunchbase Integration
HubSpot Crunchbase Integration helps companies to transfer data between the two in a hassle-free manner. The HubSpot Crunchbase offers many functionalities in the user's hand. A few benefits of HubSpot Crunchbase Integration are listed below:
One can sync accounts from the Crunchbase Data directly to HubSpot CRM for leads.
It deduplicates the contacts in HubSpot and avoids any workload.
HubSpot Crunchbase Integration allows users to analyze data out of the Crunchbase environment and organize their workflows in one place.
Conclusion
In this article, you learned how to integrate HubSpot Crunchbase and sync data between the two platforms. You also read how to map data between HubSpot Crunchbase to help with market research, prospecting, competitive analysis, and investment strategy. Crunchbase helps users access high-quality data in a matter of seconds and allows them to run Data Analytics on it in other tools.
Visit our Website to Explore Hevo
HubSpot stores the company's valuable data related to Marketing, Sales, research, and much more. This data can be used with other operational data available in Data Warehouse to generate insights and optimize their workflows. Hevo Data is a No-code Data Pipeline solution that can help you transfer your data from HubSpot for free to any Data Warehouse of your choice. It fully automates the process to load and transfer data from 100+ sources to the desired destination without writing a single line of code.
Want to take Hevo for a spin? Sign Up here for a 14-day free trial and experience the feature-rich Hevo suite first hand.
Share your experience of learning about HubSpot Crunchbase Integration in the comments section below!
No-code Data Pipeline For your Data Warehouse