How to Use Quickbooks Online Simple Start Simplified: A Comprehensive Guide 101
Operating a business involves many tasks, out of which Accounting is of prime importance. If done manually, effective and organized accounting of all finances is a tedious and time-consuming process. Today, the market has many applications that aid companies in carrying out their accounting tasks effectively. Quickbooks Online is one such application that is used worldwide by many enterprises.
This article will provide a comprehensive understanding of Quickbooks Online and its variant Quickbooks Online Simple Start. The article will also mention the key features, pricing, and advantages enterprises have while using Quickbooks Online Simple Start.
Table of Contents
Prerequisites
Understanding of Bookkeeping.
Introduction to Quickbooks
Quickbooks Online is a financial software developed by Intuit that is used by businesses to keep track of their finances. It is a United States-based company founded by Scott Cook and Tom Proulx in 1983. Quickbooks comes with various tools and features that cater to all business needs related to accounting and finance.
It is a monthly subscription-based platform that is built for companies of all scales. Apart from accounting, Quickbooks also provides features that can be used to manage Sales Operations, including Inventory Tracking, Customer Information, Generating Sales Reports, and many more related tasks. It is a Cloud-based platform that allows companies to store accounting data and access them from anywhere without having the need to install any specialized infrastructure in their workspace.
Organizations can easily connect their bank accounts with Quickbooks to automatically import and categorize business transactions. With Quickbooks, organizations can also send Digital Invoices to customers and track the performance of their business. The software comes with a very user-friendly interface that lets individuals with no knowledge of finance use the platform effortlessly. Quickbooks also offers many complex features, like Payroll and Field Service Management in its enterprise edition. The platform can be used by businesses operating in various industries such as Manufacturing, Retail, Construction, Non-Profit, Wholesale, and many others.
Enterprises get to send payment reminders to customers at ease that helps them run their businesses effectively. Quickbooks also provides a smartphone application for both Android and iOS that enables companies to operate their businesses at any time from anywhere. Since its launch, Quickbooks has been adding new utility features that have made it one of the most popular financial software globally. Over 4.5 million companies use Quickbooks as their preferred platform to meet their accounting needs. To date, Quickbooks has acquired two companies, namely Bankstream and OneSaaS.
Key Features of Quickbooks
Quickbooks offer multiple features that help organizations effectively manage their accounts and finances. Below are a few notable Quickbooks features:
1) Raise Invoices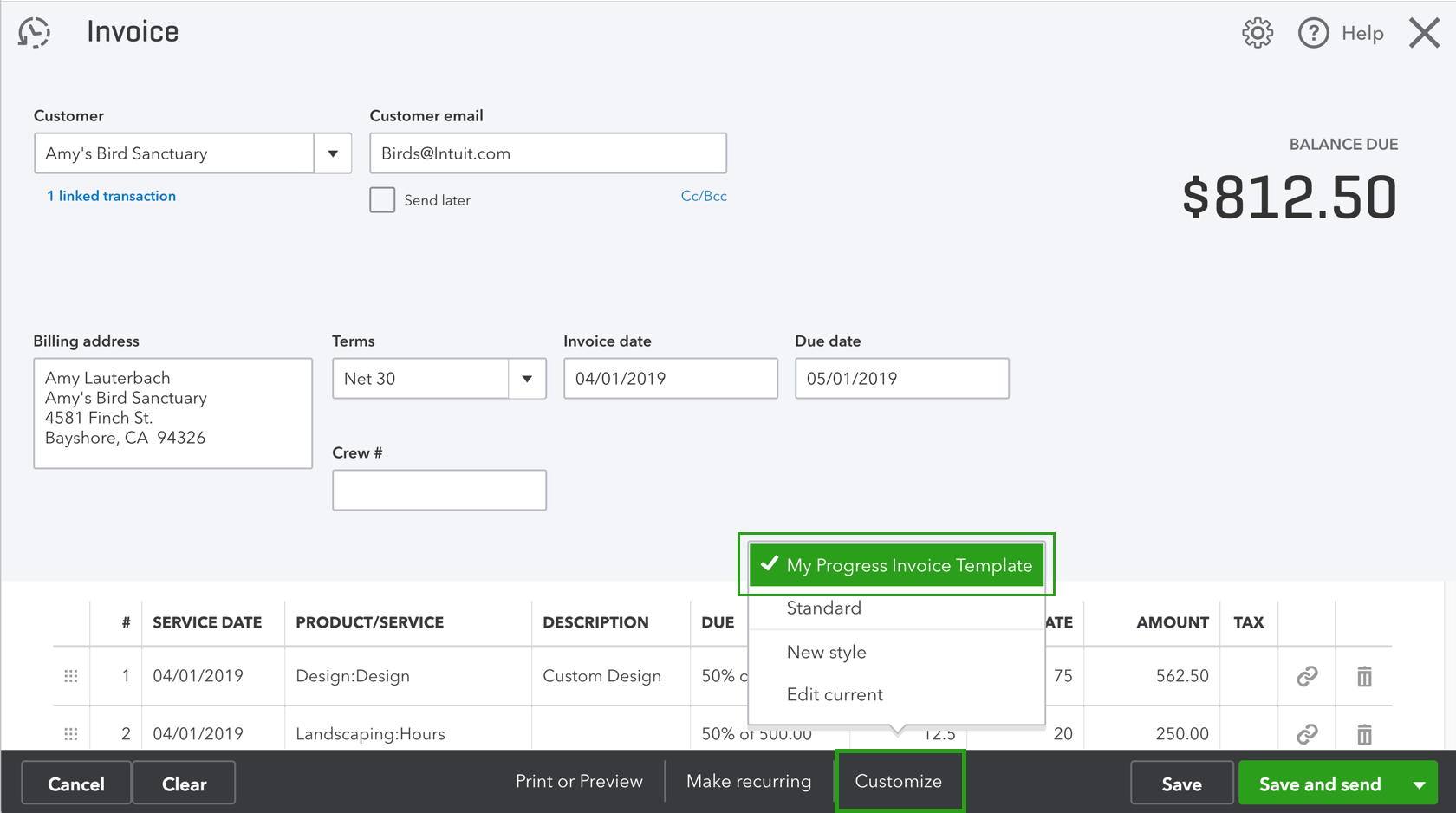 Quickbooks lets companies create and send Invoices to customers effortlessly. Users can attach their payment gateway links directly on their invoices that also help with payment collection. The software also displays all the expenses in a single Dashboard, making it easier to analyze. Quickbooks supports the use of foreign currencies for sales, and companies can set personalized pricing according to their needs.
2) Manage Expenses
Organizations can effectively track and manage all of their expenses using Quickbooks. The smartphone application of Quickbooks also allows companies to click and save pictures of their receipts, which Quickbooks automatically matches with existing transactions.
3) Payroll Management
This is a feature that lets companies manage their employees. It is crucial for businesses to have smooth and streamlined employee management to ensure seamless business operations. With this feature, organizations can calculate the earnings of employees, deductions, taxes, and lots more.
4) Easy Report Management and Finances
Quickbooks displays all the necessary metrics related to finance on a unified Dashboard that helps organizations get a better understanding of the financial operations of their businesses. Companies can input transactions from multiple bank accounts in a short time using the feature named 'Income Tracker.'
Quickbooks can also generate specific reports like Profit & Loss, Income Statements, Budgets, and many more. The generated reports are designed according to the users' needs. The reports can be easily exported in excel format, which helps in sharing them with other employees.
5) Easy Data Imports
Quickbooks allows companies to easily import essential business data directly from Microsoft Excel, Outlook, and Gmail, which makes the transition to Quickbooks an effortless task. This feature also helps to improve the manageability of data.
6) Multi-User Feature
Quickbooks lets its customers assign multiple permissions to companies so that they can access customer accounts from anywhere in the world. The permissions option gives customers the option of choosing the data that different companies can view on their devices.
Understanding Quickbooks Online Simple Start
Quickbooks Online Simple Start is a variant of Quickbooks online that is an accounting solution ideal for newly launched businesses. It is a very easy-to-use platform that helps organizations quickly understand the functionalities and capabilities of Quickbooks Simple Start. Unlike other widely used applications, Quickbooks Online Simple Start is also suited for Indian companies as companies can effortlessly do GST accounting, utilizing the cloud platform. The platform offers payroll processing that lets companies calculate payroll taxes. It is an ideal platform if a company is planning to focus on hiring more employees and managing them effectively.
Organizations also get to enjoy the benefits of Quickbooks' 24/7 customer care center. Quickbooks customer service executives solve any product-related queries of companies in a short time, which provides a better overall user experience. The application also allows organizations to monitor their assets and liabilities to help them make informed business decisions. With Quickbooks Simple Start, companies can automate applying sales tax of invoices. However, Quickbooks provides access to only one user for its Simple Start platform.
The platform comes with smartphone applications for Android and iOS that exponentially increase its accessibility. Apart from Quickbooks Online Simple Start, the company provides various other solutions like Quickbooks Online Self-employed, QuickBooks Online Essentials, Quickbooks Online Plus, and Quickbooks Online Advanced.
Benefits of Quickbooks Simple Start
Quickbooks Online Simple Start is one of the most used accounting solutions for small businesses. Hence using it gives companies a lot of benefits when compared to other similar products. Below are a few notable benefits of using Simple Start:
1) GST Ready
The most noteworthy advantage of Quickbooks Online Simple Start is that it comes with out-of-the-box support for GST accounting. Enterprises can easily create professional-looking GST Invoices and quotations while using this application. The platform also generated GST reports that help in performance analysis.
2) Easy Check Signing
Quickbooks Online Simple Start allows companies to scan and upload their signatures on the platform and paste them on cheques. This drastically reduces the time consumed while making payments. If enterprises need to sign many cheques in their business, then choosing Quickbooks Simple Start will give them a huge advantage.
3) Vast Range of Integrations
Quickbooks Online Simple Start offers out-of-the-box integration support for over 600 other finance applications such as PayPal, Gusto, Expensify, Justworks, and many more. This helps companies to easily connect all of their business operations in a unified platform for better management. The application also automatically syncs data from every other platform to enhance the user experience.
4) Enhanced Safety
Quickbooks ensures that all the uploaded user data is completely safe from any kind of fraudulent activities. The platform also automatically updates itself to provide security and feature-related enhancements.
5) Better Sales Invoices
Quickbooks Online Simple Sales drastically simplifies the task of creating sales receipts and invoices. Enterprises can generate professional-looking invoices with just a few clicks that help them save a lot of time and effort. Companies can share the generated invoices to customers through emails and also attach payment links to them.
Simplify Quickbooks ETL & Analysis with Hevo's No-code Data Pipeline
A fully managed No-code Data Pipeline platform like Hevo Data helps you integrate and load data from 100+ Data Sources (including 40+ Free Data Sources such as Quickbooks) to a destination of your choice in real-time in an effortless manner.
Hevo with its minimal learning curve can be set up in just a few minutes allowing the users to load data without having to compromise performance. Its strong integration with umpteenth sources allows users to bring in data of different kinds in a smooth fashion without having to code a single line.
Get Started with Hevo for Free
Check out some of the cool features of Hevo:
Completely Automated: The Hevo platform can be set up in just a few minutes and requires minimal maintenance.
Real-Time Data Transfer: Hevo provides real-time data migration, so you can have analysis-ready data always.
Transformations: Hevo provides preload transformations through Python code. It also allows you to run transformation code for each event in the Data Pipelines you set up. You need to edit the event object's properties received in the transform method as a parameter to carry out the transformation. Hevo also offers drag and drop transformations like Date and Control Functions, JSON, and Event Manipulation to name a few. These can be configured and tested before putting them to use.
Connectors: Hevo supports 100+ integrations to SaaS platforms such as Quickbooks, files, databases, analytics, and BI tools. It supports various destinations including Amazon Redshift, Snowflake Data Warehouses; Amazon S3 Data Lakes; and MySQL, SQL Server, TokuDB, DynamoDB, PostgreSQL databases to name a few.
100% Complete & Accurate Data Transfer: Hevo's robust infrastructure ensures reliable data transfer with zero data loss.
Scalable Infrastructure: Hevo has in-built integrations for 100+ sources that can help you scale your data infrastructure as required.
24/7 Live Support: The Hevo team is available round the clock to extend exceptional support to you through chat, email, and support calls.
Schema Management: Hevo takes away the tedious task of schema management & automatically detects the schema of incoming data and maps it to the destination schema.
Live Monitoring: Hevo allows you to monitor the data flow so you can check where your data is at a particular point in time.
Sign up here for a 14-Day Free Trial!
How to use Quickbooks Online Simple Start?
Below is a step-wise guide on setting up a Quickbooks Online Simple Start account and the ways companies can use its features.
Setting up Quickbooks Online Simple Start
Open Quickbooks Simple Start.
Click Next in the interview pop-up box.
Enter company name and other information.
Choose the desired entity form from the options. (Options include Sole Proprietorship, LLC, S Corporation, Corporation, and Non-profit)
Mention how the company would bill its customers.
Then click Next and name the Quickbooks Company File, and the setup process gets completed.
Receive Payments at Ease
It is quite hectic for companies to continuously stay in touch with clients to receive payments. Using Quickbooks Online Simple Start's feature, companies can directly place bank transfer and payment gateway links in invoices. This smoothens the process of accepting payments and also reduces the time consumed in receiving payments.
Kilometer Tracking
Providing travel reimbursement to sales agents is a tedious task as companies need to know the distance traveled by them. In order to do so, companies can use Quickbooks Online Simple Start's Kilometer Tracking feature that fetches data from mobile GPS to accurately display the distance covered by sales representatives. The feature can also be used for effective business tour planning.
Better Tax Deduction
Companies can use Quickbooks Online Simple Start to automatically segregate expenses into proper tax categories that considerably simplify the tax-paying process. Accurate tax categorization helps in minimizing the chances of incorrect tax filings.
Easy Income Tracking
Companies can use Quickbooks Online Simple Start's tracking feature to monitor all of their income and expenses in one place that helps in the performance analysis of businesses. Enterprises can completely automate the sorting and organizing process of transactions from connected bank accounts using this feature.
Pricing of Quickbooks Online Simple Start
Quickbooks has priced its Simple Start platform very competitively when compared to other similar products. The affordability of the platform makes it one of the best available accounting solutions suited for small businesses. Quickbooks Online Simple Start is priced at $25 per month, and the company also offers a 30-days trial period for organizations to understand the functionalities of the platform before making any commitments. Moreover, Quickbook is offering a 50% discount on its Simple Start application for a period of three months.
Conclusion
In a nutshell, Quickbooks Online Simple Start is a feature-packed application that can considerably help new and small-sized businesses to account for their finances and also aid in sales monitoring. It is an affordable application that automates many tasks related to accounting that saves a lot of time. Companies that choose to use Quickbooks Online Simple Start as their accounting solution will always have many advantages over their competitors. Integrating and analyzing your data from a diverse set of data sources such as Quickbooks can be challenging and this is where Hevo Data comes into the picture.
Visit our Website to Explore Hevo
Hevo Data provides its users with a simpler platform for integrating data from 100+ sources for Analysis such as Quickbooks for free. It is a No-code Data Pipeline that can help you combine data from multiple sources. You can use it to transfer data from multiple data sources into your Data Warehouses/Databases, or a destination of your choice. It provides you with a consistent and reliable solution to managing data in real-time, ensuring that you always have Analysis-ready data in your desired destination.
Want to take Hevo for a spin? Sign Up for a 14-day free trial and experience the feature-rich Hevo suite first hand. You can also have a look at our unbeatable pricing that will help you choose the right plan for your business needs!
Share your experience of learning about Quickbooks Online Simple Start. Tell us in the comments below!
No-code Data Pipeline for Quickbooks