Sage vs Quickbooks: Best Accounting Platform in 2023
Accounting and bookkeeping are essential aspects of the financial operations of a business. Small business owners experience challenges in managing these two processes. The good news is that there are a number of business accounting software that have been developed to facilitate these processes. This software can help you to automate and organize tasks, helping you to save time and ensure that your business financial records are in the right shape.
However, there are many accounting software in the market today. Some are designed for small and medium businesses, while others are developed for large enterprises. Sage and Quickbooks are examples of accounting software developed for small businesses. They are also popular among startups. If you are looking for accounting software, you may find yourself stuck between these two options. How can you choose between Sage vs Quickbooks? Which solution can help you to meet your business needs? That is why we've written this Sage vs Quickbooks article. We will be discussing the differences in features between these two accounting software to help you know the right one for your business.
Table of Contents
What is Sage?
Sage is cloud-based accounting software for small businesses. It comes with numerous facilities that you can use to process your financial data. It collects data, classifies, and summarizes it to make it simple for users to view their financial information.
Some of the features offered by Sage include printing of invoices, valuation of stock, updating both supplier and customer records, automatic updates to the general ledger, sales analysis, VAT returns, and more.
Sage has remained loyal to both small and medium-sized businesses instead of going for more profitable corporates.
Simplify Data Analysis with Hevo's No-code Data Pipeline
Hevo Data, a No-code Data Pipeline helps to load data from any data source such as Databases, SaaS applications, Cloud Storage, SDKs, and Streaming Services and simplifies the ETL process. It supports 100+ data sources (including 30+ free data sources) like Asana and is a 3-step process by just selecting the data source, providing valid credentials, and choosing the destination. Hevo not only loads the data onto the desired Data Warehouse/destination but also enriches the data and transforms it into an analysis-ready form without having to write a single line of code.
GET STARTED WITH HEVO FOR FREE[/hevoButton]
Its completely automated pipeline offers data to be delivered in real-time without any loss from source to destination. Its fault-tolerant and scalable architecture ensure that the data is handled in a secure, consistent manner with zero data loss and supports different forms of data. The solutions provided are consistent and work with different BI tools as well.
Check out why Hevo is the Best:
Secure: Hevo has a fault-tolerant architecture that ensures that the data is handled in a secure, consistent manner with zero data loss.
Schema Management: Hevo takes away the tedious task of schema management & automatically detects the schema of incoming data and maps it to the destination schema.
Minimal Learning: Hevo, with its simple and interactive UI, is extremely simple for new customers to work on and perform operations.
Hevo Is Built To Scale: As the number of sources and the volume of your data grows, Hevo scales horizontally, handling millions of records per minute with very little latency.
Incremental Data Load: Hevo allows the transfer of data that has been modified in real-time. This ensures efficient utilization of bandwidth on both ends.
Live Support: The Hevo team is available round the clock to extend exceptional support to its customers through chat, email, and support calls.
Live Monitoring: Hevo allows you to monitor the data flow and check where your data is at a particular point in time.
SIGN UP HERE FOR A 14-DAY FREE TRIAL
What is Quickbooks?
Quickbooks is accounting software used by small businesses to manage their income and expenses. Quickbooks can help small businesses to track their financial health. It makes it easy for businesses to create and print their invoices or email them to their customers. With Quickbooks, it's easy for an enterprise to know how much each customer owes it.
Quickbooks is also a good tool for tracking bills and expenses. It can connect to your bank and credit card accounts to download and categorize all your expenses. Quickbooks allows you to enter bills to help you track your upcoming payments. You can also create an accounts payable report to ensure that your bills are paid in time. Quickbooks also allow you to print all your financial statements to help you know how your business is performing. The platform can help you to track employees' hours to ensure that you only pay for hours worked.
Sage vs QuickBooks
In this section, we will be discussing how Sage vs QuickBooks compares to each other in different core areas:
Sage vs QuickBooks: Ease of Use
Sage Ease of Use
Sage comes with many features, and it may be difficult to use at first. It has a steep learning curve. However, Sage becomes easy to use with time.
Quickbooks Ease of Use
Quickbooks is a bit easier to use compared to Sage. It comes with an intuitive user interface that you can use to access different services.
Sage vs QuickBooks: Integrations
Sage Integrations
Sage supports integrations with up to 73 applications. You can use these integrations to pull data from different sources into Sage. The data can then be analyzed using the various features offered by Sage.
Sage leverages the power of Microsoft 365 to pull data from different apps, thus, its integrations are only focused on apps associated with Microsoft 365. This also gives Sage users access to a wide variety of products from Microsoft. It can be integrated with both Micorosft 365 Business Standard and Micorosft Small Business Productivity Suite, which helps it to save time and money while at the same time boosting productivity.
QuickBooks Integrations
QuickBooks supports a wide range of integrations compared to Sage. It allows you to perform integrations with up to 825 applications. If your business has employees or there is a need to track time, Quickbooks will allow you to establish a direct integration with QuickBooks Time and QuickBooks Payroll. QuickBooks also supports integration with many third-party tools.
Sage vs QuickBooks: Mobile App
Sage Mobile App
Sage has a mobile app known as Sage Capture for both Android and iOS devices. However, the app only supports entering transactions and capturing receipts. The app is updated across all devices in real-time to enable immediate access to your dashboard.
QuickBooks Mobile App
QuickBooks also offers a mobile app that brings all your financial data to your fingertips. The app allows users to record expenses, enter transactions, and send reports. It automatically backs up your data to the cloud and syncs it across your devices.
Sage vs QuickBooks: Customer Support
Sage Customer Support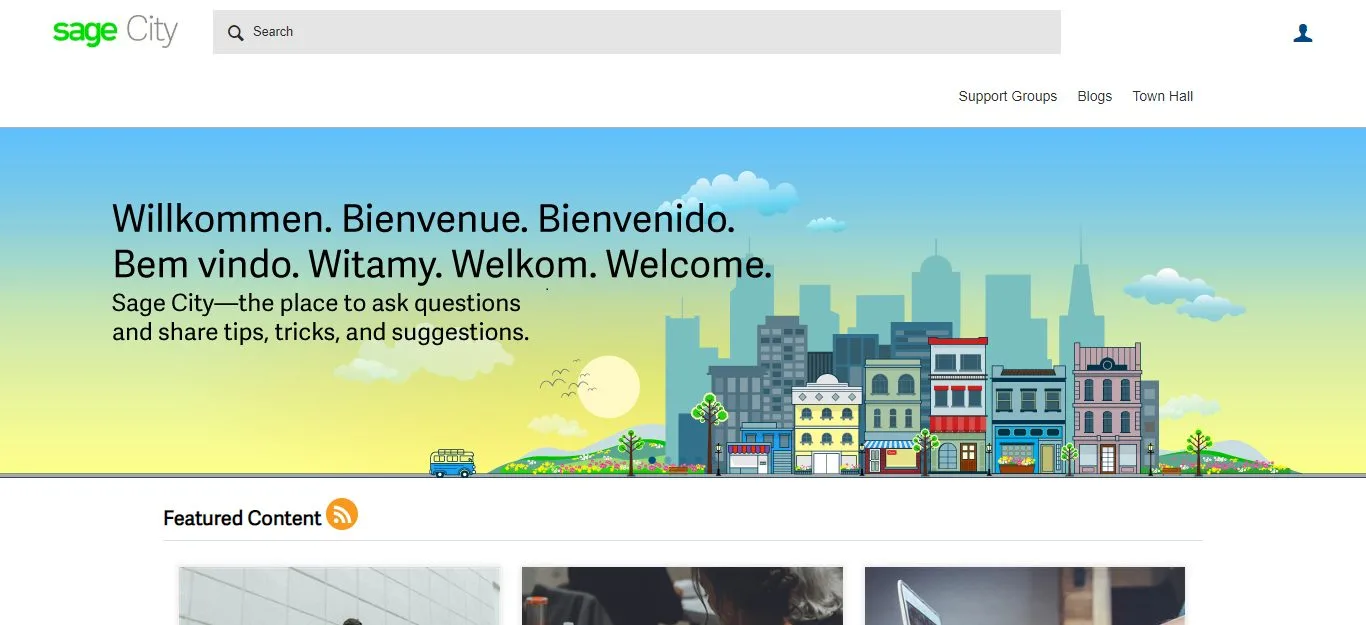 Customer support is an important feature to consider when comparing Sage vs QuickBooks. Sage has over 3 million customers and it has put together resources and made them available to all its customers. Examples of these resources are a Q&A live, a virtual meeting room where customers ask questions and get answers from Sage analysts in real-time. You can chat with its support team live or via phone, connect with Sage Expert Services, or submit an online case.
QuickBooks Customer Support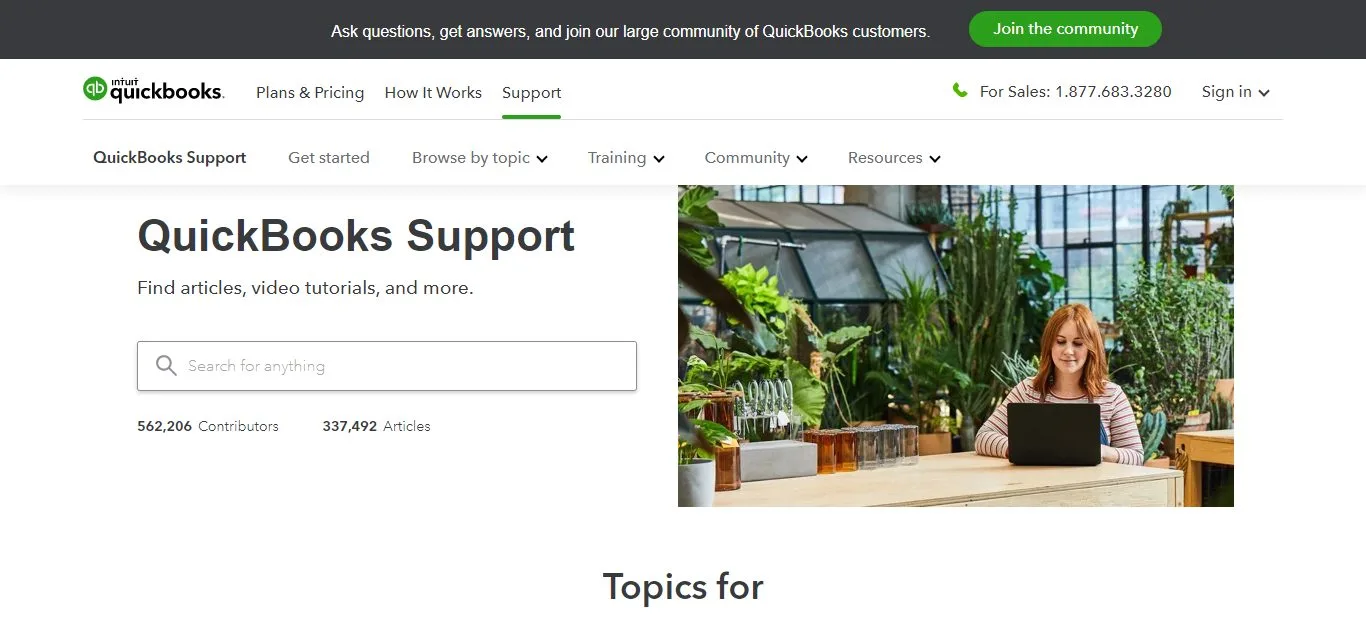 QuickBooks supports different customer support options depending on the complexity of the needs of a user. It has a Learn and Support page with videos and articles on frequently asked questions. You can also send its support team an email and they will respond within 48 hours. QuickBooks also allows you to reach its customer support team via telephone or online chat, but you can't call them directly. Instead, they require you to submit an online call request. For complicated issues, you can consider hiring a QuickBooks ProAdvisor. These financial professionals are certified by QuickBooks after passing an exam that tests their proficiency with QuickBooks.
Sage vs QuickBooks: Pricing
Sage Pricing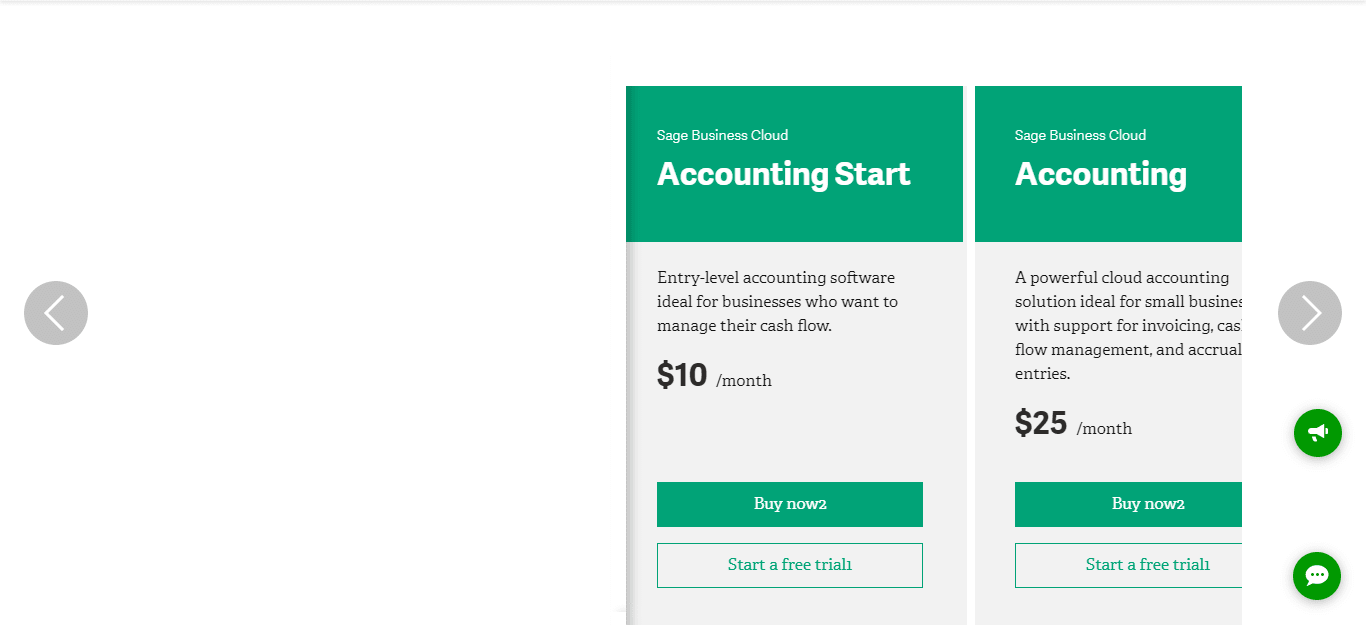 Sage Business Cloud Accounting software is available at two pricing tiers:
Accounting Start ($10 a month): This allows you to connect your bank, track what you're owed, and create sales invoices.
Accounting ($25 a month): This enables you to do the above as well as act on real-time reports, generate quotes and estimates, record purchase invoices, and view cash-flow statements.
While these two packages cover more basic accounting needs, you can also purchase Sage 50cloud accounting. This is best suited for small yet well-established businesses.
QuickBooks Pricing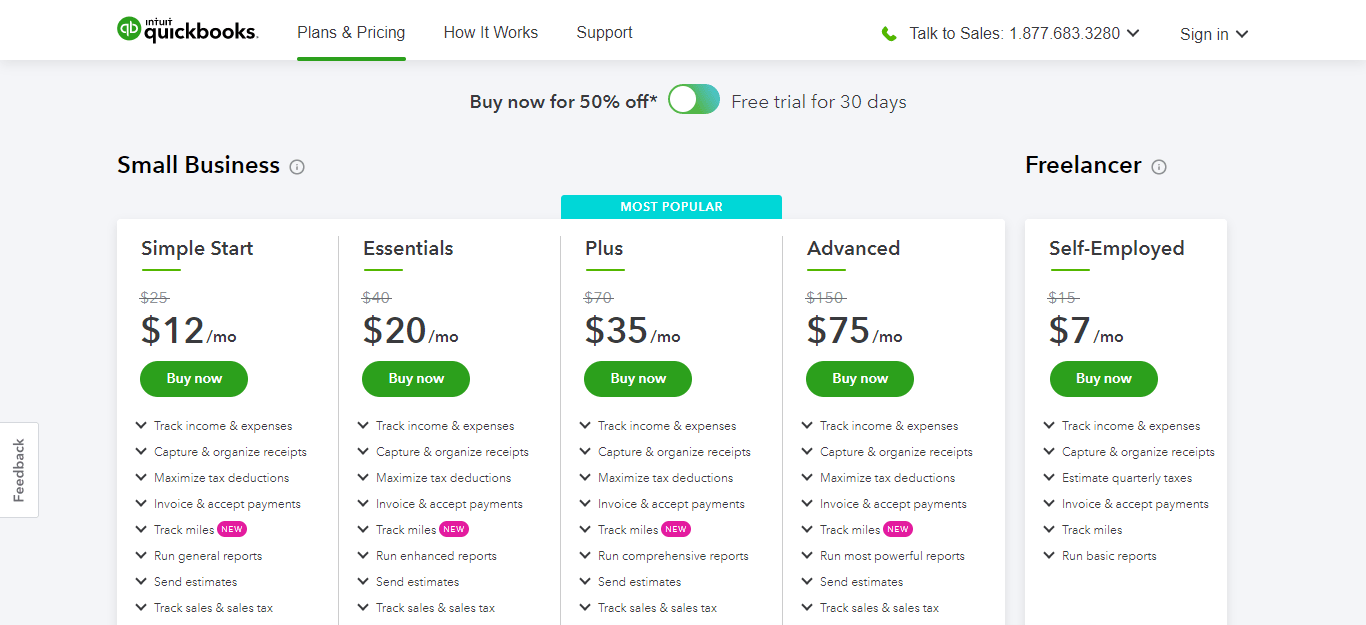 QuickBooks offers four different pricing plans and an additional self-employed plan for anyone that isn't VAT registered. Their packages are as follows:
The Simple Start Plan for $25 a month: This comes with all the core features you need to track and manage your business's finances. These include tracking income and expenses, maximizing tax deductions, managing invoices and payments, running reports, capturing and organizing receipts, tracking miles and sending estimates. You can also track sales and sales tax and manage 1099 contractors.
The Essentials plan for $40 a month: You'll get everything in the previous plan, plus you can manage bills, track time, and you get access for three users.
The Plus Plan at $70 per month: This program unlocks access for five users, allows you to track project profitability and track your inventory.
The Advanced Plan for $75 a month: This entitles you to a range of additional features, including tools for managing and paying bills, viewing business analytics and insights, creating batch invoices and expenses, customizing access roles, and automating workflows.
Sage vs QuickBooks: Pros and Cons
Sage Pros and Cons
Pros:
Sage provides versatile accounting solutions for all types of businesses across multiple industries
There are solutions including HR and team management tools
There's a mobile app you can download and use to manage basic expenses
A free 30-day trial is available
Cons:
Sage's pricing plans are less transparent and harder to follow, as they offer several similar yet advanced products. Then they further divide their packages depending on how many users you want to register.
Adding extra users comes at an additional price. For sage50 accounting software, more than 11 users require custom pricing over $330 per month.
Industry-specific solutions boast a significant leap in price.
QuickBooks Pros and Cons
Pros:
Quickbooks is an easy to use, affordable accounting option for small businesses
QuickBooks gives self-employed freelancers a cheap opportunity to manage their basic accounting needs
The price plans are transparent, and it's easy to grant more users access to your QuickBooks account.
QuickBooks is a popular choice for bookkeepers and accountants and can easily integrate into their client's workflows
There's a 30-day free trial available
Cons:
The software doesn't offer functionality specific to any industry. That means, in many fields, Quickbooks will need to be used in conjunction with other software. Otherwise, there will be a massive gap in their accounting needs.
QuickBooks doesn't scale as effectively to larger businesses or enterprises as its competitors.
Conclusion
This article gives a comprehensive guide on Sage and Quickbooks. It also provided a comprehensive comparo of Sage vs Quickbooks.
Hevo Data is a No-code Data Pipeline and has awesome 100+ pre-built Integrations that you can choose from.
visit our website to explore hevo[/hevoButton]
Hevo can help you Integrate your data from numerous sources like Sage and Quickbooks and load them into a destination to Analyze real-time data with a BI tool such as Tableau. It will make your life easier and data migration hassle-free. It is user-friendly, reliable, and secure.
SIGN UP for a 14-day free trial and see the difference!
Share your experience of learning about Sage vs Quickbooks in the comments section below.
No-code Data Pipeline For Your Data Warehouse